Have you decided to pass your holidays downtown? Would you try something new to do? Are you nature lovers who love biking among the green zones of your city or in the countryside? Bike sharing is what you are looking for: 100% ecology and 100% fun. From this year there's a new in town: baby bike sharing, the service for kidz!
The first station of shared coloured bikes will be in piazza Castello, in Milan and it's called Junior BikeMI. This is the start of the first italian baby bike sharing service.
The baby station is very close to the "adults one" also located in another zones of the city.
It's a great opportunityfor adults and kidz who can bike together along the streets, kidz will have a free blue helmet.
Actually the service is available only on saturday and on sunday but the municipality is providing to make the service avaiilable during the working days. In that way the families can have fun after a hard day.
The rates are: 1 euro for each mini bike for the first 2 hours of biking and 1 euro for each next hour.
Moreover the municipality has dispoded a card for the subscription to "close the babies to their future" says the Mobility's Assessoor, Pierfancesco Maran.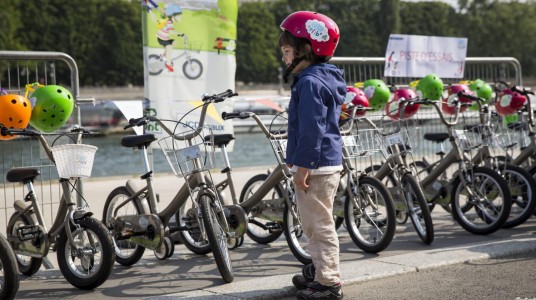 Bike sharing in northern Europe
London: over 500 rental stations, 8.000 Barclay's bikes rentable by a code obtained after the payement in one of the stations. London's mayor wants to make the city as much as possible eco friendly.
Paris: over 1.200 rental stations, 18.000 Vélib's bikes. No age limits for the registration. The paths goes from Galerie Du Grand Palais to Notre Dame.
Berlin: over 1.000 rental stations close to public transports stops, those who use them will have special discount for the bikes The path goes from the famous zoo to the Television Tower. Moreover, those who use bus 100 and 200 will enjoy the city view.
Amsterdam: over 20 rental stations close to the most important city spots, the stations and the means of transports stop. The service is available by using a card to unlock the bike chosen. No age limits . The path goes from Rembrandthuis to the National Monument. You have the possibiity to use the bike for one or three days by using the card.
Nice: over 175 ecological station, you can thread other parcours in addiction to the city streets like the pathways of BoronMounth or Promenade des Anglais along the sea. You can even use the bike for one year!
Barcelona: even if this service is not for the tourists but for the inhabitants it is a good alternative to the motor vehicules. To use the service you have two options: goung to a biking office in the center or registering on : www.bicing.es. Once completed you will receive a card for your bike.