Among dense forests and fairy-tale villages, the Black Forest is one of the popular areas of Central Europe. This charming place covers approximately 6000km2, in the southwest of Germany, bordering France and Switzerland.
A holiday in the Black Forest means discover forests, meadows, rivers, lakes, waterfalls, picturesque villages, thermal baths and more. All lovers of nature, in its various forms, can only fall in love with this green and lush land. You'll find 22,000 kilometers of pathways, including walking and cycling trails. You can experience the rafting in the waters of Murg or ski on the peaks of mountains, admiring stunning scenery.
Here, nature remains uncontaminated and the presence of man in history has been rather limited and certainly not invasive. To understand this you have to observe the ancient dwellings of the region, with their huge thatched roofs. A Gutach you'll find an open air museum where you can also visit inside these homes.
It is one of Germany's most varied tourist areas and is characterized by an unusually sunny and mild weather for Germany. It is also why nature is so lush and amazing. The perfect base for exploring the Black Forest is certainly the beautiful Freiburg. It is located at the foot of the forest and will enchant you with its architecture, the little channels that run through the old town, the environmental focus of its citizens. Learn all about this city with our green guide!
From here you can reach (by bicycle!) all the most famous attractions of the Black Forest such as the lakes Titisee and Schwarzwald, the highest waterfalls in Germany, in Triberg, where there is also the largest cuckoo clock in the world, the elegant thermal town of Baden-Baden and Feldberg, the highest peak in the region.
But do not stop here! We found for you 3 essential itineraries, away from mass tourism, where you can enjoy in an authentic way the picturesque and legendary Black Forest's nature.
1. Among the vineyards of Durbach
North of the Forest we suggest you this route of 5 hours, to walk through woods and vineyards to taste the delicious wines and enjoy the fascinating landscapes.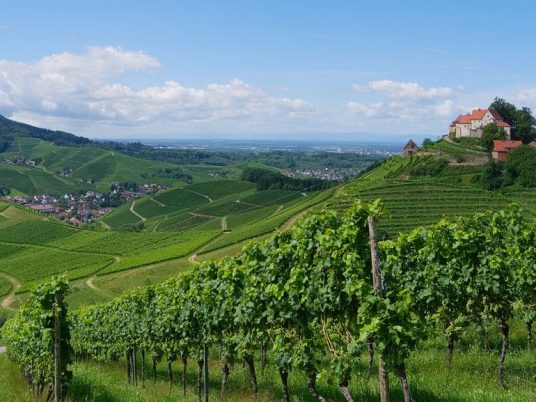 2. Towards the giant fir
In this route you will enjoy an unprecedented view of the woods and ridges of the Black Forest, and you can even reach the tallest tree in the region, a fir of 47m in height!
3. Starting from Bernau to the discovery of Black Forest
By following this path in the idyllic Black Forest, you walk through pastures and mountains reaching 8 beautiful observation points.
Put comfortable shoes in your suitcase and go! You will never forget the magical countryside, the friendliness of its inhabitants and the unique sensation of being at the center of a sea of ​​green meadows and forests that run to the horizon.
And before you leave do not forget to taste the typical and delicious Black Forest cake!
Cover image: photo by Mondo79 via Flickr
You might also like: