An organic farm awarded by Slowfood, an artisan biscuit factory, a shop that fosters the kilometre zero, and a craft shop, all created and managed by women. All these local businesses offer unique products that allow you to come into contact with the most authentic side of Basilicata.
In the age of environmental sustainability and valorisation of local products, Basilicata stands out as a region rich in culinary treasures and artisanal specialties. During our blog-tour, we had the chance to discover the breathtaking nature and rich culture of this Italian region, as well as experience ethical shopping. As a matter of fact, we made some organic and zero-mile purchases in some of the most suggestive villages of Basilicata. We discovered unique places, boutiques, farmhouses and little shops where you can purchase extraordinary products while supporting the local economy. At the same time, we had the chance to meet the incredible people who set up such businesses, who were nice enough to share their emotional stories with us.
From culinary specialties to handmade creations, here are four unique places run by four amazing businesswomen where you can make responsible and informed purchases in Basilicata. Welcome to the fascinating world of zero-mile shopping!
1. Manila Bruno, Young Custodian Of The Lucan Flavours, And The Organic Farm Vignola, In Val d'Agri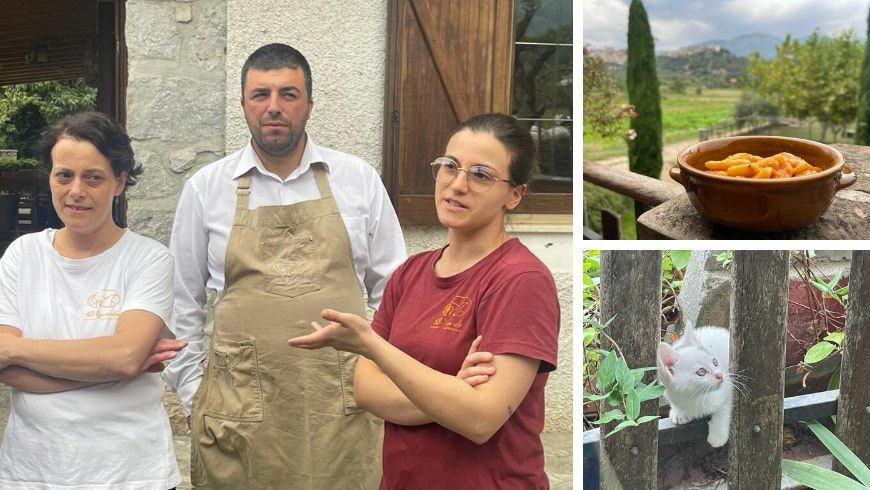 Nestled in the heart of the high Agri Valley, between the green Marsican hills, lies the agritouristic business Vignola. The organic farm is a gem located inside the ancient rural residence of the Bruno family, which was built near the end of 1800. The 10 hectares of cultivated fields, vineyards, olive groves and woods, create a framework of pure natural beauty.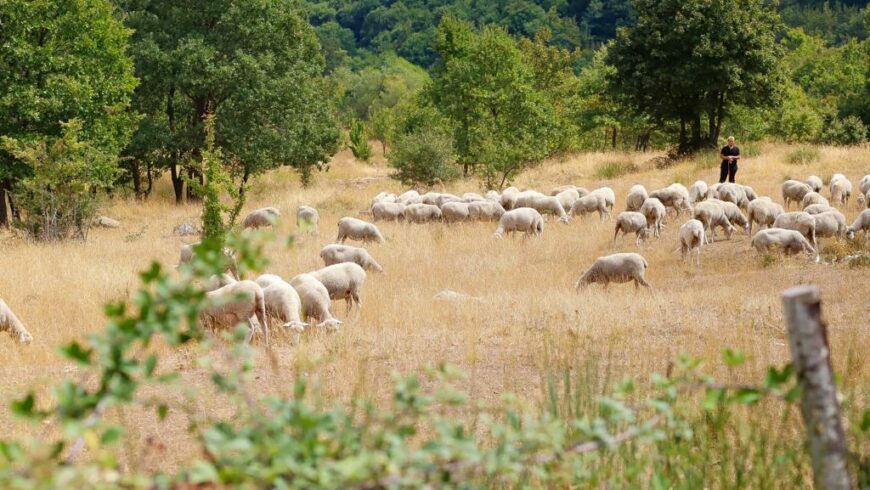 Here, the atmosphere is characterised by the slow pace of nature, the smell of fresh bread, kitten playing in the courtyard, and never-ending meadows. Maria Antonietta, Giuseppe and their daughter Manila welcome us at the ancient farmhouse. The tables of the farm start to fill with unique scents, colours and flavours. Here, the chef cooks with products that come directly from the organic house. It can offer a huge variety of products, such as black chickpeas and Sarconi beans. Every single dish perfectly represents the culinary traditions of Basilicata. Eating here is a true authentic experience that can make you travel back in time.
Manila Bruno, who runs the kitchen with her parents, is the youngest Slowfood chef in Italy. With her love and dedication, she revisits the traditional recipes of the region by adding a touch of freshness and innovation.
What to buy: fresh eggs, organic vegetables, wine, homemade jams and preserves, tasting and lunch at the restaurant.
Not to be missed: pasta with "cruschi" peppers, local wine and soup with red beans of Pantano di Pignola, which was presented at the Slowfood national gastronomy exhibition.
Details: Agriturismo biologico Vignola
2. Angela And The Biscuit Factory Tre Spighe in Marsico Nuovo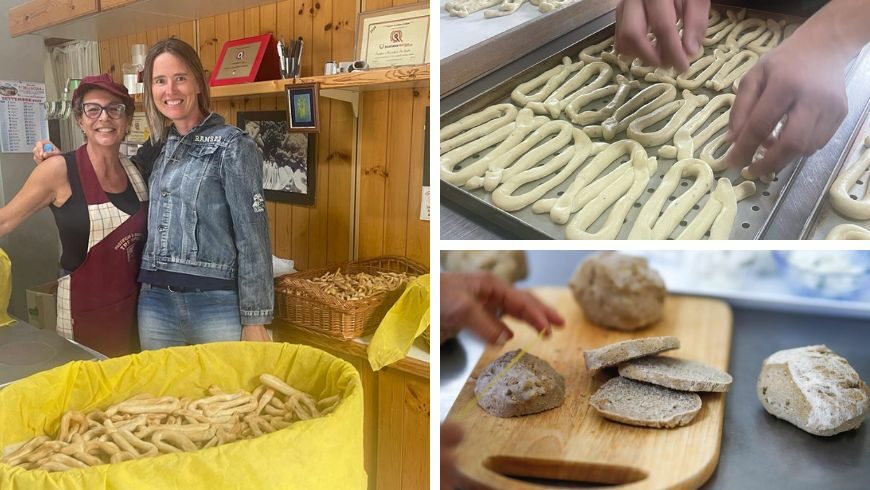 The bakery Tre Spighe is a true Lucan gem founded in 1990 by Angela Alberti. Angela, who is fond of the Lucan culinary tradition, moved for love from Switzerland to Marsico Nuovo, a small village in Basilicata. With her son Francesco, graduated in Economics, and a team of collaborators, Angela created a unique place where the art of bread and handmade pasta reaches its peak. With great care and passion, they daily give life to authentic culinary masterpieces which have received more and more praise over the years.
What makes the products of the bakery Tre Spighe so unique? The answer is simple: the careful selection of raw materials. The traditional flours get mixed with ingredients like wild fennel of the Lucan mountains, crusco pepper PGI Senise, turmeric, hot pepper from Calabria and a range of aromatic seed.
This combination of high-quality ingredients gives products an authentic and surprising flavour which turns every slice of bread, breadstick and tarallo into an extraordinary culinary experience. The bakery Tre Spighe is more than a simple production site. It's a place where love for tradition and dedication to quality merge to create unique delicacies which strengthen the bond with the gastronomic roots of Basilicata.
What to buy: taralli with crusco peper and breadsticks with wild fennel, homemade pasta.
Details: Panificio Tre Spighe
3. Rossella And Her Zero-Mile Spot In Avigliano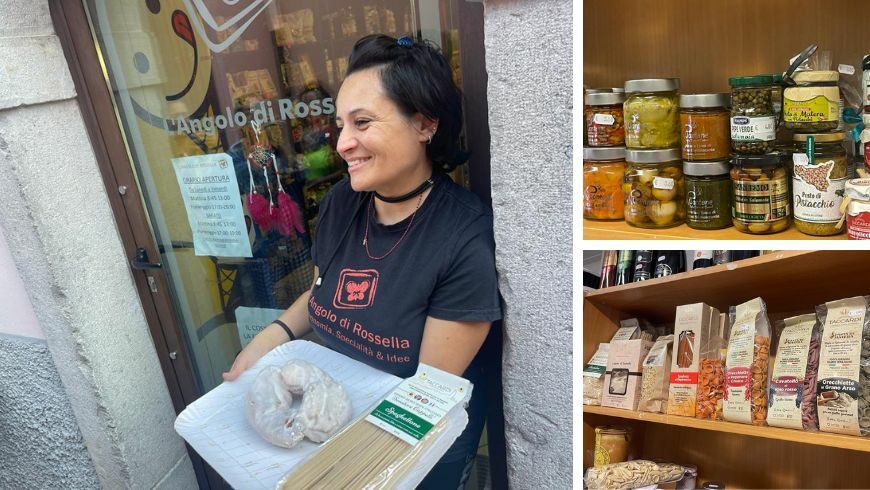 In Via Roma, the oldest street in the middle of the historic centre of Avigliano, we came across a spot known for the typical flavours of Basilicata. In the past, this suggestive street was dotted with artisan shops. Nowadays, Angolo di Rossella is the greatest example of this rich tradition. The little shop is a traditional boutique which offers a real culinary journey through the specialties of Basilicata.
The owner, Rossella, is really fond of the Lucan food and she engages in discovering culinary hidden gems to later offer her customers. Among her specialties you can find caramelized grapes, the jam Mele del Peccato, babbà, a range of pickles coming from Pietra Pertosa, the delicious honey with propolis of the organic farm Le Api in Volo, local wheat pasta of Matera, pecorino of Avigliano and Canestrato of Moliterno, which is a cheese season in wicked baskets ("canestre").
However, Angolo di Rossella is not just a shopping spot. It is also a gym for food lovers. As a matter of fact, Rossella organizes some courses to create seasonal and zero-mile dishes. By doing that, she allows everyone to discover ancient recipes and get to know the flavours and traditions of this fascinating Italian region.
What to buy: taralli of Avignano. They are round sugar biscuits, also known as 'lu mustazzuol cù r' zuccr' or the bride's biscuits. In fact, they were once prepared for weddings and given to the guests in place of sugared almonds.
Details: L'Angolo di Rossella
4. Annangela And Il Filo di Arianna In Avigliano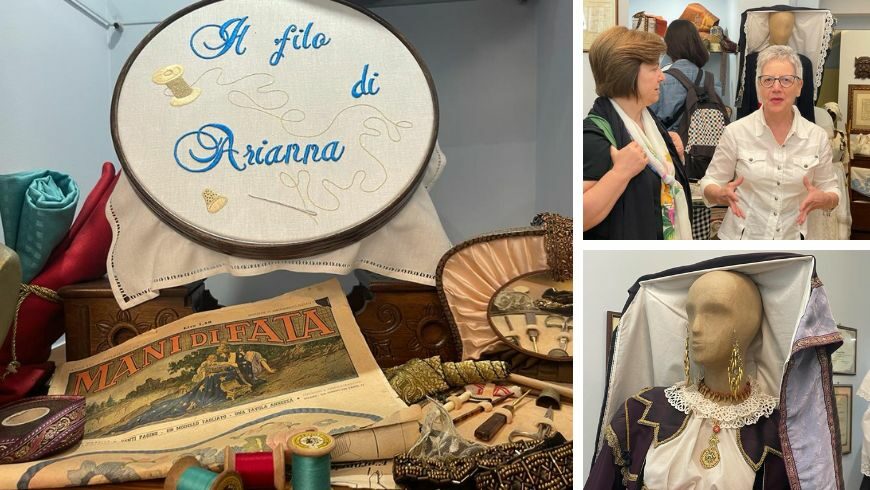 Let's stay in Avignano and meet Annangela Lovallo, a true custodian of the traditional craftsmanship of Basilicata. At her artisan workshop "Il Filo di Arianna," Annangela has been fostering the art of embroidery for more than thirty years. That's a skill that was handed out to her with love by her mother.
Over the years, she has created countless masterpieces, skilfully mixing traditional techniques with her creativity and artistic talent. Her dedication to the history of Avigliano drove her to set up an extraordinary exhibition of traditional costumes. There you can find both pieces that date back to the 19th century and clothes created by herself.
Annangela shares her love for embroidery with her mother Carmela Rodolfi, who is 101 years old. "Love your job, never stop working. Eat less and vegetarian" – these are Carmela's secrets for living a long life.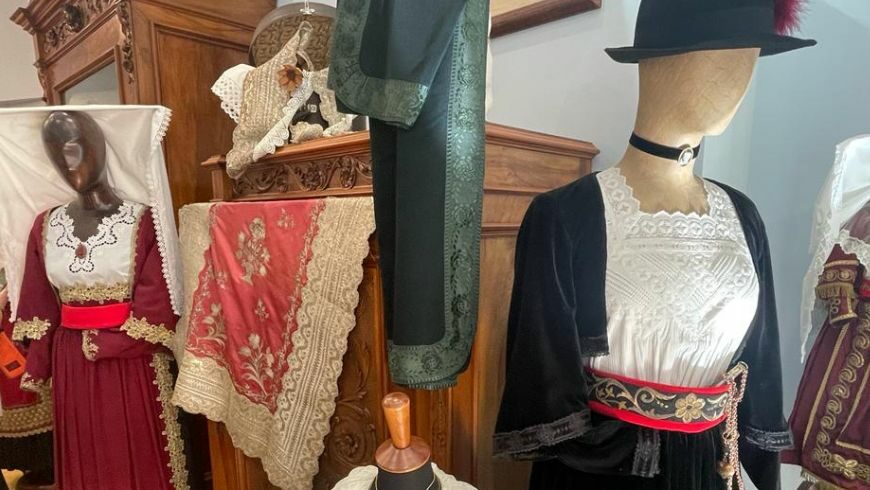 At the boutique "Il Filo d'Arianna" you can admire traditional Lucan dresses with details such as curls and wide headgear, which are authentic artisan masterpieces of the history and culture of Avigliano. This shop is the perfect place to immerse yourself in the artisan tradition of Basilicata. However, it is also a beautiful tribute to passion, dedication, and wisdom handed down from mother to daughter.
Details: Il Filo di Arianna
Cover image: picture by Vittorio de Santis