This fragrant flower with many therapeutic properties transforms landscapes into unique spectacles. From South Tyrol to Sardinia, here are the streets where you can admire lavender in Italy!
What is lavender good for? This aromatic plant, thanks to the properties of its essential oils, is useful for combating anxiety, insomnia, menstrual pains, insect bites and skin irritations in a natural way. More generally, lavender has sedative, antispasmodic, anti-inflammatory, antimicrobial and even cholesterollowering properties.
And where to go to admire it? Very often when we talk about lavender we immediately think of France, Provence to be precise. But in Italy there are many lavender roads where you can admire this spread of purple flowers!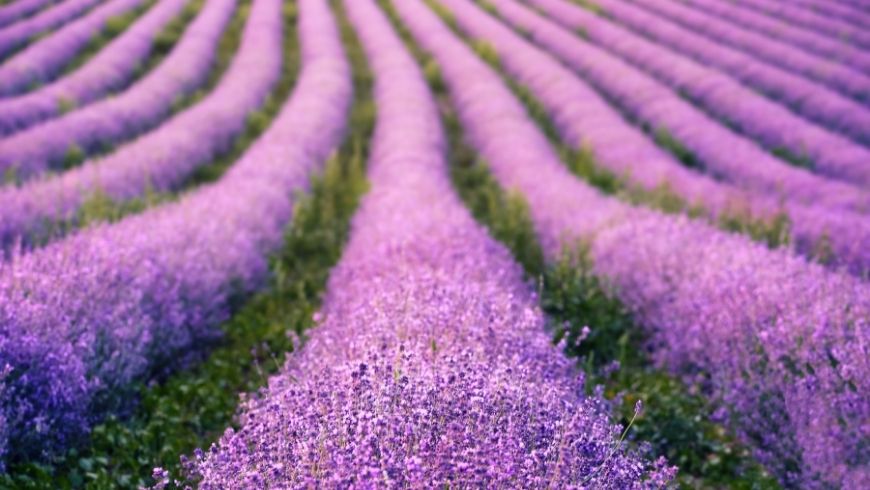 First of all, you need to know that lavender, sown in the spring, starts to bloom at the beginning of June and finishes around the first days of August, but sometimes into September. Its flowers, small and purple, have a very intense smell.
The advice to be sure to go at the right time is to contact the local tourist promotion office, an agritourism or an accommodation facility.
The best lavender roads in Italy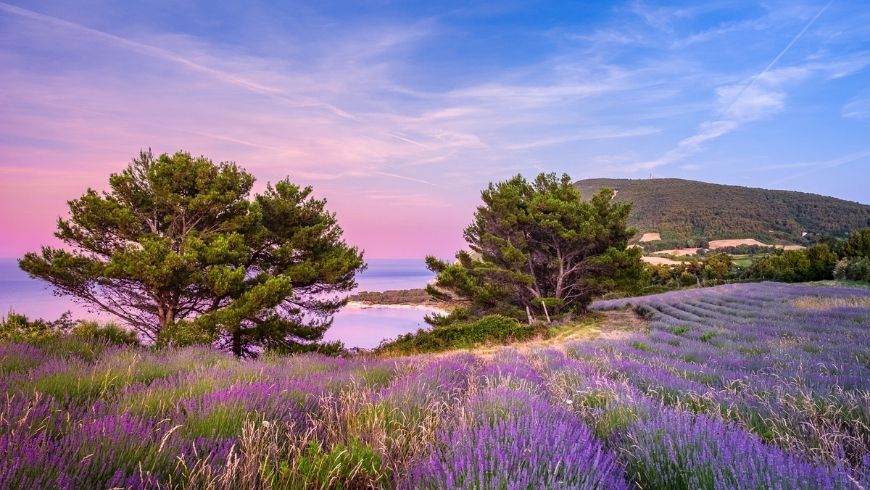 There are so many places where we can admire the purple flowers, here are some of the best lavender roads in Italy!
In the Trentino Alto Adige region near Brunico there are lavender cultivations. Yes, it's true, it sounds strange, but instead, this area is not only famous for its peaks where you can ski and climb or hike, but it is also known for this purple flower.
In Piemonte, and more precisely near Sale San Giovanni, this village in the Bassa Langa is a true excellence in the officinal and herbal sector. Here, in addition to lavender, we find expanses of hyssop, camomile, yarrow, sage, coriander and fennel. And every year 'Non solo erbe' is organised here, an event with guided tours of the cultivations, exhibitions, concerts, street artists, cultural visits to monuments and conferences. But also Andonno, in the province of Cuneo, has a long tradition. Until the end of the 1950s, in July, almost the entire village was engaged in the harvesting of spontaneous lavender. Also worth a mention is Castelletto d'Erro where there are seven hectares of cultivations of this flower. For those who want to take a photo, I would suggest the nearby little church of Sant'Anna. Lastly, also in Monferrato in the Borgo di Lu area, we find our loved plant with purple flowers. The place is really very characteristic and the particularity is also due to the 'Giant Benches', which are also purple.
In Lombardia, the area dedicated to lavender is the Oltrepo pavese where the fields of Godiasco Salice Terme are a tourist attraction not only for the thermal baths but also for this beautiful flower during the flowering period.
In Liguria, we also find a Lavender museum in Carpasio. This museum tells us about the cultivation and everything related to lavender itself. I would like to suggest that here there is the Lavender Garden with at least 30 types of plants. For more information call 0184409017
In Veneto, you must go to Cà Mello in Porto Tolle, which is in the province of Rovigo, and the spectacle is magnificent because they are beautiful old farmhouses with huge expanses of lavender. They are located along the Po delta.
In Emilia Romagna, you must go to Casola Valsenio in Ravanna. In this place there are 20 different types of lavender in the Herb Garden. The ideal month to go there is July because there are events with this theme. Here we can also walk along the Lavender Road that climbs the entire side of the valley. In Castrocaro Terme, renowned for its thermal baths of the same name, we can admire more than 5,000 lavender plants with the degustation of typical local products, olfactory workshops, and do not forget a visit to the Fortress.
In Umbria in Castelnuovo there is the Lavandeto di Assisi between June and July. It is an event that has been held since 2004. For more information https://www.illavandetodiassisi.com/
In Tuscany in the Maremma at Fonteruoli, about 600 metres above sea level, we can find the Chianti lavender. But also in the Pisan hills we find our much-loved purple flower.
In Latium, in Alvito (Frosinone), near the National Park of Abruzzo, Latium and Molise, you can participate in harvesting events of this precious officinal plant, experiencing the realisation of perfumed decorative objects. For further information: cominiumbenessere@gmail.com
In Molise, in Larino, which is in the province of Campobasso and exactly in Contrada Monte at the Farm la Farfalla, there is an extense of lavander. It is a spectacle that is more unique than rare.
In Calabria, there is Morano Calabro at the Lavender Park where we can find around 40 different species. For more information https://parcodellalavanda.it/
In Basilicata, for the last couple of years in Lavello (Potenza) there are beautiful cultivations of this scented flower.
In Sardinia, the only lavender field is in Oristano near Riola Sardo.
Which lavender path are you ready to explore?