How many times, leafing through magazines, among the dozens of eco articles, have you thought to see a roof of beautiful green color, so young, so green? And how many times have you desired to show one-off on your house too? Have you ever thought about how our planet would change if all residences were equipped with a nice green roof?
Perhaps assisted by innovative and technological cutting-edge systems which provide us with all the energy we need by exploiting the climatic conditions (solar irradiation, wind).
When the roof is green…it is full of life!
Lat's take as an example the Scandinavian peninsula and in particular Norway, whose tradition, handed down over the centuries, has it that the roof must be an extension of the turf.
This custom plonges its roots into Prehistory and risked disappearing with the advent of the Industrial Revolution. Today, these traditions still exist thanks to a widespread revival and to the Scandinavian Green Roof Association, of which Italy is also a partner. This association awards every year, since 2000, a prize to the best project. Among other things, a new market has been encouraged: from shelters and holiday homes.
These coverings, so green and creative, are even embellished with trees. Sometimes you can see goats grazing on them too!
Photo by Adrimcm on Flickr
Photo by MaxPixel's contributors
Photo by Annie Spratt on Unsplash
Lat's cover the city with green!
Good habits overflow and more and more individuals are beginning to persuade themselves of the usefulness of having a people-oriented city. This is how wonderful projects referring to eco-sustainable lifestyles are born. In this case, the main idea is that living in a modern city is no longer linked to the indiscriminate use of cement.
Nowadays, many countries, pulled toward the common direction of environmental sustainability, are modernizing their physiognomy winking at the always feared energy savings.
In the lead, as always, are the United States while in Europe: Holland, Denmark, Germany, and France are ahead of all the others. Among others, there is also an unexpected China and a surprising Australia, where in the city of Sidney, the architect Jean Nouvel created the One Central Park.
Chicago City Hall, photo via Wikimedia commons
Academy of Sciences – San Francisco (California), photo by Peter Kaminski via Flickr
View from Atop the Hancock Tower – Chicago (Illinois), photo by Corey Seeman via Flickr
This is an apartment complex consisting of two towers that house 624 apartments, connected to the underlying urban park of 30,000 m2. It houses the tallest vertical garden in the world, work realized by the botanist Patrick Blanc. The plants, almost all native to Australia, reach 166 meters in height and the vertical garden covers 50% of the façade, mainly consisting of glass. The botanist's intent is to give Sydney visitors the impression that greenery has reached and slowly permeated buildings.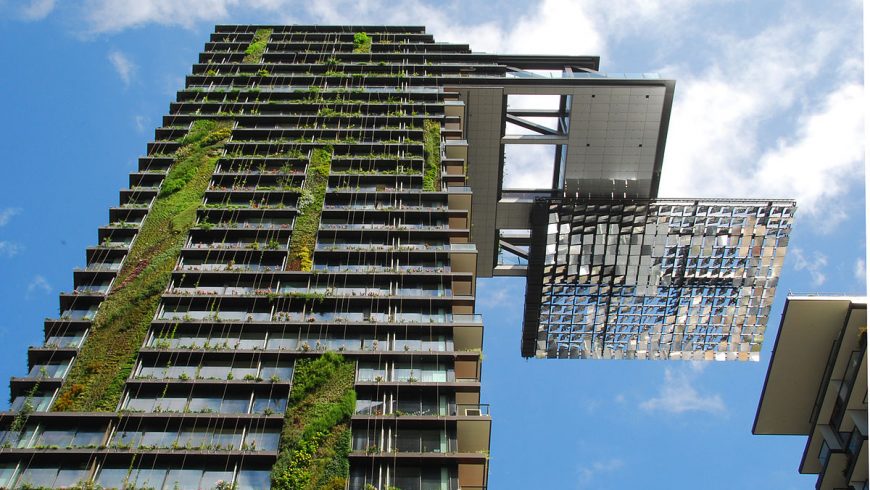 And has Italy accepted the green roof challenge?
Our country doesn't want to be beneath. For this reason, in view of the expected Expo 2015, in Milan, a series of projects have been put into operation to better represent the city.
A peculiar project, which can already be admired in the center of Milan, is represented by the Boeri vertical forest. It seeks to respond to the imperative need of making the city center more sustainable and greener by adopting a solution that sees trees of 100 different species arranged on every level. Far from being the forerunner of this new trend in Italy, the idea is certainly suggestive. Here the architect wanted to express a model of redemption to the sometimes-oppressive urban centers, where the unusual combination of architecture and nature will give life to a microclimate capable of breaking down CO2 and fine dust by producing humidity and oxygen, reducing noise pollution and wind.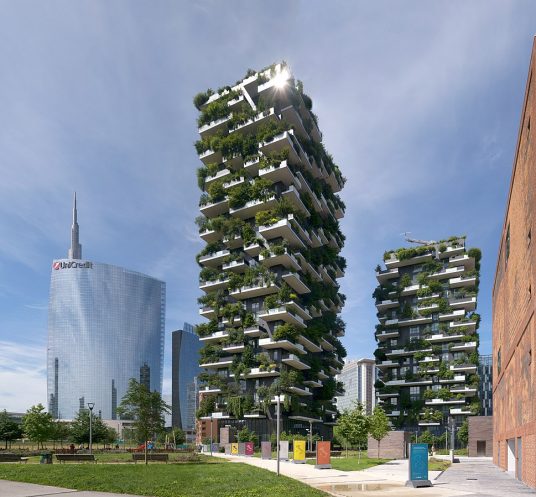 Another example above all is represented by a city in the south, Bari. Vertical gardens and recovery of courtyards in the central districts are trends now in vogue, so much so that there is a boom in green roofs!
In Bari, everyone wants a green roof!
We are talking about an experimental project, but it has already achieved resounding success. It is called SHAGREE (Green Shadows Program) and was promoted by a group of companies and the municipality of Bari. This one aims at greater environmental sustainability and energy savings.
The response was not long in coming and was gratifying: many property owners said they were willing to experiment, providing about 2,000 m2 of roofs, which are ready to host new greenery in the city.
What is it about? The announcement for the creation of new green roofs, published in December 2013, aims to create vertical gardens on residential roofs and courtyards in some areas of the city, for which maintenance will be ensured for six months free. Twelve proposals for membership were presented by residents. The definitive rankings for the allocation of green roof quotas and the start of works will be published soon. At the end of the project, the available data will be collected to understand if the same initiative can be successfully extended to other cities at a national level.
How to create a DIY green roof
To create the green roof correctly, some precautions are needed to allow you not to have problems with infiltration later on.
First of all, a drainage layer is needed, which is essential to drain the excess water accumulated by the gutters. It is essentially made up of gravel and pumice stone and must be placed in greater quantities near drains and gutters.
The second step is to affix a filter fabric layer, which must necessarily be permeable to allow water to flow towards the underlying drainage layer. This one is necessary because it allows roots to attach themselves firmly to the growing medium. The most used fabrics are polyester or polypropylene.
Finally, the growth medium of the green roof, a mix of mostly inorganic components, such as clay or sand. You need good quality soil (not just an ordinary one perhaps containing pathogens), and humus for the luxuriant growth of plants. The layer must be at least three centimeters.
Photo via Wikimedia Commons
Photo by ArtTower via Pixabay
Photo by YREA via Pixabay
The different types of green roofs
Extensive green roof
It is a simple system capable of regenerating and spreading without much maintenance, certainly suitable for large and difficult-to-access roofs. It has enormous advantages because it can withstand drought periods very well and does not require irrigation systems, so much so that vegetation usually adapts beautifully to the climatic conditions of the place. The extensive green roof is usually identified as a "green roof" and mainly performs technological functions. In this case, the aesthetic aspect of the vegetation takes a back seat.
Therefore, an extensive green roof is light, low maintenance, and economical.
The plants used are moss, Sedum in aromatic varieties, and grasses which survive without particular care. The substratum, of variable thickness (usually 6-15 cm), is composed of mineral cultivation, with a low content of organic matter, which represents the ideal support for the growth of ground cover plants.
The characteristic of the extensive green roof is the natural aspect of its planting which, after planting, provides for itself over time. These low-maintenance green roofs have an aesthetic aspect that varies according to the seasons, creating naturalization of the building with the surrounding environment.
By creating a layer of protection and thermal insulation for the building, this type of system, therefore, is mainly used when it is required to evaluate energy improvement brought to the building.
Basically, it is the ideal solution for hardly usable green roofs, which offers the certainty of less heat dispersion during the winter season and natural greater cooling in the summer.
Photo via Wikimedia Commons
Photo by World Intellectual Property Organisation via Flickr
Photo by International Sustainable Solutions via Flickr
Intensive green roof
The light-intensive green roof is commonly identified as the "vertical garden". It looks a lot like a traditional garden on the ground but reproduced on a roof. It requires frequent, regular maintenance as well as constant irrigation and nutrients, but allows high accessibility and usability performance.
The minimum thickness to have a walkable lawn finish is around 24 cm. When the thickness of the substratum is increased, it is possible to plant many plant species such as shrubs and trees. They allow the creation of varied vertical gardens that give the building as natural a landscape as possible, which integrates well with the surrounding environment.
This system allows reducing temperatures thanks to the absorption of heat, preventing its rapid diffusion.
Finally, their recreational aspect is worth mentioning. Vertical gardens offer the possibility to exploit otherwise unused areas by transforming the house roof or terrace into a green roof. So, you can create a new living space or a place to relax and entertain friends and family.
Photo by Arlington Country via Flickr
Toronto City Hall Green Roof, photo via Wikimedia Commons
Photo via Geograph
Sloping green roof
The sloping green roof is one of the most complex types of green roofs: the need to give stability and security to the whole system is added to normal design difficulties. Also, it must allow the regular drainage of water.
For these reasons, the roof requires a very accurate design that carefully evaluates the characteristics of the detention systems, their anchoring, and all the peculiarities of operation related to the length and slope of the pitches, water drainage, drain sizing, and vegetation type. As the slopes increase, there is a consequent increase in maintenance costs.
This type of green coverage is usually applied to roofs with a maximum incline of 35o.
Photo via Wikimedia Commons
Photo via Wikimedia Commons
Photo via Pxfuel
Vertical green roof
A new fashion, the vertical green roof is still little known in Italy. But it is becoming a constant architectural element in projects, both for new buildings and as an object of refurbishment.
A green wall is a distinctive element of green architecture and provides some advantages. It forms a "second skin" for buildings:
• Improving the thermal insulation of buildings, avoiding direct solar radiation on the wall;
• Helping to capture fine dust (PM10) in an urban environment.
The creation of a green wall starts first with the choice of the system type. A "traditional" vertical green has existed for years: the Vertical Climbing Green. It exploits the ability to climb plants to cling to adequate support structures. Therefore, the final effect is a sort of green tent.
The second type, much more recent, is the one that allows you to create real vertical gardens. You can insert plants, normally found in our gardens, on the wall. In other words, real works of art can be created.
Photo via Wikimedia Commons
Photo by Patrick via Flickr
Photo via Wikimedia Commons
Here is why having a green roof
As we have seen, a green roof is a truly effective sustainable element. It enhances buildings, reduces fine dust, cools down temperatures by producing oxygen and regulating atmospheric humidity. Moreover, it allows a clear improvement by acting as a "living" protective mantle. Plants protect not only from solar radiation but also from large changes in temperature. As a result, it helps to ensure an ideal microclimate. Green roofs help contrast the effects of climate change and hydrogeological instability.
It is possible to increase house thermal insulation and improve the absorption capacity of rainwater. A green roof can be used in different ways. For example as an ecological insulator, or as an urban garden, and even as a recreational space.
Moreover, the green roof, in combination with a photovoltaic system, is a truly innovative possibility to protect the environment. For example, this system creates an interesting synergy, also being able to count on less expensive bills.
Photo via Wikimedia Commons
Photo via Pxfuel
Photo via Wikimidia Commons
In this way, the commercial value of our building increases. So, every time we create a green roof, we regain possession of a piece of lost nature.
Since every year millions of hectares of land go up in smoke, instead of a desolate and hot sunny surface, we adopt a nice green roof!
Featured image: House with green roof in Dietikon (Swiss) via Wikimedia Commons