The Croatian Tourism Portal hrturizam.hr, one of the most authoritative online magazines dedicated to the world of travel in Croatia, has published an article about Ecobnb.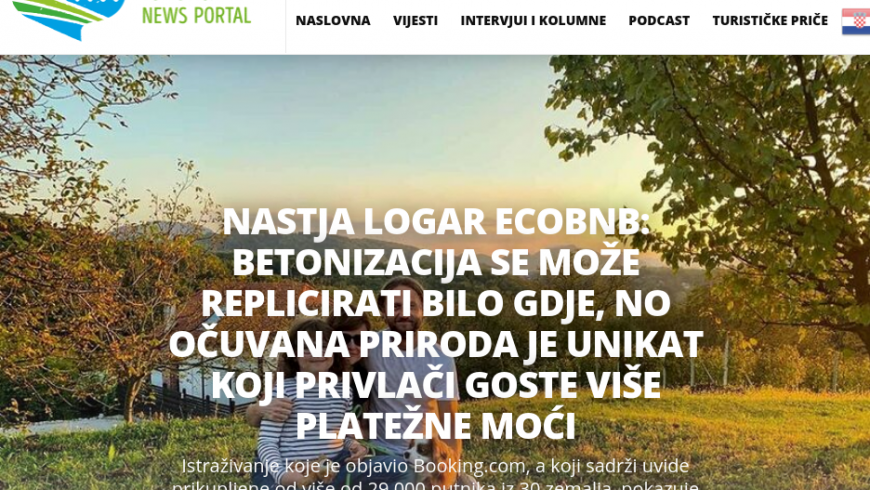 More and more tourists want to spend their holidays in an authentic, sustainable and responsible way, and this includes the growing demand for eco-friendly accommodation and unique and nature-friendly vacation experiences.
According to the article published on the Croatian tourism portal, Ecobnb.com is one of the first examples in Europe dedicated to this new way of traveling. The online platform that combines the offer of eco-friendly accommodation and authentic experiences of rural tourism and ecotourism, has been present on the Croatian market since 2019 and is constantly growing.
The goal is to promote green tourism and an authentic way of traveling based on respect for nature and the discovery of lesser-known destinations.
The continued growth of the green economy shows us that consumers – especially millennials and Generation Z – are turning to a sustainable lifestyle, which is also visible in tourism.
For an accommodation facility to be included in the Ecobnb.com platform, it must meet at least 5 out of 10 eco-standards that help reduce costs and improve the environmental sustainability of the facility.
It is about:
biological food
green building
100% renewable energy sources
solar panels
separate collection of at least 50% of waste
ecological detergents
car-free cleaning
energy-saving lighting
water reducers
collection and reuse of rainwater.
Finally, the Ecobnb platform is focused on the market niche of ecological accommodation facilities.
Indeed, Ecobnb identifies the eco-tourism offer and connects ecologically responsible hosts with travelers looking for peace, clean air, unspoiled nature, tradition, and knowledge of the local lifestyle, all through the prism of footprint reduction of tourism carbon on the environment.
Cover image: Vishnu Presad from Unsplash