These days we feel more and more the desire to connect with nature and to live a sustainable and conscious life. It is therefore not surprising that the green politics and the Friday for Future movement have also started to influence the wedding sector, to the point of making eco-chic wedding the real trend of the moment.
But what does it mean to organize a wedding in harmony with nature? All our choices, from the most important ones to the ones we make every day, have an impact on the environment, which can be small or large. Getting married in a sustainable way simply means opting for choices that have the lowest possible impact. It is in no way more difficult and expensive than organizing a traditional wedding, but with small precautions, you will prevent this very special day from becoming a day of food waste, pollution, and an immense production of waste.
Our ideas for your green wedding
But how does this translate into practice? How can you respect the environment by making nature the protagonist of this day? (together with the couple, obviously!) Of course, the possibilities are almost endless, but we want to give you some tips for organizing a truly special eco-chic wedding. Ready?
Location: a bucolic setting for your eco-chic wedding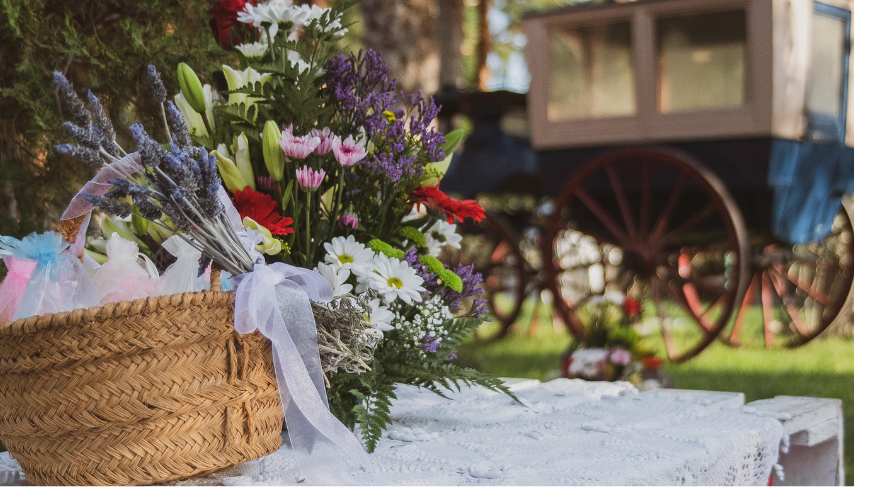 You and your partner have chosen to get married: the first step is to choose a location. Everywhere you can find beautiful facilities, such as organic farmhouses or eco-resorts, which provide suggestive spaces surrounded by nature and every day are committed to respecting the environment through the implementation of good practices, from the reuse of rainwater the use of clean energy. The location of your wedding will therefore be eco and chic!
Once you have chosen the location, you could organize a unique and green mode of transport for your guests. Think otherwise how many cars would be used to reach the same place!
Elegant and green invitations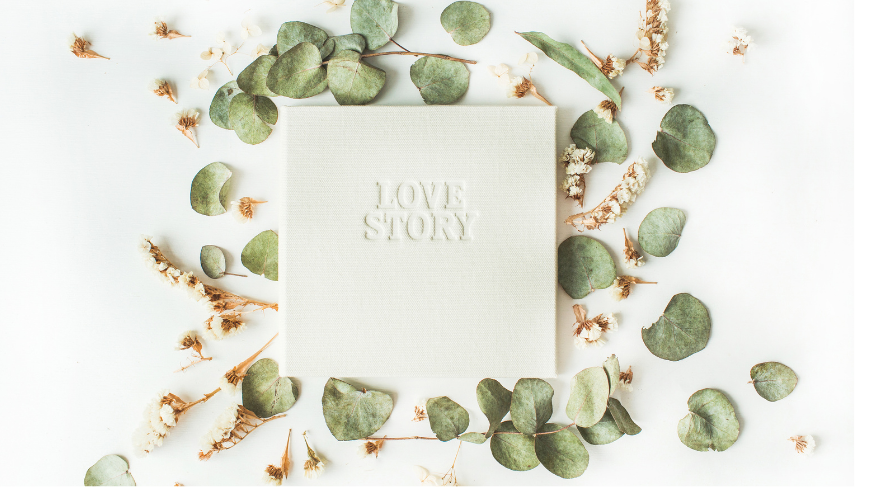 The date is there, and so is the location. Now you have to think about who to invite and above all how! Whether you choose to print the invitations on recycled paper and with ecological inks or you choose to use the web, you have many choices. To make the invitations truly unique and personal, you can create them yourself, choosing an elegant font and adapting them to the chosen theme. So let's give space to greenery and decorations that reflect the beauty of nature! We certainly can't help you prepare the guest list, but our advice is: quality not quantity. An event with few people is more sustainable and certainly more intimate!
A natural setting for a wonderful eco-chic wedding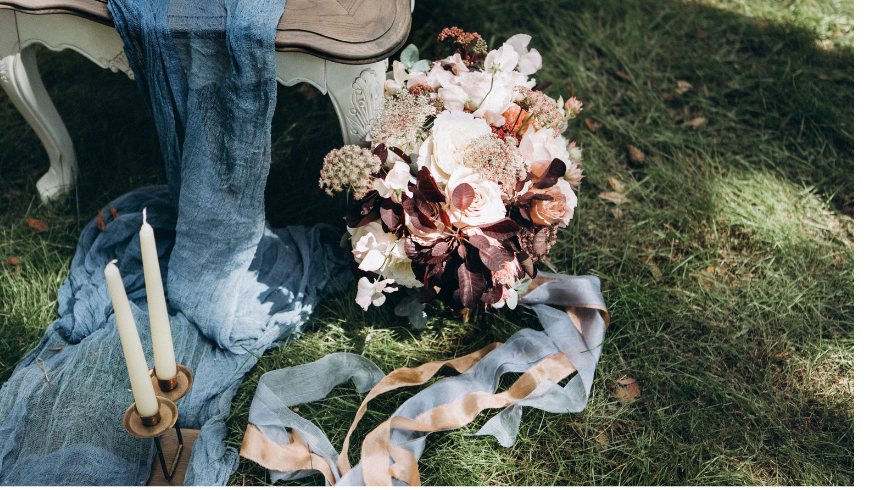 The next step is the setup. Romantic wooden sitting rooms, raw cotton or linen curtains, and natural wax candles are just some of the elements that could make your party truly wonderful! The watchwords are informality and naturalness, so nothing too sumptuous, but rather a few touches of charm with decorations designed to create a bucolic and suggestive environment. Choose wildflowers or even better decorate the event with green plants that you can replant afterward.
Instead of the classic favor, you can choose to make donations to non-profit organizations, choose local gastronomic products such as oil, honey, and jams, or even Gift Cards for sustainable holidays. Even seeds and small plants are an original and always welcome idea!
Goodbye disposable clothes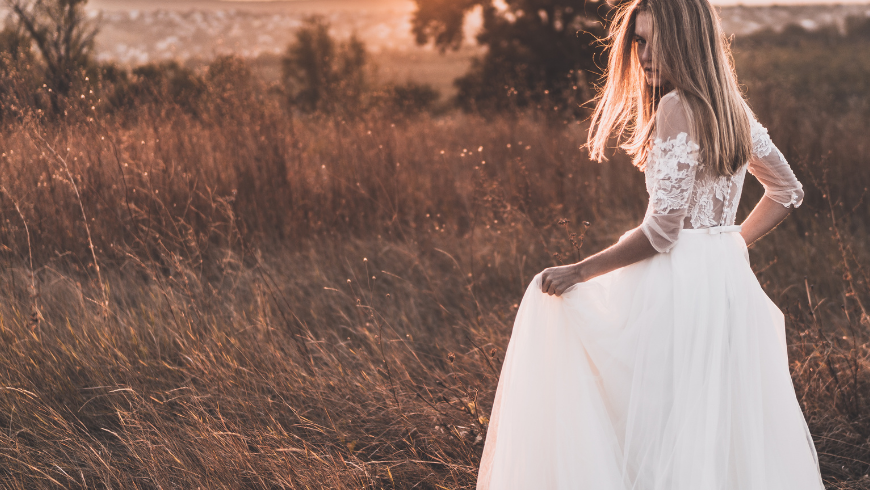 Pastel colors and vintage dresses are the perfect match for a green and bucolic wedding. Bride and groom can choose to wear the dress of a loved one, go to a shop specialized in second-hand clothes or opt for a rental. Even wedding rings can be ecological and ethical: you can choose handcrafted jewelry made with natural materials or rings from certified supply chains, which ensure the environmental and social sustainability of the mineral extraction. You can also decide to blend any family jewel to create something unique!
The hairstyle will follow the theme of the day and the style of the dress. The trendy ones for women are soft and romantic, embellished with fresh flowers.
An eco banquet with local produces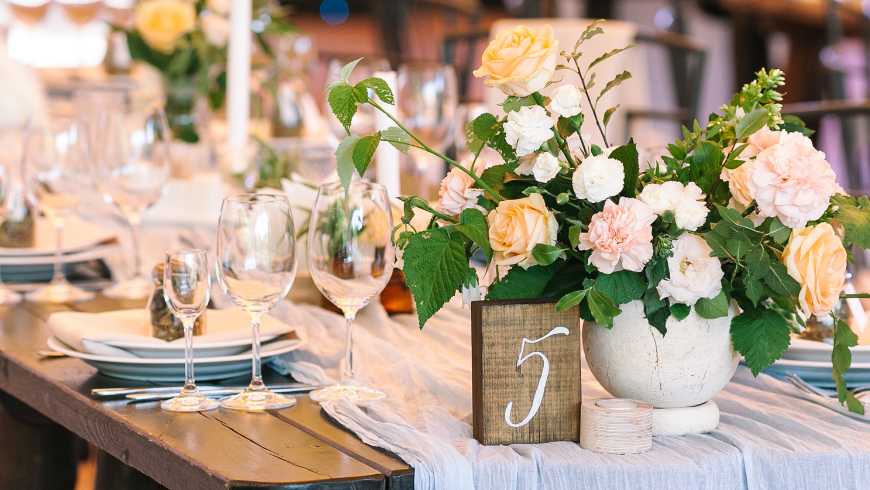 Transport is one of the most polluting sectors in the world. Food that comes from afar may seem exclusive, but the long journey it takes to get to our table requires a huge emission of CO2.  And, let's face it, they will never be as good as fresh ingredients. For your eco-chic wedding, it is, therefore, better to opt for a local menu. Focus the banquet on the excellence of the territory. You will significantly reduce the environmental impact of the event and you will also support small companies. Your guests will surely love it!
Few ideas, but all easily achievable and effective. Your wedding will be ecological, chic, and evocative just as you dreamed of!