Saint Petersburg is home to some of the most beautiful and deepest metro stations in the world. Let's discover the top 5 must-see metro stations that will make your holiday memorable forever.
Saint Petersburg Metro is home to some of the most beautiful metro stations in the world. In fact, by getting around by this means of transport you will not only make an eco-friendly choice, but you will also witness several breathtaking works of art. In addition to the beautiful very design of the stations, you will meet stunning statues, marble columns, colorful frescos, detailed mosaics, elegant chandeliers…and so much more.
And Saint Petersburg Metro is also the deepest metro system in the world. The average depth of the 73 stations making up the entire system is 70 metres underground. It measures about 120 km in total and includes 5 lines.
Taking the metro in Saint Petersburg is a once-in-a-lifetime experience. And this is because you forget that you are simply taking a means of transport, as you will feel more like you are walking into a stunning hidden palace. In fact, it is not uncommon for locals to call metro stations in Saint Petersburg 'Palaces of the People'.
As we have already pointed out, taking the metro is key to travel sustainably in Saint Petersburg. But the very fact of getting around by this means of transport will actually translate into experiencing the most interesting and exciting tourist activity ever.
Metro stations feature different styles and atmospheres, which refer to several historical events and figures, important places and times, legends, and symbols of the city.
Let's discover the 5 most beautiful metro stations you will see along the way.
1. Avtovo: the Most Beautiful among the Metro Stations in Saint Petersburg and in the World
Avtovo Station is undoubtedly the most marvellous. It opened in 1955, and you will find it at a depth of 12 metres.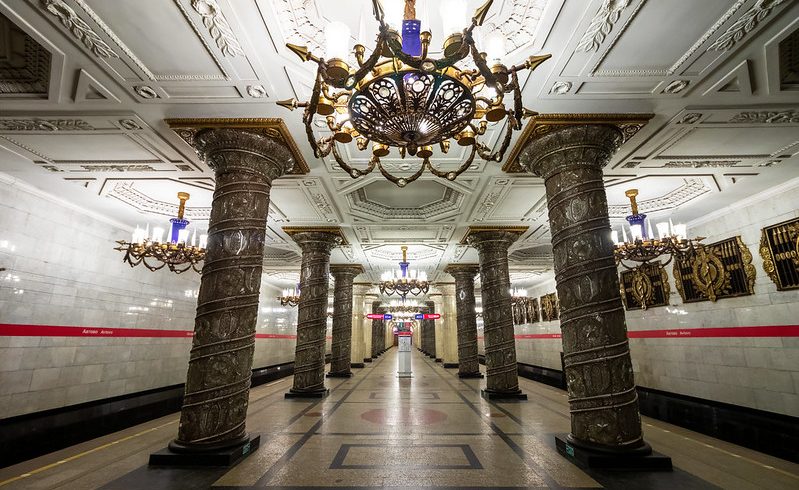 It is no surprise that the British newspaper The Guardian even included it in the list of the most beautiful metro stations in the world. Avtovo's style is simply breathtaking. It originally took inspiration from the typical design of a theatre foyer or a palace hallway.
Photo by Reibai via Flickr
Photo by Reibai via Flickr
Beautiful chandeliers, detailed mosaics, massive columns covered with ornamental glass or marble decorations, and a mysterious magical dim light are only some of the elements which characterize its atmosphere. Everyone would agree that this is not just a metro station – since it is a proper masterpiece. Make sure you don't miss your train while you get lost among so much beauty.
2. Kirovsky Zavod: the 'Open-Air' Metro Station
Kirovsky Zavod also opened in 1955. You will find this metro station about 50m underground. Grey marbles adorn it, and a special lighting system that mimics daylight is one of its most striking features.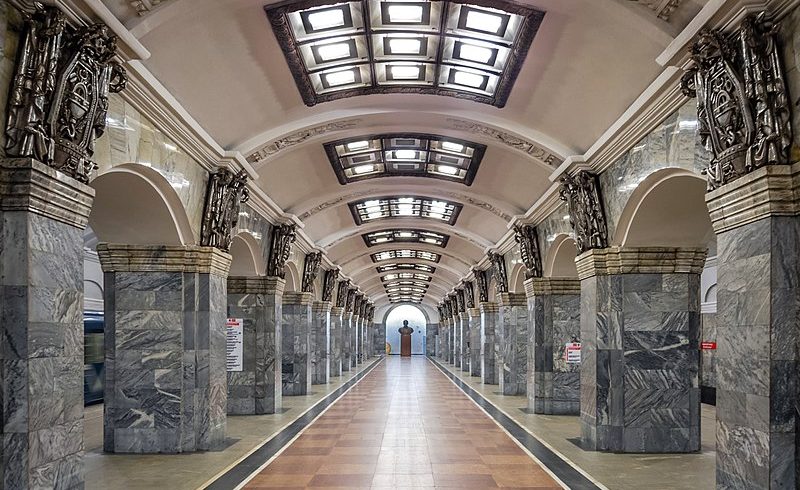 In fact, the interior lighting and colours of the whole place are very peculiar. They give rise to a dim light which creates the illusion of an open sky at the top, behind the arches. In a way, one will even forget about being underground.
3. Admiralteyskaya: the Deepest Metro Station in the World
Admiralteyskaya is not only the deepest among the metro stations in Saint Petersburg: it is also one of the deepest in the world. It is situated 105m underground and opened in 2011.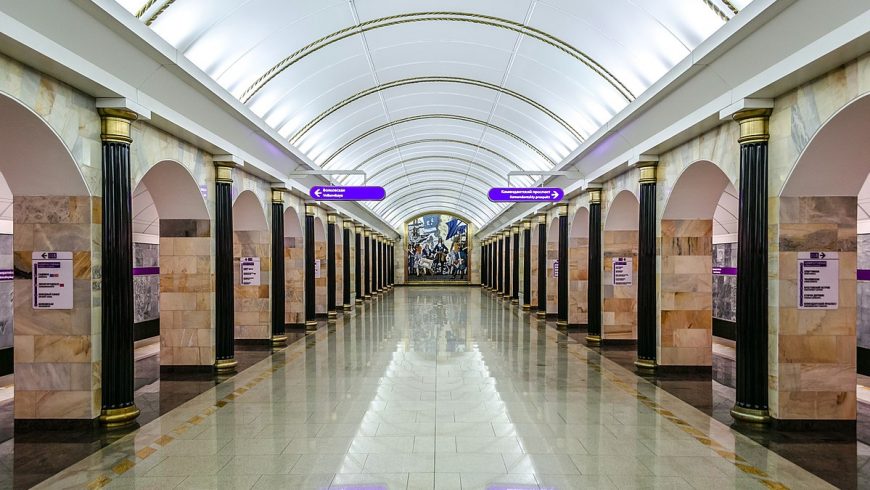 According to many, visiting this metro station is a daunting experience: when you start going underground you literally can't see where the escalator ends, and in a way, it seems like you are falling from somewhere very high. However, I promise it is worth it. After taking the 2 escalators, you will be amazed by the marvellous mosaics and art pieces you will discover.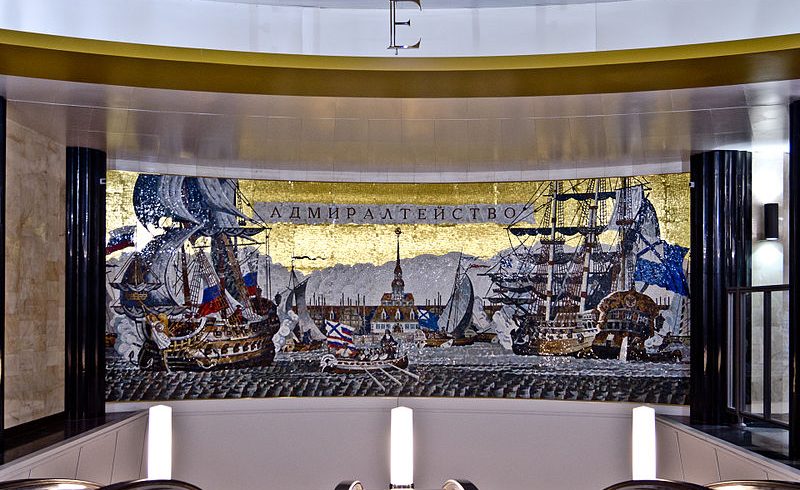 In fact, this station is decorated in purple tones and features nautical-themed artworks which tell St. Petersburg's history.
4. Mayakovskaya: the Metro Station for Poetry Lovers
The walls of the metro station Mayakovskaya display beautiful mosaics in contrasting red and white tones, which portray the famous revolutionary poet Vladimir Mayakovsky.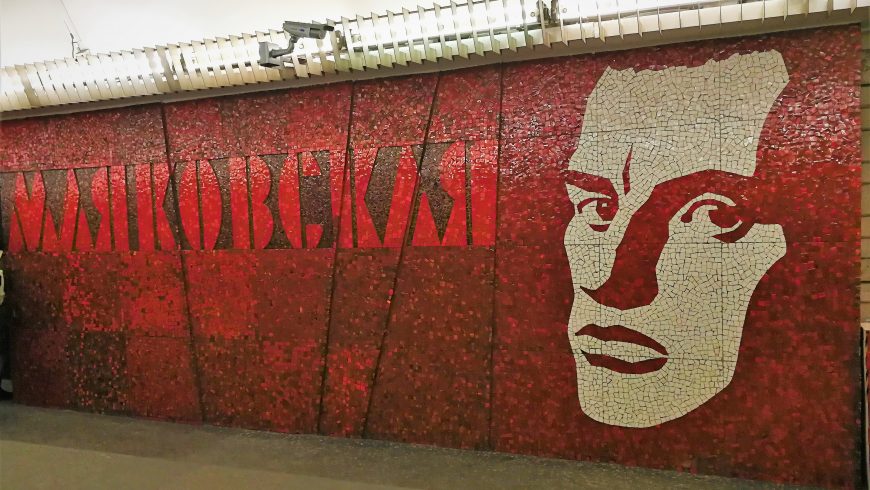 This metro station is very bright and colourful and features some art pieces representing an important historical period. The station opened in 1976, and it is located at a depth of 51m.
5. Narvskaya: Unexpected hidden Treasure
Narvskaya opened in 1955, and it is situated at a depth of 52 metres.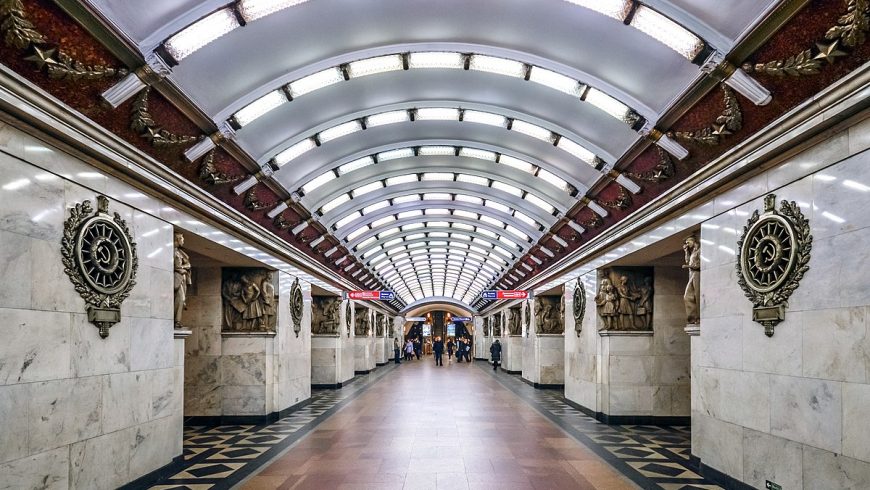 The pavilion of irregular shape connects to the typical neoclassical style. It even includes a dome at one end. This station is beautifully filled with white marbles and countless bronze inserts of high-reliefs. The walls show either decorations or paintings in red materials. The centre itself of the platform features granite materials of the same colour.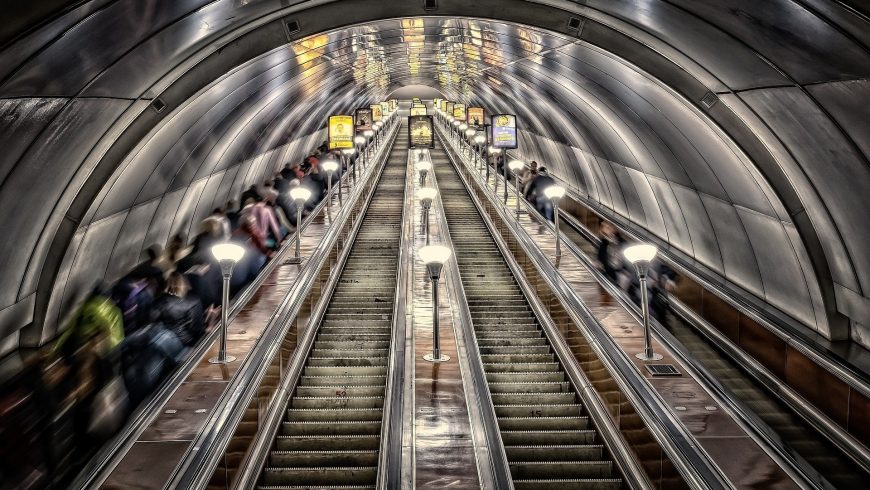 Were you expecting such beautiful hidden treasures below the actual city? Check out these metro stations in Saint Petersburg, and you will find out how beautiful these underground places are.
Info: Metro map and official site
Featured image by Tim Adams via Flick