Are you looking for a place where you can escape the hustle and bustle of the city? From traffic noise, pollution and stress? Here are 10 houses surrounded by nature where you can escape the hustle and bustle of the city.
Don't always wait for the right moment to escape from the city and spend a relaxing holiday in harmony with nature. This is your chance: here are 10 houses surrounded by nature where you can escape and recharge your batteries, even if only for a few days. Go for beautiful walks in the countryside, with organic food and animals … From the Canary and Balearic Islands, with their fantastic climate and beautiful beaches, to rural houses in the Spanish interior where you can enjoy the company of animals such as donkeys, sheep, or chickens. What are you waiting for? Let's go!
This fantastic rural house, located in a natural and peaceful area in the north of Ibiza, offers 4 fully restored flats. In perfect harmony with nature, it presents itself as an organic and chemical-free resort: there is an on-site shop where you can buy local food, a natural swimming pool with no added chemicals, you can rent bicycles or enjoy the use of the hammam and massages. All this together with the company of animals such as donkeys, sheep, dogs, and cats that live in perfect harmony with nature. This incredible farmhouse, with its 17 hectares of land, awaits you for a unique and truly regenerating experience!
This marvelous rural house is located in the Sierra de Grazalema (the first natural park recognized in Andalusia in 1984), in the province of Cadiz. Surrounded by lush vegetation and an organic vegetable garden, the property features typical Andalusian architecture. Perfect for all travelers: for those who travel alone, but also for families with children. The farmhouse offers a wide range of services, including musical instruments, organic food, maps for excursions in the surrounding area, fantastic green spaces where you can relax, and where children can have fun and play. This will make everyone's experience even more relaxing and exciting, even for the little ones.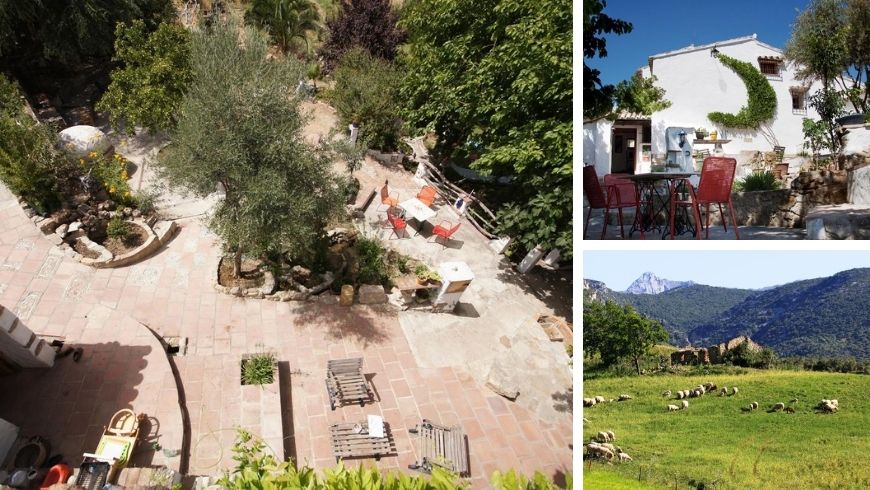 This traditional and luxurious 100-year-old country house is located 800 m above the Mediterranean Sea in the mountainous area of Axarquia in the province of Málaga, Andalusia. From here you have a wonderful panoramic view: you can see both Lake Viñuela and the Mediterranean Sea! It also has a saltwater swimming pool, perfect for spending a relaxing day of sun. You can also enjoy a wide variety of aromatic herbs and good organic food. An enchanting place surrounded by nature, simple but luxurious, that you cannot miss!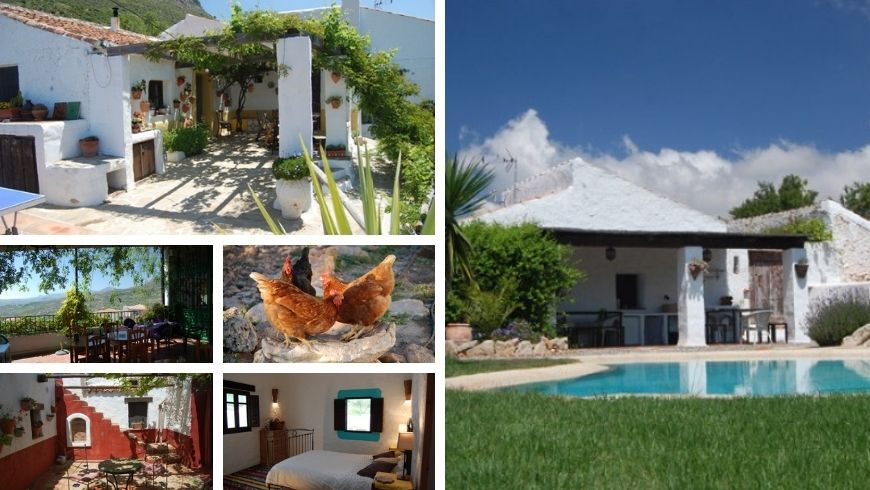 In the heart of the Costa Brava, in Siurana in the province of Girona, you will find the rural house 'il Moli de Siurana'. A fantastic establishment that welcomes you with excellent food and homemade marmalade. There is a fantastic terrace, where you can enjoy pleasant breakfasts and dinners, overlooking the garden. An enchanting place to have a quiet and relaxing stay, also equipped with a massage room and, for those who want to do some sport, bicycles are also available. An ideal farmhouse for a stay in total relaxation and tranquillity, located in an excellent position that allows you to reach the beach or, if you prefer, to carry out excursions in the middle of nature.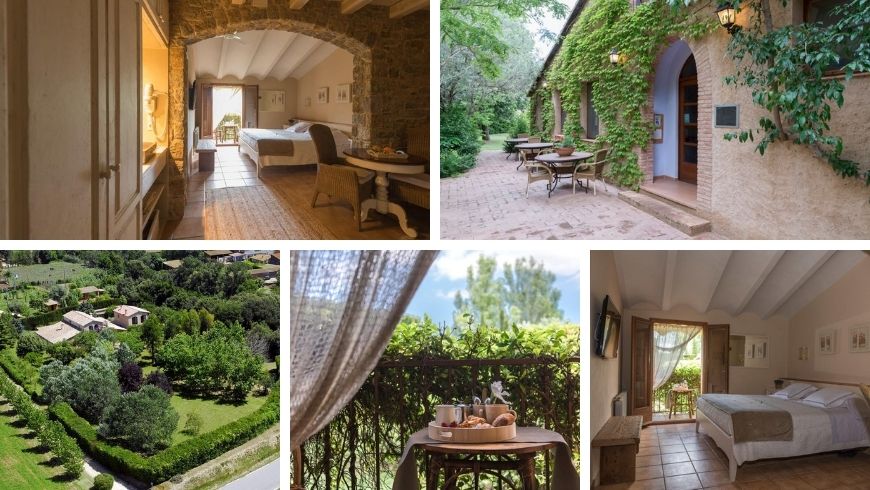 Located at the foot of Sierra Nevada, in the town of Órgiva in the province of Granada, Cortijo La Jimena is a rural complex consisting of two old rural houses restored with rustic decoration. Surrounded by orange trees and olive groves, this farmhouse is the ideal place to escape from the hustle and bustle of the city and enjoy a relaxing stay in harmony with nature. Featuring a farm and an organic vegetable garden, this complex is powered by 100% renewable energy.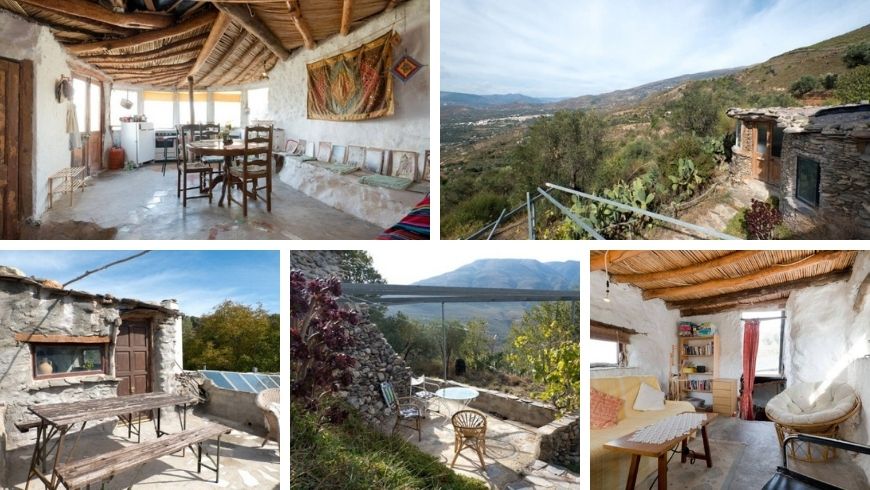 This rural house is located in the beautiful Sierra de Montánchez, surrounded by olive groves and beautiful mountains. It has three rooms, an open-air area with a fireplace and barbecue, and a wonderful swimming pool surrounded by nature. For those who want to do some sport, bicycles can be rented. What are you waiting for? This enchanting place is waiting for you, with also delicious typical dishes! A perfect spot to relax and recharge your batteries.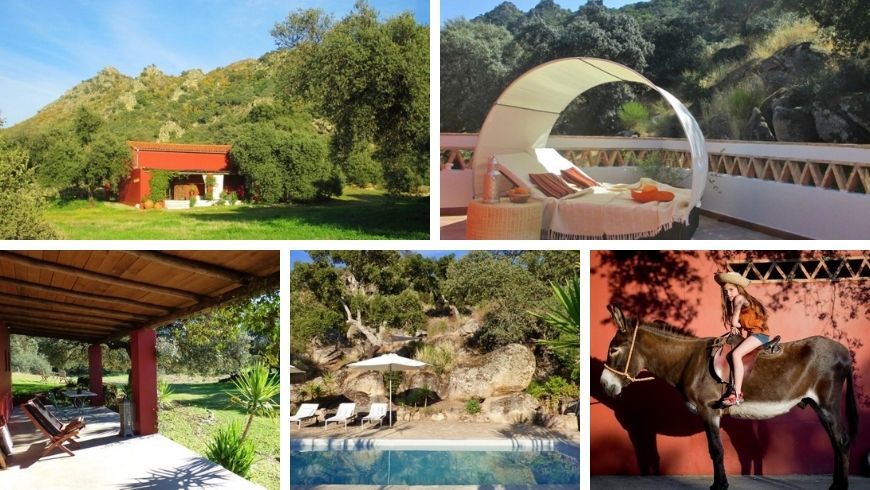 This structure, built in typical Canarian architectural style in the 18th century, is located on the beautiful island of Tenerife. Surrounded by vineyards and powered entirely by renewable energy, the production of food is certified organic. The back of the house also gives access to a wine cellar and a traditional wine press, one of the best on the island. Booking soon in this rural house! From here you can also reach the beautiful Teide National Park, where the 3,718-metre-high Teide volcano is the highest peak in Spain.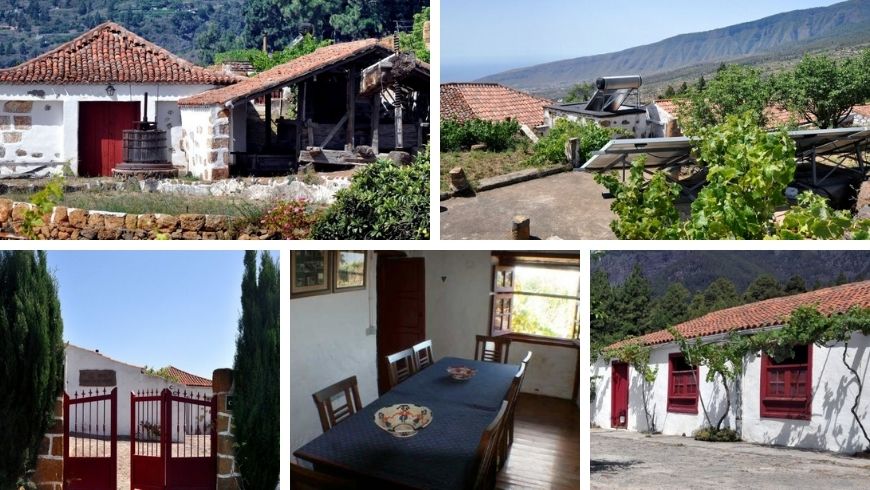 In the heart of the Sierra de María-Los Vélez Natural Park, in the north of Almería, we find this incredible farmhouse surrounded by untouched nature and imposing mountains. A charming place to relax, enjoy outdoor activities, and breathe in the fresh mountain air, surrounded by a beautiful natural environment.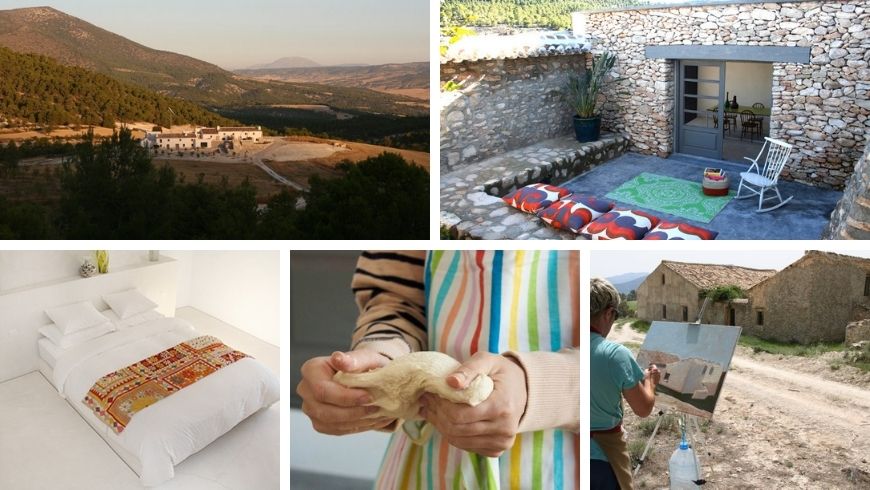 In the beautiful island of La Palma, one of the Canary Islands, we find this country house surrounded by orchards, olive groves, an organic vegetable garden and wide-open spaces. It is a peaceful place, where you can also have massages and rest while enjoying the natural surroundings. Moreover, thanks to many hike passing through impressive natural scenery across the island, you can take beautiful walks in the unspoilt natural environment.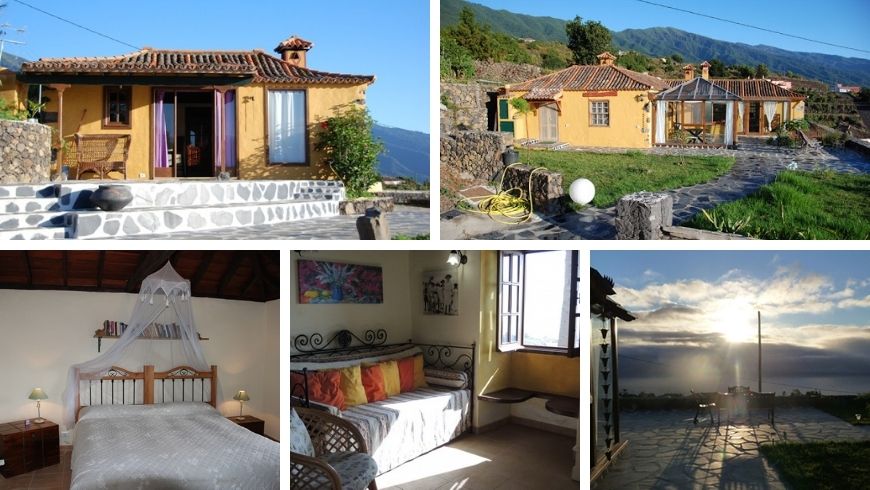 This rural house is located in Piloña, in the province of Asturias, a few steps away from the Redes Natural Park. The house offers the possibility of receiving osteopathic treatments, with Bach flowers and also Taichi and Chikun sessions. In addition, this farmhouse collaborates with four non-profit organisations, which work for human rights, environmental sustainability and socially disadvantaged children in poor countries. You have the possibility to contribute to these activities by donating 1% of the room price to one of these associations.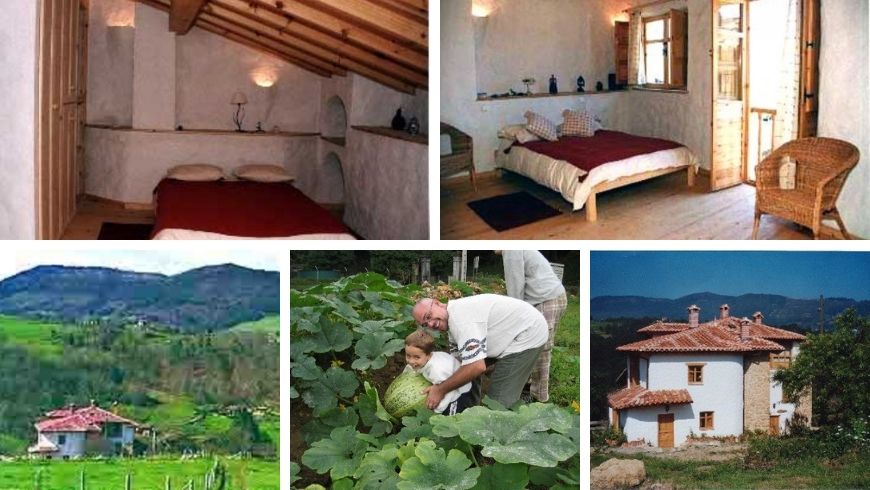 Cover image: Farmhouse Can Martí, Balearic Islands.