Whether you are a summer lover or you prefer colder months, you will definitely love these three amazing thermal springs in Slovakia!
You can bath there in all seasons. No fence, no overcrowded pools. Just you, beautiful nature and hot water. And what´s more, they are all for free. Sounds good, right?
1. Lukavica
Lukavica is 2.5 km from Žarnovica town in the Banska Bystrica region. Only a few people know this thermal spring, which makes it even more attractive. Thermal spring in a small village offers outstanding experience in more than 35°C water. Locals believe that Lukavica thermal spring heals their health problems of all kinds- from skin problems to asthma.
A small "lake" created by spring´s stem is 70 cm deep and therefore perfect for small children. The bottom of this lake is flat, with small pebbles. Thermal spring consists of ferric water and therefore, it is suggested to bring your old swimwear in case it would damage.
How to get there: In Žarnovica city turn off to Lukavica. Continue along the road till you arrive at the crossroads next to Lukavica church. Turn right and after few meters turn left to forest way. Continue straight next to all the houses. After 100m turn left on the way to the Lukavica thermal spring. In a few meters, you will arrive at this magical thermal spring. You can park your car 100m from the spring.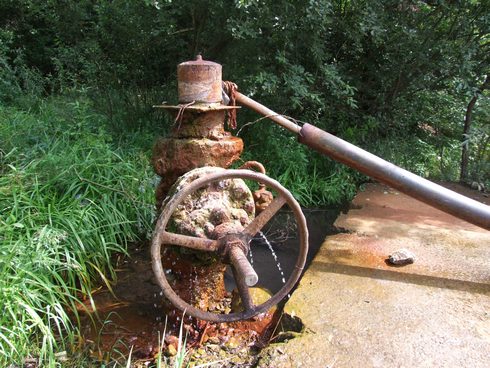 2. Kaďa
Bubbled mineral water rising in Liptovský Ján, named Kaďa, is one of 24 thermal springs in this region. They are described even in almost 500 old documents by mineralogist Juraj Werner. It consists of one natural crater surrounded by a lake. Based on the old legend, the shepherd with his sheep went around Kaďa. The sick sheep fell down to the spring crater and magically healed up. Since then, the shepherd dunks all the sick sheep into this water.
Kaďa is visited by both- domestic and international tourists- mostly from Germany, Poland, and the Czech Republic. The healing effects of Kaďa popularized Liptovsky Jan and thanks to it, it became a thermal city sought by many tourists. The water has between 16-25°C and it has proven health benefits in rheumatic diseases, diseases of the locomotory system, female organs, skin diseases, digestive tract, liver, and gallbladder. The ideal length of the bath should be 20 min/day.
For its high content of Sulphur, it can cause a little tingling on your skin. However, this tingling is harmless and quite pleasurable. The bottom of the lake is covered by gravel. There are toilettes, changing rooms, and a small buffet nearby. In the short distance, you can find Teplice thermal spring, where you can fill up your bottle with drinkable mineral water.
How to get there: Liptovský Ján is a city in the Liptovsky Mikulas region directly connected to the motorway, so you will find it very easily. Kaďa can be found thanks to GPS coordinates below.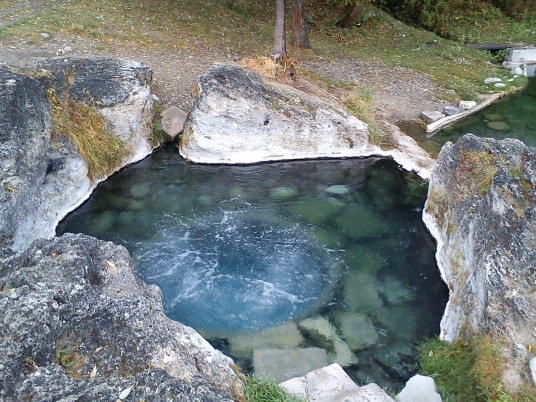 3. Kalameny
Kalameny, a small village next to Ružomberok city in Žilina county is famous for its 33°C thermal spring. A small lake (20 x 10 m) was built around the borehole by enthusiastic activists. The temperature is constant for the whole year so you can enjoy a lovely bath even in winter! It rises from 500m deep and it heals the musculoskeletal system and female diseases. Be aware of the strong Sulphur smell. It is visited by domestic tourists as well as Germans, Russians, Polish or Czech visitors. They claim, that if you are tired after a long day, only 30 min. in this bath can wake you up and boost you with energy! If you want to take a break from warm water, you can enjoy the beautiful nature surrounding this thermal spring by walking a little around or even make easy hiking to Choč, Liptov castle or Lúčky waterfall.
How to get there: You can park your car right next to the thermal spring.
GPS: N49.13046, E19.41873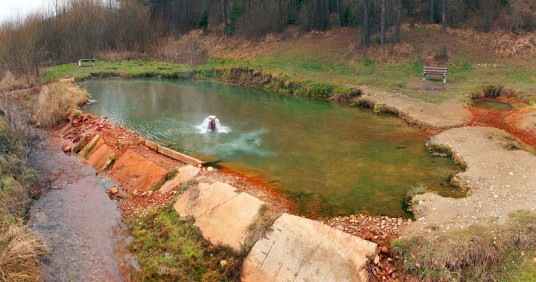 Have you ever been to Slovakia? Have you tried thermal springs there? Share your experiences in comments below!
Cover Image: Free Thermal Springs in Slovakia, photo via Canva Pro