Visit Monti Sibillini National Park to live a truly magical holiday surrounded by 70,000 hectares of majestic nature, in an area rich in culture and ancient history
The Park houses the highest mountain range in the northern Appennines. The highest peak is Mount Vettore, with its 8,123 ft. Other notable mountains include Mount Priora, Mount Bove and Mount Sibilla. The park authority oversees landscape conservation, to preserve the value and the natural, cultural and historical identity of the Sibillini Mountains. This Park is loyal to its philosophy, geared towards blending human beings and nature together. The hard work and effort put into this belief is what makes Monti Sibillini National Park extraordinarily unique.
Must-see sites
Monti Sibillini National Park is a vast and varied area, with exceptional spots, surprisingly different from one another but all equally worth exploring. Since the Park is so extended, we prepared a selection of the visitor's favorite sites for you to discover.
Piani di Castelluccio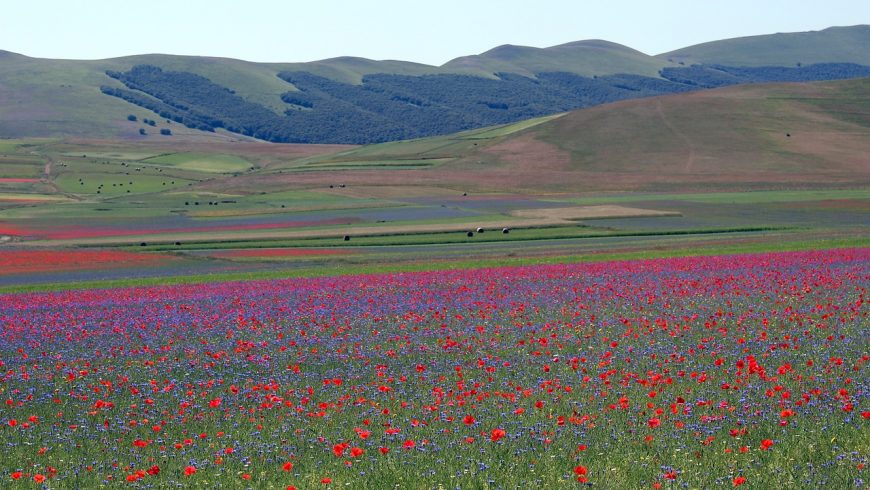 The piani di Castelluccio is made up of an Appennine lakebed dried out by karstic events. This vast plateau is famous for the Fiorita: a blooming event taking place between late May and early July. In this time of year, poppies, daisies, cornflowers and lentils blossom together, mesmerising with a rainbow of colours.
Italy-shaped wood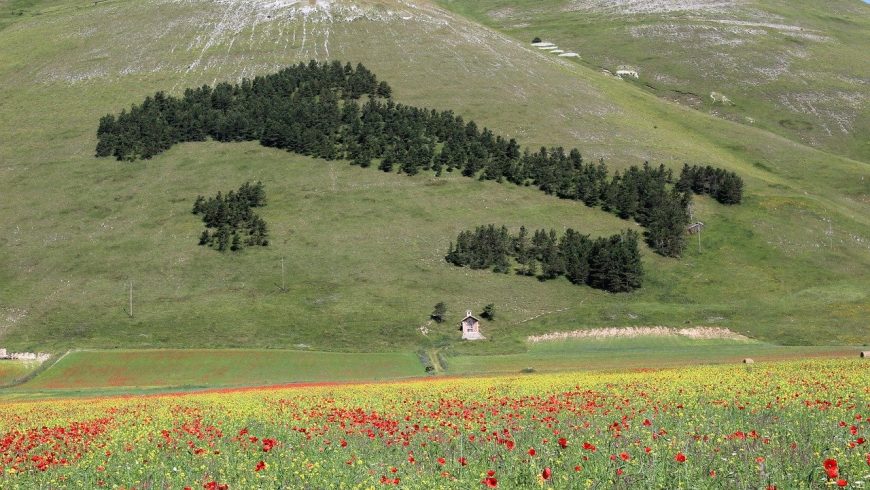 In Castelluccio di Norcia, on the slopes of Poggio di Croce, with its beautiful castle, you will get to see a truly memorable wood: the Italy-shaped coniferous forest. It was planted in 1961, on the hundredth anniversary of the unification of Italy and during the Festa della Montagna (mountain festival), arranged by the then Minister of Agricultural, Food and Forestry Policies Mariano Rumor. Today, this wood is a well-known symbol of Castelluccio.
Gole dell'Infernaccio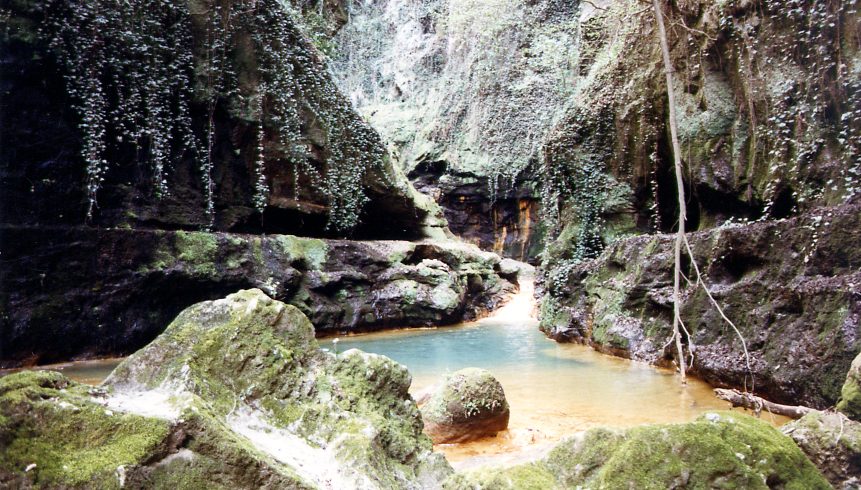 The Gole dell'Infernaccio are natural gorges formed by river Tenna, and they are one of the most evocative attractions in the Park. Here you will find the remarkable Eremo di San Leonardo al Volubro, an ancient monastery built in the heart of the gorges and popular destination for pilgrims. Infernaccio is renowned for its natural and spiritual beauty, but also as a common departing point for hikes due to the variety of trails it offers.
Fiastra Lake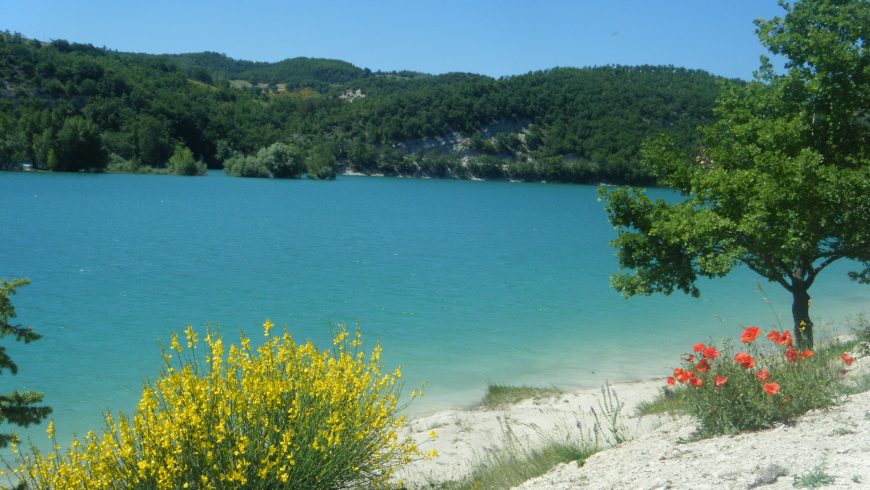 Fiastra Lake is an artificial lake in which river Fiastrone and minor tributaries converge, creating a mystical atmosphere. The lake's water is well-known for its clearness, reflecting the summits of the surrounding mountains. The lake is close to Valle dell'Acquasanta (acquasanta means holy water), which will leave you breathless with its spectacular waterfalls and the Grotta dell'Orso (Bear Cave).
Pilate Lake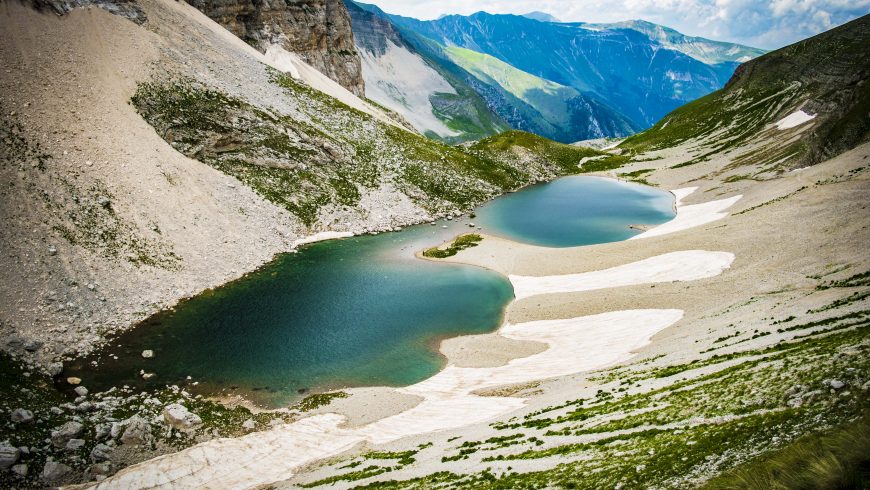 Also known as "lake with glasses" because of its unusual shape, Pilate Lake (Lago di Pilato) is traditionally considered a mysterious and magical place. Legend has it that the corpse of Pontius Pilate was dragged from Rome on a cart pulled by two raging bulls and thrown into the water.
Wildlife in Sibillini
Many species of wild animals inhabit the Park: Mediterranean mammals, such as the red fox, the Italian wolf, the wild boar and the European roe deer. Among the aquatic animals, in addition to the Mediterranean trout and the European freshwater crayfish, the incredibly rare Apennine yellow-bellied toad can be observed. Moreover, in Pilate lake lives the Chirocephalus marchesonii, a species of fairy shrimp unique in the whole world.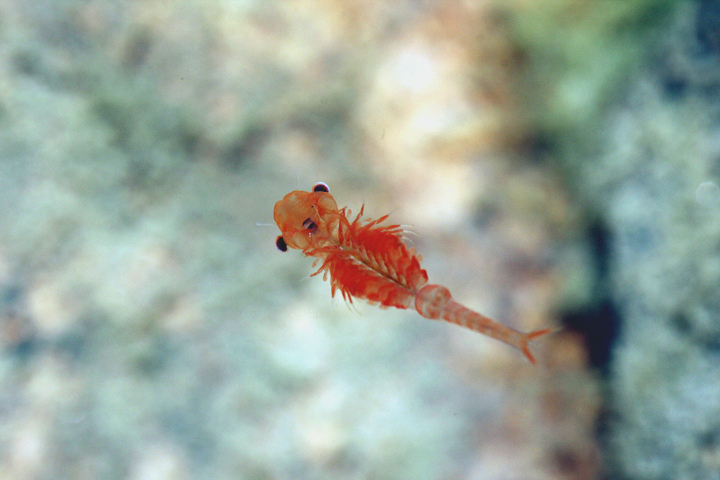 If you love learning new things, you will enjoy the museum dedicated to the Apennine chamois, a species of goat-antelope native to the Appennine mountains. The museum is made up of 4 rooms, and it will allow you to learn more about the natural environment in which this beautiful animal lives, as well as its behaviour.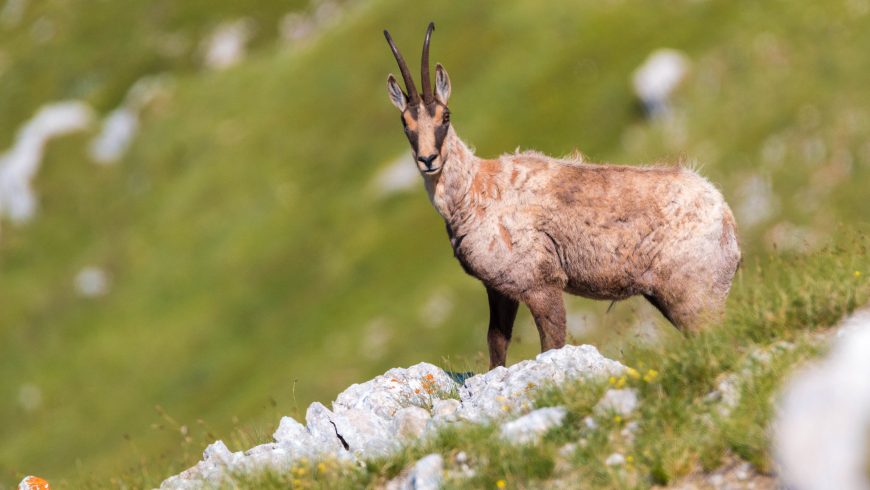 But that's not the only charming museum you will find here: pay a visit to the Giardino delle Farfalle (butterfly garden) and get to know the most beloved of insects. Through interactive devices, you will look closely to different phases of the butterfly's life, such as egg-laying, in a fun way. You will also admire the lush garden itself, with lots of fresh plants that nourish Sibillini's moths and butterflies.
Flowers and Trees in the Park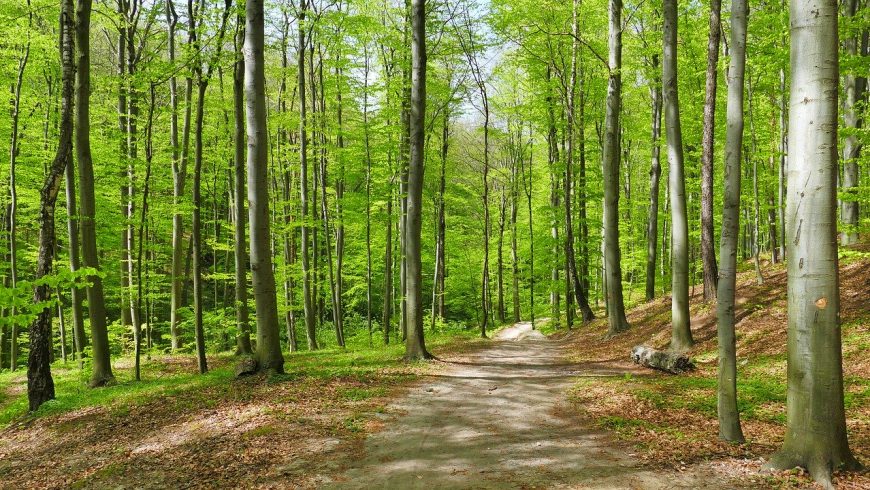 The Park exhibits a remarkable diversity of vegetation. Indeed, about 1,800 different species naturally grow here, each of them adjusted to its surrounding environment. Up to 3,000 feet, you will often see downy oaks, beeches and European hop-hornbeams. Above 3,000 feet, rarer plant species can be spotted, such as edelweiss, white genepi or viola eugeniae. This is a truly special ecosystem that needs to be protected and lovingly preserved.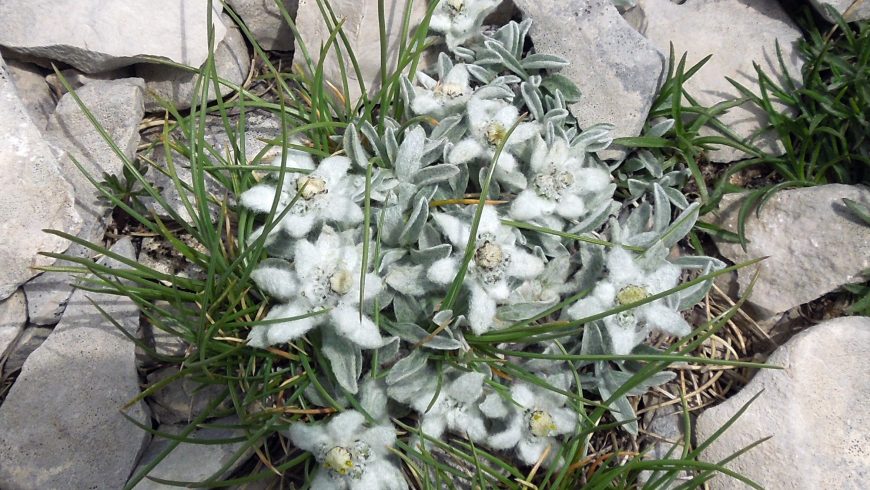 Zero Mile Food and Organic Specialties
Sibillini is where the ancient culinary traditions of Umbria and Marche regions meet. Castelluccio's lentils perfectly symbolise the tight bond that this rich area has always had with farming. Among cheeses, the main type is the savoury pecorino, but you will also taste delicious fresh and aged ricottas. This area also offers local honey, mushrooms, fragrant truffles, trouts (bred in Nera river) and several kinds of apples.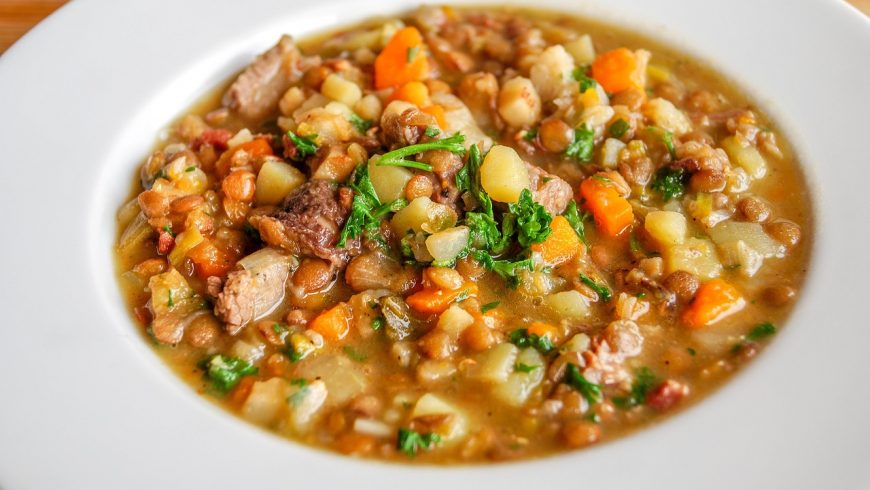 A commission of the Slow Food organisation selected the Park's "excellent productions", tasting and evaluating the products on offer.
The Park Quality Club consists of selected restaurants and hotels, praised for their effort in eco-friendly management. The criteria used for the appointment of the badge guarantee:
greater tourist environmental sustainability;
promoting local products and natural resources;
raising public awareness on the principles of eco-friendly tourism.
Routes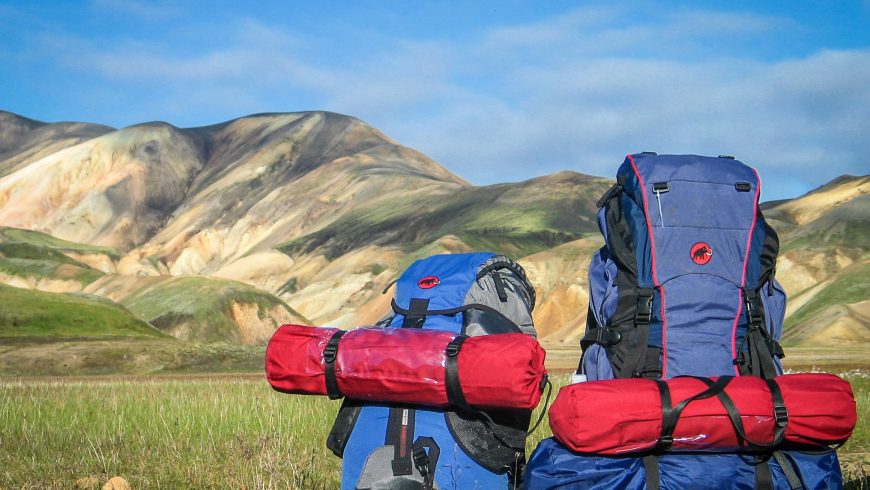 Sibillini houses countless routes and trails, perfect during all seasons, which will allow you to discover all of its magnificent secret spots. You can walk down streets that cross the medieval villages scattered through the park, or you can hike in bucolic and wild natural areas. For more experienced hikers, marked high-mountain trails, with the help of the expert park official guides, will lead you into the majestic, unspoilt nature of the Appennines.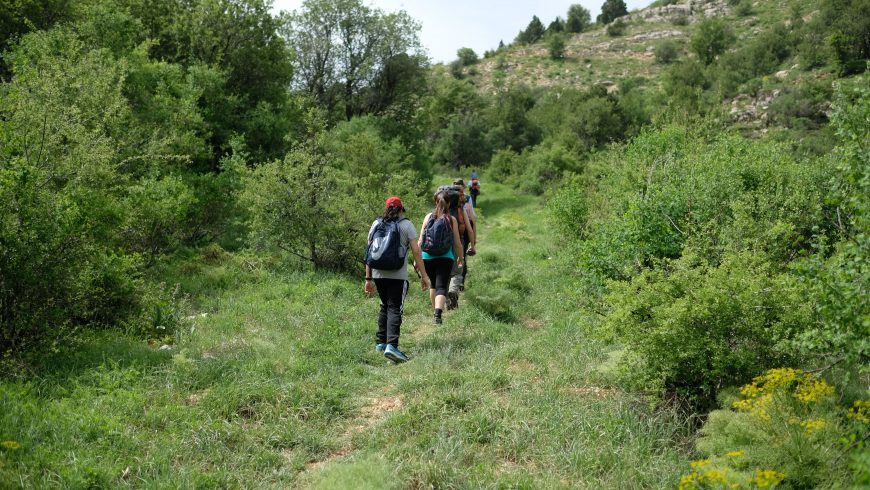 Make sure you walk the Sibillini Great Loop, an 80 miles long route which allows hikers to explore the whole park in a nine days' journey. To make the hike easier, the Park made ad hoc lodges available to visitors. This is an exceptional chance to admire the landscape diversity in Sibillini and to learn for yourself the enchanting cultural and historical heritage of this region.
Explore the Park on your bike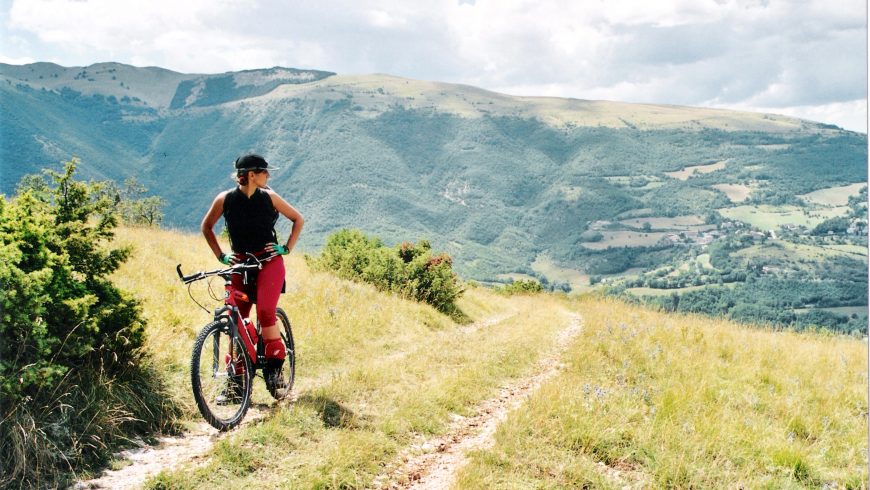 If you're still not convinced, hear us out: you can also explore the Monti Sibillini National Park on a mountain-bike. All you need to do is check the "Pedalando nel Parco" (riding in the park) guide: it illustrates 14 routes you can easily complete in one day plus the the Great Loop (on your bike, the whole loop will only take you 4 or 5 days). The recommended travel time is longer than necessary, encouraging you to take your time following the rhythms of nature, and abandon yourself to the wonder at the astonishing views that surround you.
Green accommodations nearby
Last but not least, our recommendations for eco-friendly lodging where you can stay comfortably during your adventure in Monti Sibillini.
Country House Centro dei Due Parchi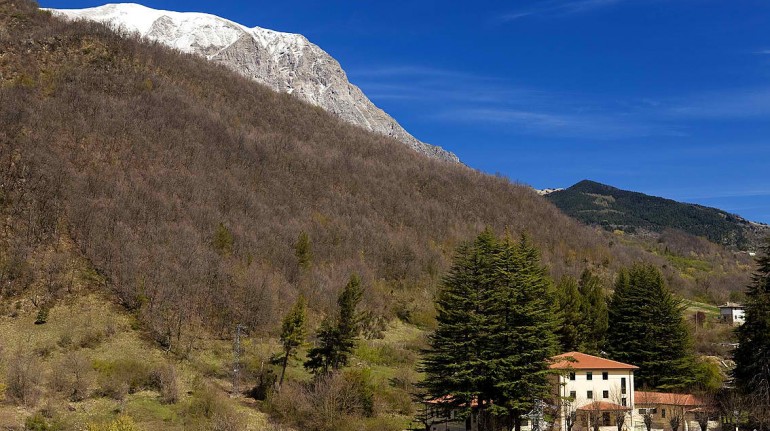 Country House Centro dei Due Parchi is the ideal choice for a deep-in-nature stay, as well as the perfect departure point for exciting hikes through the Monti Sibillini National Park and the Gran Sasso e Monti della Laga National Park. Moreover, winter is coming, and this is a great stop when you're skiing in the ski slopes and facilities nearby: Forca Canapine, Castelluccio di Norcia or Monte Vettore, or during a "ciaspolata", a snowshoe hike through the magical white-caped mountains.
Fonte dell'Angelo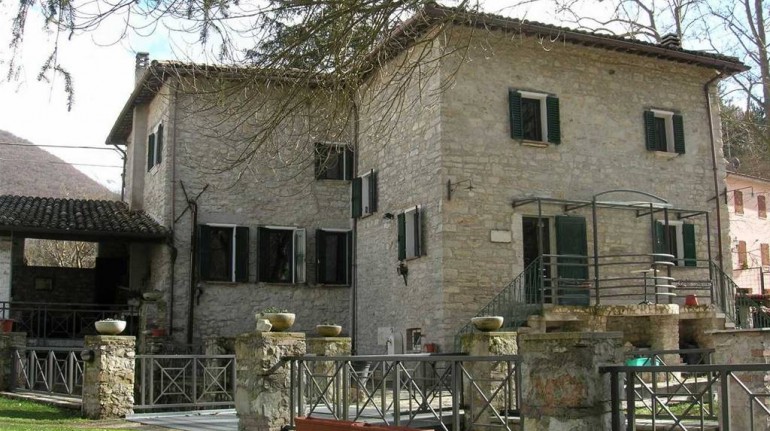 In Castelsantangelo sul Nera, a medieval village in the heart of the Sibillini Park, Fonte dell'Angelo is a warm and welcoming bed and breakfast with eco-friendly apartments, a stone's throw from the plateau of Castelluccio and the Sibillini Great Loop.
B&B Cascina dell'Orso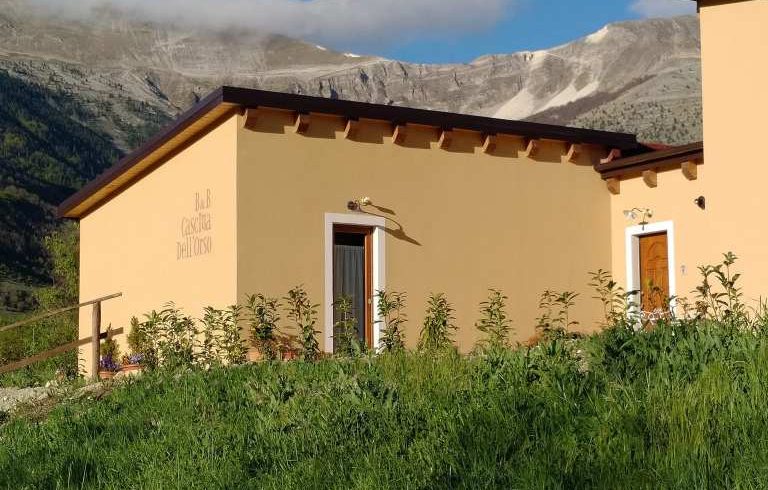 Cascina dell'Orso is located in Vallinfante, 5 miles from Visso, which houses the offices of the Park, and 7 miles from Castelluccio di Norcia. This B&B is a fascinating ancient building, renovated following the principles of green building, with natural materials such as wood, stone, clay and eco-friendly products for finishes and insulation.
Querceta di Marnacchia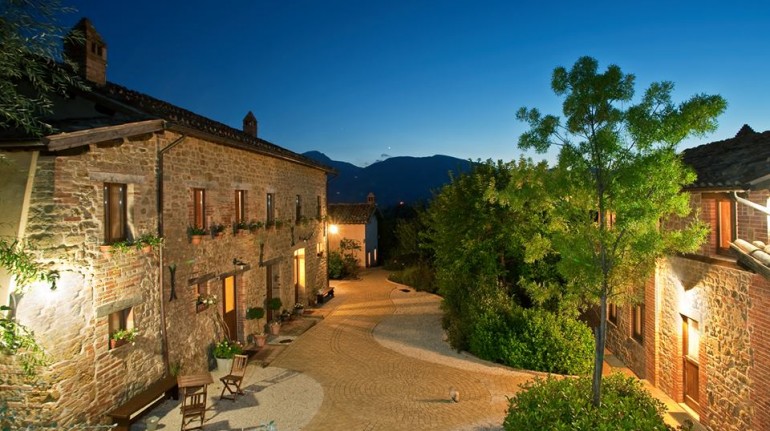 Querceta di Marnacchia is an ancient stone-built, carefully renovated farmstead, 6 miles from the medieval village of Amandola. It's perched atop of the hill of Marnacchia, gaining an impressive view over the Sibillini mountains. Moreover, you will be presented with a delicious organic local breakfast.
Fiorano Farmhouse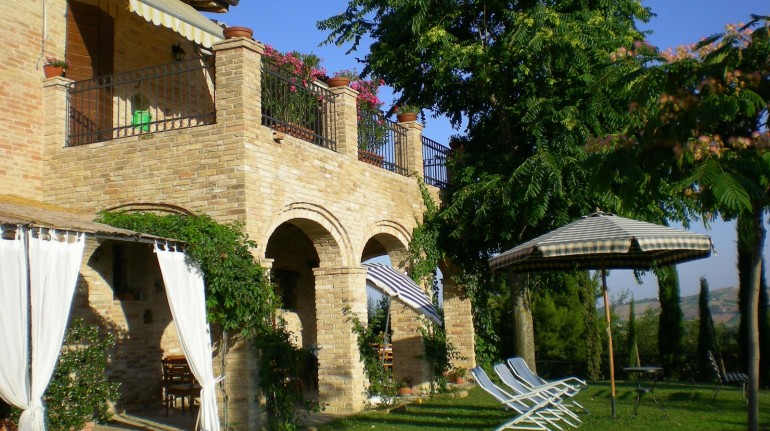 Nestled on the rolling hills in Marche, Fiorano farmhouse is close to Riviera delle Palme, on the Adriatic coast, and its strategic location is perfect to visit art cities and villages such as Ascoli Piceno, Offida, Fermo, Ripatransone and, of course, the Monti Sibillini National Park. The farmhouse building is a beautiful ancient stone-built house, renovated with green building techniques, with a vast surrounding organic vineyard and olive grove.
Cover image: By Elisabetta Rosetti – Own work, CC BY-SA 4.0, via Wikimedia Commons