Surrounded by nature and freezing cold. Enjoy beautiful winter views and a fire cracking in wood stove. A Golden Sollar Egg Sauna is perfect experience for lifetime!
A Golden Sollar Egg Sauna is the most unique sauna you´ve ever seen. It is the only sauna of its kind, situated in Swedish city Kiruna.
This egg-shaped sauna was unveiled by architects Bigert & Bergstrom. It is 5m high and its exterior is composed of 69 bits gold plated steel reflecting the environment. Interior comprise of wood-heated, heart-shaped sauna stove made of iron and stone.
Sollar Egg Sauna can be disassembled to 69 separate parts and be built elsewhere. This is perfect, as it makes this sauna completely mobile.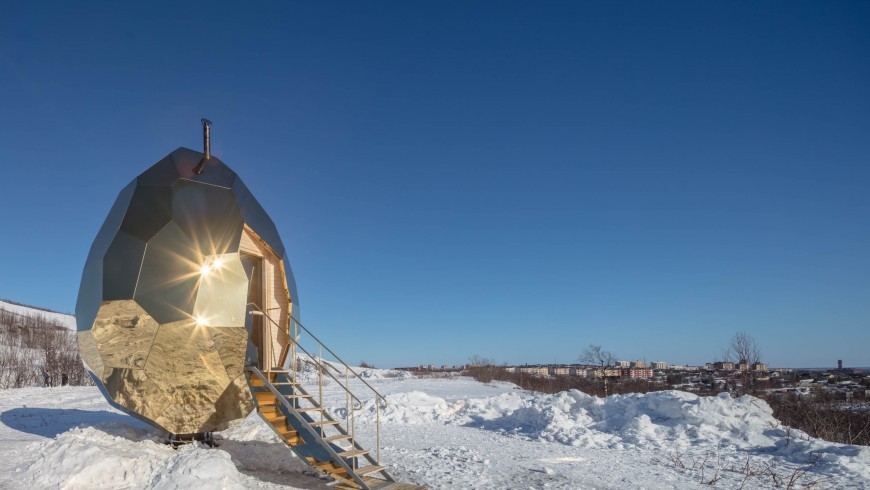 Sauna as a symbol of rebirth
Solar Egg was made as a social sculpture in response to a commission from Riksbyggen, which created the project for urban redevelopment.
City of Kiruna, where you can find this special sauna, is currently undergoing a transformation, involving a radical step for the whole town. Mining company LKAB has the opportunity to extract more of the iron seam, which cuts diagonally downwards beneath the city. Even though iron ore is an important source of income in Sweden and Kiruna specifically, breaking up and devastating transformation of the landscape, the environment and the architecture is the topic number one of a lot of debates.
Therefore, this sauna should symbolize rebirth and incubator, nurturing new conversation and exchange of ideas. Sauna has a key position in the artic climate of Lapland- it is a symbol of warmth and reflection. It is a continuation of Bigert & Bergstrom´s strategy to involve climate into the experience of the artwork. It was initiated with the Climate Chambers in 1994.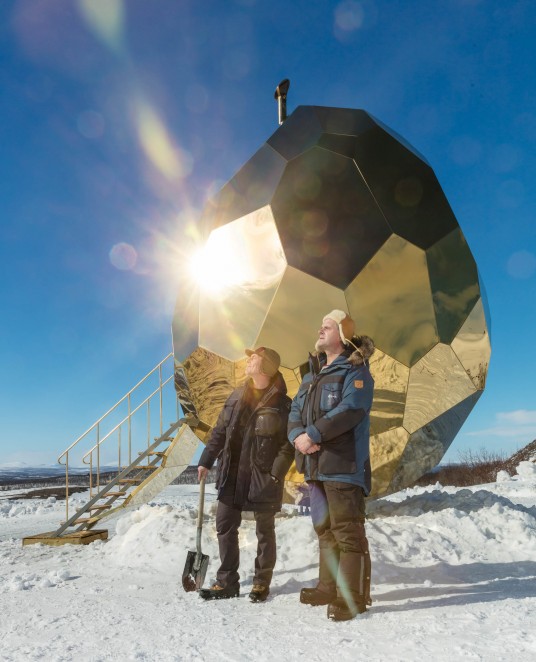 Experience for free
The sauna can seat from 2 to 8 people and it is possible to book Thursday, Friday and Saturday. The temperature inside the egg is quite high, between 75°C and 85°C and it is free of charge.
Would you visit this untraditional sauna?