Small but big in heart. Slovakia is simply beautiful: from natural treasures and historical monuments to interesting culture and modern cities. And people? One of the most generous ones in Europe. Excited for your next travel? Check out 10 places you should visit on your trip to Slovakia.
High Tatras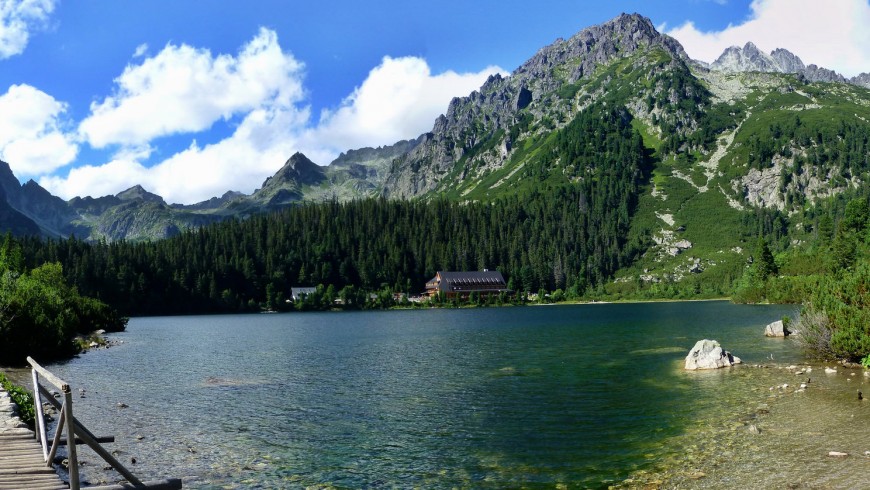 The smallest alpine mountains in Europe. But still big enough to amaze you by beautiful sceneries and panorama views. What is waiting for you in Hight Tatras? Well, what about majestic peaks touching to the sky, dark turquoise mountain lakes of glacier origin, waterfalls, unique plants, rare animals like chamois or marmot, exceptionally clean air and environment great for healing respiratory conditions?
High Tatras are perfect for hikers. There are hundreds of hiking paths. If you, however, are not a big fan of hiking, don´t worry. There are many hills, you can reach by cable car as well. For example, Lomnicky Stit– the most visited peak, where you can find the highest situated Astronomical and Meteorological Observatory in Slovakia.
Gerlachovsky Stit is the highest peak of Slovakia. Thanks to its breath-taking scenery, it is very favourite hiking object. If you however, want to visit Gerlach, you must hire a skilled mountain guide. Otherwise it is forbidden to hike it.
Krivan is another hill, worth hiking. There is a saying, that every Slovak should hike Krivan at least once a lifetime (it comes from the history). Very popular are also all the hikes from Strbske Pleso … Check one of our itineraries for inspiration.
PS: High Tatras are also famous for ski resorts and ski areas (alpine, downhill and cross-country)
Castles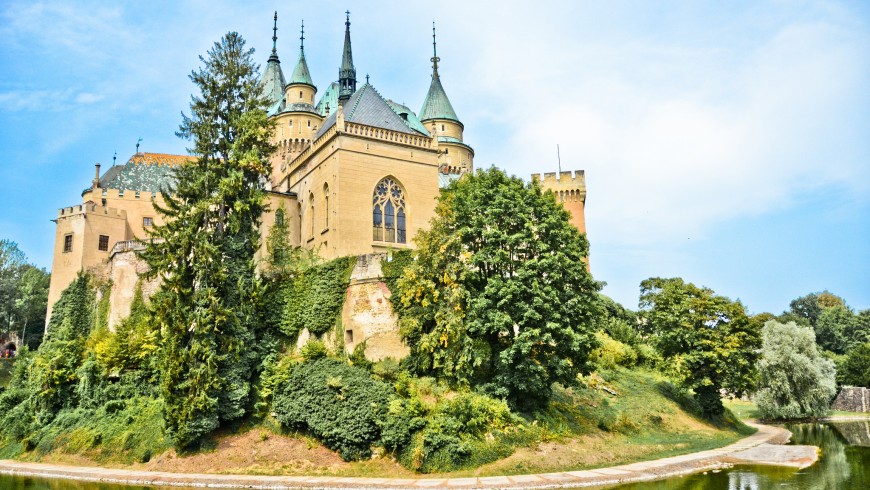 If you are in Slovakia, you definitely should visit at least one of its beautiful castles. You have really a large selection to choose from. To be exact, 120 castles or castle ruins. Explore their majesty and let yourself fall in love with legends and atmosphere of them.
The most beautiful ones are Bojnice and Spis castles. You can read about 10 most beautiful castles here.
Bojnice castle is, to be honest, my favourite one. Maybe because I was born in Bojnice, maybe because the atmosphere of the castle is just amazing, breath-taking and intense. In fact, it is one of the most popular and visited castles in Europe. There are many legends and stories about Bojnice castle and it also have its own cave, which you can visit as well.
Spiš castle is another charming monument. Even though, there are just ruins, it is still in a good condition. There are great guides, who will show you the castle and tell you interesting facts and stories about the history- in a funny way. After the excursion, you can sit in the garden of Spis Castle. Be quiet and observe small sousliks running around. By the way, did you know, that Spis Castle is one of the biggest castles in Europe?
Slovak Paradise
A gem among Slovak national parks. Slovak Paradise is full of wide meadows, forests, chasms, canyons, gorges, waterfalls and underground caves. It is a real paradise for recreational hikers – 300km of marked trails. None of them extra challenging, but each of them with a bit of adrenalin. Are you a ladder, bridges, creepers and chains lover? Then, Slovak Paradise is a right choice for you.
And what to see in Slovak Paradise? Well, the most beautiful and favourite trails are Prielom Hornadu, Tomasovsky lookout, Klastorisko, Kysel, Sokolia dolina, Velky and Maly Sokol, Piecky and Sucha Bela.
Flatboats on Dunajec, Pieniny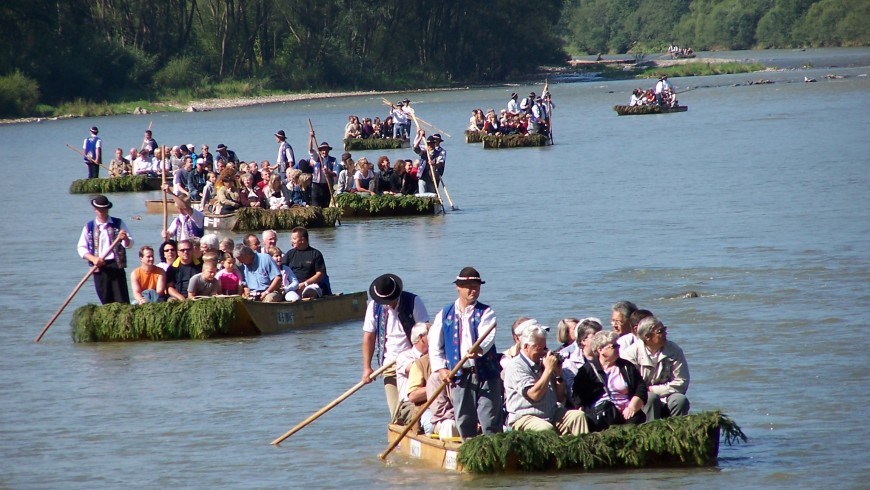 Something different, something adventurous, something unusual. Cruise the river as Slovaks used to cruise it. If you came to Slovakia during the season (May- October), you can experience unforgettable traditional rafting. Folk rafting in the rapids of the Dunajec river on traditional wooden rafts waits for you in Pieniny. Pieniny are, by the way, famouse for its natural beauty, rocky ridges, unspoilt scenery and repose. It is a favourite destination of kayakers, anglers, and cyclists.
The rafting experience can be booked in Cerveny Klastor at small rafting companies. It only lasts 1- 1,5 hours. We promise, that it is definitely worth it!
Tour around Bratislava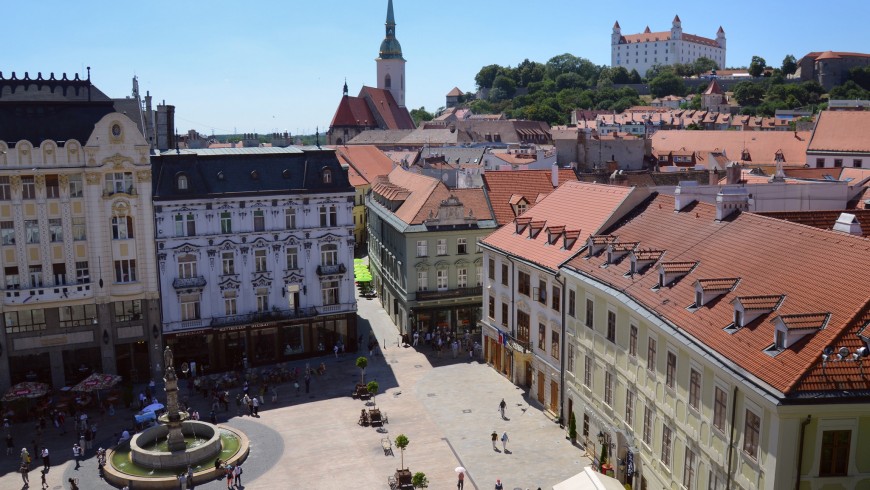 The capital of Slovakia. Recently, Bratislava is changing rapidly and thanks to many initiatives of nice people, it is becoming a green city. There are many green and eco-friendly shops, forms of transportation and restaurants. Eco events, interesting lectures and vegan festivals are on the list very often. There is also supermarket called YEME, offering just local or fair-trade products.
Do you like street food? There is a growing trend of traditional Slovak street food. Thus, you can find traditional dumplings filled with jams, bread spreads or traditional food called Podpecovnik and Trhance. Isn't it amazing?
While being in Bratislava, definitely visit the old city, Bratislava Castle and Devin. It is not a big city, so don't worry about the time pressure.
Can you find Cumil in the city centre? It is very famous sculpture. A little spoiler- look for him on the ground. Take a funny photo with Cumil– it is very popular activity among tourists. How inventive are you?
Caves of Slovakia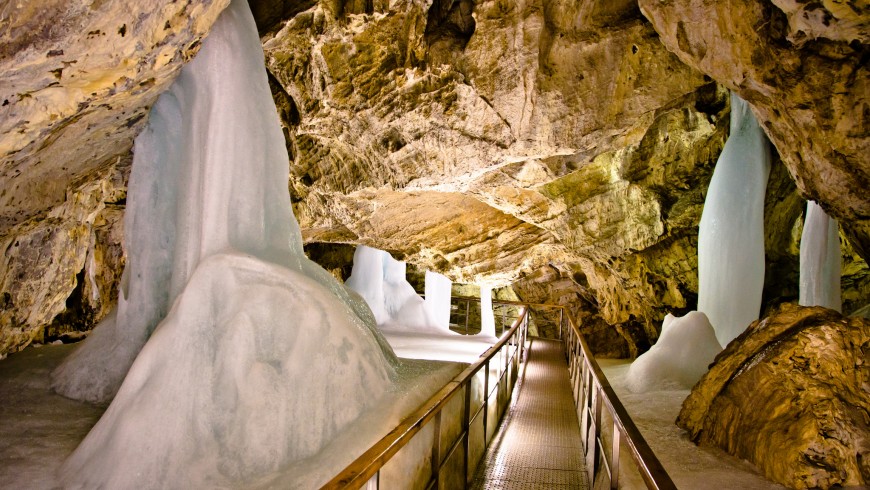 The air is cleaner, the temperature lower and the atmosphere…. simply magical. The life under the ground is amazing. Slovakia has more than 6200 caves. 400 of them are explored. And they are waiting just for you. Which ones are worth visiting? Demanovska Ice Cave, Ochtinska Aragonitova Cave, Demanovska Cave of Liberty and Dobsinska Ice Cave are my personal favourites.
The most beautiful underground place in Slovakia is Demanovska Cave of Liberty. Its waterfalls, flowstone fillings, flowstone water lilies or eccentric stalactites are breath-taking. It is perfect to visit the cave during the summer. Under the ground is 7°C. If you feel like you want to visit another, even colder cave, Demenovska Ice cave is right next door.
Vychodna Folk Festival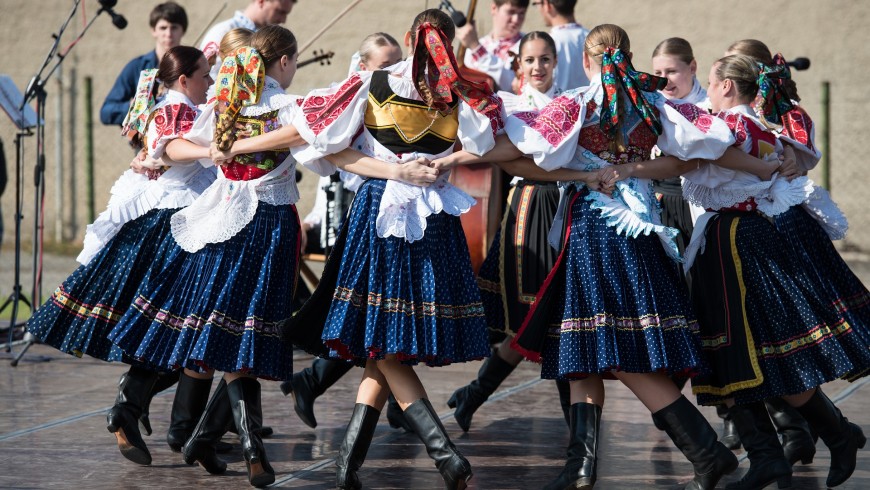 Are you heading to Slovakia in the beginning of July? Great! We have a program for you already. Every year on the first week of July, small village under the High Tatras, called Vychodna, organize the oldest and greatest folklore music & dance festival in Slovakia. Except of Slovak folklore, you can also see performers from other countries. Can you find your country as well?
During the festival, Vychodna lives with unique atmosphere. Not only beautiful performances and music… but also many workshops, games and dance parties are organized. You have to experience it!
Villages of folk architecture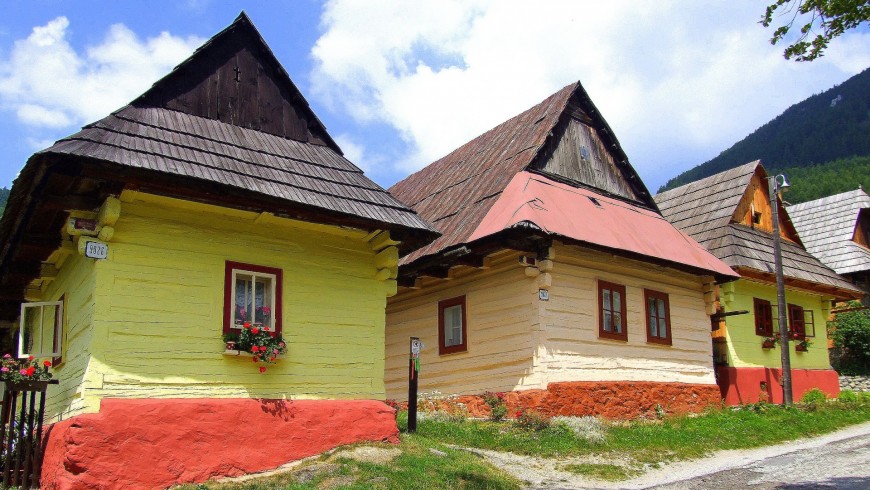 Do you know, what Skanzen means? It is a word describing an old village, open-air museum– where you can walk around, visit the houses and imagine the life of old Slovaks. We have many Skanzens in Slovakia.I can suggest you to visit Vlkolinec, Cicmany and Museum of the Slovak Village.
Interesting fact about Vlkolinec – Even though it is open- air museum, there are still people living in the village. Exactly, 17 people are still living in old houses. It is really a special place. It is untouched and has preserved historical monuments from 15th century. Of course, Vlkolinec is a part of UNESCO Heritage Site.
Cicmany is a village with beautifully painted houses. By walking the streets, you will feel like in an old fairy-tale. Patterns on the houses are becoming more and more popular nowadays. You can find these patterns on clothes, bags, mugs or shoes.
Museum of the Slovak Village is special by its living history. You will walk the village, accompanied by the sounds of different animals living here. Goats, sheep, hens or rabbits. Gardens full of vegetables and fruit trees around. As time would stop here and people disappeared. Don't miss this magical place in the city called Martin.
Thermal Spa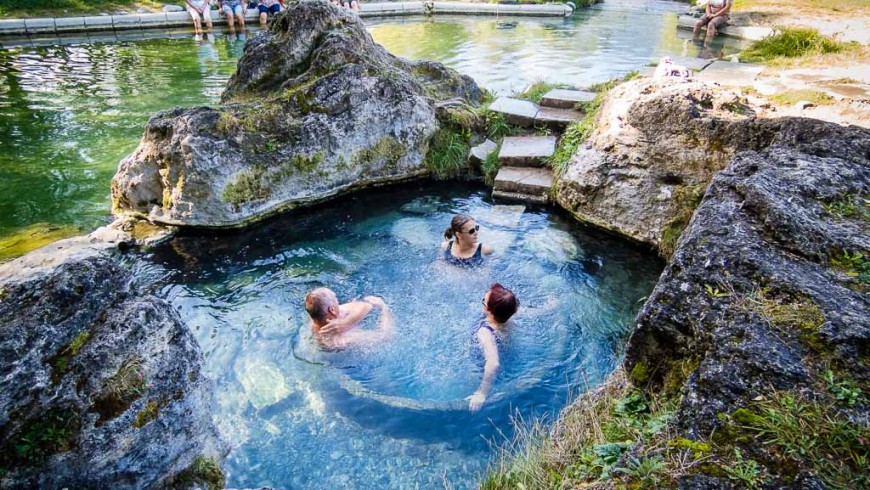 Slovakia is proud of its thermal and mineral water heritage. The water heals many health problems– maybe that´s why wellness tourism is so popular here. There are many thermal and mineral springs, people use either for free -somewhere in the nature, or they pay for more luxurious experience in hotels or spas. If you prefer the second option, visit Besenova, Oravice, Tatralandia or Aquacity. These are the best for thermal relax. However, if you like to be in the nature, check our article about three thermal springs for free here.
Kosice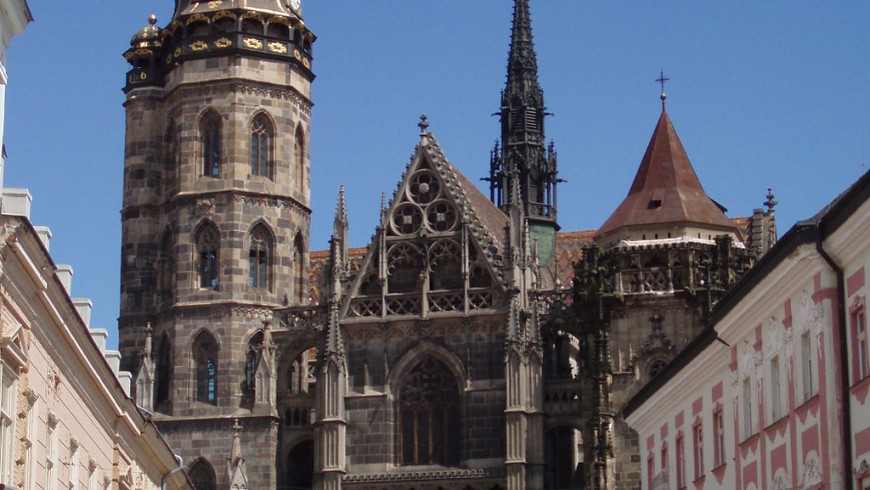 Second largest city in Slovakia has a rich history. Many people also claim, that is prettier city than Bratislava. Old town of Kosice is really beautiful. It is gathered around a pedestrian high street and town square. In 2013, Kosice became an European Capital of Culture. Eye-catching gothic Cathedral of St Elizabeth is a dominant of Kosice. Small restaurants and cafés on a square offer the relaxing place to enjoy the vibrant energy of Kosice.
Do you have other tips, where to go in Slovakia? Share them with us!