If you've been planning to visit Komodo Islands, I'm sure that there's been a lot you've put into considerations. You don't want to leave anything out –you want the trip to be perfect.
While Komodo Island is a great vacation destination, you need to have proper planning to get the best out of the place.
This means that your itinerary should be fun enough for you, and whoever you're traveling with.
One of the hardest decisions you'll have to make is whether to choose a day trip, or a liveaboard package.
Both these options seem great, but you can't have both. So, which of these packages will allow you to explore Komodo island to its entirety?
Here are a few things you can look out for.
1. Scheduling and booking
Before deciding which package to go for, you have to consider the process required in the booking. Scheduling a trip for daily trips is much easier compared to that of liveaboard.
This is because, the day trips happen every day and so, making the availability easy.
Liveaboard trips require more planning and so, are way harder to plan and schedule the trips. Therefore, you need to be sure that your Komodo cruise operator is available during your travel dates before you book.
Pro tip: Don't pay for the liveaboard trips in advance; instead, wait until you've actually seen the boat, you're about to live in.
2. Diving experience
Komodo Island offers some of the best diving spots in the world. It'll, therefore, be a shame if you visit the island and fail to go for a deep dive.
Both the liveaboard and the day trip packages offer the diving, but the day trip is quite short. In fact, for some cruise operators, the closest you'll get to the aquatic animals is through the glass-bottomed boat.
The liveaboard package, on the other hand, gives you the freedom and time to participate in as many activities as possible.
The day trips are usually made in a hurry to cover as many places as possible. However, with the liveaboard package, you get time for snorkeling, diving, and swimming.
Therefore, if you're looking for the time of your life in diving, then the liveaboard package is definitely yours.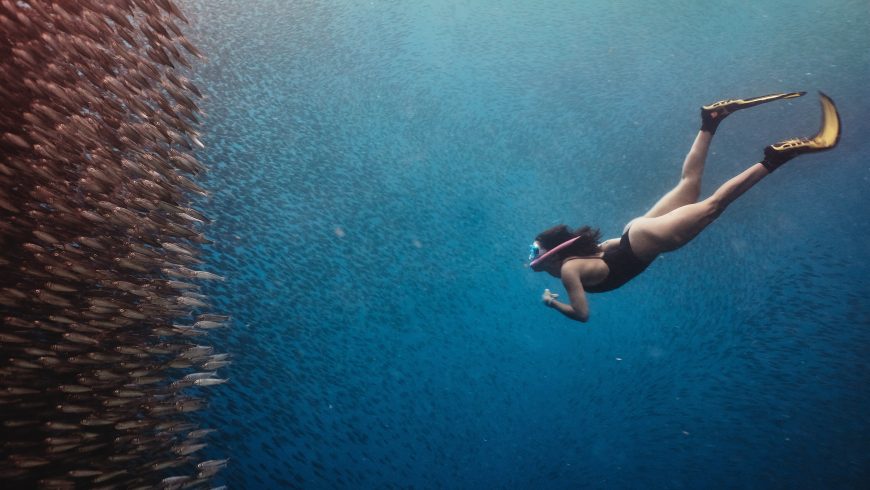 3. Flexibility
Your vacation is a time when you are going with the flow. There's no strict timetable you have to follow on how to do things.
And that's how your Komodo cruise should be.
The day trips are very rigid in terms of the places you visit. They follow the itinerary prepared for them to the latter, and thus, you may not enjoy it as you'd like.
With the liveaboard, however, you have the option to visit the popular spots during the quieter times of the day – when they're not crowded.
Moreover, with the liveaboard, you can divert from your itinerary for a while and spend more time at places that fascinate you. After all, you have the time.
4. Comfortability
After the day's adventure, you need to have a comfortable place to go back and rest. You also need to have adequate and a variety of meals to choose from.
On day trip packages, you get to back to your hotel room at the end of the day and enjoy their services. The liveaboard trip, however, is a bit different.
At the end of the day, you'll have to go back to your cabin. Depending on your choice of cruise, some cabins are more comfortable than others.
Some operators even offer Spa services in their liveaboard packages.
Nonetheless, I think hotel rooms are way more comfortable.
You, therefore, have to decide on what kind of accommodations you prefer, and whether you can afford a few nights on the sea.
Final thoughts
Another critical factor you need to account for is your budget. The liveaboard package can be a bit more expensive than the day trips. And so, be sure that you can afford the package you choose to go with.
There are numerous other factors you should consider before choosing either of these options.
However, the scheduling, diving experience, flexibility, and comfortability should be at the top of your list.
With that in mind, you can make the best decision for your cruising package.