Sleeping in a treehouse or in a barrel? In a real castle or in a suite on the sea? Spending a night under the stars or in an ice igloo? Discover the most unusual and romantic eco-hotels for your Valentine's getaway
Valentine's Day is dedicated to lovers, everybody knows it. On this special day, you want to feel pampered a little bit more than usual, don't you? Are you planning something different from the old same dinner and a bouquet of roses? We have some great ideas!
If you're looking for something unusual, an elopement that doesn't follow the routine, this is the right article. Have you ever thought of a Valentine's Day on an oak, an igloo or maybe in a barrel? Well, we do! Find out where you could spend this special day with your soul mate.
Valentine's Day in a barrel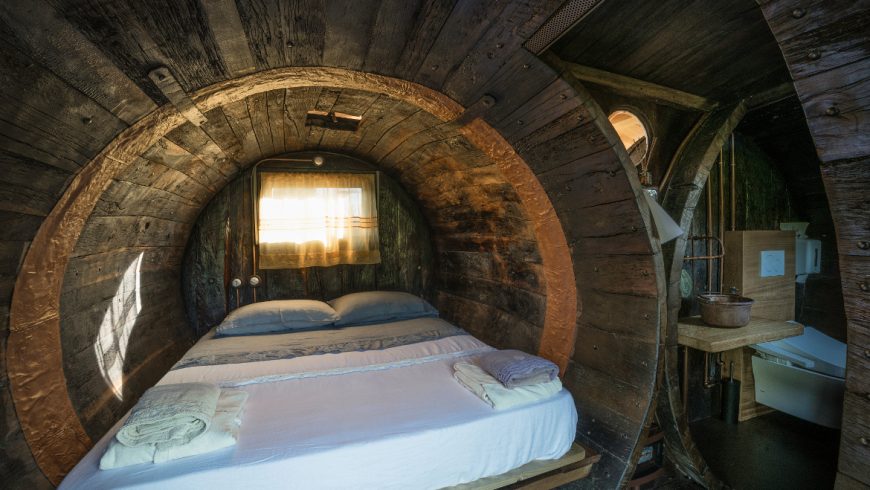 barrel
genuine breakfast
private rest room
Are you dreaming of being close together? Then we have the solution for you: one night in a barrel. The Agriturismo Coroncina offers the possibility to sleep in a romantic wooden barrel located a few meters from the house. These barrels are immersed in the silence of the woods, with panoramic views of the hills of Macerata. Ready to do something crazy, like sleeping in a barrel for Valentine's Day? In the morning, breakfast with fresh produce at zero kilometer, and then you will be ready to discover the beautiful landscapes of Belforte del Chienti.  The perfect way to celebrate Valentine's Day in a romantic way this year. Ah! No fear for the cold: the barrel is heated.
Starting from: 140€ per night for two people, with organic breakfast.
San Valentine's night in an ancient village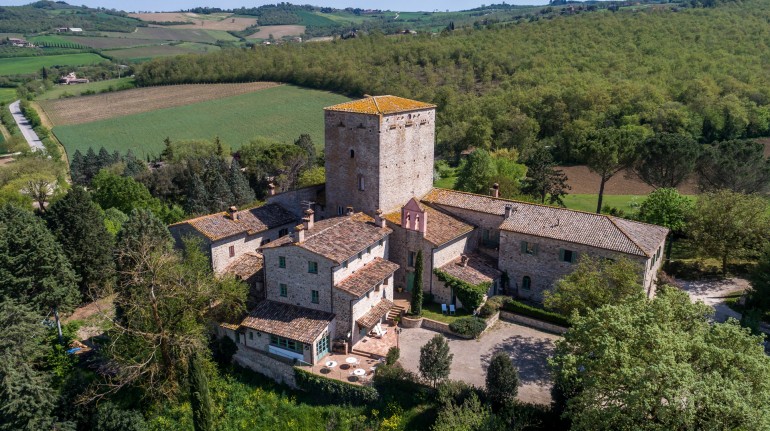 You've been planning a romantic Valentine's Day elopement for some time, but you still have no idea? If you like to visit the ancient medieval villages, Borgosansisto B&B Todi is the right destination. Among the hills of the charming Perugia, a few steps from wonderful places of art and a lovely Romanesque church, you will find total relaxation. Rooms furnished with all modern conveniences, spa and from the ground to the table breakfast included!
Starting from: 130 € per night for 2 people with breakfast and entrance to the wellness area.
Valentine's Day in a suite by the sea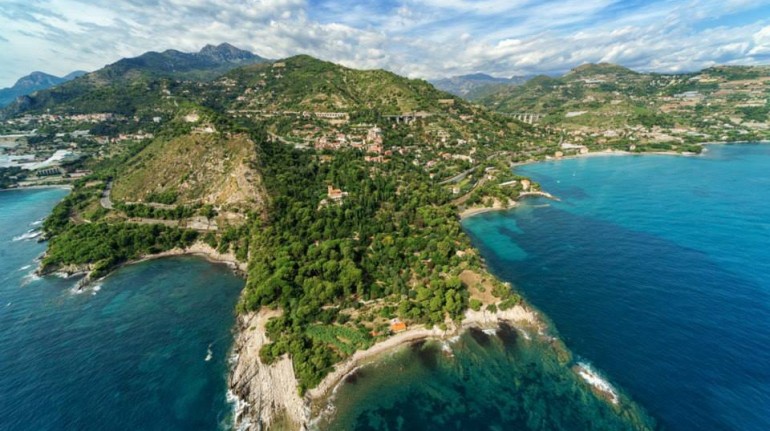 If you want to pamper yourself in a fantastic suite by the sea and, why not, make a trip to Montecarlo, The Mortola Tower Eco-Luxury Resort is the right choice. In Mortola Inferiore, in the town of Ventimiglia (Liguria), you will be fascinated by the 20,000 square meters of the garden that surround the residence. Here, there's a mild climate, clean air, pristine nature and breathtaking views of the sea. Simply put, a dream holiday! In effect, the property offers all the amenities you will need, and even more! The peculiarity of this fascinating place is the possibility to book special treatments with the Aloe arborescens. This plant, cultivated directly on the spot, is a medicinal herb with strong healing and detoxifying properties.
Starting from: 150 € for one night for two in the botanic Suite with panoramic view.
Elopement among the vineyards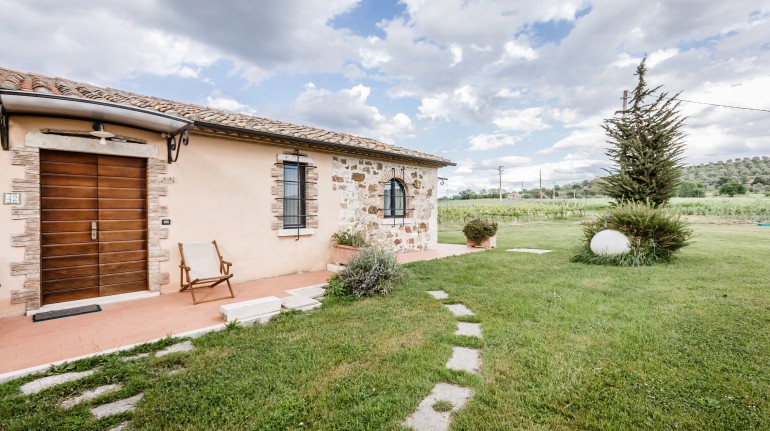 If you love Tuscany, you can't help but book a romantic night at the Relais Villa Acquaviva in Grosseto, near the famous thermal spa of Saturnia. In this charming farmhouse, the keywords are comfort and privacy. Nestled among the vineyards of the Tuscan villages, the property has an excellent restaurant where you can taste wines, Tuscan specialties and oil produced by the organic farm. Besides, near the Relais, you will have various ecotourism itineraries at your disposal, from horseback riding to snowshoeing!
Starting from: 130€ per night for two people with breakfast based on local products.
Valentine's Day in an oak house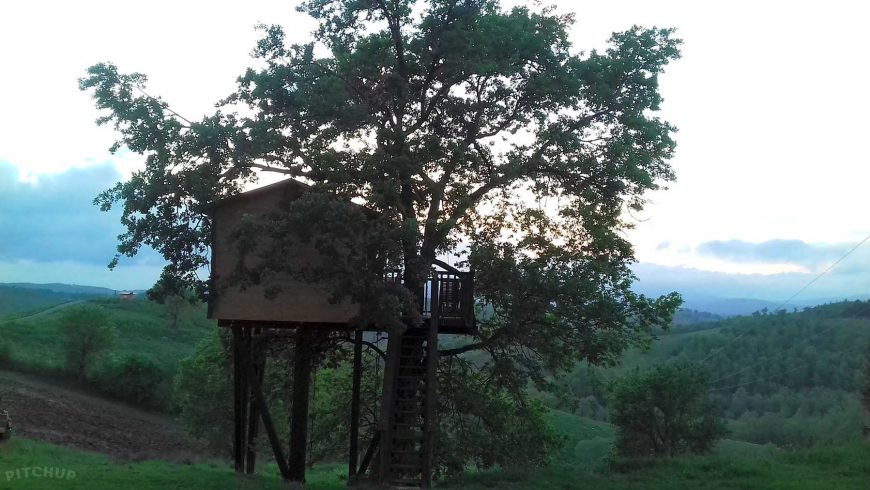 This is the ideal choice for those who need to get away from the hectic pace of the city. At the glamping Il Sole you will find nothing but peace. Here, immersed in the hills of the high Maremma, you can breathe the air of family and tradition. You follow slow rhythms to find yourself in perfect harmony with nature. You can even stay in a romantic cottage on the oak. Fresh, home-made and from the ground to the table products will always be at your disposal! Don't you already smell the scent of freshly baked bread and homemade tortelli with fresh ricotta? What are you waiting for? Run to book and you won't regret it!
Starting from: 230 € for one night for two in the treehouse with dinner and breakfast included
Valentine's night in an igloo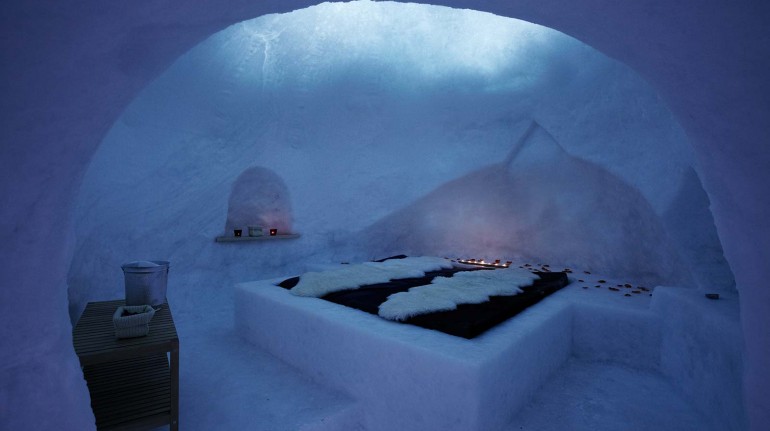 High-altitude romance! To be precise, 2,845 m high. The Rifugio Bella Vista is located in the heart of the eternal ice of the Alto yoke, in Val Senales. Here, you will find a warm "stube", an outdoor sauna (the highest in Europe) and three igloos. Yes, you got it, igloo! In addition to a small wooden and stone house, a romantic and very special accommodation, the refuge offers three ice houses. Made just for two people, beds covered with perfectly insulated sheepskin and sleeping bags. A very different Valentine's Day, no doubt! And do not worry, you will be assisted by the staff, your igloo-guide, whenever you need it. He will prepare your sleeping bags and will lead you back to your quarters. As for the panorama, well, you will enjoy the view of the magnificent ötztal Alps for the duration of your stay. A paradise for those who love the mountain!
Starting from: 240 € for one night in igloo for two, with a welcome aperitif, dinner, sauna, and breakfast included.
Valentine's Day in a farmstead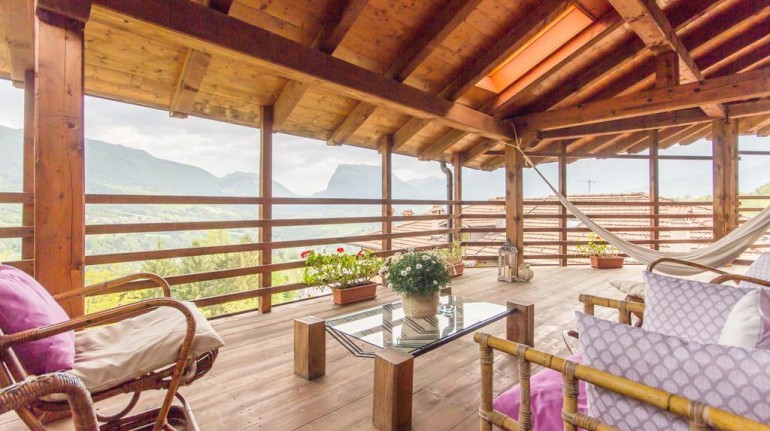 A lovely farmstead and a romantic fireplace will be the perfect setting for your Valentine's Day. Are you dreaming of a sweet awakening and a breakfast with a view of the Dolomites?  Maso Azzurro Charming B&B offers two terraces overlooking the mountains of the Natural Park Adamello Brenta and many genuine products. Also, you will have the possibility to organize horseback riding, hiking and mountain biking. If the mountain is your natural habitat, do not miss this opportunity.
Starting from: 70€ per night for two people, breakfast included
Two hearts and a tiny house in the woods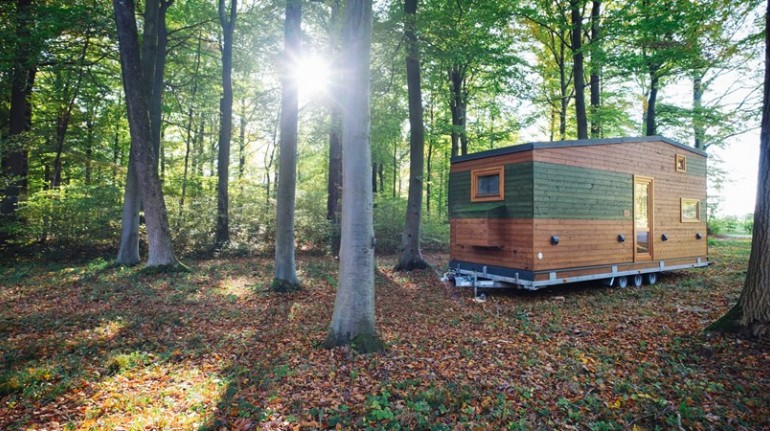 Get ready for a romantic elopement in the foothills of Lower Austria. Immersed in Bioland Naturparadies, the only sounds that will surround you will be those of nature! A tiny house tailor-made for you two, a special moment to escape from everyday life, forget the phones and rediscover yourself.
Starting from 139€ per night for two people.
Valentine's Day in an ancient mill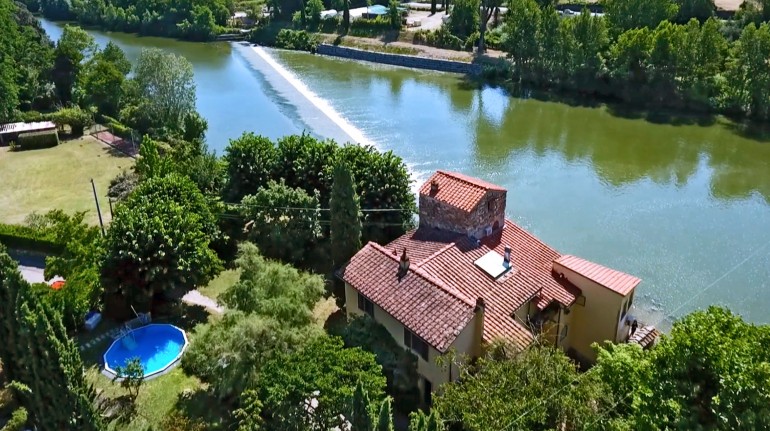 Would you like to spend the lovers' day in Florence but do not know where to stay? What if we proposed a mill? Just 5 km from Florence, in the hills of Fiesole, there is an ancient mill dating back to the 13th century. Completely renovated, this eco-friendly B&B is a small oasis of tranquility overlooking the Arno. Equipped with every comfort, swimming pool included, B&B La Martellina allows you to rediscover the surroundings of Florence away from the chaos and confusion of the city. But don't worry, getting to the city is simple: bikes and public transport will be at your disposal.
Starting from: 80€ per night for two people in the Torre room, breakfast included
Valentine's Day where cars can't arrive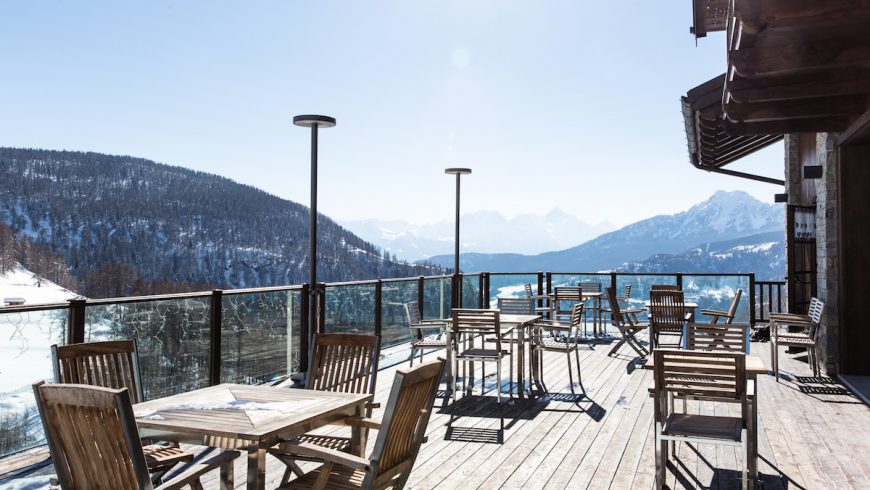 Get rid of your car and be enchanted by the wonderful alpine landscapes of chamois (Valle d'Aosta), the only municipality in Italy without a car. Once reached by cable car Maison Cly Restaurant & Wellness, which has earned the brand Alpine pearls Hospitality, you'll realize that you have made the right choice. Greeted by an enveloping, warm and romantic atmosphere, given by the encounter between wood and stone, the hotel will be ready to satisfy any need. What should you expect? Relax, relax and relax again! Pack your bags down and head straight to the wellness area. Turkish bath, hot tub, Kneipp route, tea corner… you choose! There will be a candlelight dinner with local specialties. Do we need to tell you anything else?
Starting from: 200 € for one night for two people with breakfast and spa entrance.
Valentine's night in an ancient monastery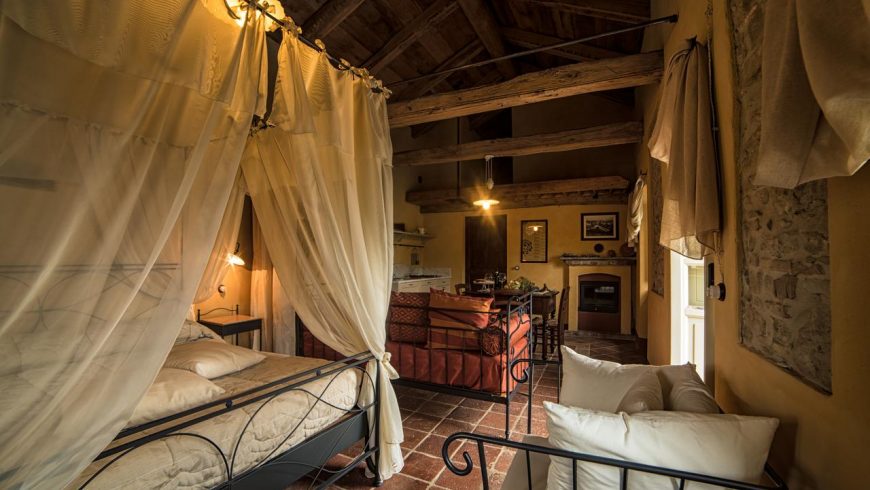 From Franciscan monastery to eco-sustainable B&B. Not a bad idea, is it? Completely renovated according to the bio-architecture techniques, Il Sole e La Luna has a shop where you can buy typical products and a spacious panoramic terrace. Here privacy is assured… and also breakfast served in bed, strictly organic and from the ground to the table!
Starting from: 85 € for one night for two people with breakfast based on organic and local products.
Valentine's Day in a real castle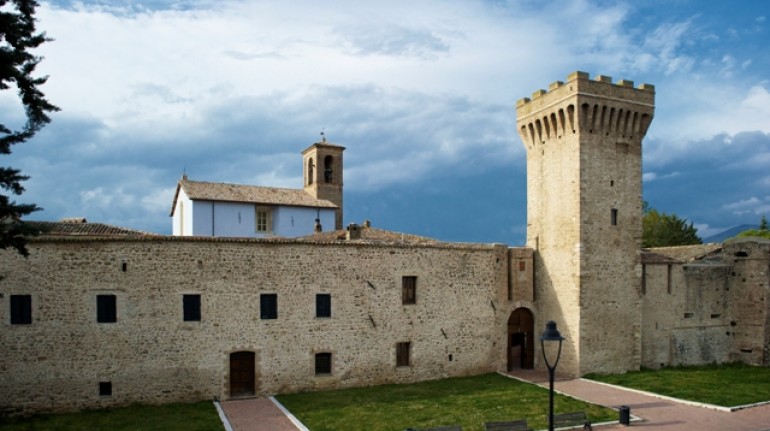 It's a royal Valentine's Day! Located in the heart of Umbria, Torre Della Botonta is a charming eco-sustainable hotel, housed in the Albornozian fortress of the fourteenth century, Castel Ritaldi, in Perugia. Here, contemporary design and antique furniture merge, leaving you hanging between two different eras. Each of the seven rooms available is dedicated to a specific natural fiber, so prepare yourself for sheets of Hemp, Silk, Jute, Wool, and Cotton. What can I say… a unique experience, a fabulous night!
Starting from: 80 € for one night for two people with organic breakfast.
Valentine's night in a Provençal room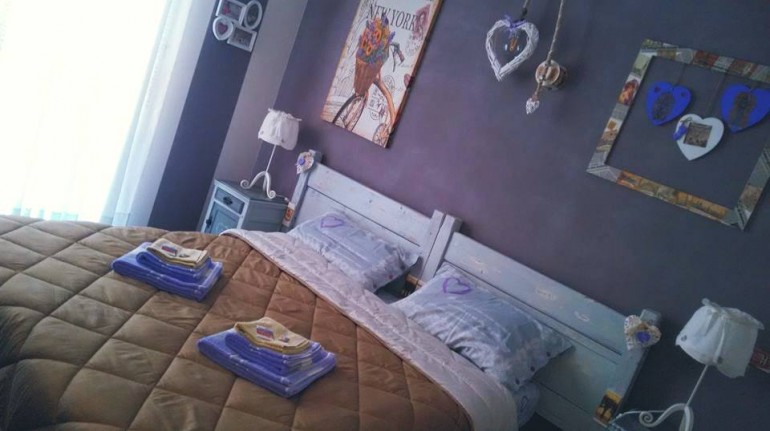 Romantica Camera Provenzale is a family-run eco-B&B located in a quiet area of Saluzzo, in the province of Cuneo. Suitable for all ages, mountain lovers and wine lovers. Not far from the hotel, you can find places for entertainment, excursions that lead to Colle dell'Agnello and the wineries of the renowned wine of the Langhe. So if you are looking for a simple, cozy place to relax in this B&B is for you.
Wellness Valentine's Day under the stars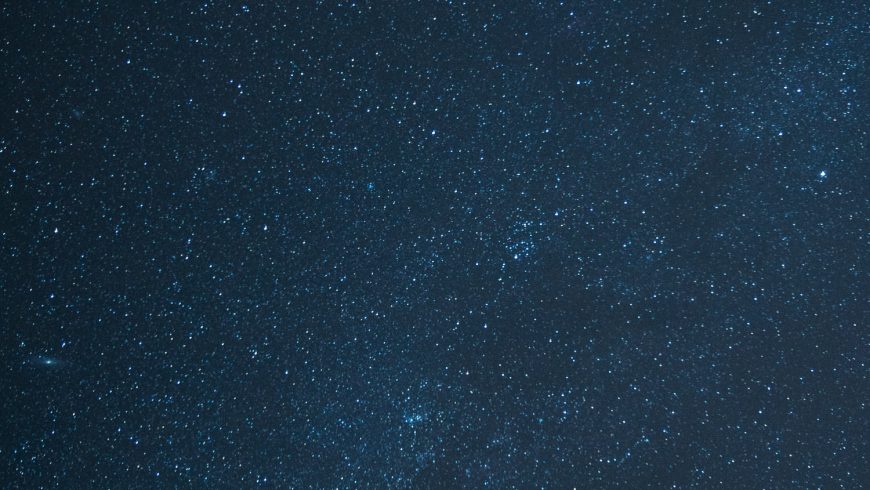 Valentine's Day under the stars
spa
wellness
Why not? Just the two of you and the noise of the stars above you. In Pallazzago, in the province of Bergamo, it is possible to sleep in a transferring sphere with a magnificent view of the starry sky.  Your romantic room Exphera is transparent but heated and protected from bad weather. Just for you, there is a Finnish sauna and a wood-heated hot tub, with a relaxation platform and a fireplace. Breakfast is based on pastries and drinks.
Starting from: 240 € for one night for two people under the stars with breakfast, private spa and bottle of wine
Cover image: photo by freestocks.org via Unsplash