A couple of years ago, on the Alto Mugello, between Tuscany and Romangna, an inspiring project of sustainable hospitality was born: its name is Casa al Giogo. Ecobnb met and inteviewed Mara, the owner of this mountain hut.
In the countryside of the Alto Mugello area, the Rifugio Casa al Giogo is looking forward to telling you its beautiful story, kept between the walls and huge spaces of the property. Casa al Giogo is home to many people, experiences and stories: keep reading to find out what Mara told us.
Mara, how was you eco-hospitality project born?
Our project was born thanks to the experience we gained during our years as managers of a hostel, once located in the San Frediano district of Florence's city center. With some friends I started this "Ospitale delle Rifiorenze" project, hosting backpackers, homeless and street artists. Well, we really wanted to offer something uncommon, different from the mass tourism of Florence. The hostel, which used to be an ancient monastery, also welcomed events and open classes for locals.
But then the municipality didn't renovate our rent and so we started looking for a new place. I really wanted to work in the nature, since I also am a nature guide… and so I am here, at the Casa al Giogo mountain hut. It is owned by the Unione Montana dei Comuni dell'Alto Mugello, in the Firenzuola municipality. This old farmstead was renovated by the Astolfo Association -which works in the mental health field- thanks to different funds. But then, they decided to transform part of the farmhouse into a chalet, and this is where I came into play. This Rifugio is open from June to September and it's home to multiple realities. 
Which slow and eco-friendly lifestyle do you offer your guests?
It is a Home, not only a house. Here we share basically everything: spaces, stories, visions. We get to know each other and we stay together. Spending time together here is something amazing, from cooking to milking, to taking care of our vegetable garden and of the surrounding nature. Sure, this magical place also gives you the chance to be alone and to think on your own, while reading a book or staying with your dog. It's a place like home, while you try to take a break from your everyday life!



Which green experiences do you suggest to those who visit Alto Mugello?
The Passo del Giogo, in the Alto Mugello area, is part of the tosco-romagnolo Apennine. I could suggest hundreds of itineraries in these places! But first, I would recommend the 00 Apennines itinerary (which mostly coincides with the GEA, the Great Apennine Excursion), running for over 345km on the peaks of the Appennines dividing the Italian regions of Tuscany and Emilia Romagna. Then there is the so called "Gothic Line", a route on the defensive line built by German soldiers in 1944, to prevent the Allies to reach the Pianura Padana.
There's also the well-known itinerary "Il giro dei 6 passi", which owes its name to the passes you go through on the way (Passo della Sambuca, Passo del Giogo, Passo dell'Eremo, Passo Peschiena, Passo del Muraglione, Passo della Colla).
Adventure lovers can try paragliding, flying from Monte Altuzzo at a 926 height. Last but not least, here there also are 3 rivers: Santerno, Rovigo e Diaterna. You can bathe in all three of them, especially in some gorgeous secret corners!
In August, those who arrive to our Rifugio Casa al Giogo will find events with music and theater exhibitions, also for kids. There are also yoga and meditation seminars: our huge spaces allow us to welcome groups with many people, and we even host summer camps for kids!



Among the sustainability measures you adopted, which gives you satisfaction the most?
Solar heating is what makes me happier: we don't need to turn the hot water heating on from May to October, sparing much energy and money. We also offer local food and products: our 6 goats that we milk every morning, gift us with milk we use to make delicious cheese. And our biological vegetable garden gives us great satisfactions every year. We use all the vegetables in the kitchen, which is open during the weekends. With the clay from our ground we also built a wood-garden oven!
Sustainability means to live in contact not only with nature, but with the whole territory: we want to be part of the Alto Mugello corner that welcomed us. This is why we put so much effort in collecting the stories of locals living in the surroundings, to preserve them and to make people part of this world we love so much.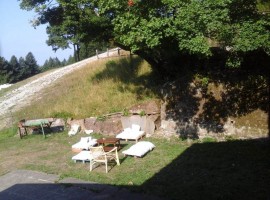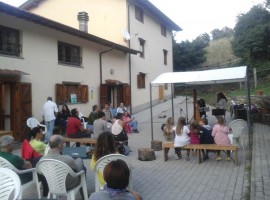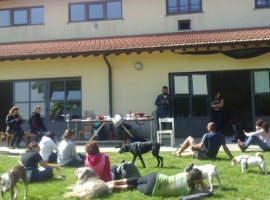 What does it mean for you to be an Ecobnb?
It means to add a plus to what we already are, to confirm what we do and what we are. Ours ihas always been a life choice!
For those of you looking for a place of shared tranquillity, Casa al Giogo is definitely your place!
You might also like: