Among amazing villages and natural paths, hidden heavens and km 0 specialties, the Appennino Bolognese offers unique and rare experiences. Our journey to discover the Appennines near Bologna starts from Castel D'Aiano, a small town with not many inhabitants and the highest in the province of Bologna. The ideal place to spend a little time in contact with nature.
The Emilian Appennines are the perfect destination for those who love non-tourist places, those who want to discover authentic locations, travel on foot, visit hidden corners of untouched nature and  enjoy the scent of truffles, together with the specialties of the Emilian cuisine. Why don't we start from Castel D'Aiano, 805 mt above sea level (the highest location in the province of Bologna), an enchanting small town on the ridge between Reno river and Panaro river, with a splendid view of the Cimone's mountain range. It is the ideal starting point for those who love walking in the woods, discovering enchanted and breath-taking landscapes. You'll be spoilt for choice among excursions to plan, food to taste and myths to discover.
160 km of slow itineraries from Castel D'Aiano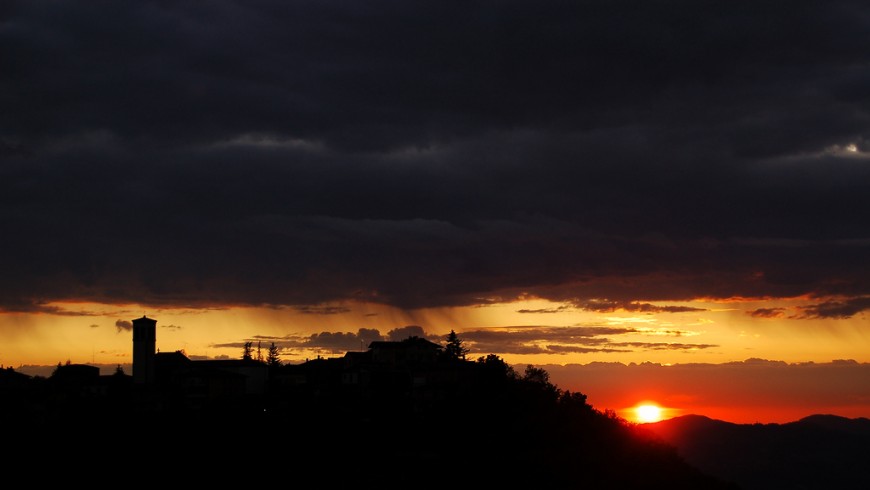 160 kilometers of slow paths, among woods of beech, oak and chestnut trees. Castel D'Aiano offers a dense network of itineraries with different levels of difficulty, both for families and trained excursionists. Some paths are classified as hinking trails because they have more challenging stretches than others, for our bravest hikers!
How was this network born? The idea came from a group of people, brought together by love and respect for their territory, people whose one and only target is to enhance the landscape surrounding them and the whole Appennine area. With the help of the Emilia Romagna CAI group, the CAI Section of the Alto Appennino Bolognese and financed by the town of Castel D'Aiano, they completed and renewed the maps of all the itineraries present on the territory, up to the most unknown and unexplored areas. They also kept a comfortable and intuitive path structure, in order to make it easier for excursionists to plan their hike.
Riding on a horse through the untouched nature of the Appennine
Who knew – horse riding on mountains is actually a thing? This territory is full of surprises as it does not only welcome excursionists, but also horse lovers. The Trekking Horse equestrian centre trains horses and makes sure that the paths are viable for both men and horses for a unique and unrivalled experience.
CAI network is designed to be travelled by horses as well as men and during the way you can find loads of facilities ready to host you and your horse, so that you can finally rest your feet and hooves!
On Trekking in Castel D'Aiano website, you can find tips and suggestions for your itineraries, as well as rules to be observed during the path, not to mention several events planned in Castel D'Aiano.
Labante's caves: the hidden paradise of Castel D'Aiano
Castel D'Aiano is full of wonders and surprises for observers who can stop for a second and look around: in fact, in the small locality of San Cristoforo di Labante, you can find the homonymous caves, pieces of heaven carved in a calcareous sedimentary rock, called travertine, largely known and utilised in house construction.
The peculiar thing about the caves of Labante can be found in their size and extent. Natural caves are usually no longer than 4-5 mt; however, these paticular caves reach a length of 51 mt and a difference in level of 12. Not without reason it is considered the biggest primary cave among the Italian travertines and probably one of the biggest caves in the whole world. Framing this lovely and suggestive natural work of art, we find a gracious waterfall falling from the top of the rock, which is gets its water supply by the same source which previously built the cave.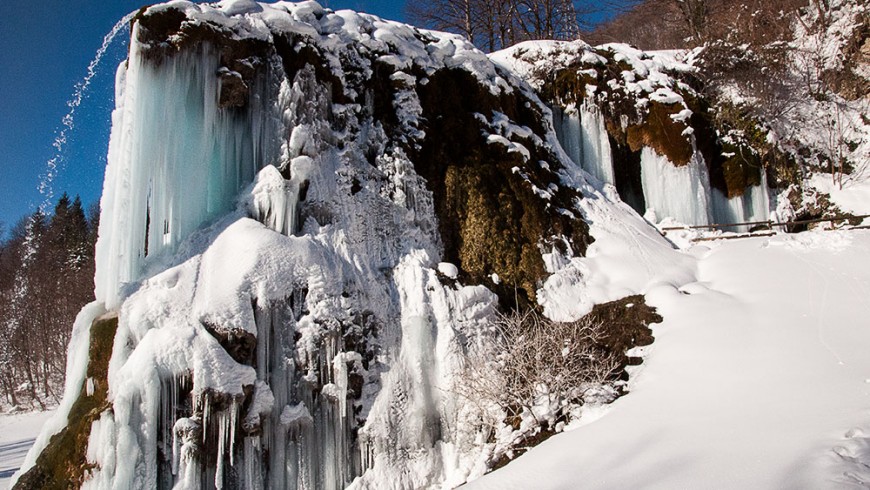 Furthermore, the place is easily accessible by both adults and children. It is located just a few steps from the parking lot and it is surrounded by itineraries and parks in the green of holm oak woods, where your children can run and play.
For the bravest ones, it is also possible to reach the inside of the Caves of Labante, by passing through a paradise of stalattites and stalagmites until you get to a lovely and hidden little lake.
Truffle, cheese and chestnuts to delight your palate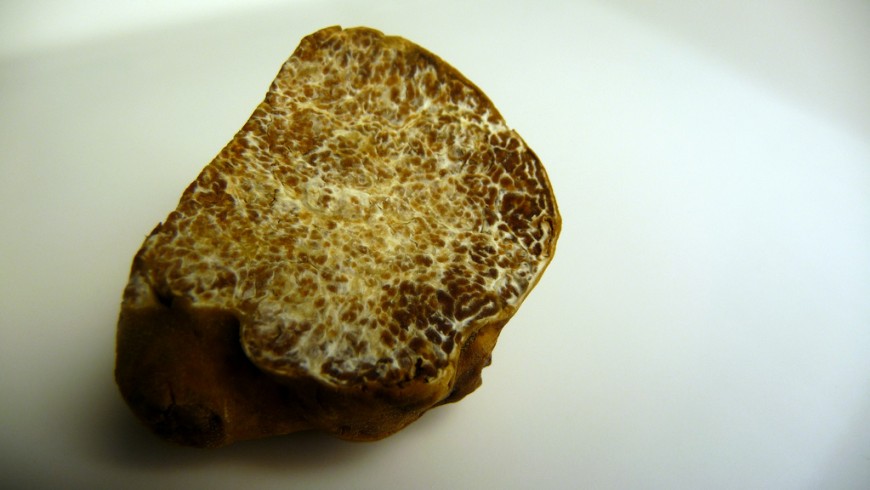 Truffles, mushrooms and chestnuts: the best fruits in the area of Castel D'Aiano are all autumn fruits, and they are all an essential part of the great Emilian cuisine. In this way, this little corner in the Appennines becomes a perfect gourmet destination. The unique tast of truffle becomes an excuse to leave and spend a weekend surrounded by culture and the flavors of tradition. The Tuber Magnatum Pico, also known as white truffle, is widely spread in the Appennines area. The presence of oaks woods and clayey grounds makes the Appenine near Bologna an ideal place for the growth of this local product, which you can enjoy in a variety of forms and flavors, with risotto, tagliolini, but also with meat and potatoes.
During your staying in the Appennino Bolognese you could also taste many other km0 typical products, such as Parmigiano-Reggiano, the real gastronomic specialty of the territory. Other relevant local products are potatoes and chestnuts, from which you can get chestnut flour to create delicious dishes.
Green holiday in an organic farm
To experience this little piece of the Appennines in an authentic way, we suggest a really special eco-hospitality in a no-emissions bio farm.
In Castel D'Aiano, more precisely in Villa D'Aiano, we find Ca' del Campanaro, an agricultural farm, of which Francesco Del Carlo is the owner. Based on biological products and on the enhancement of the territory, it is composed by three hectares of land and a laboratory…but not only that.
Indeed, Ca' del Campanaro is also a biological farmhouse which welcomes agritourism, and provides rooms and services to host tourists, who wish to spend a green vacation and want to discover new flavors and traditions. Each room is decorated in a different way, so that the guests will have the possibility to choose the most suitable accomodation according to their needs and preferences.
The whole building is based on the concept of eco-sustainability and since 2009 it has no impact in terms of electricity and thermal power. Francesco, the owner, talks about ecological awareness, first main principle on which his farm plants its philosophy. Year after year, Francesco is always busy trying to decrease his consumption and polluting emissions, always planting new trees and adding up photovoltaic panels.
We interviewed Francesco, who told us how his interest in biological systems and hospitality started and which projects he has in mind for the future.
Once highschool was over, you decided to take on this path: how was your interest in starting an agricultural activity born and what were the biggest difficulties in starting it?
Ca' del Campanaro was born in 2004, after a few months of research in order to create something concrete straight away, instead of following the logic of modern society which imposes to continue your academic studies, especially for graduates from a classical gymnasium. Nowadays, formation is something which is easier to achieve on your own instead of going to school. Education perceived as a mere concept outlives its purpose. This conscience I got from my years in school will be my future spring to start a new project, which I'll mention later on.
What are the specialties of your agricultural biological production?
The building's exposure towards south is great for both growing fruit trees and producing energy from photovoltaci sources. During the years I realized that some productions, from fruits to electricity, can be supplied directly by nature, you just need to build up a "system" (natural or artificial) which will allow nature to do it. This makes the tough goal of "living in an easy way" possible: it is an unknown concept in the world today, only a few visionaries are aware of it.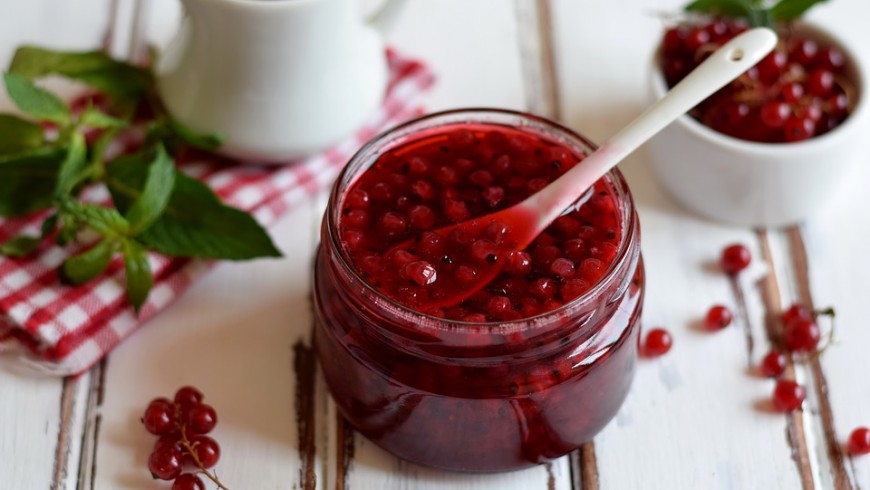 What is particular about your tourist offer?
The view from the bedrooms is amazing and relaxing, and it reflects the peaceful atmosphere of Ca' del Campanaro. Those who stay here can discover a great biodiversity, especially in ancient fruits, herbs and flower jams, but also in healthy products based on officinal plants, both cultivated or naturally grown. 
Ca' del Campanaro's surroundings: what is your advice for your guests? Which itineraries and locations are not to be missed?
In the area, besides a full immersion in nature thanks to the 160 km long network of paths, you can also visit many historical sites, starting from the reconstruction of the Etruscan hut on Lake Bracciano, passing through many historical buildings, until you reach trenches from the II World War and places crossed by the Gothic Line.
In the woods you can also find many trial and mountain bike paths, whereas for those who prefer fishing there are the lovely Eden Lakes. Not to be missed is the caves of Labante's park.
'Spetroliamoci' and the 'Self Service of the Honest'
Now we are curious to find out what this new project is, would you tell us something?
Ca' del Campanaro's mission is to share a healthy life style. Thinking bigger, you could also say that the real mission is to save the world, because "You too can save the world", as the title of the book for "Spetroliamoci" says. 
Spetroliamoci (it is a pun with the Italian word "petrolio" and it literally means "let's get rid of petroleum") is a cultural association which was born inside the farm and follows the common thread of the liberation from oil/petroleum.
At the moment, among the initiatives there are only self-production courses and gatherings where we eat healthy food, but as regards next year there is in store a series of no-impact events in the woods and a project of catch-up summer courses for kids who have failed at school.
We were very impressed with the Self Service of the Honest: can you tell us something about this initiative?
Another initiative, born to spread positivity, is the Self Service of the Honest, which is basically a table exposing some products, located between ordinary booths during markets and festivals. There is cash box and instructions, so that people can take a product and pay by themselves without the holder being there. On the website of the farm there's a chart reporting the percentage of products which have been regularly paid for, and generally these percentages are quite edifying.
We want to say a huge thank you to Francesco, who kindly shared his projects with us, projects that are extremely important, but also innovative and creative.
After having found the perfect accommodation, do not hesitate to explore these pieces of heaven in the Appennines, among the quiet and silence of nature, but also the delicious tastes and scents of local products, cultivated with love, in order to spread a unique culture and tradition. Ca' del Campanaro will welcome you whenever you feel like escaping from the city's hustle and bustle and spend a weekend of adventures and emotions, thanks to a real contact with real agriculture and those who live depending on it, together with those people who rebuilt all the excursions' paths to  make it possible for us to see and enjoy (even on foot) all these natural beauties and wonders.
Cover photo: photo by Matt Howard via Unsplash
You might also like: