Natural materials, ecological products, energy efficient technologies and local food. Story of the metamorphosis of a XI century farmhouse into a cozy exhibition of design and art!
My first stop touring Italy with Ecobnb is in beautiful Tuscany, in stunning Valle Del Chianti.
I must admit, anywhere you turn in Tuscany, in every corner you find beauty, but this time I have found something really special: the wonderful Chianti B&B Design in Pianella, hamlet of Castelnuovo Berardenga, in the province of Siena!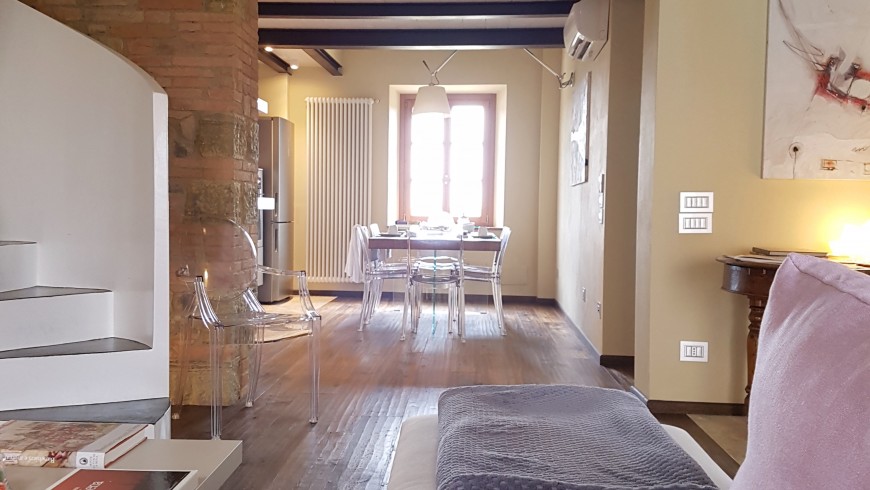 This building was once a farmhouse, part of a larger group of homes in the possession of a single landlord whose villa in Vitignano showcases a tower that can be dated back to 1000d.c.
It is located on the ancient Roman road "Cassia Adrianea", which was the shortest route between Florence and Acquaviva.
Today it is a wonderful b&b made of 3 bedrooms, 4 bathrooms, a kitchen and common area, equipped with character, style and all comforts. The dream of visionary architect Marco Porri, who is also the owner of the building, was to keep the history and taste of this home authentic, combining them with glass, natural steel and contemporary art. The result is an elegant harmony of exposed brickwork, stone walls, wooden beams, pastel colors and natural light!
In addition to being able to merge ancient and modern with great taste and respect, architect Porri is very sensible towards the environment and the location where this ecobnb stands. The materials used for refurbishment (or metamorphosis) are all local, such as the planed oak wood used for the floor and the wide open stain travertine covering baths and floors … literally extracted a few yards away!
Furthermore, ecological products and energy-efficient technologies are used, local food is served and the many initiatives highlighting the surrounding area are emphasized.
It is also a lovely mini-exhibition of design and art featuring numerous works by the Sienese artist Alessandro Grazi, and the furniture has the signature of the innovative Italian LAGO brand.
Architect Porri tells me with visible enthusiasm and meticulous care all the phases and the history of this metamorphosis, result of years of experience and study, which has made me appreciate even more what I saw and touched.
During my stay at the Chianti B & B Design I had the chance to explore the beautiful surroundings and discover lovely spots hidden among the vineyards, taste excellent local foods and wines in nearby farms, visit some of the many medieval castles … and spend time just relaxing in the living area, sipping an excellent Chianti and reading a good book.
I highly recommend Chianti B & B Design, both for short trips (although spending just one night is almost a shame!), and definitely for longer stays since it has all the amenities and comforts. Cozy and young, perfect for those looking for the authentic without giving up style!
You might also like: