Civita di Bagnoregio is an impressive-looking but fragile town. It stands on a small tufa plateau, and is a blend of history, art and culture, a fragment of the past, a jewel of the present.
We are on the border between Lazio and Umbria, in the province of Viterbo, between two valleys and their rivers. Here survives the so-called 'the town that is dying' because it is destined to disappear, abandoned by its inhabitants, as it is increasingly smaller and smaller, supported by an unstable clay layer which, by its geological nature, is destined to suffer the erosive action of the weather.
Civita is a very small town, inhabited by just over 10 souls, where time seems to stand still. Its origin is attributed to the Etruscans, still recognizable in the style and architecture of the city. It was later inhabited by the Romans who tried, like its predecessors, to save the town by canalization works and containment of rainwater. Despite human efforts, destructive collapse of the town and its progressive reduction was still inevitable, from 1450 to the fatal earthquake of 1738.
Downstream there is the car park which is a few hundred meters from the village that can only be reached by foot, crossing the long concrete bridge built in the 60s for the few remaining residents and tourists, that must pay a small fee for the entry. Only in recent years the municipality has granted to residents, at certain times, the use of motor vehicles.
We walk for 300 meters uphill and then we enter the town from the only door remaining, called Santa Maria, enriched by two bas-reliefs depicting a lion holding a man with claws, a symbol of the uprising of the natives and the consequent expulsion of the Monaldeschi.
Once past the gate you can immediately breathe the life and history of the village, where you can find everything: there are bars, bed and breakfasts and restaurants, few characteristic medieval houses, the central square with San Donato church and Bishop's Palace.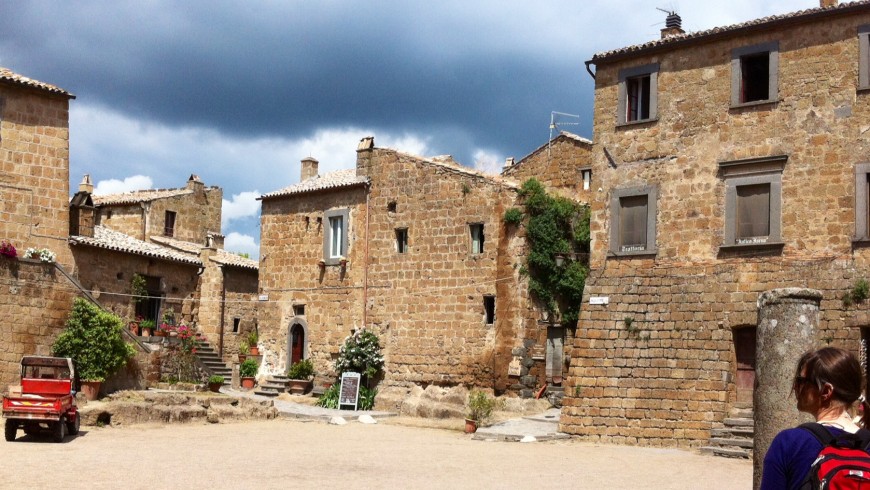 In a short time you can visit the entire village but it's enough to be amazed thy its stunning scenery and its suggestive atmosphere.
Where to stay in Civita di Bagnoregio
Towns like this remind us how nature can be fragile and how important is to protect the environment. For this reason, on the holiday, it's better choose green and sustainable accommodations. Near Civita di Bagnoregio, in Orvieto, you can sleep in a wonderful farmhouse called Ma'Falda that offers wonderful apartments, organic food and uncontaminated nature all around.
Hurry and visit this wonderful town before nature take its course and we lose an amazing piece of history, a unique example of architecture and nature.
Cover photo: Civita di Bagnoregio, the dying town, photo of Cecilia Vecchi
You might also like: