A testimony of history which that in danger of being forever lost, now found and rediscovered: the Pyramid of Bomarzo is a wonderful place, deep in nature which until a few years ago enveloped it completely.
It is a tuffaceous rock that once was used as a place of worship, an altar dating back to the seventh century BC, Etruscan or perhaps even older, which over the centuries has probably changed roles. Its shape reminds us the more famous Mayan pyramids.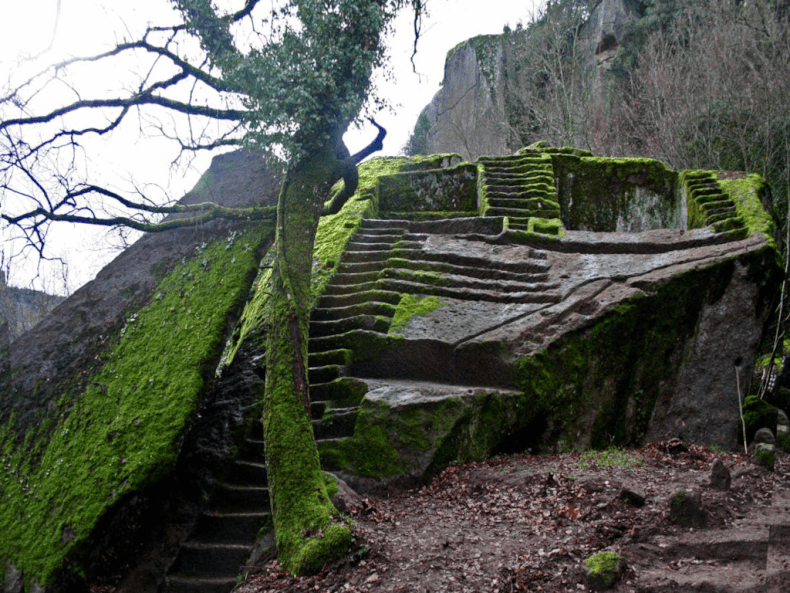 Bomarzo is located in the province of Viterbo, it's a pretty village in the Tuscia of Lazio, famous for the Monster Park, a monumental woods, home to some basalt sculptures depicting mythological animals, gods and monsters. But here in Bomarzo in the early 90s was discovered for the first time the Pyramid of Bomarzo, called by locals "the stone with stairs", oldest of the park. Soon abandoned, it became virtually unattainable,the path too difficult and the altar covered with roots and weeds.
It is thanks to Salvatore Fosci that now you can see this monument so ancient and imagine its former glory. It was 2008 when Salvatore has found the path and the altar, and has therefore decided to eliminate weeds, thus rediscovering the pyramid and from then archaeologists start to study it.
How to get to the Pyramid of Bomarzo
To get to the altar, we have to start from the sports field of the town of Bomarzo, where you can eventually leave the car, and follow the Via Fossatello, which becomes first Via Cupa and then an unnamed road. Keep going straight, into the nature and ignoring any other way. We can now see the tufa stone walls that have more than 2000 years, as well as the path which we are traveling. Past the olive grove, we continue with the sharp curve that turns to the left, here you have a lovely view up the valley of the Tiber. After the curve go right, after 200 meters the trail ends but we don't turn, we go intents straight where there is a pile of stones stained with red paint. We go down on a wet cave and, we proceed to the left to finally arrive at the Pyramid of Bomarzo.
Your green accommodation near Bomarzo
To discover the impressive Pyramid of Bomarzo we recommend you stay at the B&B La Gioia dei Sensi, located 5 minutes from Viterbo, in a convenient location to discover all the wonders of the Tuscia area of ​​Lazio.
You might also like: