Chamois is a small village of Aosta Valley where cars can't arrive. The village is accessible only by chairlift, and or from La Magdeleine by 4 and a half km of pedestrian path. La Magdeleine and Chamois are two small alpine villages that have a total of 200 people who have embraced a eco-sustainable lifestyle, deciding to live without a car, in close contact with nature.
We met Francesca Vernazza, young Head of Tourism of the City of Chamois, and Rosario Sorrentino, director of the City of La Magdeleine. Both are not born in Aosta Valley but they decided to move in after falling in love with this piece of paradise in the Alps. Francesca came here with her small daughters, leaving her city on the sea of ​​Liguria . "I wanted that my girls will grow up in a place away from the city traffic", she told me. Chamois for this is perfect: it's car-free, you move only on foot or on skis, by cable car or chairlift.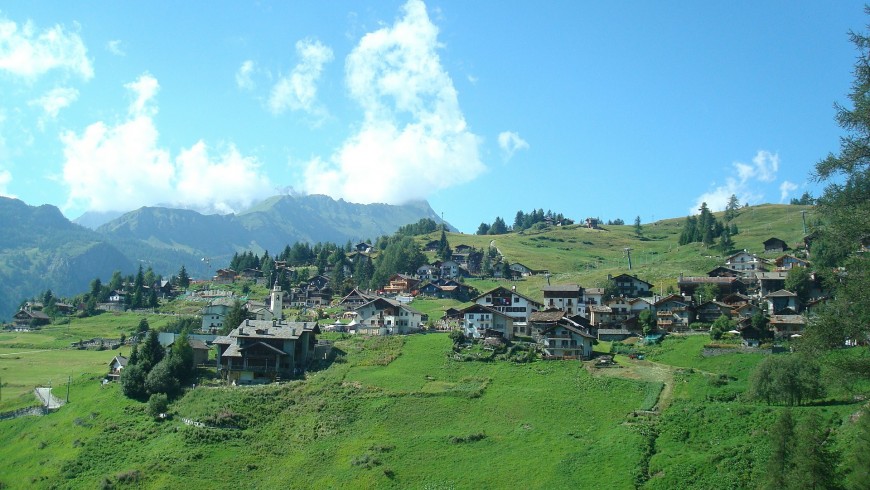 When and how did the cities of Chamois and La Magdeleine join the Alpine Pearls?
Chamois is a member of Alpine Pearls from the beginning, ie since 2006. But even before it shares the objective of promoting sustainable tourism in the Alps. Chamois can only be reached without a car, it offers sustainable holiday experience, focused on soft mobility. A few years ago La Magdeleine too became part of the Alpine Pearls, offering a 100% eco holiday experience.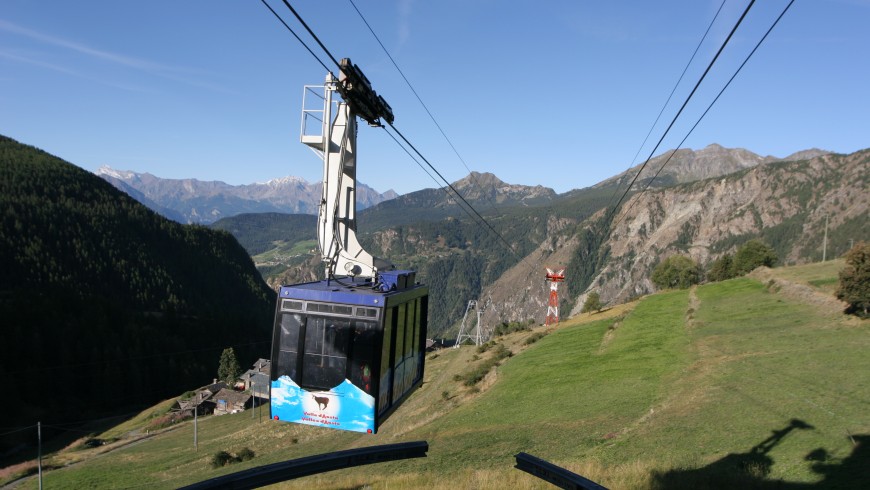 What is the Chamois's experience of sustainable tourism that you'd like to recommend to our readers?
No doubt, getting to Chamois, Alpine Pearl par excellence, by cable car. From here you reach La Magdeleine on foot or by electric bike, along the beautiful cycle route of 4.5 km that connects the two towns. In the winter, forget the car and move between Chamois and La Magdeleine only on skis or snowshoes, or move with the lifts. So you can live relaxing holiday, enchanted by the beauty of the landscapes and tuning in with the slow rhythms of nature. An event that readers cannot miss is "Il gusto di una passeggiata" (the taste of a walk), a festival that takes place every year on the third Sunday in August. It's a craft and enogastronomy market filled with local folk groups, which is developed along the promenade from Chamois La Magdeleine.
What are the future goals of Chamois and La Magdeleine?
We want to organize snowshoeing in winter between Chamois and La Magdeleine, and suggest itineraries for dog sledding. We invited world champion sled who remained in La Magdeleine for a week providing expert advice in this project.
Which other Alpine Pearl is a lighthouse for you?
Cogne, the other pearl of the Aosta Valley, which is very engaged on the issue of sustainable tourism and this year won the nomination as a Tourism Destination Top 100.
Every season is the right one to spend unforgettable moments in this picturesque and charming corner of Aosta Valley. We look forward to leave and discover this Alpine Pearl, among bike rides and snowshoeing. And you? Are your suitcases ready?
You might also like: