We've thought about the contest Adopt a Tourist to create new journeys, based on sharing, hospitality and exchange of places and stories. And it is precisely what happened to Davide, Roberto and Maddalena, through their adventure by bike to discover a hidden Parma.
Davide, tour guide and creator of Bike Food Stories, has entered the competition, offering a bike ride, guided and free, to discover Parma, through its flavors and its streets.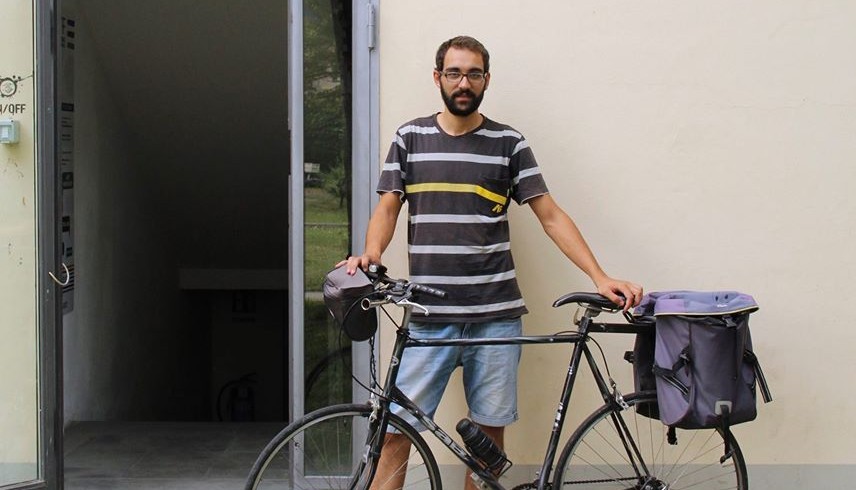 Roberto and Maddalena, and their 1 year old Sebastiano, enjoy traveling in their motor home named Ermanno and tell their adventures in their beautiful blog and they couldn't  miss the opportunity to add a different experience to their long list, and so they were adopted by David.
On June 2, Roberto, Maddalena and Sebastiano arrived from Bologna to Parma, where Davide welcomed them to the "Cicletteria" (bicycle parking), they have taken the bikes borrowed from the collection of Davide and left for a 24-km route.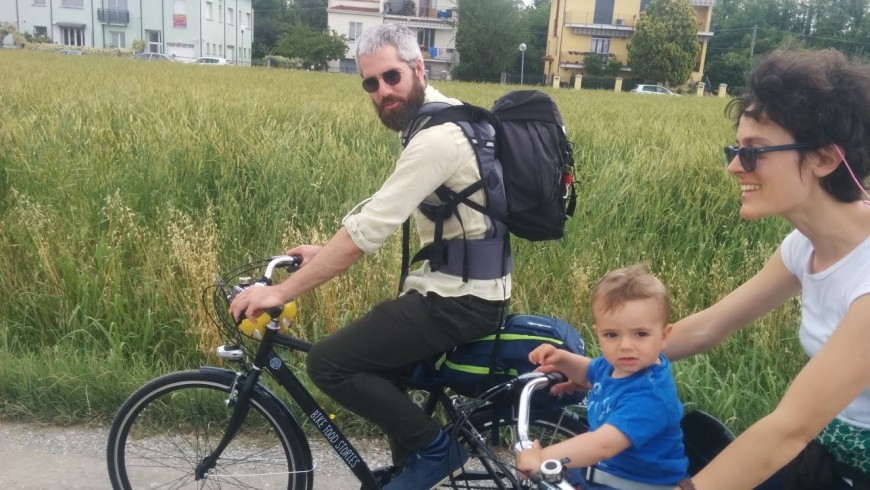 In Parma, one of the capitals of Italian gastronomy, the first destination could only be one: a Parmigiano Reggiano cheese factory, to discover the process of this very fine cheese, the checks to which it is subjected, its history. They were able to follow the work of the master cheesemakers who, through touch and taste, supervise the various stages of the process. After a memorable tasting of Parmigiano 24 months, the three adventurers have returned to the city to reach the municipal community gardens, a perfect place for a picnic lunch with Parma citizens. The bike tour is finished in the streets of the center, in the shadow of the Duomo and Baptistery, in the Ducal Park.
We talked to David about his work, his city and this experience with Adopt a Tourist.
How did Bike Food Stories come to life?
BFS was born in 2014 in order to realize two of my great passions: food and wine (I'm graduated in Gastronomic Sciences) and cycling. The previous year I had made a solo trip by bicycle from Val di Susa (TO) to Naples to discover Italy and especially to practice what I had studied: inform me and taste the products and typical local dishes. From there I stared my journey to turn my dream into a job: accompany tourists in a bike directly to let them discover how the typical products of Parma! The example I followed was that of Mario Soldati, the first food and wine journalist in the Italian history; he was the first to understand the importance of food as a means to learn about the Italian culture.
After obtaining the necessary permission to accompany people on bicycles, I made the investment to purchase the bikes that are available to the tourists, and now I'm ready to explore Parma and its products together with the tourists!
How was your experience with Adopt a Tourist?
I'm delighted that Maddalena and Roberto have contacted me. They are two great people, nice and polite, attentive to the issues that I want to carry on: cycle-path, eat less but better, enhancement of the territory, local produce…
Their little Sebastiano, despite having only one year, has been very good! You know, there is always a major concern when you have to accompany young children, but with Sebastian I have not had any problems!
Why is better to discover Parma by bike?
Riding in Parma (as in all other cities) allows you to discover areas, places, landscapes that otherwise you may not know if you stay within the standard tourist itinerary. You can feel for a moment part of the city. 
What little-known aspect of  city do you suggest?
Baganzola cycle-path: not far from the train station there is this beautiful cycle path that follows the left bank of Parma river. After 2 km you find yourself in the countryside, surrounded by poplar groves and farmland, without lighting (during the nights of full moon is fantastic) with the possibility to see the deer that follow the course of the river in search of food. In which other big cities you have the chance to see these animals a few kilometers away from the town?
Unfortunately at the moment there is no signpost to reach the cycle-path (so either you already know it or you cannot know of its existence).
What is your idea of ​​travel, and the type of travel you propose?
My goal is to give cyclists (host of the territory) a concrete experience, emotions and memories that can bind them to our land, to our food culture and to our community of people who give us daily unique products.
You might also like: