Snowy mountains, volcanoes, forests, mountain villages, and streets dotted with cypresses are flowing by your train window. You can enjoy the panorama comfortably seated in a wagon with an elegant old-style design, sipping a cup of coffee. Ready for the Top 8 scenic rail journeys in Italy? Welcome on board!
1. "Bernina Express" between Tirano and St. Moritz

It's considered one of the most beautiful railway lines in the world, and it's one of the World Heritage Sites Unesco.
At the edge of the famous "red train", which connects the station of Tirano (in the province of Sondrio), with that of St. Moritz (Switzerland), pass in front of your eyes a rich variety of landscapes, gardens, and cultivated fields, rivers, lakes, desolate spaces, bridges, and viaducts incredibly elegant, snow-capped mountains, breathtaking views.
A route of three hours takes you to an altitude of 2,256 meters on top of the Bernina Pass, where you can touch the sky with your finger!
For more information: rhb.ch/it/treni-panoramici/bernina-express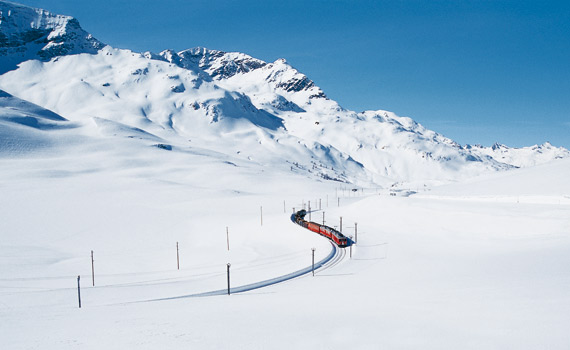 2. "Transita Line" between Abruzzo and Molise

The second highest and most spectacular railway in Italy crosses 70 km of parks and nature reserves, in Abruzzo and Molise.
The railway line, which had been for a long time abandoned, was recently reactivated. Each month, the train leaves from Sulmona, through the majestic mountains in the Majella National Park and through the Abruzzo plateaus, it reaches the green and wild territory of Alto Molise, providing passengers with guided tours and tastings of wines and typical food.
For more information: www.transita.org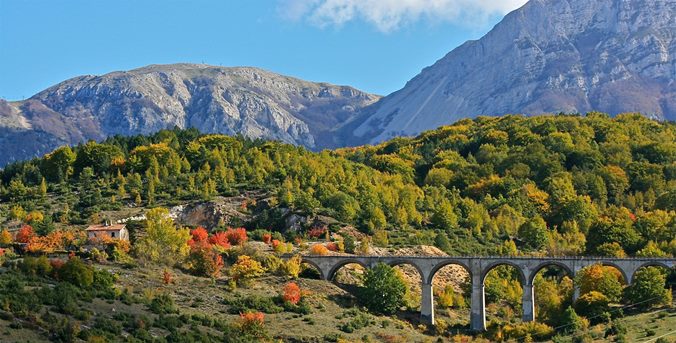 3. "Trenonatura" between Siena and Val d'Orcia

Through the Val d'Orcia, in the province of Siena, one of the most famous Italian landscapes (World Heritage Site) flows in front of your train window: clay hills in warm colors, perched villages, beautiful white streets lined with cypress trees, fields of sunflowers.
The "Nature Train" transports you back in time, with its antique wooden carriages and, in some cases, with the steam locomotive.
The course, which lasts one hour and a half, starts from Siena and returns after stopping in all the little historical stations, set in the countryside as precious relics of rural archeology.
Other special trains depart to the discovery of Mount Amiata offering thematic tours of parks, reserves, oases, caves, and streams.
For more information: www.trenonatura.terresiena.it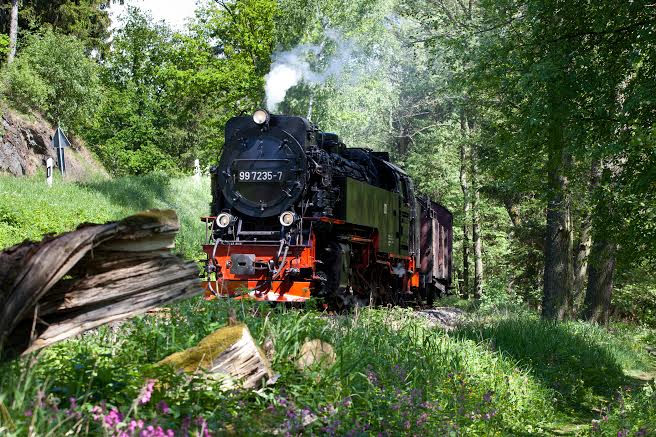 4. "Trenino Verde" to discover Sardinia island

The "Green" Train takes you amidst the unspoiled landscapes of the hinterland of Sardinia Island, difficult to reach by other means, where you don't feel the presence of man and the green forests surround you completely.
A journey through forests, Dolmen, and archaeological sites.
For more information: www.treninoverde.com
5. Circumetnea Line between Catania e Riposto (Sicily Island)
In Sicily, on board the train "Circumetnea", which goes alongside the volcano Etna, you immerse yourself in an incredible nature, with contrasting and wild tones: a panorama of volcanic craters from an altitude of almost 1,000 meters, citrus, and expanses of black lava, which, in some cases, come to lick the railway line.
It stops at small stations out of time, such as Bronte, famous for its pistachios, or Rendazzo, an ancient medieval village.
For more information: www.circumetnea.it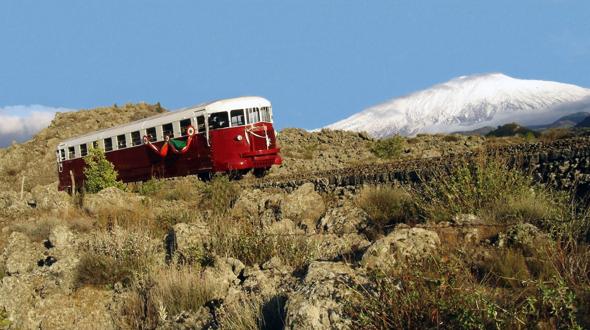 6. Renon Line near Bolzano

On board the small "Renon" Train you are immersed in the magnificent scenery of the Dolomites, among remote villages of South Tyrol, Alpine pastures, and farms.
The line runs for about 7 km from Bolzano, passing in front of the incredible rock sculptures born of the slow work of erosion of wind and ice known as "fairy chimneys".
For more information: www.suedtirol-it.com/renon/ferrovia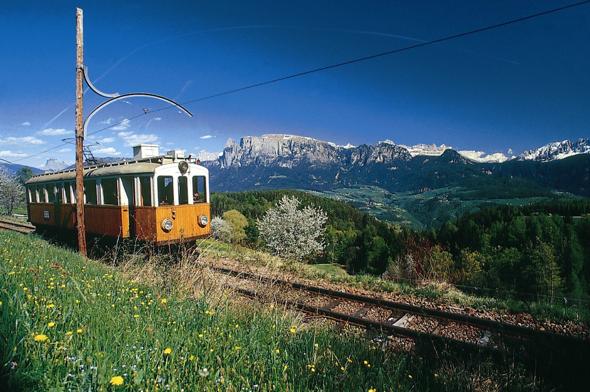 7. Old train line between Genoa and Casella
It's a historic railway line, which runs from Genoa towards the mountains, for 25 wonderful miles, through the river valleys of Bisagno, Polcevera, and Scrivia.
If the day is clear looking out the window, from the top of the rocky ridges, you see, between the blue of the sea, Portofino and even Corsica.
Some carriages date back to 1929, with the original wooden seats and finishes in bronze and brass. The carriage bar, blue and cream with the coffee machine in old fashioned and abatjours on the tables, recalls, with its antique design, a mini-Orient-Express.
For more information: www.ferroviagenovacasella.it
8. Cinque Terre between Levanto and La Spezia
Five colourful, ancient villages give this 18km stretch of rugged coastline its name ('Five Lands').
Relax behind panorama windows and soak up cliffs tumbling into the turquoise Sea, bucolic vineyards and olive groves. Regional trains stop at all five villages.
For more informations: www.trenitalia.com