These travel quotes are perfect to express your traveller mood, whether you're recovering from a previous trip or you're just planning your next one. So, read these beautiful quotes about travelling, and let them inspire you.
Travel. What does this word mean to you? Well, it is extremely hard to explain. Travelling is everything. As a matter of fact, it's learning new things, discovering new cultures, exploring new realities. Travelling is fulfillment.
So, are you ready to fulfill your sense of wanderlust?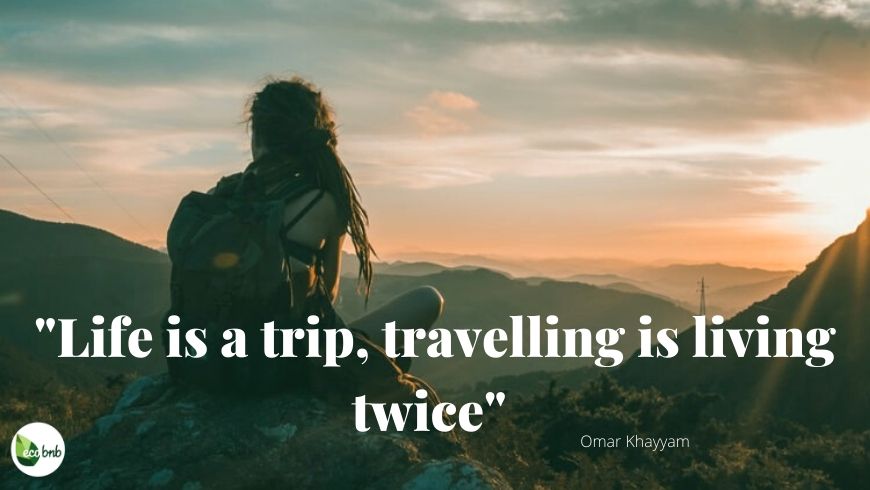 There is no man more complete than the one who travelled a lot, who changed the shape of his thoughts and his life twenty times.
(Alphonse de Lamartine)
The world is a book and those who do not travel read only a page.
(Saint Augustine)
Life is a trip, travelling is living twice"
(Omar Khayyàm)
When you live in a place for a long time, you become blind because you did not observe anything. I travel to not going blind"
(Josef Koudelka)
The only rule of travel is: don't come back the way you went. Come back changed.
(Anne Carson)
Traveling to discover the countries and you will find the continent in yourself.
(Indian proverb)
"Our battered suitcases were piled on the sidewalk again; we had longer ways to go. But no matter, the road is life.
(Jack Kerouac)
Don't tell me how educated you are, tell me how much you have travelled.
(The Prophet Mohammed)
But true travelers leave to leave and that's it: light, balloon-like hearts that only chance moves eternally, always say "Let's go", and they don' t know why. Their wishes have the shapes of the clouds.
(Charles Baudelaire)
Traveling is being unfaithful. Be so without. … is being unfaithful. Be so without remorse. Forget your friends to strangers.
(Paul Morand)
Diversion. Distraction. Fantasy. Change of fashion, food, love, and landscape. We need them as the air we breathe.
(Bruce Chatwin)
Cities were always like people, showing their varying personalities to the traveler. Depending on the city and on the traveler, there might begin a mutual love or dislike, friendship, or enmity. Where one city will rise a certain individual to glory, it will destroy another who is not suited to its personality. Only through travel can we know where we belong or not, where we are loved and where we are rejected."
(Roman Payne)
Are you a tourist or a traveller?
He did not think of himself as a tourist; he was a traveler. The difference is partly one of time, he would explain. Whereas the tourist generally hurries back home at the end of a few weeks or months, the traveler, belonging no more to one place than the next, moves slowly, over periods of years, from one part of the earth to another. Indeed, he would have found it difficult to tell, among the many places he had lived, precisely where it was he felt most at home.
(Paul Bowles)
Do not go where the path may lead, go instead where there is no path and leave a trail.
(Ralph Waldo Emerson)
The journey begins where the rhythm of the heart is exposed to the wind of fear.
(Fabrizio Resca)
It's really difficult, both in geography and morality, to understand the world without leaving your own home.
(Voltaire)
Quotes for who's passionate about travelling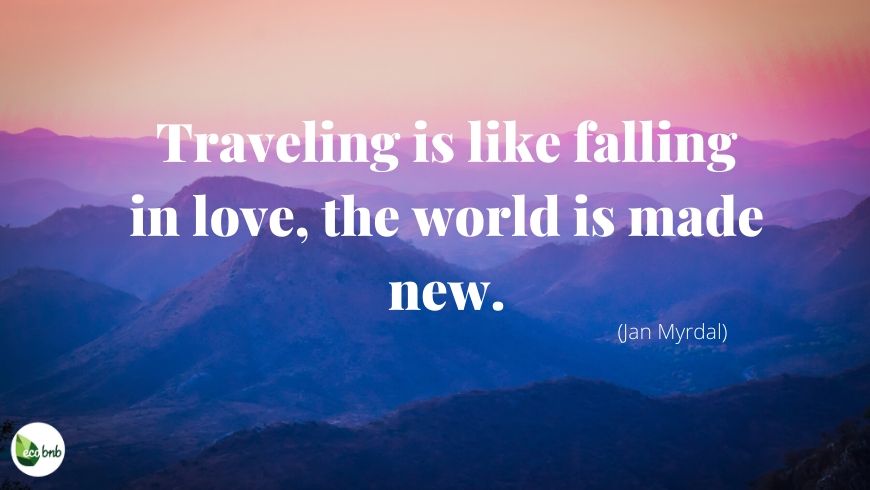 Traveling is like falling in love, the world is made new.
(Jan Myrdal)
Every hundred feet the world changes
(Roberto Bolaño)
And there is nothing more beautiful than the moment before the journey, the moment when the horizon of tomorrow comes to visit us and tell us about its promises.
(Mila Kundera)
Beyond the East the sunrise, beyond the West the sea. And the East and West the wander-thirst that will not let me be.
(Gerald Gould)
You take delight, not in a city's seven or seventy wonders, but in the answer, it gives to a question of yours.
(Italo Calvino)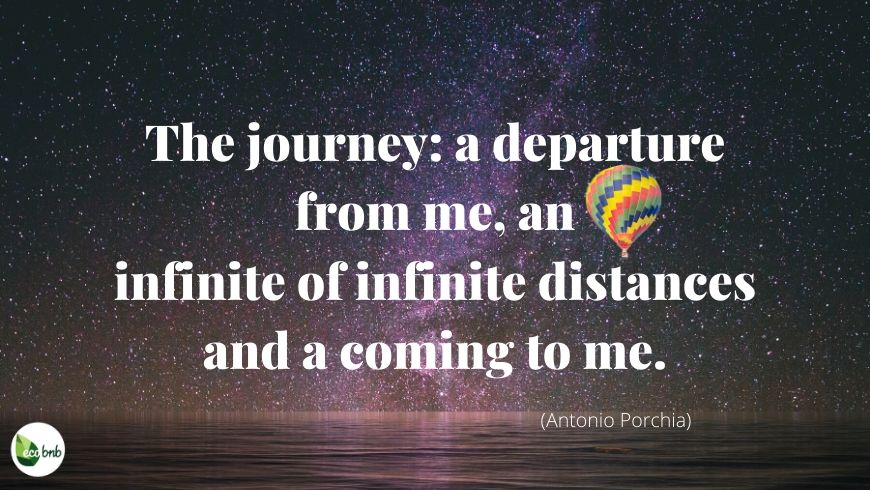 The journey: a departure from me, an infinite of infinite distances and a coming to me.
(Antonio Porchia)
Travelling is a door through which one leaves reality to penetrate into an unexplored reality, which seems like a dream.
(Guy de Maupassant)
We travel, some of us forever, to seek other places, other lives, other souls.
(Anais Nin)
Travelling and all of its benefits
Borders I have never seen one. But I have heard they exist in the minds of some people.
(Thor Heyerdahl)
Traveling is like dreaming: the difference is that not all, wake up, remember something, while everyone keeps warm memory of the destination from which he came back.
(Edgar Allan Poe)
So many people live within unhappy circumstances and yet will not take the initiative to change their situation because they are conditioned to a life of security, conformity, and conservatism, all of which may appear to give one peace of mind, but in reality, nothing is more dangerous to the adventurous spirit within a man than a secure future. The very basic core of a man's living spirit is his passion for adventure. The joy of life comes from our encounters with new experiences, and hence there is no greater joy than to have an endlessly changing horizon, for each day to have a new and different sun.
(Jon Krakauer – Into the Wild)
Once you have traveled, the voyage never ends but is played out over and over again in the quietest chambers. The mind can never break off from the journey.
(Pat Conroy)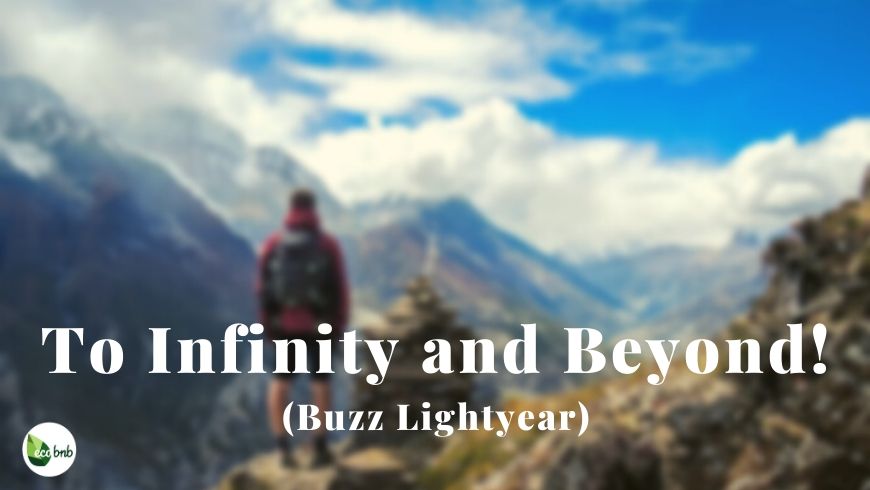 Motivational quotes
To Infinity and Beyond!
(Buzz Lightyear)
Those who travel have chosen the wind as their profession.
(Fabrizio Caramagna)
For my part, I travel not to go anywhere but to go. I travel for travel's sake. The great affair is to move; to feel the needs and hitches of our life more nearly; to come down off this feather-bed of civilization, and find the globe granite underfoot and strewn with cutting flints.
(Robert Louis Stevenson)
What is the true meaning of the word travel? Change Location? Absolutely not! Traveling is changing opinions and prejudices.
(Anatole France)
A journey is best measured in friends, rather than miles.
(Tim Cahill)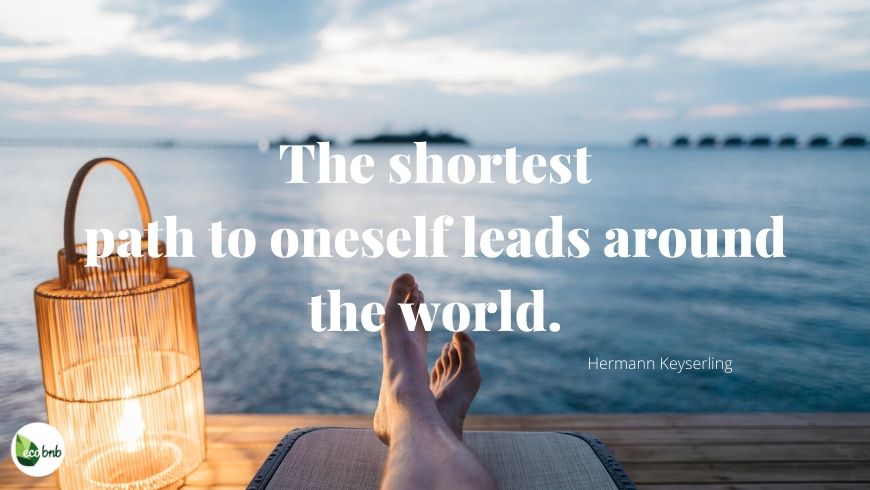 Find yourself and your inner peace
The shortest path to oneself leads around the world.
Hermann Keyserling
We shall not cease from exploration, and the end of all our exploring will be to arrive where we started and know the place for the first time.
(T. S. Eliot)
Travelling restores the original Harmony that once existed between man and the universe.
(Anatole France)
The gladdest moment in human life, methinks, is a departure into unknown lands.
(Sir Richard Burton)
Tourists went on holiday while travelers did something else. They travelled.
(Alex Garland)
Anyone who needs more than one suitcase is a tourist, not a traveler"
(Ira Levin)
Go traveling and you won't be the same
Tourists don't know where they've been, travelers don't know where they're going.
(Paul Theroux)
I am not the same, having seen the moon shine on the other side of the world
(Mary Anne Radmacher)
A good traveler should not perform affirm, explain, but keep quiet, listen and understand
(Paul Morand)
Life is what we make of it. Travel is the traveler. What we see isn't what we see but what we are.
(Fernando Pessoa)
There seems to be in the man, as in the bird, a need for migration, a vital need to feel elsewhere.
(Margeruite Yourcenar)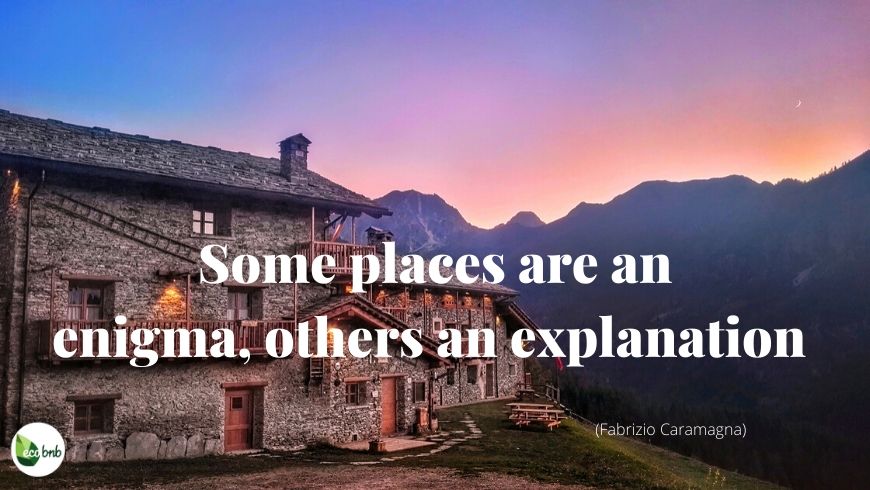 Some places are an enigma, others an explanation.
(Fabrizio Caramagna)
Travel makes one modest. You see what a tiny place you occupy in the world.
(Gustave Flaubert)
To awaken alone in a strange town is one of the pleasantest sensations in the world.
(Freya Stark)
The life you have led doesn't need to be the only life you have.
(Anna Quindlen)
Broad, wholesome, charitable views of men and things cannot be acquired by vegetating in one little corner of the earth all of one's lifetime.
(Mark Twain)
To travel means looking at the world through a new perspective
The real voyage of discovery consists not in seeking new landscapes, but in having new eyes.
(Marcel Proust)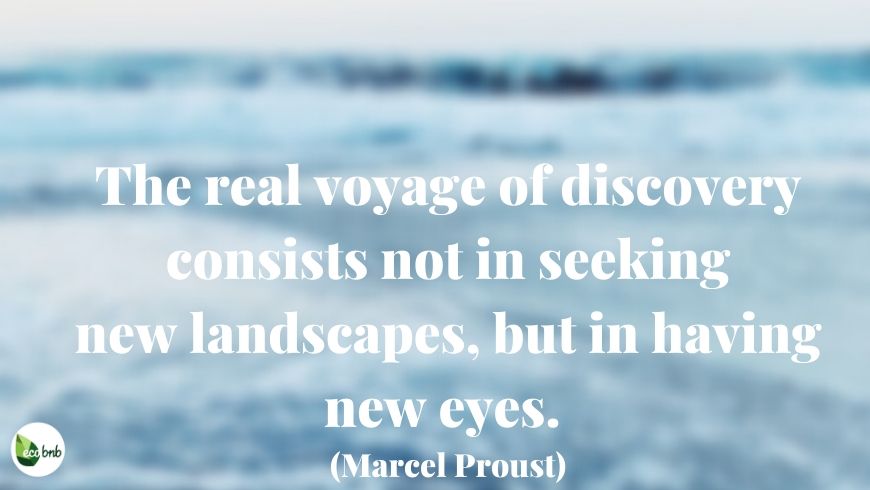 A traveler without observation is a bird without wings.
(Moslih Eddin Saadi)
What you've never seen is where you've never been.
(African Proverb)
Man's real home is not a house, but the Road, and that life itself is a journey to be walked on foot.
(Bruce Chatwin)
Man cannot discover new oceans unless he has the courage to lose sight of the shore.
(Andre Gide)
The journey of a thousand miles begins with one step."
(Lao Tzu)
The perfect journey is circular: the joy of departure and the joy of return.
(Dino Basili)
Travel and don't be afraid to leave your comfort zone
Travelling! Losing countries! Be more constant because the soul has no roots! Go ahead, chasing the absence of having a goal to reach and anxiety to achieve it.
(Fernando Pessoa)
The use of traveling is to regulate imagination with reality, and instead of thinking of how things may be, see them as they are.
(Samuel Johnson)
Travel and change of place impart new vigor to the mind.
(Seneca)
With age, comes wisdom. With travel, comes understanding.
(Sandra Lake)
Like all great travellers, I have seen more than I remember, and remember more than I have seen.
(Benjamin Disraeli)
I am not the same, having seen the moon shine on the other side of the world.
(Mary Anne Radmacher)
As always happens on a long journey, at the first two or three stations the imagination remains firm in the place where you left, and then suddenly, with the first morning met on the way, it turns towards the destination of the journey and now he builds the castles of the future there.
(Lev Nikolajevič Tolstoj)
Leaving is the most beautiful and courageous action of all, maybe a selfish joy, but a real joy, for those who can give value to freedom. Being alone, without needs, strangers, foreigners and yet feeling at home everywhere, and setting off to conquer the world.
(Isabelle Eberhardt)
When you travel to Ithaca
you must wish that the road is long,
fertile in adventures and experiences.
(Kostantin Kavafis, Itaca)
A journey is always a discovery, first of new places and then the discovery of what the new places do to your mind and your heart. Travelling is always, in some form, exploring oneself.
(Stephen Littleword)
Tip for our travellers: visit a new place at least once a year
Once a year, go someplace you've never been before.
(Anonymous)
Of all the books out there, my passport is my favorite, the only in-octavo to open frontiers.
(Alain Borer)
The most beautiful journey is the one you have not yet made.
(Loick Peyron)
Travel is the only thing you buy that makes you richer.
(Anonymous)
Those who travel without meeting the other, does not travel, moves.
(Alexandra David-Néel)
I would always like to be elsewhere, where I am not, in the place from which I am now escaped. Only in the journey between the place I just left and where I' m going, I'm happy.
(Thomas Bernhard)
Traveling is a brutality. It forces you to trust strangers and to lose sight of all that familiar comfort of home and friends.
You are constantly off balance. Nothing is yours except the essential things: air, sleep, dreams, sea, the sky – all things tending towards the eternal or what we imagine of it."
(Cesare Pavese)
Better to see something once than hear about it a thousand times.
(Asian Proverb)
I don't know what world lies beyond this sea, but every sea has another shore, and I will arrive.
(Cesare Pavese)
Discover your emotions by travelling
Traveling tends to magnify all human emotions.
(Peter Hoeg)
A place is never just that place: that place is a bit like us too. Somehow, without knowing it, we carried it inside and one day, by chance, we got there.
(Antonio Tabucchi)
People don't take trips, trips take people.
(John Steinbeck)
No one realizes how beautiful it is to travel until he comes home and rests his head on his old, familiar pillow. (Lin Yutang)
I have just returned from a leisure trip: I accompanied my mother-in-law to the airport.
(Milton Berle)
When overseas you learn more about your own country, than you do the place you're visiting.
(Clint Borgen)
Travel and don't forget to be open-minded
Strange thing this travel, once you start, it's hard to stop. It's like being alcoholics.
(Gore Vidal)
People travel to faraway places to watch in fascination with the kind of people they ignore at home.
(Dagobert D. Runes)
If you reject the food, ignore the customs, fear the religion and avoid the people, you might better stay home" (James A. Michener)
The journey never ends. Only travelers come to an end. And even these can extend in memory and narration. The journey never ends. When the traveler sat on the sand of the beach and said: "there is nothing else to see," he knew that was not true. You need to see what you haven't seen and what you have already seen. You need to see in spring what you saw in summer. Try to see in a day what you saw at night. Also, the Sun where the first time it rained, see the green, the ripe fruit, the stone that has changed place, the shadow that wasn't there. We must retrace steps already done, to repeat them, and to paint alongside new ways. You have to start the trip again. All the time. The traveler returns immediately.
(Jose Saramago)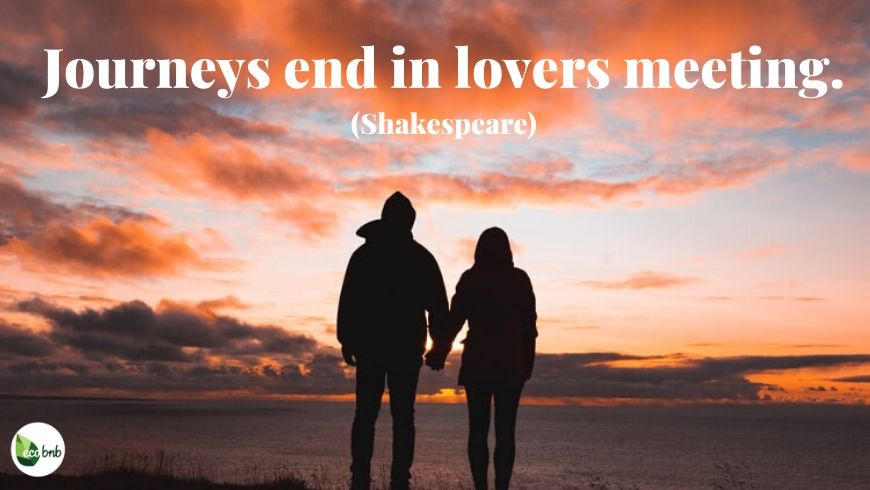 Travel and fall in love with people and places
Journeys end in lovers meeting.
(Shakespeare)
Journeys are on the sea, by ships, not by trains. The horizon must be empty and must set the difference between sky and water. There must be nothing around and on top of it the immense must be found, only, in this case, it is a journey.
(Erri De Luca)
Traveling, you realize that differences are lost: each city takes to resembling all cities, places exchange their form, order, distances, a shapeless dust cloud invades the continents.
(Italo Calvino)
I travel a lot; I hate having my life disrupted by routine.
(Caskie Stinnett)
A mind that is stretched by a new experience can never go back to its old dimensions.
(Oliver Wendell Holmes)
Paths are made by walking.
(Franz Kafka)
Traveling is giving meaning to one's life, traveling is giving one's life to one's senses.
(Alexandre Poussin)
Travel to discover something different
Life is a great field to cultivate. Traveling, it is sowing you the diversity of the Earth. To travel, it is embellishing it with the colors of the world.
(Lesven)
Remember that happiness is a way of travel – not a destination.
(Roy M. Goodman)
Once in a while it really hits people that they don't have to experience the world in the way they have been told to.
(Alan Keightley)
You don't take a trip. The journey makes us and undoes us, the journey invents us.
(David Le Breton)
A new destination is a new way of seeing things
One's destination is never a place, but a new way of seeing things.
(Henry Miller)
I haven't been everywhere, but it's on my list.
(Susan Sontag)
Travel is the frivolous part of serious lives, and the serious part of frivolous ones.
(Sophie Swetchine)
Nobody can discover the world for somebody else. Only when we discover it for ourselves does it become common ground and a common bond and we cease to be alone.
(Wendell Berry)
Our happiest moments as tourists always seem to come when we stumble upon one thing while in pursuit of something else.
(Lawrence Block)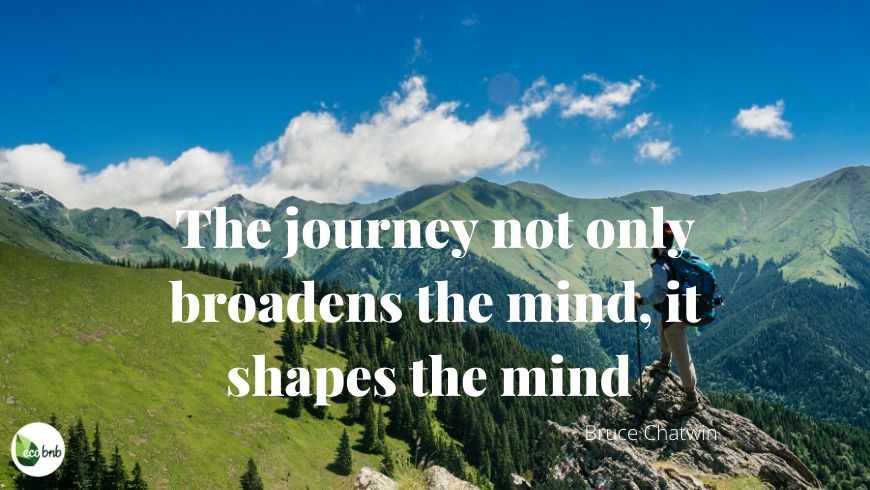 Travel to escape from your ordinary life
The journey not only broadens the mind, it shapes the mind (Bruce Chatwin)
To leave is to win a fight against habit.
(Paul Morand)
Some travel to get lost, some travel to find themselves.
(Gesualdo Bufalino)
And then, the train, when traveling, always makes us dream.
(Antonio Machado)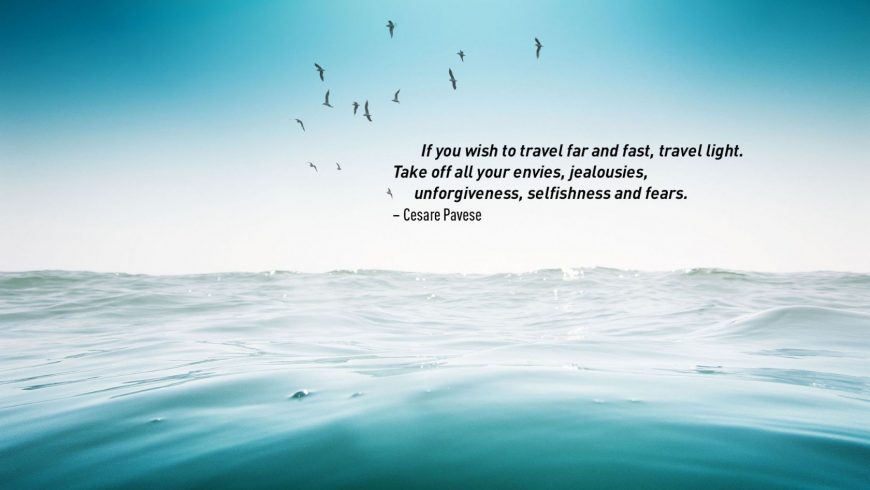 And then there is the most dangerous risk of all — the risk of spending your life not doing what you want on the bet you can buy yourself the freedom to do it later.
(Randy Komisar)
Travelling means to become someone new
He who returns from a journey is not the same as he who left.
(Chinese Proverb)
Travel like Gandhi-with simple clothes, open eyes, and an uncluttered mind.
(Rick Steves)
Life is short and the world is wide, the sooner you start exploring it, the better.
(Simon Raven)
To my mind, the greatest reward and luxury of travel is to be able to experience everyday things as if for the first time, to be in a position in which almost nothing is so familiar it is taken for granted
(Bill Bryson)
What you've done becomes the judge of what you're going to do — especially in other people's minds. When you're traveling, you are what you are right there and then. People don't have your past to hold against you. No yesterdays on the road.
(William Least Heat Moon)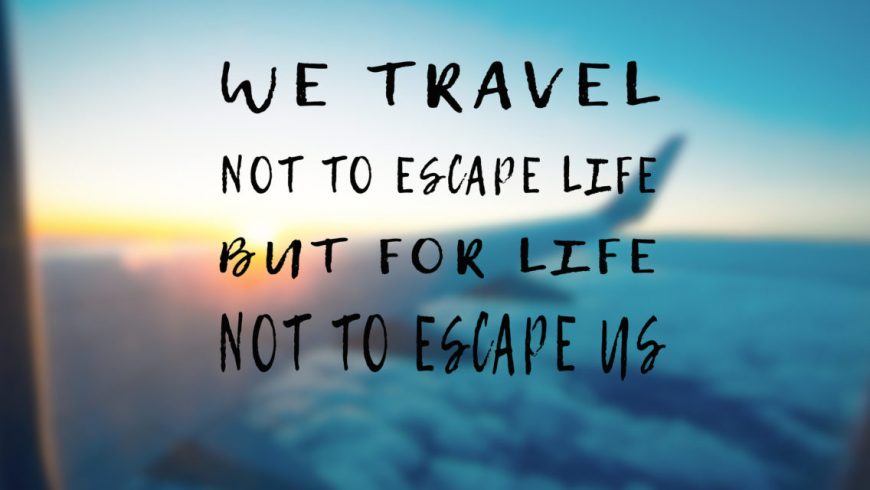 A country, it is for me, a face, a smile, a welcome, a name, much more than the city, the mountains, forests or banks.
(Pierre Fillit)
The traveler sees what he sees. The tourist sees what he has come to see.
(G.K. Chesterton)
While travelling, you need to get lost
When travelling, the best thing is to get lost. When you are lost, plans give away to surprises, and it's then —and only then— that the journey really begins.
(Nicolas Bouvier)
You can't understand a city without using its public transportation system
(Erol Ozan)
Those who do not move, do not notice their chains.
(Rosa Luxemburg)
When one realizes that his life is worthless he either commits suicide or travels.
(Edward Dahlberg)
I have found out that there ain't no surer way to find out whether you like people or hate them than to travel with them.
(Mark Twain)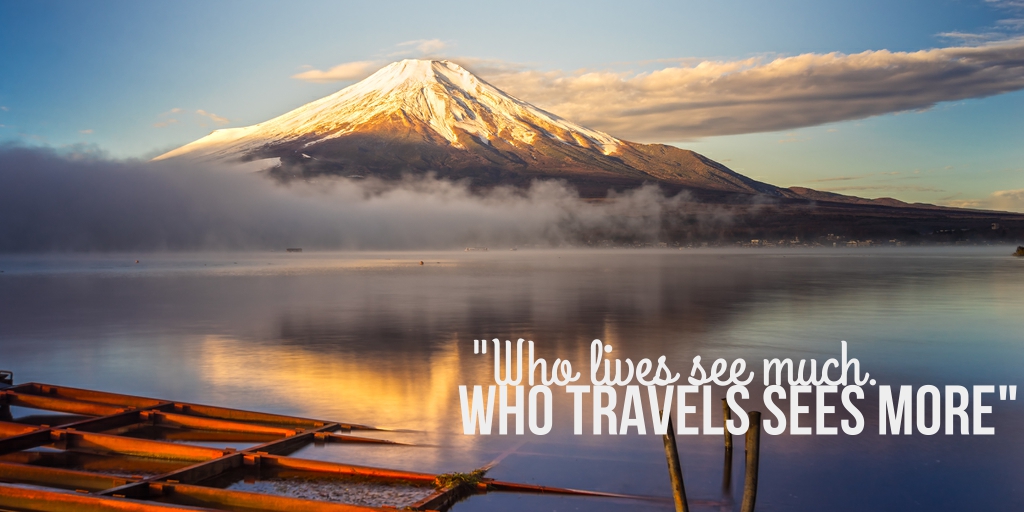 Your trip will always be part of you
We live in a wonderful world that is full of beauty, charm, and adventure. There is no end to the adventures we can have if only we seek them with our eyes open.
(Jawaharial Nehru)
All things considered, there are two species of men in the world: those who stay at home and the others.
(Rudyard Kipling)
I'm in love with cities I've never been to and people I've never met.
(Melody Truong)
I travel because it makes me realize how much I haven't seen, how much I'm not going to see, and how much I still need to see.
(Carew Papritz)
Wherever you go becomes a part of you somehow.
(Anita Desai)
Wherever you go, go with all your heart!
(Confucius)
Adventure is worthwhile.
(Aesop)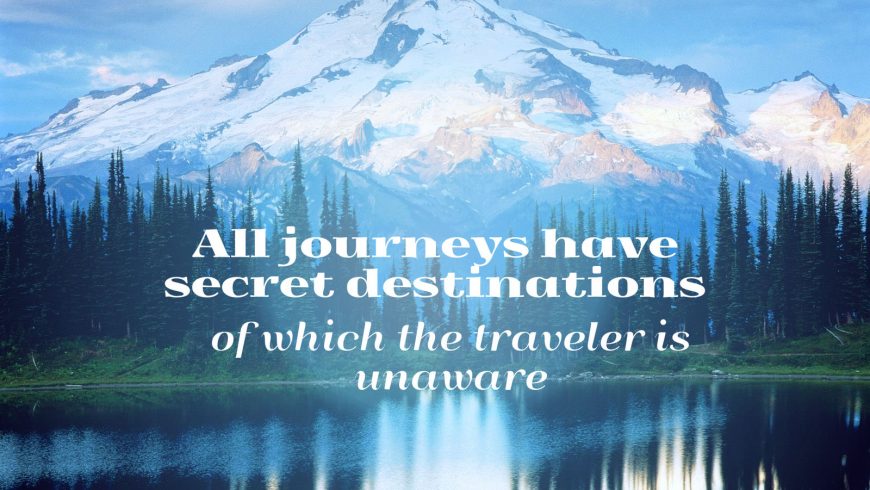 We travel to change our ideas
We travel to change, not of place, but of ideas.
(Hippolyte)
Travel isn't always pretty. It isn't always comfortable. Sometimes it hurts, it even breaks your heart. But that's okay. The journey changes you; it should change you. It leaves marks on your memory, on your consciousness, on your heart, and on your body. You take something with you. Hopefully, you leave something good behind.
(Anthony Bourdain)
A journey is best measured in friends, rather than miles.
(Tim Cahill)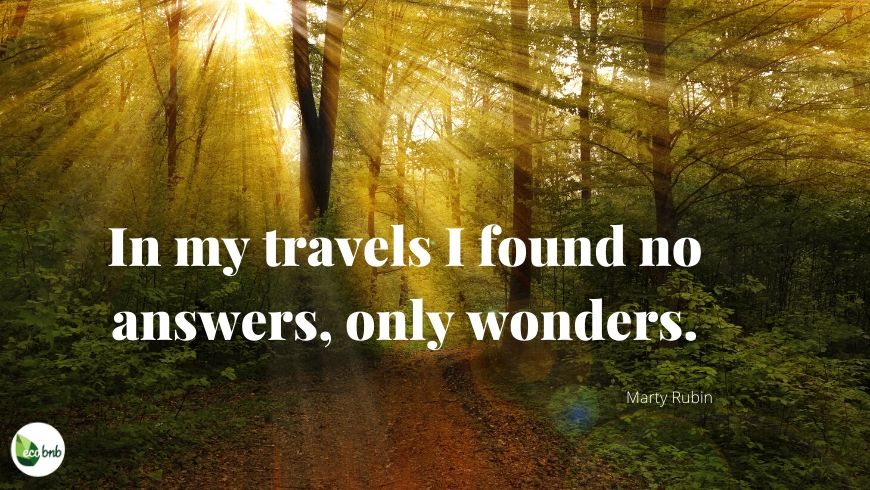 Travel because there's a world to discover
There is nothing like returning to a place that remains unchanged to find the ways in which you yourself have altered.
(Nelson Mandela)
To awaken alone in a strange town is one of the pleasantest sensations in the world.
(Freya Stark)
Surely, of all the wonders of the world, the horizon is the greatest.
(Freya Stark)
Travel isn't always pretty. It isn't always comfortable. Sometimes it hurts, it even breaks your heart. But that's okay. The journey changes you; it should change you. It leaves marks on your memory, on your consciousness, on your heart, and on your body. You take something with you. Hopefully, you leave something good behind.
(Anthony Bourdain)
A good traveler has no fixed plans, and is not intent on arriving.
(Lao Tzu)
There are no foreign lands. It is the traveler only who is foreign.
(Robert Louis Stevenson)
Travel and make some unforgettable memories
Take only memories, leave only footprints.
(Chief Seattle)
Blessed are the curious for they shall have adventures.
(Lovelle Drachman)
We wander for distraction, but we travel for fulfilment.
(Hilaire Belloc)
This wasn't a strange place; it was a new one.
(Paulo Coelho)
Once the travel bug bites there is no known antidote, and I know that I shall be happily infected until the end of my life.
(Michael Palin)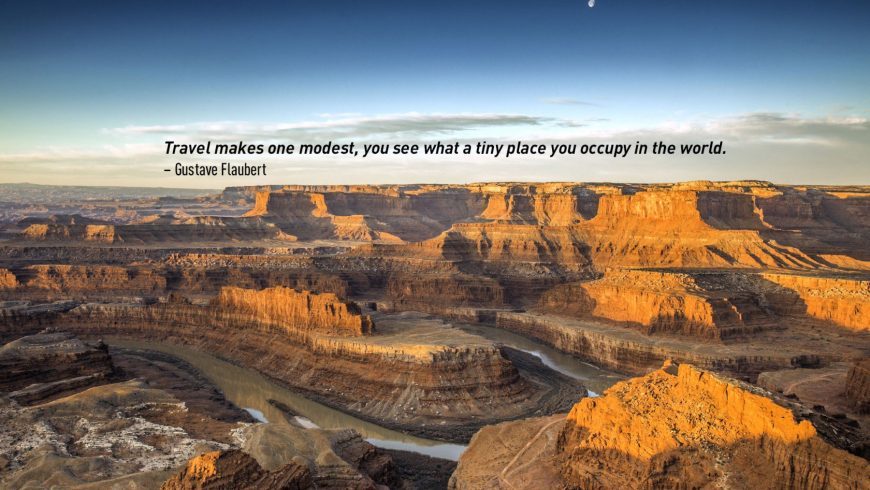 Travel with no regrets
Twenty years from now you will be more disappointed by the things you didn't do than by the ones you did." ― Mark Twain
People don't take trips, trips take people.
(John Steinbeck)
If you think adventure is dangerous, try routine. It's lethal.
(Paulo Coelho)
Travel is never a matter of money but of courage.
(Paulo Coelho)
The real voyage of discovery consists not in seeking new landscapes, but in having new eyes.
(Marcel Proust)
Why do you go away? So that you can come back. So that you can see the place you came from with new eyes and extra colors. And the people there see you differently, too. Coming back to where you started is not the same as never leaving.
(Terry Pratchett)
Do you really want to look back on your life and see how wonderful it could have been had you not been afraid to live it?
(Caroline Myss)
Because in the end, you won't remember the time you spent working in the office or mowing your lawn. Climb that goddamn mountain.
(Jack Kerouac)
We leave something of ourselves behind when we leave a place
Actually, the best gift you could have given her was a lifetime of adventures.
(Lewis Carroll, Alice in Wonderland)
Fill your life with experiences, not things. Have stories to tell, not stuff to show.
(Unknown)
Not all those who wander are lost.
(J.R.R. Tolkien)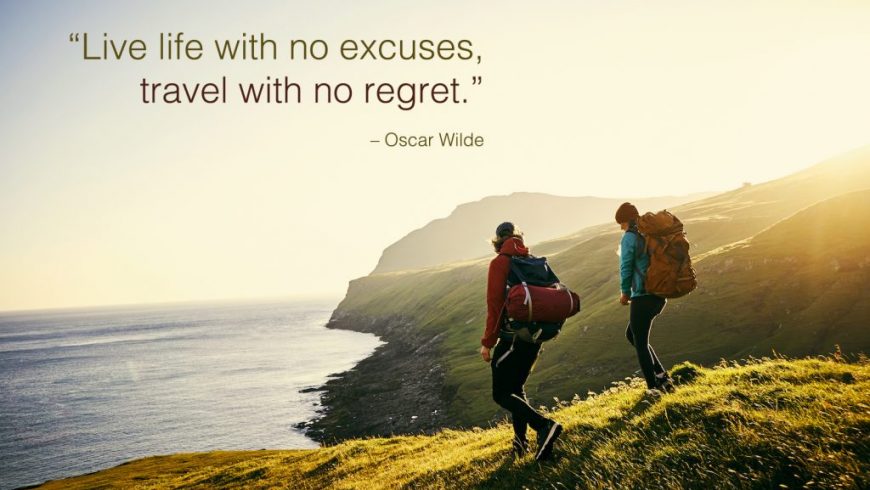 Get ready for a new adventure
What is that feeling when you're driving away from people and they recede on the plain till you see their specks dispersing? – it's the too-huge world vaulting us, and it's good-bye. But we lean forward to the next crazy venture beneath the skies."
(Jack Kerouac, On the Road)
Travel brings power and love back into your life.
(Rumi Jalalud-Din)
Now more than ever do I realize that I will never be content with a sedentary life, that I will always be haunted by thoughts of a sun-drenched elsewhere.
(Isabelle Eberhardt, The Nomad)
The traveler sees what he sees. The tourist sees what he has come to see.
(G.K. Chesterton)
Be a dreamer
We leave something of ourselves behind when we leave a place, we stay there, even though we go away. And there are things in us that we can find again only by going back there."
(Pascal Mercier)
Every dreamer knows that it is entirely possible to be homesick for a place you've never been to, perhaps more homesick than for familiar ground.
(Judith Thurman)
Though we travel the world over to find the beautiful, we must carry it with us, or we find it not."
(Ralph Waldo Emerson)
because he had no place he could stay in without getting tired of it and because there was nowhere to go but everywhere, keep rolling under the stars…
(Jack Kerouac)
But that's the glory of foreign travel, as far as I am concerned. I don't want to know what people are talking about. I can't think of anything that excites a greater sense of childlike wonder than to be in a country where you are ignorant of almost everything. Suddenly you are five years old again. You can't read anything, you have only the most rudimentary sense of how things work, you can't even reliably cross a street without endangering your life. Your whole existence becomes a series of interesting guesses.
(Bill Bryson)
It can hardly be a coincidence that no language on earth has ever produced the expression, 'As pretty as an airport.
(Douglas Adams)
Everything I was I carry with me, everything I will be lies waiting on the road ahead.
(Ma Jian)
So, which quote is your favorite one? Choose them to express your mood. For example, if you want to share some photos from your last trip, use them as a caption on your social media.
Yeah, we know that after reading this article you're looking forward to traveling. So, which destination will be the chosen one? Plan your eco-trip here or make a gift for someone you love that won't be forgotten.
Get ready to experience a new way of travelling and let us know your feedback.
Cover image: photo via Unsplash