What is the best hiking clothing? Whether you're planning for a leisure hike or a more demanding trail, it's important to be 100% prepared for the outdoors, and what better way to start that off than choosing your next hiking outfit? If you're unsure of how to choose your attire for your next adventure, fret not! Our comprehensive list of tips will aid you in choosing the best hiking shirts and shorts for any occasion.
Key Considerations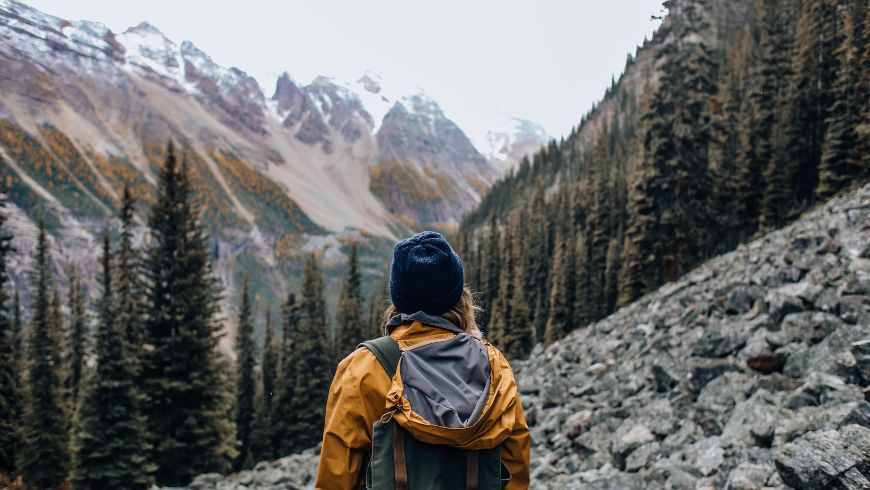 Before you decide on that adorable, yet not quite so practical outfit, here are some factors you'd want to weigh in before purchasing.
Safety
Always dress with a purpose –– your hiking outfit will be the first layer of protection you have against the elements! Choosing an appropriate outfit will largely depend on the type of environment you're looking to hike in, and the possible dangers you may face. For example, if you're traveling in an area that is mosquito-prone, remember to pack long pants and sleeves that are coated with insect repellent, especially during the summer months. Alternatively, if you're expecting to hike during rainy or windy seasons, bring a waterproof and wind-resistant coat, or even specially-made waterproof hiking pants for extra protection.
Comfortability
Cotton is a definite no-go! As you sweat, the organic fabric will hold onto the moisture and breed bacteria. The wetness will disrupt your body's natural heat regulation, keeping you too warm in hot weather and too cold in cooler conditions. Instead, we recommend sticking to breathable wicking synthetic materials like polyester, polypropylene, and nylon. These technical fabrics keep sweat off your skin by facilitating quicker drying, which will ensure a pleasant and dry hiking experience.
Furthermore, fit matters. Your hiking apparel shouldn't be hugging so tight that it hinders your range of motion, making it uncomfortable for you to navigate the twists and turns of your trail. So, absolutely no jeans, and especially no skinny jeans! Not only will you be awkwardly stiff, but you'll also be sweltering. Looser clothing will allow air to easily get in to cool your skin and bring out excess heat as it leaves.
Versatility
Opting for premium equipment can get ridiculously expensive. Hence, we recommend getting clothes that can be used for many different situations. Some excellent staples include getting hiking button-up shirts with rollable long sleeves and convertible pants that be folded up to become shorts.
The Fundamentals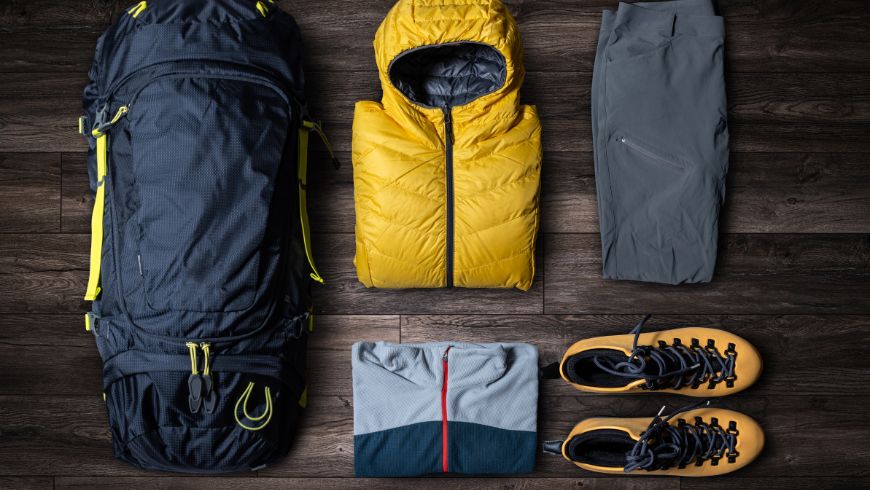 Here are several basic pieces of clothing that you'll need to stock up on for all hiking trips.
Undergarments
As the layer closest to your body, choosing the appropriate material for your undergarments makes a huge difference. Instead of cotton, which remains a big no-no when hiking, we recommend sticking with polyester, nylon, and merino wool –– these materials help to move moisture away from the body, which prevents uncomfortable dampness and chafing.
Shirts
Wicking should be your main concern when choosing hiking shirts. Regardless if you're planning on a spring or winter hike, a good hiking shirt should wick away sweat, whilst keeping your body comfortable and dry. In this case, we suggest choosing shirts made out of synthetic materials and merino wool.
Bottoms Or Pants
Feel free to choose the bottoms of your pleasing, whether that includes dresses, skirts, shorts, or pants –– as long as you're able to move unrestricted, dry fast, and protect yourself from the elements. Moreover, taking into account potential environmental hazards –– such as sharp rocks, poison ivy, and ticks –– should play a crucial role in choosing the length and thickness of your bottoms. A general rule of thumb is to choose thin yoga pants for trails that involve rock scrambling, and thicker pants to protect your legs against trails with long, tall grasses.
Jackets
As extra barriers, jackets are to be chosen to match the conditions you expect to face on your hike. Nonetheless, you should always have a light, portable, compact jacket that'll protect you from water and wind.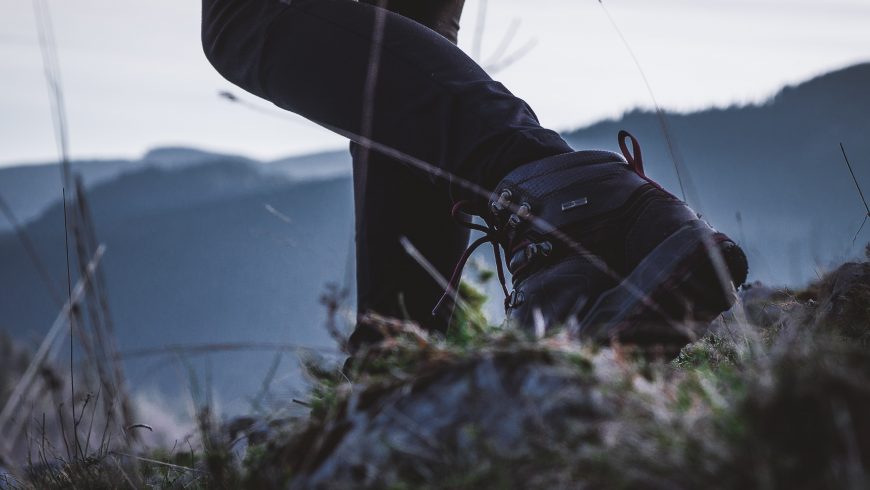 Socks
And yes, you got it –- no cotton socks as well! Cotton socks absorb sweat, which makes your feet stay damp and wet the entire hike. Over some time, this can lead to xcruciating blisters which may even cause you to stop hiking altogether.
Shoes
When choosing a pair of shoes, take note of the following three factors. First, choose one that is in line with your personal preference –– what do you prefer? Whilst others gravitate towards the simplest hiking sandals all-year-round, others may choose chunkier leather hiking boots even when going on leisure trails.
Secondly, evaluate the weather conditions that you'll be hiking in. Harsher conditions, like rainfall and snowfall, will require waterproof, sturdy shoes or boots. On the other hand, you could wear anything during the summertime –– from hiking sandals to regular trainers.
Lastly, take note of the trail terrain. If you're planning to hike on a regular leveled trail, a basic pair of trainers will suffice. However, as the trails become tougher and more mountainous, you'll be needing a nonslip pair of boots with ankle protection, to avoid unpleasant and unnecessary falls.
Hats
Although often overlooked, hats hold crucial roles in bringing the whole outfit together. Whilst brimmed hats keep rain and sun out of your eyes, wool beanies help to insulate your head from the cold –– they're staples all year round!
Seasonal Essentials
Depending on the demands of the weather, your clothing choices need to be adapted. The following are several clothing guidelines to take note of according to the season.
Spring And Fall
Although these are generally warmer seasons, the fluctuating temperatures they bring can cause significant clothing headaches. Instead, the key to approaching these well-prepared is to dress for versatility.
Let's start from the ground up –– for footwear, choose hiking boots instead of trainers or sandals in case of low temperatures or muddy trail conditions from rain and snowmelt. These boots have added support and traction and keep your feet dry even on, the wettest days.
For bottoms, choose zip-off pants that can alternate between pants and shorts as and when you please. Next, select a long-sleeve hiking shirt with a breathable base layer that can button up or stay open. Lastly, bring an easily foldable, compact water-wind resistant will shelter you from the unforeseeable. Oh, don't forget to bring a hat!
Summer
Prepare for the heat! Wear a wide-brimmed hat, UPF-protecting tops, light colors, bug-protective clothing, quick-drying and breathable materials –– Anything that will keep you cool and dry. Don't forget the sunblock!
Winter
While it is the harshest weather to hike, winter is extremely beautiful to witness. The essential approach is to dress in tons of layers –– especially those with powerful insulating properties. Start with a base layer that contains insulating properties such as synthetic materials or wool. Then, layer it with a removable, insulating middle coat. Lastly, top it all off with a snug windproof, and waterproof jacket. Don't forget to throw in a pair of good hiking boots, warm hiking socks, a cozy beanie, and a pair of handy gloves.
Conclusion
Always remember: it's function first, fashion second. Ensuring safety and preparedness start long before you step foot into the trail requires months of careful planning and factoring in all the different demands of your hike. We hope that you've gained significant insights from our tips and that you're now ready to conquer your next adventure!
Cover image: photo by Foto di form PxHere