Get ready for an unforgettable green holiday in South Tyrol, between the Fanes-Senes-Braies and the Puez-Odle nature parks to explore the wonders of the Dolomites and discover the Ladin culture.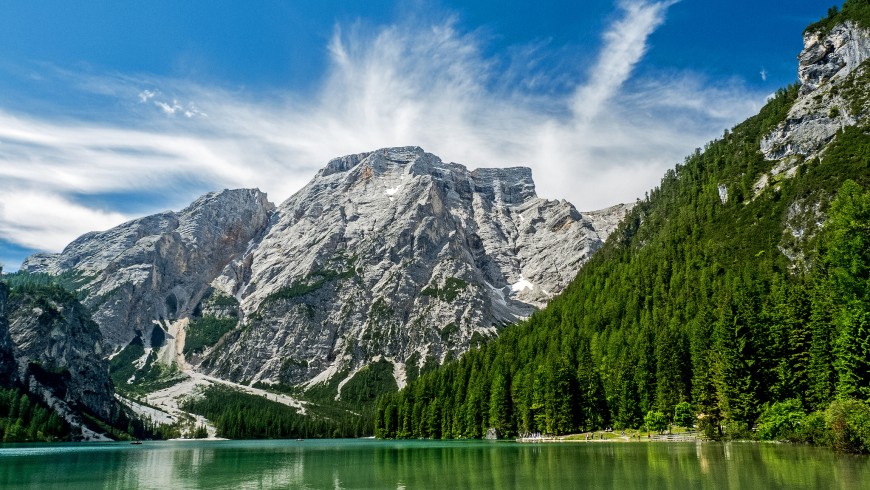 The karstic landscapes of the Fanes-Senes-Braies nature park that always surprise you, the magical Lake of Braies, the nature trail of Zannes, also available by wheelchair, and then 250 kilometers of bike paths and the Ladin Culture Museum in San Martino in Badia: this is the holiday that awaits you in this magical corner of South Tyrol, between a spectacular nature and a culture to discover.
Not everyone knows it, but in this corner of South Tyrol there are still people who speak a much older language than Italian and pass on from generation to generation old traditions and customs. We are talking about the Ladies of the Dolomites, a people proud of their identity and traditions, who lives in the four valleys around the Sella Group (Val Badia, Val Gardena, Val di Fassa, Livinallongo Valley), Colle Santa Lucia and in the Ampezzan basin (Cortina).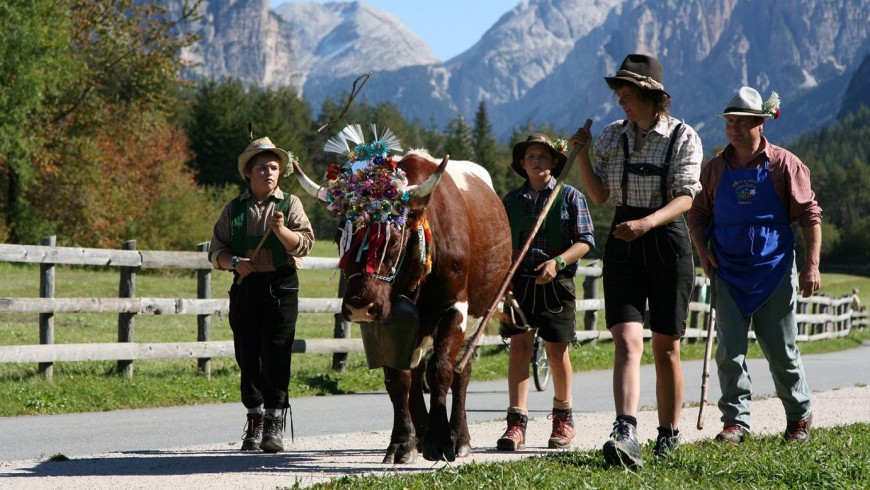 To explore the scenery of the Dolomites and to breathe the Ladin culture, my suggestion is to start discovering San Vigilio di Marebbe and San Martino in Badia, which represent the Ladin part of the tourist region of Plan de Corones. The two picturesque villages are located between two of the most beautiful natural parks of the Dolomites, the Fanes-Senes-Braies nature park and the Puez-Odle park. They offer numerous hiking opportunities, a ski area and a chance to discover Ladin culture in the museum housed in Ćiastel de Tor in San Martino and the Ladin Institute "Micurà de Rü". The two resorts are immersed in wild and uncontaminated landscapes that will surprise every type of traveler and offer the chance to fully experience the Ladin culture, discovering its typical warm welcome, the cuisine that can create superb dishes starting from poor ingredients, the old trades and crafts and the often difficult life of the Dolomites.
A green holiday between the Dolomites
In San Vigilio di Marebbe you will find a beautiful and modern Bed & Breakfast that respects the environment and where you can savor the natural pleasure of time. After a night in one of the five rooms available in the B&B Les Gomines, all equipped and with private bathroom, you will be pampered with a breakfast based on genuine, organic or local produces and made up of typical sweets, jams and home-made syrups , homemade yoghurt, delicious toast and sandwiches, organic cereals, organic eggs, local and/or organic honey, selection of seeds, berries and delicacies, local cheeses, fresh bread, fresh fruit, wide selection of hot drinks, tea selection and fresh fruit centrifuges.
Cover photo by Eric Huybrechts via Flickr