Essenza Sardegna is immersed in the wild nature of the Regional Natural Park of Tepilora, an area of 8000 hectares of mountains, rivers and sea. Its surrounding landscapes are breathtaking.
Staying in Essenza Sardegna means retreating into the quiet which is interrupted only by the sound of cicadas. A perfect place to regenerate and return home with a new energy.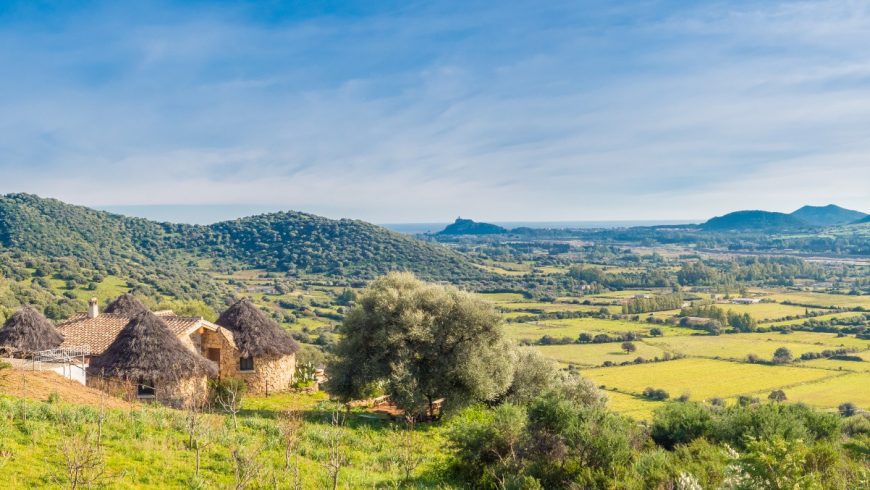 An opportunity to return to the origins
«We all need to reconnect with our essence, rediscover the pleasure of touching the earth, listen to nature, observe it closely, smell and taste it, receive from it all the benefits, embrace everything it gives us, feel good with the environment and about ourselves.»
This is exactly how Marina, the founder of this sensory oasis, describes her skilful work of welcoming her guests and entrusting them with the benefits of nature. In fact, she has dedicated a large part of her life to learning about the plant properties. Thus she can give a healing experience.
Purple room
Lavender essential oil extraction
The essence of a native plant (Myrtle, Juniper, Lavender, Helichrysum) characterizes each hut in Essenza Sardegna. But that's not all: it is possible to ask for massages and holistic treatments, and to participate in events dedicated to disciplines combining with the philosophy of the place. The location is free of unnecessary objects, since beauty lies in the care of the essential. Only in this way you go back to the origins. Let's discover together the history of this magical structure.
How did Essenza Sardegna come about?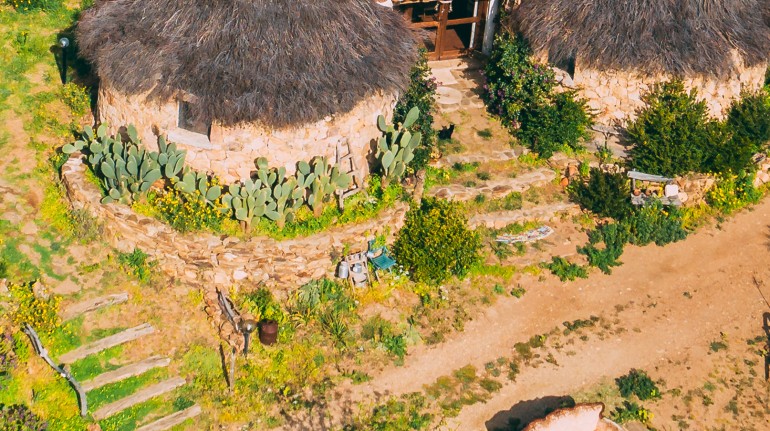 From countryside to aromatherapy
«When I was a child, I looked forward to Sundays when we would go on trips to the countryside. All I wanted was to run and do somersaults on the meadows, pick mushrooms, chard, fennel and wild asparagus.»
«Growing up I chose a career path that would allow me to learn more about this wonderful world. I studied for five years and got the diploma of land surveyor. Plus two years for the certificates of "technical expert in the recognition and cultivation of medicinal and aromatic essences of Sardinia", and "technical expert in the handling and processing of medicinal and aromatic essences of Sardinia".»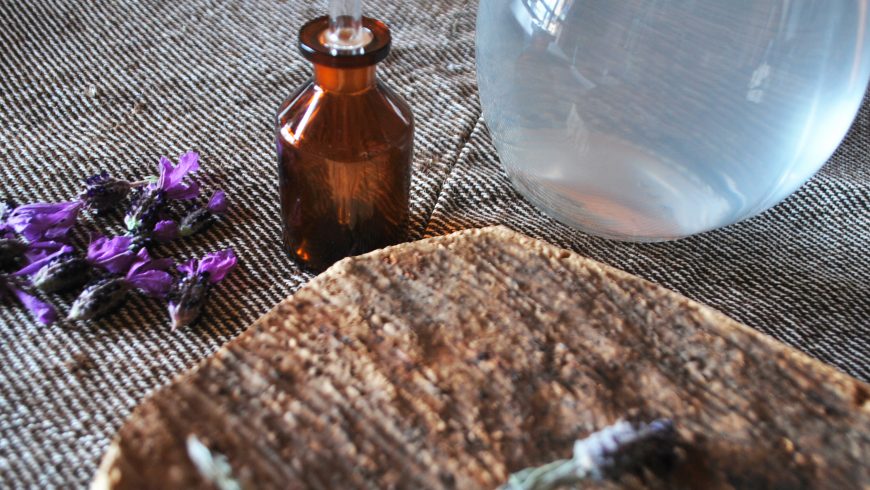 «Then I worked in the agricultural and herbalist sectors, recognising this last one as my true passion. So I decided to turn my life around with a business project of my own. For two years I searched for an agricultural land that was perfect for my project, in order to carry it out and dedicate myself to the countryside. After wandering around different parts of Sardinia I found the right place: 11 thousand metres of land on a hill.»
Sharing the well-being of the essential
«I thought of building a little house that recalls the ancient constructions of the Sardinian shepherds, the "pinnettos". I have consulted various texts on ancient Sardinian architecture, construction techniques and materials used. One night, during an abrupt awakening, I saw the image of the structure in front of my eyes. So I drew the figure with a pencil: a four-lobed structure.»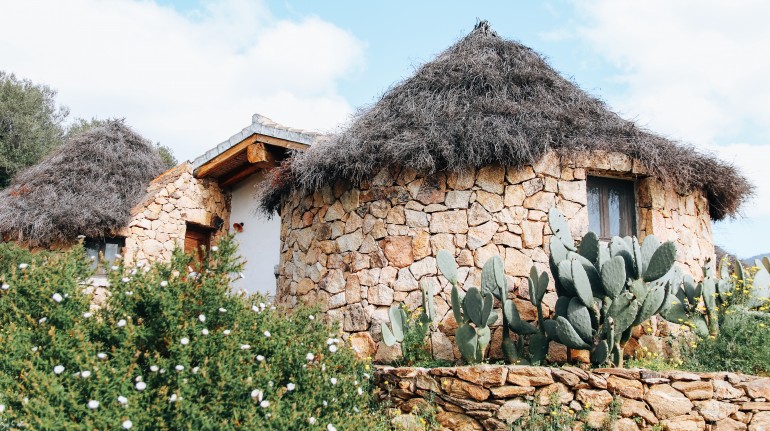 «The well-being of this place made me reflect on the need to return to a simple, genuine life, without falsehood: the essential. Essenza Sardegna was born from my passion for medicinal plants, the desire to spread all the love for the land and its fruits, and to share this well-being with other people.»
Which good sustainability practices have you adopted?
First of all, at Essenza Sardegna you will avoid waste by using glass bottles for drinks, bowls for jams, honey and yoghurt at breakfast and refillable dispensers. Moreover, 80% of the waste is recycled and ceramic and handmade wooden containers are used as recycling bins. In addition, you will eat organic food at km 0: bakery products, fruit and vegetables only from local producers. Moreover, they frequently do shopping for perishable products in the necessary quantities. Besides that, they use ecological cleaning products, change of sheets and towels takes place every 4 days and additional linen is stored in the wardrobes.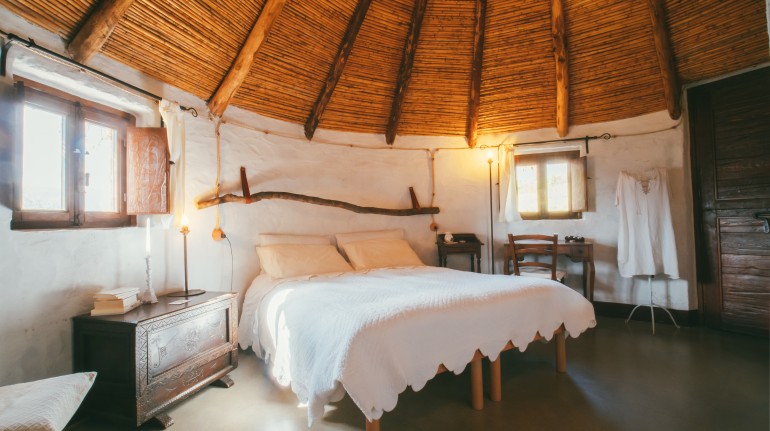 The structure was created according to the principles of bio-architecture. Therefore it made use of local materials such as stones and branches found right in the ground. The furniture has been made through creative reuse, with old furniture, fabrics, tools, etc.. Even inside there is a small antiques museum with precious objects belonging to past generations. The outdoor vintage lounges are recovered or recycled, the paths and steps are made with old railway sleepers.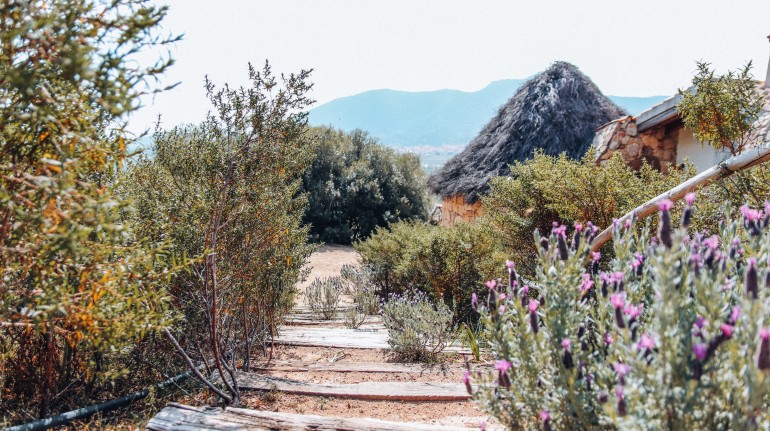 Vintage armchair
Outdoor lounge
Finally, it makes use of low consumption bulbs, flow reducers, water recovery and reuse. Communications are only in digital format, avoiding the printer.
What do your guests appreciate the most?
Guests feel pampered from the very first moment, thanks to the essential oils, colours and lights in the rooms. In addition, they appreciate the tranquillity and close contact with nature: a simple luxury immersed in a wild landscape. Finally, the attention to detail and the comfort of the rooms make your stay even more pleasant. To sum up, the real beauty of this structure is the absence of artificiality and a pervading sense of peace.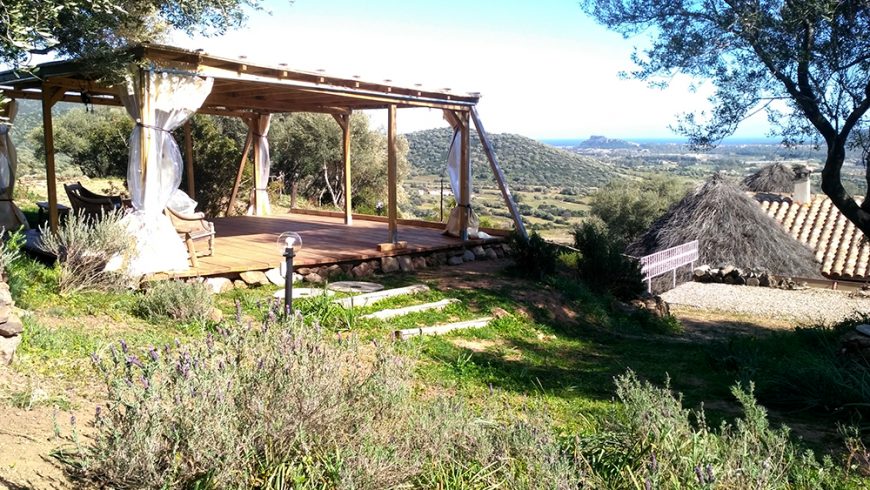 Which slow itineraries (on foot, by bike, etc.) do you recommend not to miss in the surroundings?
«From Essenza Sardegna you can see the sea, the river Posada running along the valley with its variety of birds and the Tepilora River Park. Then the limestone massif of Montalbo, where it is possible to make excursions up to its peaks. Nearby you can find the lake Maccheronis with its magical landscape, and behind it the naturalistic oasis of Usinavà. Finally, the village of Posada with its narrow streets up to the castle, and Torpè with its cathedral on display.»
Fava Castle, Judicial stronghold
Naturalistic oasis of Usinavà
Essenza Sardegna has a convention with the ecological activities of the Tepilora Natural Park, which offers unmissable ecotourism itineraries and more. In this uncontaminated oasis, you can learn and practice water and land sports such as windsurfing, scuba diving, kayaking… But also road cycling or e-bike tours inside the Park. Otherwise, you can take a guided tour of ancient archaeological sites. It is worth mentioning the Nuraghe San Pietro and the "Domus de janas", prehistoric tombs dug into the rock.
What does being an Ecobnb mean to you?
It is a pride to have been part of an international circuit promoting and selecting eco-sensitive realities for the well-being of the planet for almost 10 years.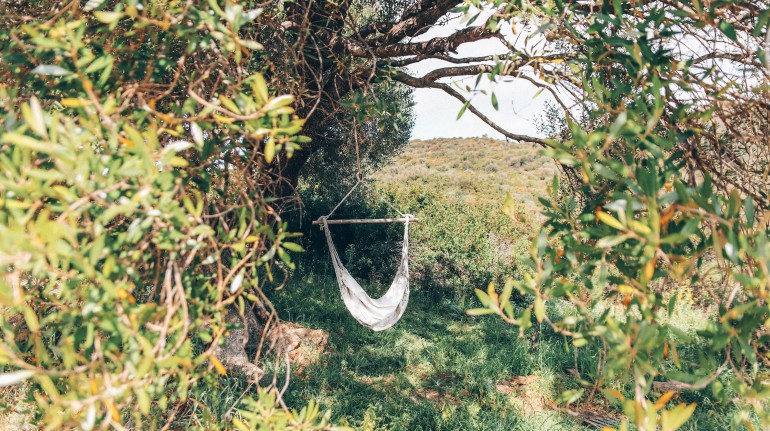 Book now your stay in Essenza Sardegna and live an unforgettable sensory experience immersed in the most intimate part of Sardinia!