They are eco-friendly and low-cost. Discover the most beautiful ecological hostels in Europe, to travel green and make friends!
The choice of a hostel for your vacation, can be both eco-friendly and low cost. Thanks to smaller places and shared rooms, many natural resources employed in heating, electrical power, or water, can be reduced.
The love for hostels became fashionable once again. In fact, they focus on sustainability, offering renewed spaces, services and experiences in cities' center. Saving money does not mean reducing quality of our journey. Let's find out the 15 most beautiful hostels in Europe!
Bamboo, eco-hostel in Turin, Italy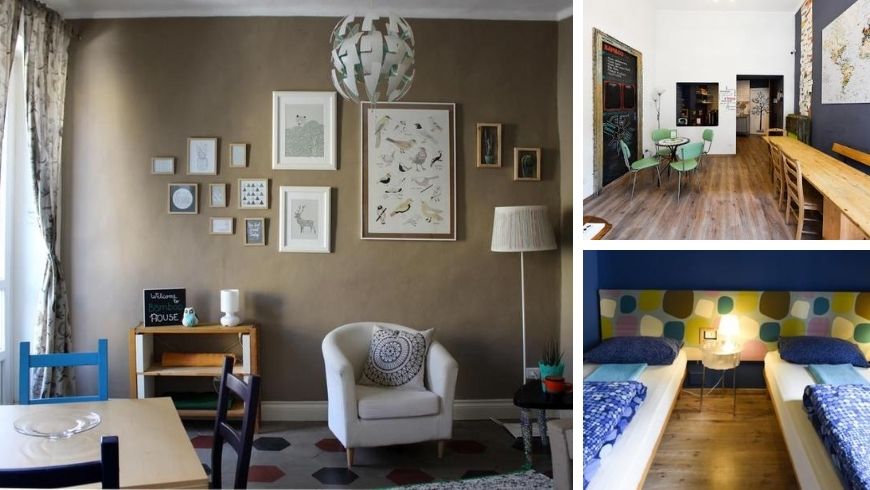 Located in the heart of Turin, Bamboo Eco Hostel is one of the best eco-friendly hostels in Italy. Eco-sustainability and its cozy atmosphere are the main purposes of this place. Because of the furniture created by recycled objects. Electricity comes from 100% renewables, and the food is by organic products. To sum up some of the green elements.
Ostello Bello, green stay in Milan, Italy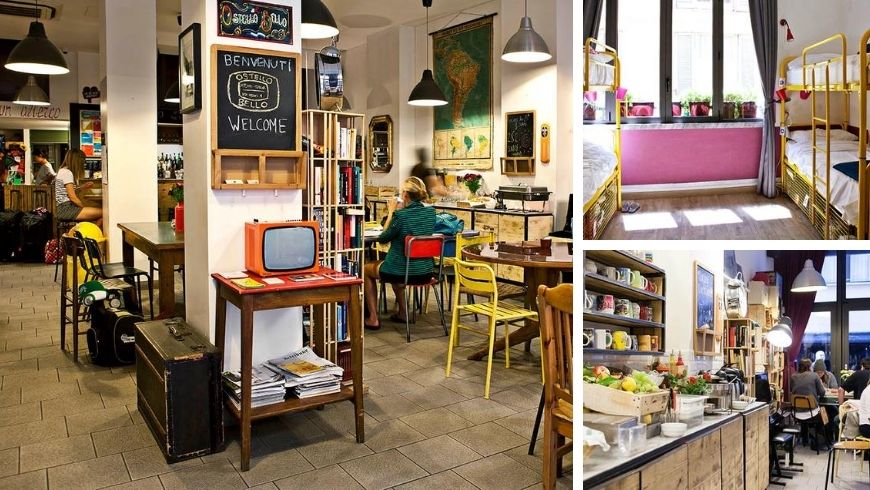 Ostello Bello was born from the idea of three friends in love with travel and tourism. This place attracts all its visitators for its eco-sustainable attention. The whole furniture has been created with recycled elements. In addition, the food is produced on the little balcony of the same hostel.
Sunflower Beach Backpacker in Rimini, Italy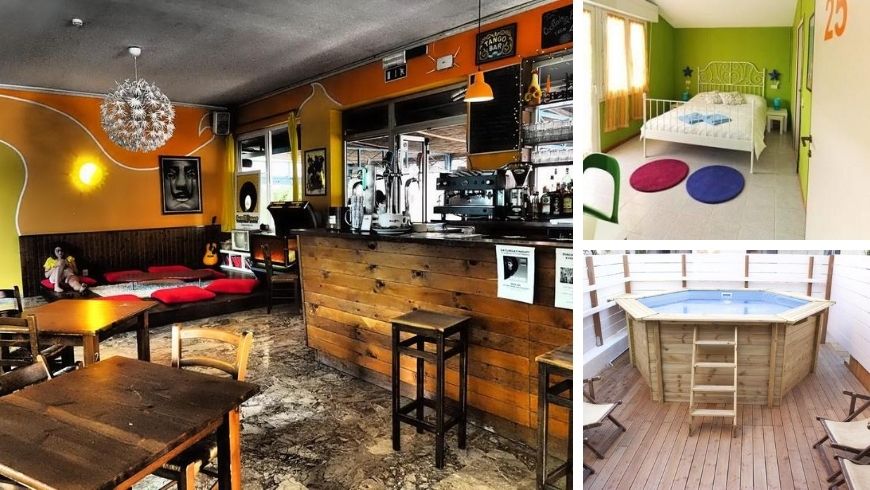 Sunflower Beach Backpacker Hostel is a plastic-free accomodation in Rimini. It is not so far from the sea and the nightlife of Riviera Romagnola. The breakfast is based on organic products, the garden, and the chill out area will make your stay very pleasant.
Križevci, eco-hostel in Ljutomeru, Slovenia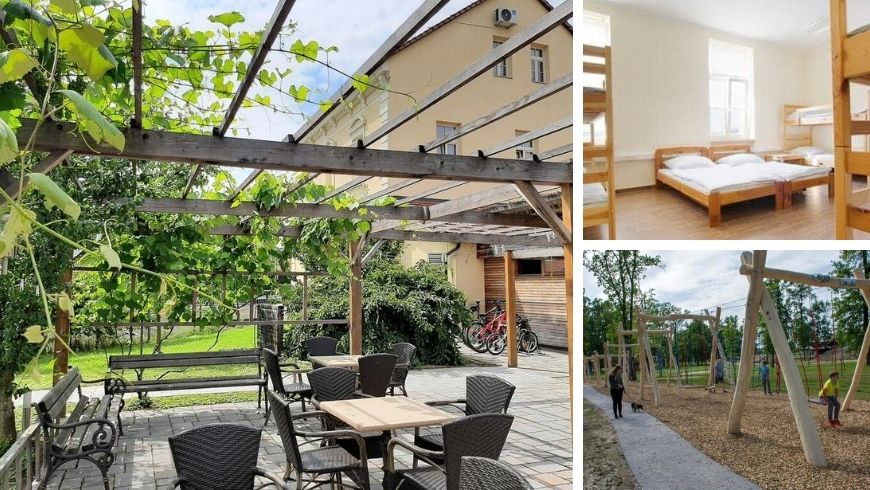 If we take a tour in Slovenia, we can stop in Križevci pri Ljutomeru. The Eco Hostel Križevci at Ljutomeru was created in an ancient building, following the fundamentals of green architecture and the last technologies for energy efficiency.
In addition to this, the perfect geographical location allows to reach easily many places with public transports too. If you want some relax there are some natural hot springs such as those in Banovci.
Bearlog, eco-friendy hostel in Slovenia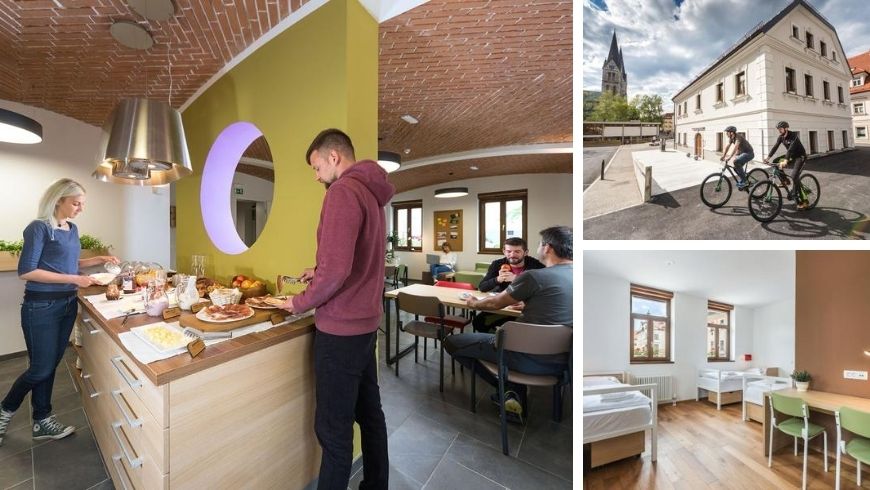 At this time, without moving from Slovenia, we can go to Kočevje. The ancient legends of brown bear, rule the Bear-friendly Hostel Bearlog, an accomodation created inside a historical house.
Here, the keyword is Comfort; the focus is on all needs. Therefore, it has different types of modern rooms ideal for disabled people. The hotel has also won different ecological labels and guarantees a sustainable breathtaking vacation.
Sleep Green, ecologic hostel in Barcelona, Spain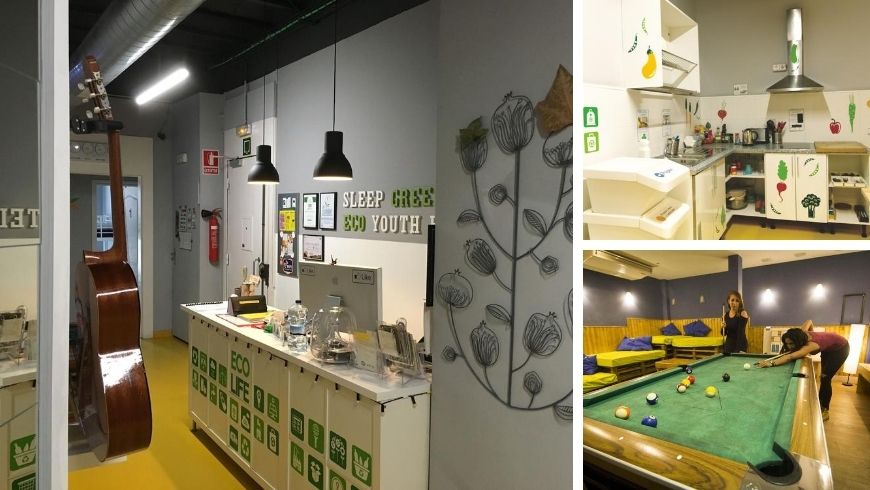 Spain's first youth hostel is located in Barcelona. Sleep Green – Eco Youth Hostel has been awarded the Ecolabel EU. In order to create sustainable tourism and protect the environment, the accomodation promotes on foot tour and bicycle rental.
Impact House, eco-sustainable hostel in Lisbon, Portugal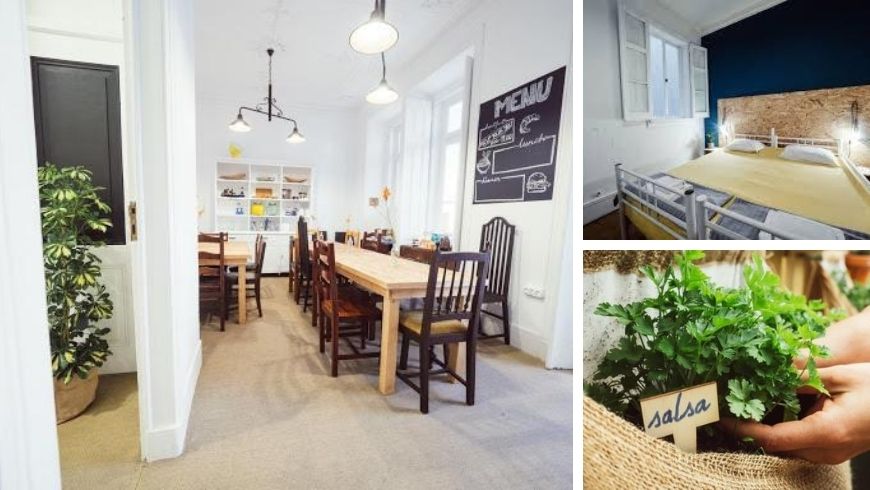 If you want to visit Portugal and Lisbon you can book a private room or a bed in dormitory at the Impact House – Sustainable Hostel. The facility has many projects with several local partners. For example, 100% offsetting of CO2 emissions; recycling of wood waste; the social and sustainable shop; the vertical garden; ecological cleaning.
Above all, do not miss the art gallery for disabled artists or chancemaker.
Averio Rosso, eco-hostel in Portugal
Averio Rosso hostel is settled in the old town in Averio. Rooms can vary for their color or services, from the room with private restroom or the shared dormitory. Absolutely, you can taste the Portuguese breakfast, where you can choose different types of organic local foods.
Stayokay Amsterdam Zeeburg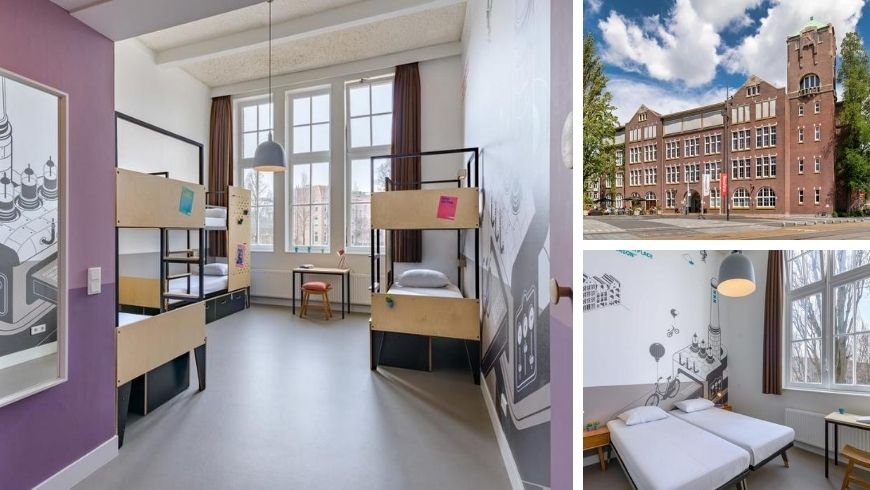 Amsterdam is one of the best cities where you can try hostel. Stayokay Amsterdam Zeeburg, near Dam Square, is reachable by public transports or on foot. Anyway, if you want to try the full Dutch spirit you can rent a bicycle, that is the symbol of the city.
WellnessHostel4000, green hostel in Switzerland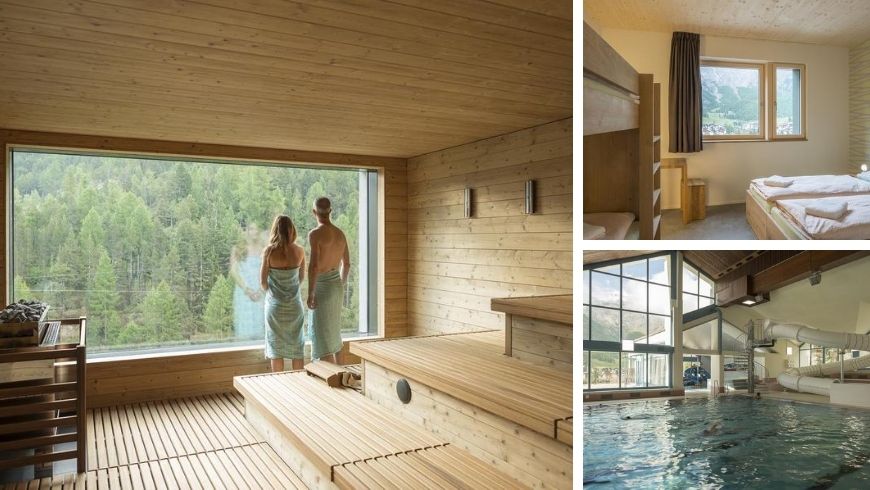 The WellnessHostel4000 is one of a kind. This place combines perfectly well-being, low-cost and sustainability. In Saas-Fee, Switzerland, this hostel features a wellness center with a bio-soft sauna, herbal steam bath, hydromassage showers and indoor pool.
Moreover, nestled in the Swiss mountains the facility will surprise you with organic breakfast.
Jugendherberge Brugg, eco-friendly hostel in Brug, Switzerland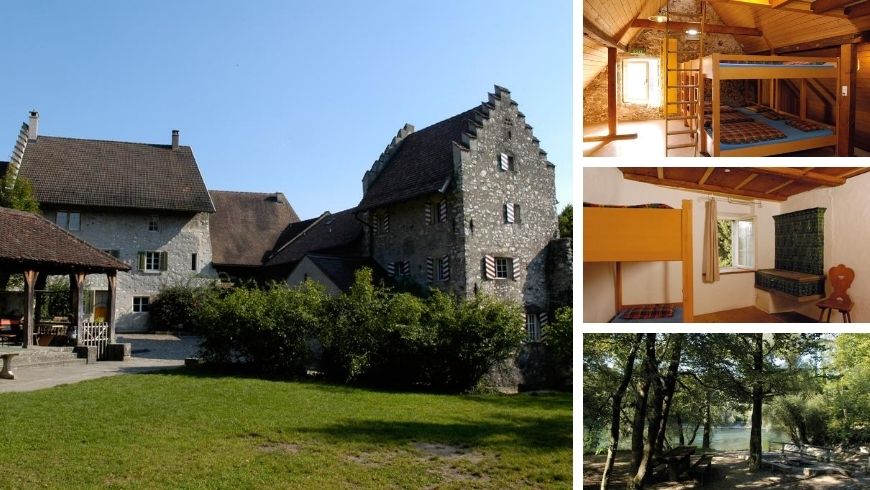 Jugendherberge Brugg is part of the incredible Swiss landscapes. This is a nice hostel surrounded by history of Roman legionary camp of Vindonissa, the Habsburg castle and church.
In conclusion, Jugendherberge Brugg is the perfect match for those who love nature.
Palace Hostel Schlossherberge, in Austria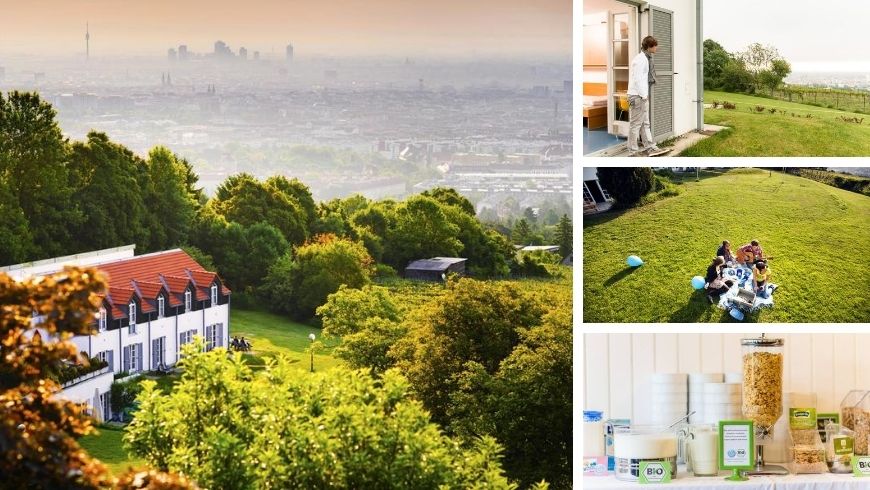 Austria, here we are! Palace Hostel Schlossherberge is a wonderful structure in Vienna. From the big park surrounding the facility, it is possible to admire the whole city's breathtaking view. Consequently, the hostel has a perfect location that combines nature and city life, and public transports make the old town easier to reach.
4You, eco-sustainable hostel in Munich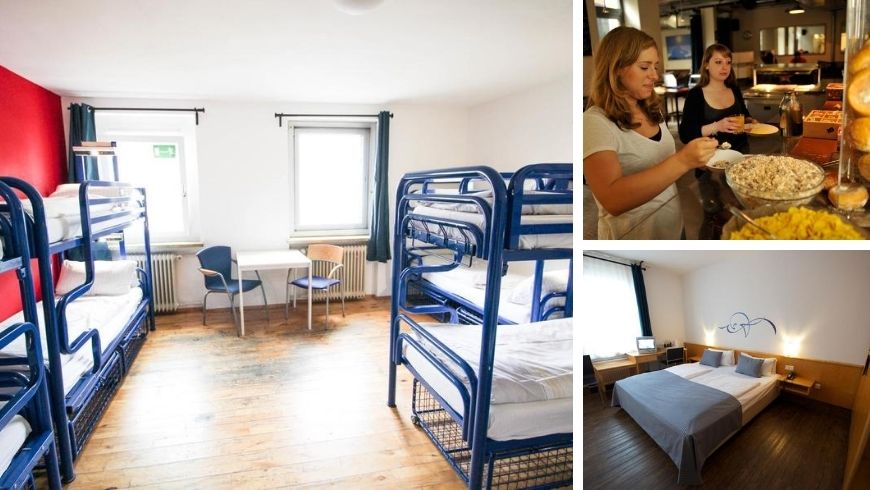 4You Hostel & Hotel Munich is considered the pioneer of ecological accommodation in Germany. It offers different rooms' types considering sustainable choices and hotel comfort. Similarly, the Gastro room and a quiet courtyard were integrated into the restaurant area.
Jugendherberge Burg Stahleck, eco-hostel in Mainz-Bingen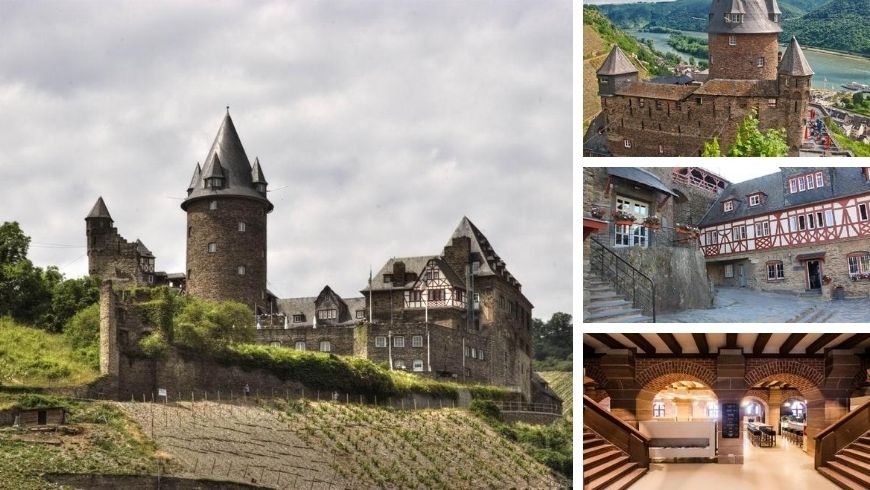 Have you ever slept in a castle? Are you afraid of ghosts? Jugendherberge Burg Stahleck is located in an ancient castle of XII century in Mainz-Bingen – Germany. It counts around of 168 beds and is family friendly. Furthermore, you can join different outdoor activities such as: Rheinburgen hiking route, or 40 castles and fortresses along the Rhine.
An old Cistercian abbey becomes an eco-hostel in Cadouin, France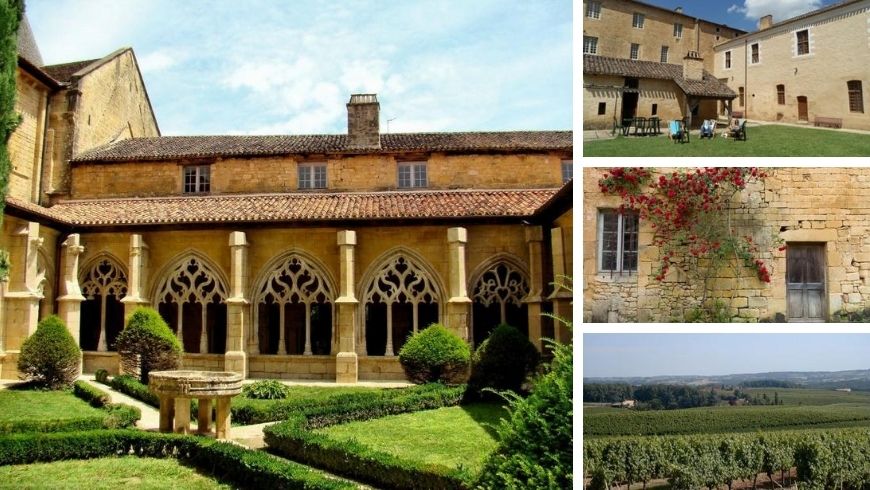 If you are a time travels' lover Cadouin Youth Hostel is your choice. It is housed in Cistercian abbey of the 12th and 13th century in Dordogne, France. Its cloister is a World Heritage Site by Unesco. Most of the rooms' windows overlook the cloister, where all the guests can take part to many activities. For example, you can cook in the old bread oven, or participate in creative workshops.
To sum up, these are our 15 favorites hostels. Do you know any new ones? Share them with us!
Cover image: photo via Ecobnb