Using discs (or frisbees) and baskets you can play "Disc Golf", the newest eco-friendly golf game, at a price within the reach of all. Let's find out how it works, why it is more ecological than traditional golf, and where you can play it in Italy.
Have you ever heard about "children games" that are recognized as an official sport and that have their own championship? This is the case of "Disc Golf", a variety of traditional golf, in which you play with discs (or frisbees). You will need neither any particular equipment nor huge meadows which are strictly preserved. All you need is; a disc and lots of baskets to get the disc in the hole. The ground where you will play it can be either a meadow or a desert or a forest, you can actually play it anywhere.
Frisbee is really loved when on holiday on a beautiful beach or in the mountains, but not a lot of people know that frisbee is an official sport and that there are several disciplines, which are practiced all over the World.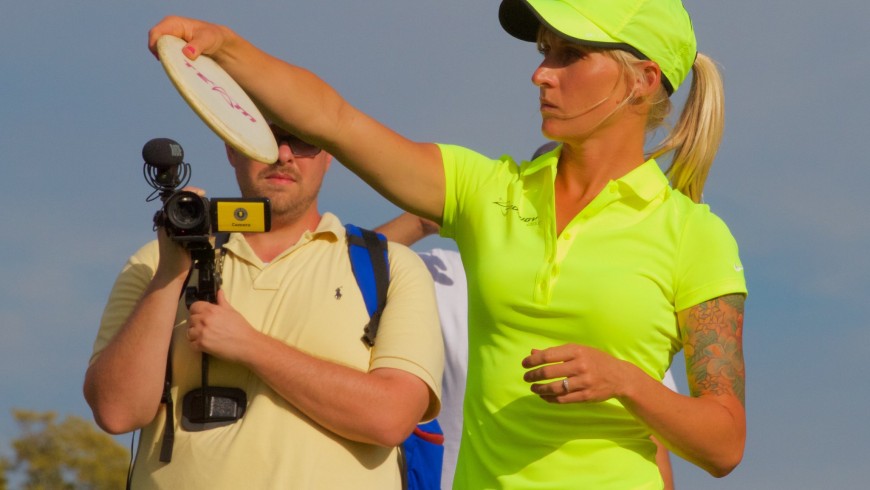 The discipline that we are going to focus on today is called "Disc Golf", which is pretty recent, it was first played in the 70s in the States and yet not well-known in Italy. Its rules are similar to those of golf, there is a starting line, a basket at a certain distance and in which you will try to get the ball in the hole with the least number of attempts.
Frisbee and its popularity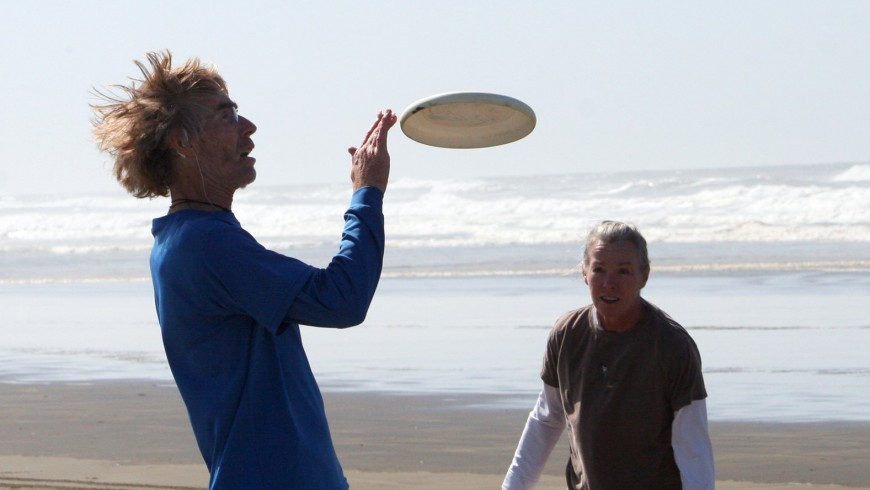 The most incredible thing about frisbee is its ease of use. In fact, playing frisbee does not require a wide plane ground. If you have already picnicked in the mountains, you would know that when the ground is sloping, playing football results to be kind of hard, and don't forget to go for your ball that goes down so quickly! You do not have to worry about this because playing frisbee in these places will not be impossible.
Once you learn how to throw the frisbee you can enjoy your new experience, playing at long distances and trying new ways to start the game.
The only problem is that the game doesn't give its players the chance to do a challenge but only exchanges of frisbee, and this could be considered as the main cause of getting bored after a while.
Disc Gold rules
Firstly, it is necessary to stress the fact that you will not need any particular equipment to play it, you will only need a disc (or frisbee) per person. The rules are easy, if you already know how to play golf you know it all! The aim of the game is to get the disc (or frisbee) in the hole of the baskets with the least number of attempts. The person who wins the game has to get the highest number of shots. The first attempt will be from the starting line, called "tee", then you have to move further and further behind. Once you succeed in the shot, you have to change the basket, which will be located at a different distance.
First attempt at a long-distance
Among bushes in a wood
picture by matthewsackman via Flickr
There are different types of shots according to the distance and the obstacles, when doing a shot from a long distance you will have to get a running start, but always remaining behind the line! There are straight shots, crossing, curved shots or the disc (or frisbee) can even roll around on the ground. We are going to give you a link to watch a video that will help you understand how to play this amazing game that has nothing to do with traditional golf.
Disc Golf is a green sport
Disc golf is more eco-friendly than traditional golf, let's investigate how this can be possible: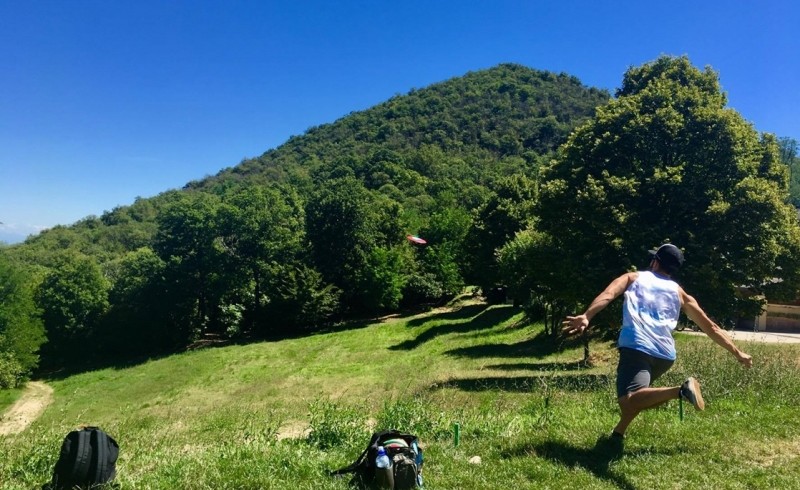 Traditional golf
Traditional golf is surrounded by nature, but it has a strong impact on the environment. If we think about 18 holes, we are referring to 65 hectares of ground that is completely transformed. Hectares of ground that require a huge amount of water every day for its irrigation. In addition to this, we cannot forget about the use of pesticides that stop the growth of wild plants and weeds.
Thus, at the moment there is no legislation on the matter of the impact on the environment caused by golf and there are only a few fields that respect the territory. And please be aware that there are fields that are artificially built in the desert and lakes that are filled with dyes to make the water seem clearer.
Golf field in the desert, picture by Michael Manitius
Disc Golf in the desert
Disc Golf
Disc Golf does not require a specif type of soil. The structure of the ground is the ground game itself. You will clearly need a large field for your long-distance shots but it does not need to be treated with pesticides. The holes are inside the wood, where the trees play an important role in the game. You can also play this game in rocky or sandy places.
A golf field in a forest, pic by Richard Johnson via Flickr
Disc Golf field in a forest, pic by Sam Dosick via Flickr
On the contrary, disc golf fields are more likely to maintain the natural habitat unchanged and unspoiled. You can even be in a disc golf field without knowing it. There are no laws for disc golf too, but the owners of the fields are really aware of the impact that this activity may generate on the territory so that they care for the environment when they build the fields. The holes are inside the wood, where the trees play an important role in the game.
Where you can play Disc Golf in Italy
In 2017, the association called "Il disc golf  a.s.d" (http://ildiscgolf.it/en/) started promoting this new sport in Italy, because it needed to be known in our Country too.
Unfortunately, disc golf is still kind of unknown here but in Germany, Austria, Finland and Sweden you can find hundreds of playgrounds. In Italy, we only have six, which are in the province of Pistoia, Trent, Bozen, Parma and Milan. You can find further information here.
These are two suggestions that we give you:
1. Pietrabuona "Tuscany Disc Golf" – Pistoia, Tuscany
One of the holes in the wood
The starting line for a long distance shot
Disc golf basket inside an olive grove
A farm and a farmhouse in Pistoia Apennines, that have thought to give their hosts a different way to enjoy their holidays. The field has nine holes and it is dislocated between the wood and the olive grove on the hill. Most of the players are Americans, where this game was born, but there is a chance of a large number of Italians joining this new sport. The choice of adding a disc golf field did not imply the necessity of modifying the ground: the wood and the olive grove are still used to get wooden and olives. Facebook link here.
2. Area Tarolli Path- Parma, Emilia-Romagna
A hole located among trees
A girl attempting the final shot
one of the holes with a view
Another disc golf ground, opened in 2018, is located in Area Tarolli, in Gotra di Albaredo, among the Parma hills. We are near the National Park of the Tuscan-Emilian Apennines. The scenario varies according to your position in the hilly forest or in the wide-open spaces from where you can enjoy amazing views. This field also has nine holes and it has a camping area just aside.
5 reasons to try Disc Golf out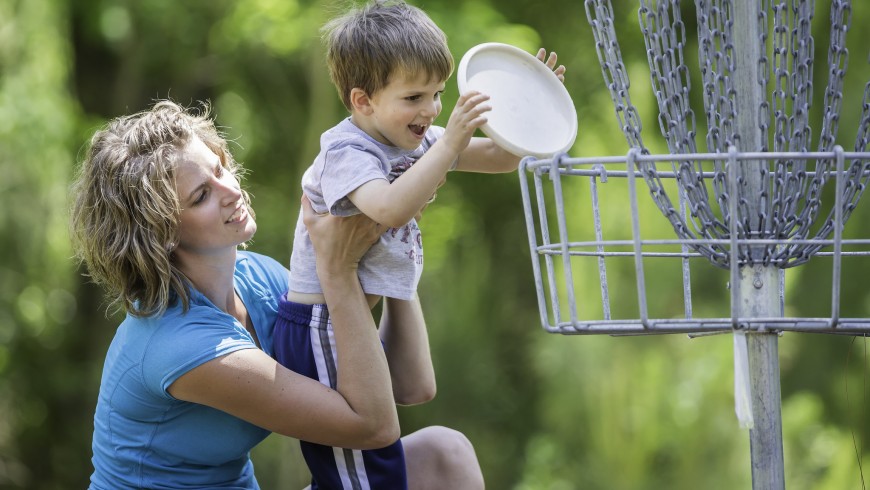 If we have not persuaded you yet, there you have 5 more reasons to try Disc Golf:
1. It is a fun activity
2. It is not hard to play
3. It is accessible to everyone, even to children
4. It is cheap (some fields are free)
5. It is surrounded by nature and it respects it as well!
If any of the fields that we cited are close to your house, at this link you will find groups that organize games all around Italy!