Imagine a travel experience different from those offered by the classic travel agencies. An authentic, immersive and eco-sustainable experience through Italy. This is what Britt Voorsmit proposes. After graduating in International Tourism Management at Breda University of Applied Sciences (Netherlands), with a thesis that explored the experiences of Ecobnb in the Veneto countryside.
"I would like to offer exclusive one-to-one travel services." – Britt tells me. "Immersive and sustainable travel experiences in Veneto and northern Italy". It's here, in fact, that Britt decided to move to live. Attracted by the landscapes of the Venetian Lagoon, the unique culture and nature of Italy, and the love that it has encountered in our country. To build its itineraries Britt collaborates with Ecobnb and with the best eco-sustainable realities, which he personally meets. Let's get to know you better in this interview.
Where does your passion for travel come from?
This started already when I was young. My family likes to travel a lot and I developed the same love for seeing different places. Italy was one of my favorites because of the culture, the foods, "the good life" people seemed to live. I started my Bachelor study in Tourism Management and Consultancy and chose the Italian language specialization. I got to know more about Italy and wanted to dive deeper and deeper. It resulted in my thesis study where I interviewed local small business owners and this grew into the project of Imtrex Travel. I listened, I observed, I reflected and I knew that I wanted to work with these local small business owners and connect them with travelers that are looking for a meaningful travel experience.
What is your idea of sustainable travel?
To travel sustainably for me is to travel with awareness. Be aware where you are, be aware what local people do, be aware of the nature you are in, be aware of all the senses that you feel. I believe that subsequently the rest follows by itself. An example of travel with awareness is to listen to the story behind your breakfast in your accommodation from the one who prepared it. In this way you are open-minded and you create understanding. Being aware of what you have in front of you and where it comes from might make you choose what you pick in a more reasonable way. Of course, you would need the right locals who would like to share this with you.
I believe that the sustainable travel behavior of people should come from the inside out instead of the outside in. Therefore, with Imtrex Travel I try to give each traveler their own Immersive Travel Experience by connecting them with local suppliers who offer this. In this way I hope to contribute to this idea of sustainable travel. Contribute by inspiring people to search for these kind of meaningful travel experiences, not only in Italy, but everywhere!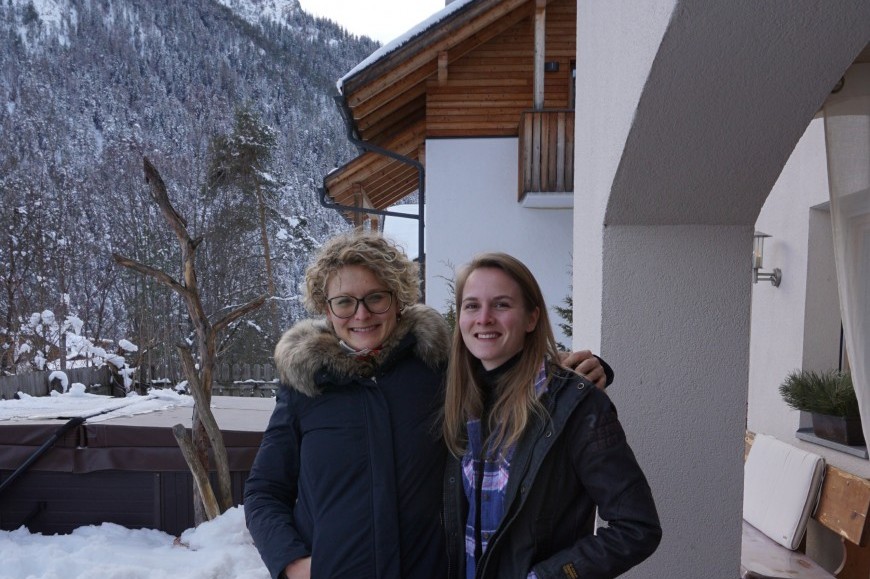 Visiting local small business owners in Trentino-Alto Adige: Barbara, host of Les Gomines B&B, and Britt
What has fascinated you most of Italy and you want to convey to those who visit it for the first time?
What fascinates me most about Italy is the richness and great variety in nature, arts, architecture and history, I think that's what Italy is also known for. It's for example amazing how you can combine different landscapes in one itinerary. In 2018 my father and sister visited me in Italy and in only 4 days we went from a light jacket in Venice to the snow covered mountains in ski clothing! Additionally, travelers will be amazed by how many traditional habits and customs the people of Italy have that are not very well known and explored. These traditions in combination with the rich landscape diversity are fascinating in that each visit offers a unique look and lasting impression of Italy.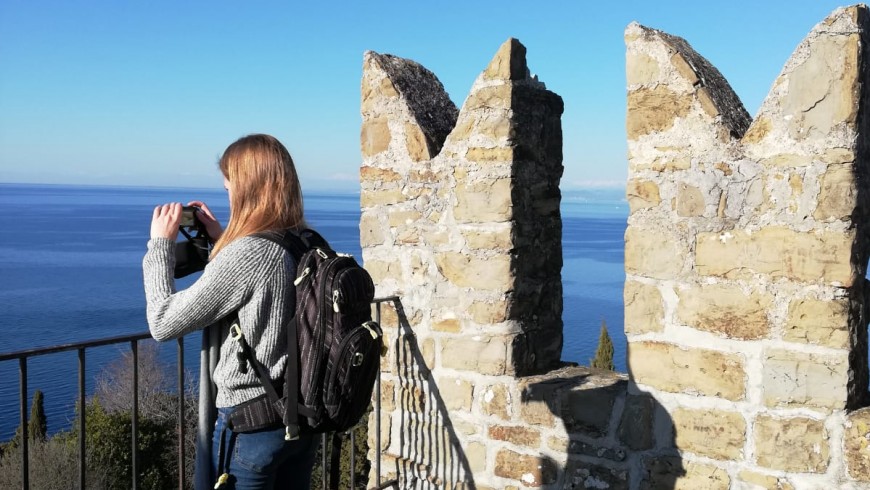 Why did you choose Ecobnb as your partner? What struck you about the green accommodations you visited?
Ecobnb is a beautiful and inspiring concept because it is different than the generalized platforms where competition is based on prices. When I started visiting Ecobnb accommodations I found out that it is on the Ecobnb platform where you can find those small-scale enterprises with rich backgrounds and traditional habits. These people want to share their quality and what they stand for instead of seeing tourists only as a money flow. These people are all aware of what they're doing and all had their own road throughout their lives to get there, with eco-friendly results. This is something very valuable and I knew that if I would send travelers to Ecobnb accommodations they will guaranteed have a meaningful experience. As such, I knew that Ecobnb would be the perfect partner!