Located at more than 2000m and lost in the Dolomites, Oberholz Mountain Hut is a modern hut entirely built with natural materials and particular attention to sustainability. Perfect mix between tradition and innovation, this is one of the best example of high altitude Alpine architecture in Italy.
Oberholz Hut is at 2096m altitude, near the ski resort of Obereggen in the province of Bolzano. From its large windows and the panoramic terrace, you can enjoy the perfect view of the famous ski slope of Oberholz. You will be surrounded by the breath-taking silhouettes of the Dolomites, a UNESCO Natural Heritage Site.
The hut's project, signed by architect Peter Pichler in collaboration with Pavol Mikolajcak, is the winner of a design competition. Its strengths are the dialogue between nature and architecture, the harmony with the landscape and the attention to sustainability. The architect used local wood, inspired by the traditional mountain chalets, but at the same time he introduced contemporary techniques and design. A perfect balance between innovation and tradition.
When you can see the eco-sustainability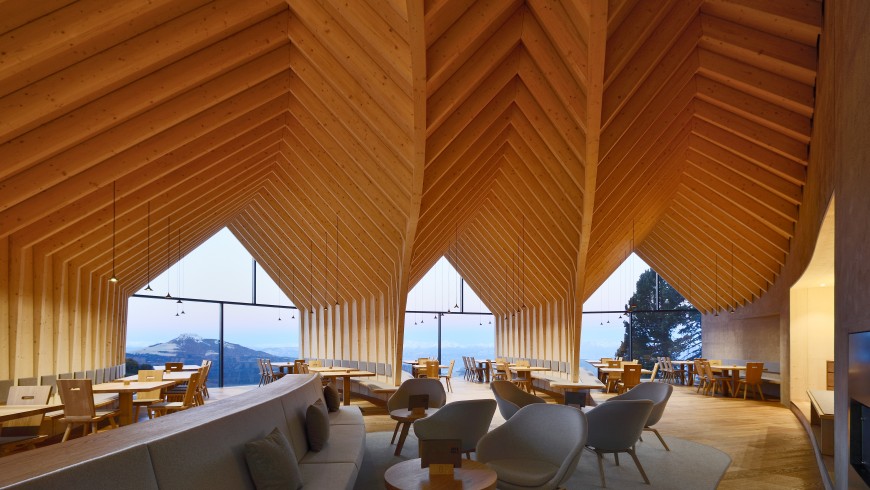 At a first glance, the hut reminds of a lying tree, whose branches extend on the mountain's side. And this idea is given not only by its shape, but also by the material used: wood. Larch for the external façade, spruce for the supporting structure and the inner lining; even the rooms have marvelous wood paneling.
Breath-taking views from Oberholz Hut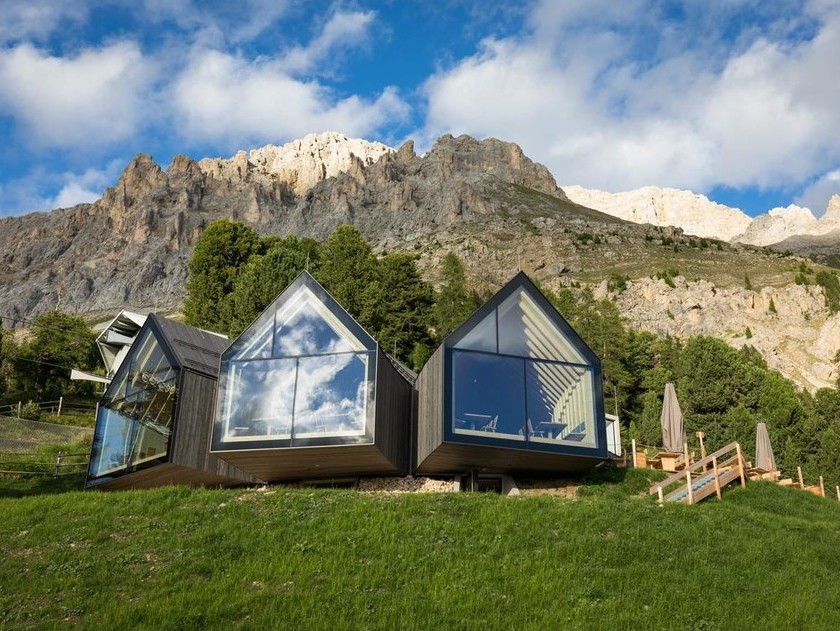 The building's external facade is made of juxtaposed larch beams, which remind of the ancient local stables.
This eco-friendly architecture is both refined and welcoming.
Each of the three verandas is built in a small alcove, which gives intimacy and comfort: It's the best way to dive in the stunning landscape of the Dolomites.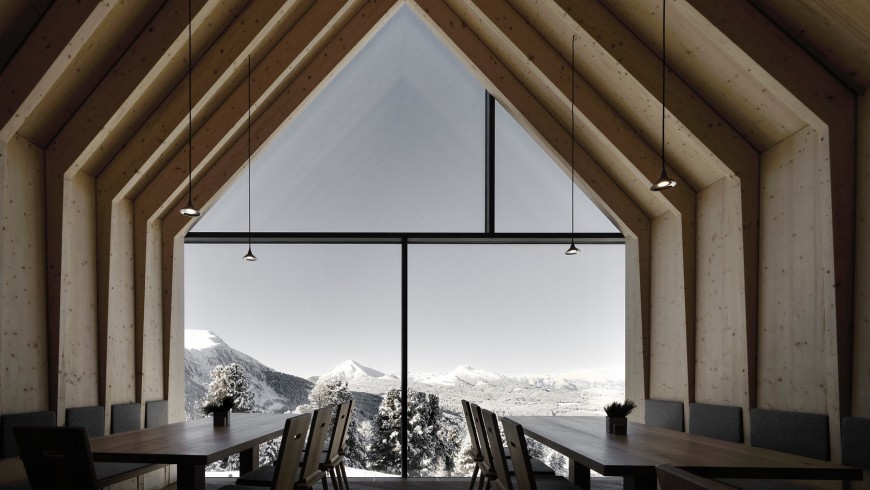 Some of the mountain ranges that surround the Hut are the Lagorai Range, the Dolomitic Group of the River Brenta, the Presanella and Ortles Group, the Easterm Venoste Alps and the Breonie Alps. The nearest peaks are the Corno Bianco (8km away), Hasnöhrl (56km) and Mount Vioz (70km).
High altitude cuisine
Here at the Oberholz Hut you can taste the true
mountain specialties
, carefully prepared by the chalet's kitchen using local and natural ingredients.
The menu is varied and
suitable for everyone
: There are many gluten-free, lactose-free, vegetarian and vegan options. But don't expect to find the usual traditional dishes: Chef Franz will amaze you every day with a new r
eimagining of the antique recipe.
 He will spoil you with special and always new flavors. Enjoying these dishes, while comfortably sitting and admiring the astonishing view from the verandas will be an unforgettable, 
unique experience
.
Obereggen is not just a
winter
destination: This hut is the perfect stop also for those who love
high altitude walks
.
You might also like: