Crystal-like waters with fascinating bright colors. Unspoiled views on lands with high biodiversity.  Typical wooden Bauernhofs and over 150 km of MTB itineraries. Parties on water and dinners in farms, lake concerts and many other different activities to discover Carinthia's most ancient traditions. Here you'll find 10 good reasons to visit the Austrian Alpine Pearl of Weissensee ! 
As soon as we arrive in this secret spot in Carinthia, I'm immediately stunned by the intense blue color of Lake Weissensee. I start dreaming of jumping into the water, just as if I were a kid on a spring Saturday afternoon, and of rowing on a fishers' small boat, of exploring every secret corner by e-bike. Three days are enough to fall in love with this enchanting Alpine Pearl in Carinthia and, after having paid a visit, you'll have so many reasons to come back. In this article you'll find out 10 of them to choose Carinthia as your next destination!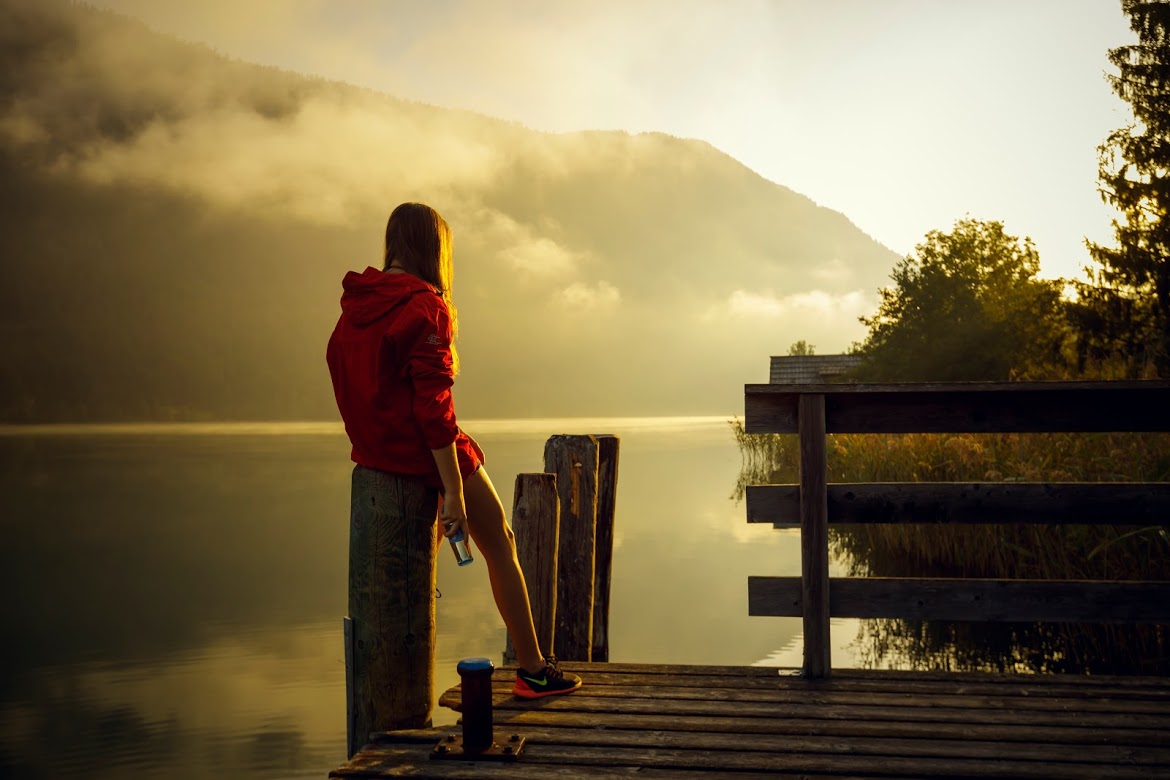 1. To admire the hundred shades of blue
Weissensee's magic lies on its lake: the purest water of all Austria surrounded by unspoiled landscapes. You can cross the lake on board of a small boat (but be ready to row), the one used by locals as well, in canoe or on a zero-emission boat. The latter is called "Alpine Pearls" and is Austria's first hybrid boat, which glides on Lake Weissensee in complete silence, with no emissions and no noise. Everything is surrounded by woods and blooming fields, with the sky and the clouds mirroring in the crystal waters of the lake. Lake Weissensee will gift you with hundreds of shades in every moment: from candid white to intense blue, and even to black-like dark green.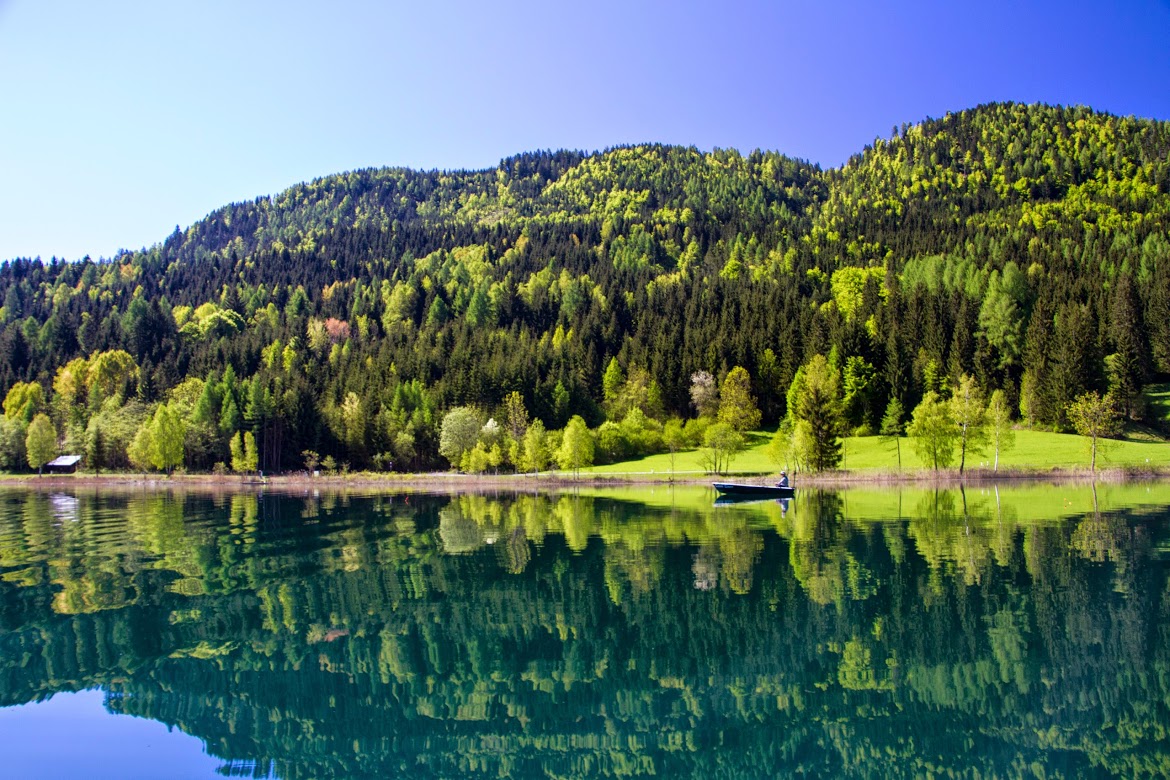 2. Because it's the MTB lovers' dreamland
Bike, e-bike, MTB. Whatever bike you choose, Weissensee is the ideal destination for your holiday on two wheels. We go for the super-cushy e-bikes and ride along an easy plain itinerary along the west side of the lake. Among grasslands, mountain cottages and wooden houses, thickets and farms, we ride our bikes almost always gazing at the bright blue lake.
It takes you half an hour to complete the circular itinerary on the west side of the lake, starting from the info point in Weissensee. But if you'd rather go for a more adventurous ride you can also choose the itinerary around the entire lake (a 4-5 hours long tour), which gives you the chance to see the lake from above. Weissensee is the real MTB lovers' paradise: there are 13 routes exclusively tracked for bikers and over 150 km of cycling routes in the heart of the nature.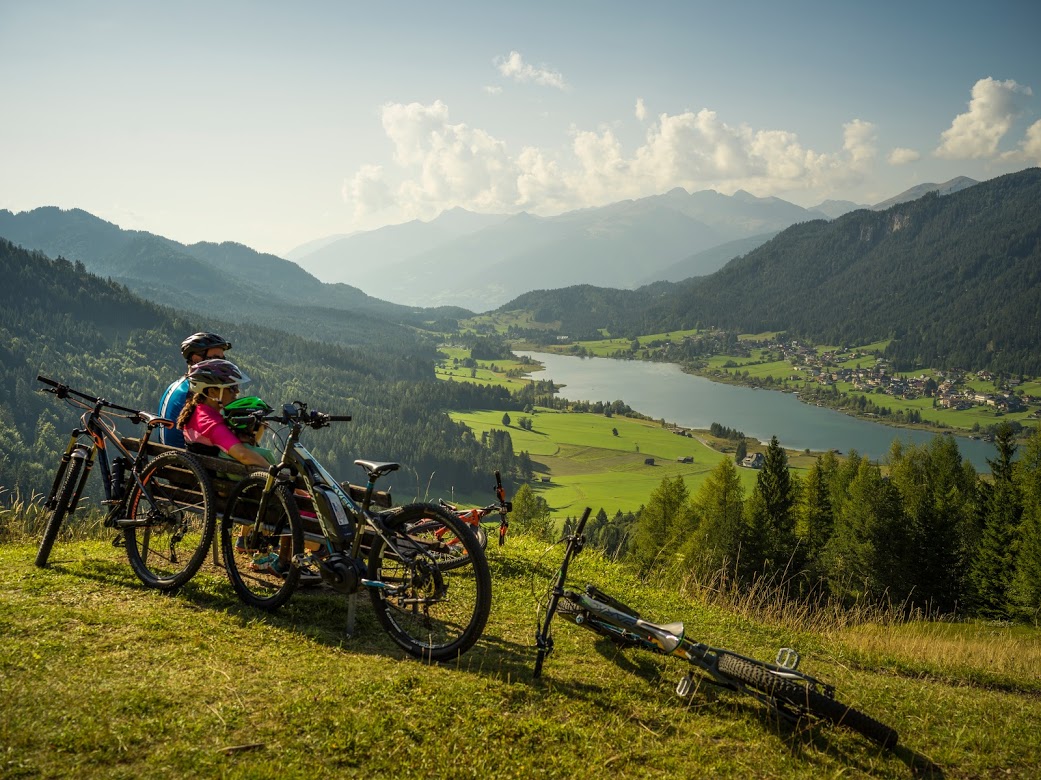 Weissensee

3. Because everything in Weissensee is a Natural Park
Who gets to Weissensee will find 76 squared kilometers of natural parks: the whole municipality is part of it. This is why 2/3 of the lakeside's surface is totally wild and natural. There are no buildings, property speculations, second houses or even industrial areas within 200 km. You'll be completely surrounded by nature and silence, blooming fields, wide range of biodiversity, many animal species and well-looked-after lawns.
Weissensee's Natural Park was officially instituted in 2006, but locals have always cared for the lake's well-being, as well as for fields and mountains around. Every single municipality's law goes in this direction: for example, there's a norm banning any new building construction and requires first the recovery of those already built for touristic purposes (B&B, farm-houses or hotels), prohibiting second houses. This love of locals for their territory is actually really moving! Every promoted activity aims at valuing and protecting the uniqueness of this magical place: sustainable agriculture, slow and responsible tourism, conscious fishing.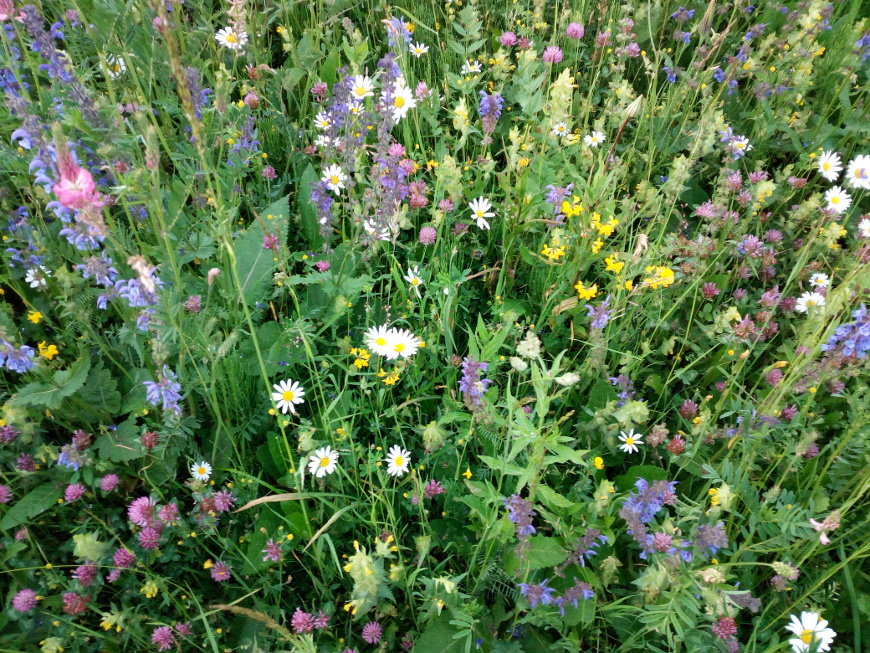 4. To go back to the origins
Weissensee often makes you feel as if you could travel back in time, to find places and tastes even if you thought these were lost. And so you find yourself in an ancient farm with wooden walls, to taste ancient dishes prepared following the real original recipes with unusual and local products (as for example nettle seeds).
The "Aufwart'n am Weissensee" event takes place every year in May and is really something you should experience, if you want to discover the real Weissensee. One of the festival's days is entirely dedicated to the "open farms". Farmers' houses around the lake, as well as haylofts and farms, open up for visitors to discover them and taste local products, which the owners home-cooked for them. You can leave from one farm to explore the surroundings and may more farms: every year, 5 different structures take part in this original event. You'll get to know ancient recipes, share local traditions and listen to the stories of local farmers.
Our Food&Wine tour starts in a small farmers' house, where we taste some delicious bruschette and cheese as a starter. And then it finishes in an old wooden hayloft, all decorated with chandeliers for this occasion. Here we try the home-made ice-cream with biological mountain milk, served with local honey and flowers' petals from the field.
Open farms during the "Aufwart'n am Weissensee" festival
A family inviting us in their farm during the "Aufwart'n am Weissensee" festival
Traditional house in di Weissensee
Welcoming aperitivo
One of the dishes: fish
Ice-cream with milk from the mountains, local honey and petals from the field.
5. To enjoy the concerts on Lake Weissensee
During special events, Lake Weissensee becomes a natural theater for suggestive open air concerts. An old wooden raft, the same farmers once used to carry hay on the lake, is transformed into a stage for players' exhibitions. One of the locals with his dog, slowly leads the raft on the lake's surface, while music is spreading in the woods. And the audience listens to the beautiful sounds sitting on lawns, on the lakeside, on boats or leaning on the balustrade of Lake Weissensee's bridge. The notes mix with nature in an unique show.
6. Because Weissensee is simply perfect for kids as well
Fairy tales sketches, lake excursions to discover local legends, whole afternoons spent in farms, trekking on the back of a horse, magic shows and fish studying. In Weissensee, kids will have many opportunities to have fun and spend the best of times. The Natural Park also offers the chance to attend survival courses, to teach children to be prepared for every adventure. But also didactic routes, as the one discovering the world of bees.
7. To enjoy a 0-km breakfast on the lake (literally)
A concert hall, a natural park, what else could Lake Weissensee be? Well, every Sunday morning from April to October, the Lake becomes an exclusive restaurant, where guests can taste a mouth-watering breakfast with locally grown biological products. Here you'll step on another wooden raft (the "Taste Raft") and… taste cheese from the local mountains, honey, milk from the surrounding farms, jams and home-made bread. It is an itinerant breakfast on the smooth surface of the lake, contemplating the stunning view. On board, local producers will explain you how every ingredient gets to the table, including the story of the local short-chain productions.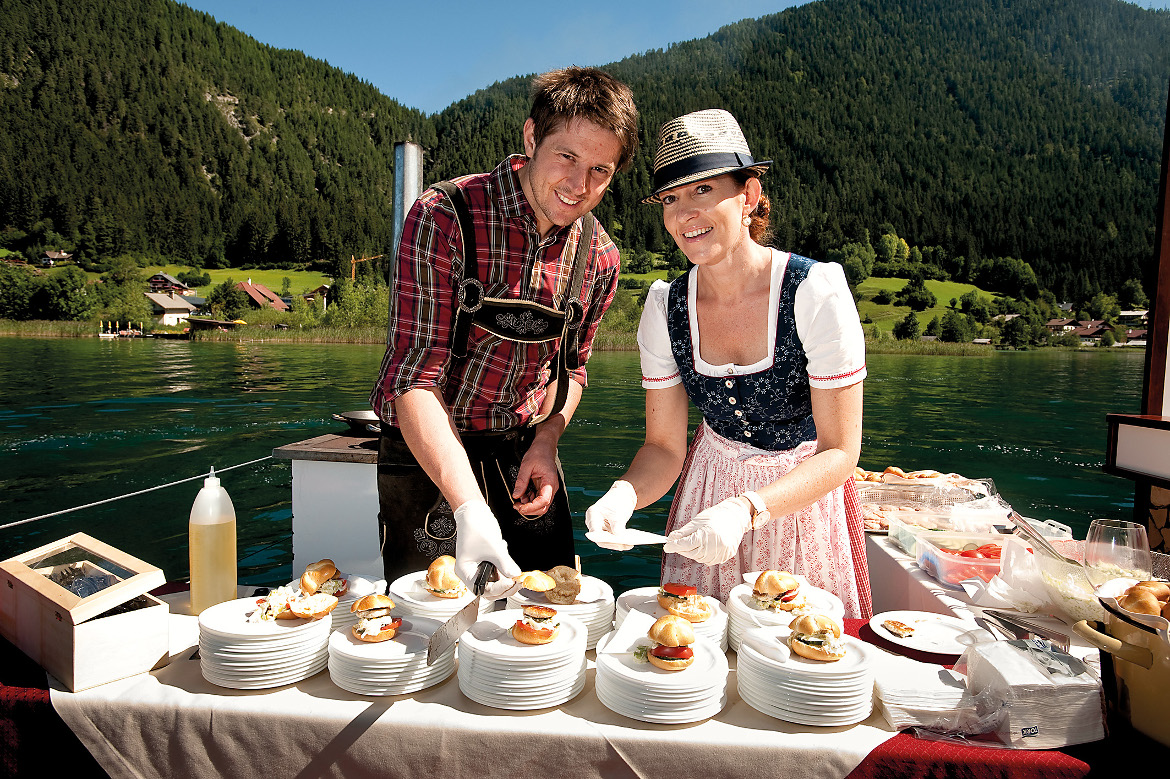 8. To sleep in a truly biological farm
The huge stables in stone and wood still hosts cattle during the cold and rainy months, but when the weather is good they can freely graze in Weissensee fields. The old farmers' house has become a beautiful eco-sustainable hotel, with natural wooden walls, modern designed furniture but recalling traditions. Here we biological food only serve, as the owner, a young lady with great passion for ecology, tells us. Most of our products, come from their farm: with 5 cows, 2 pigs, a biological vegetable garden and some hens. explains. To respect our planet is the only possible choice – says Corinna – and from her lake-like light-blue colored eyes, we can perceive her love for the environment, for Weissensee, and the simple lifestyle in contact with nature she chose. A farm which is also a charming hotel, certified as "Bio-Hotel". A unique and sustainable hospitality, overlooking the lakeside of Weissensee. The hotel also offers electric car charging station, local and bio products served in the restaurants, bikes for guests, a beach and a wellness center on the Lake.
Biohotel Gralhof
The big fire in Biohotel Gralhof
Biohotel Gralhof, restaurant
Charging station for Tesla electric cars
A dog and a bike at Biohotel Gralhof
One of the pigs in Biohotel Gralhof
9. Because you really don't need a car in Weissensee
When you get to Weissensee and overnight in a biological hotel on B&B you get a free "mobility card". This allows you to use every means of public transport and even to rent an e-bike for a couple of hours for free. And for this reason, in Weissensee you really don't need your car. You can easily use the train to get there, and once there you can simply either use the bus, walk or even use a horse-drawn carriage!
We jump on board of the carriage and the lovely driver brings us around Weissensee's alleys, waving at everyone and joking with those he meets. I don't really know Austrian, but I really feel at home, as if I lived in Weissensee.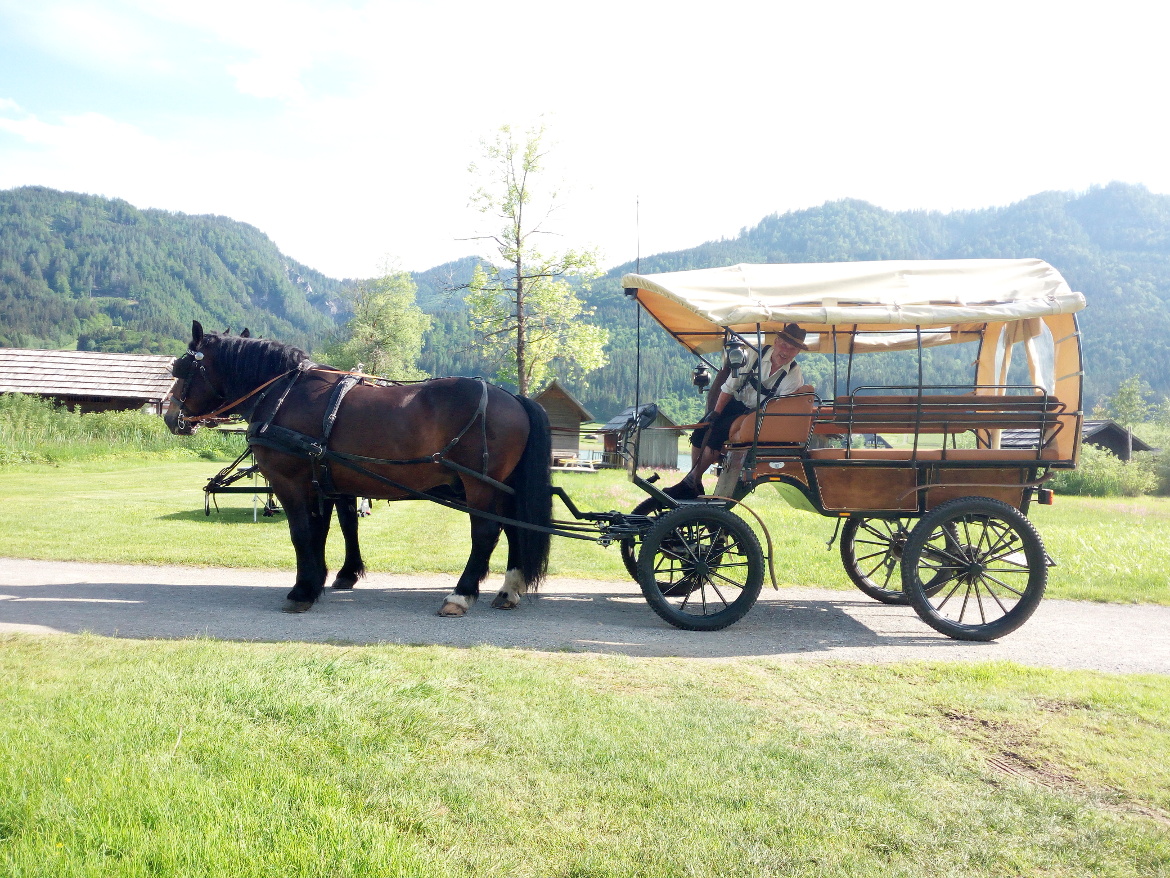 10. To discover a real Pearl of sustainability!
"Since 2006 everything you see is part of the National Park and protected as such" – tells us Almut Knaller, council member for tourism in the municipality of Weissensee. He's young and dynamic, he studied abroad and travelled a lot. But in the end he chose to come back home, to his Alpine Pearl, to make it grow towards sustainability. "Respecting the lake and the nature around us is in our DNA": and it's true. Because in Weissensee there are no paved road around the lake, only walking and cycling routes. Blooming fields surround the lake, and nobody is allowed to build anything there or damage the environment.
No wonder that in 1995 Weissensee won the European Prize for Tourism and Environment. Since 2013 it's part of the Alpine Pearls community, the alpine destination promoting a slow and sustainable tourism. Riding your e-bike, MTB or bike, you can enjoy the silence among meadows, hay fields and horses, sheep and cows grazing on the hills.
Whenever possible, fields are manually mowed to protect biodiversity. Environmental low-impact agriculture is the main activity in Weissensee's economy, and so it is also financially supported with part of the tourist tax. In this way, the community actively collaborates to an innovative project of tourism integrated agriculture. Not only does it preserve local productions, but it also helps creating a deep bound between agriculture to the touristic experience. And this bound is really felt and lived in Weissensee. I strongly believe that this bound with nature and lake makes this corner of Carinthia just magical!
You might also like: