Did you know that among peaks and alpine valleys, there are some Pearls, cities that have chosen to share a new kind of tourism, in harmony with nature? All of them easily reachable without car, and then visitors can easily move on foot or by public transport! Many activities can be done in these places, and now that snow comes a very original transport must be added for a comfortable and funny trip: the sled! Have you ever thought about that? Sitting under a warm blanket, slipping silently through the woods in the company of magnificent horses or cute dogs… Discover five Alpine Pearls, where to live this experience!
1. In Valdidentro, to experience the atmosphere of Alaska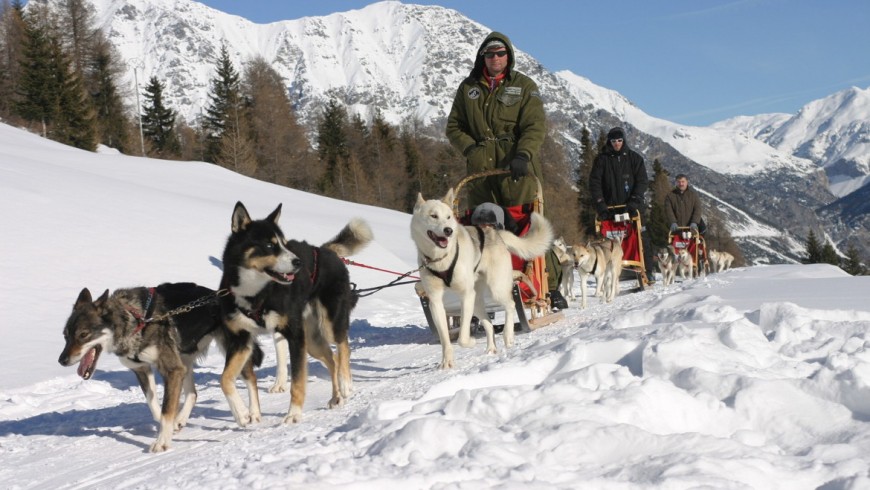 A few steps from Bormio and Livigno at the border with the Swiss Engadine, in Alta Valtellina, opens the wonderful Valdidentro, dotted by lovely mountain villages, surrounded by the rich flora and fauna of the Stelvio Natural Park, enriched by two renowned spa centers: a special place for your holidays. Both summer and winter here you can practice many outdoor activities, breathing in the scent of nature.
This is also the headquarters of the Italian Centre Sleddog Husky Village, which offers excursions with dog sleds along snowy trails, to follow throught the majestic mountains of this valley and their woods, accompanied by an instructor. Before the invention of the snowmobile, this was the only means of transport between the countries of the Far North: husky, strong and resilient dogs were bred and trained for towing. Today the Dog Sledding is a real sport, more and more known and widespread: are you ready to live the typical atmosphere of Alaska?
2. At Moso in Val Passiria, on a horse-drawn sleigh
Take a mountain village, cozy and well-kept, built with wood and stone, magnificent peaks and silent forests with hiking trails and ski slopes, hot and crispy homemade loaves, with tasty wholemeal flour: this is Moso, the pearl of the Val Passiria, South Tyrol. Not far away, the Steinerhof hotel provides its beautiful horses for excursions to discover the valley, sitting on a comfortable sled. Live the experience of a slow journey, gliding silently in the snow, far away from noises and traffic, and accompanied only by the sound of horses' hooves on the trails!
Where to stay: for a without-car stay, choose the Hotel Rabenstein, surrounded by nature and equipped with all amenities: a rich breakfast with local products, a wellness center with sauna and Jacuzzi, comfortable rooms all in fragrant wood.
3. At Interlaken, tobogganing in the heart of Switzerland
Interlaken, in the heart of Switzerland and the Bernese Oberland, but easily reachable by public transport, offers stunning scenery, among flowering meadows, romantic wooden houses and the imposing peaks of the Eiger, Mönch and Jungfrau, top destinations for mountaineers.
Here in winter sledging becomes a real sport, to practice in company and suitable for young and old. You will find specially-made paths, some short but steep, other longer stretching through the woods a gentle slopes. Nearby Interlaken, there are about 70 km of trails dedicated to sledding! Ready to have fun?
Where to stay: At Alphotel Eiger in Interlaken, renewable energies and environmentally friendly products are used. Here you will find warm wooden rooms, a delicious breakfast made with local products, and a hot sauna where to relax after a day in the snow!
4. In Moena, with the sled between nature and culture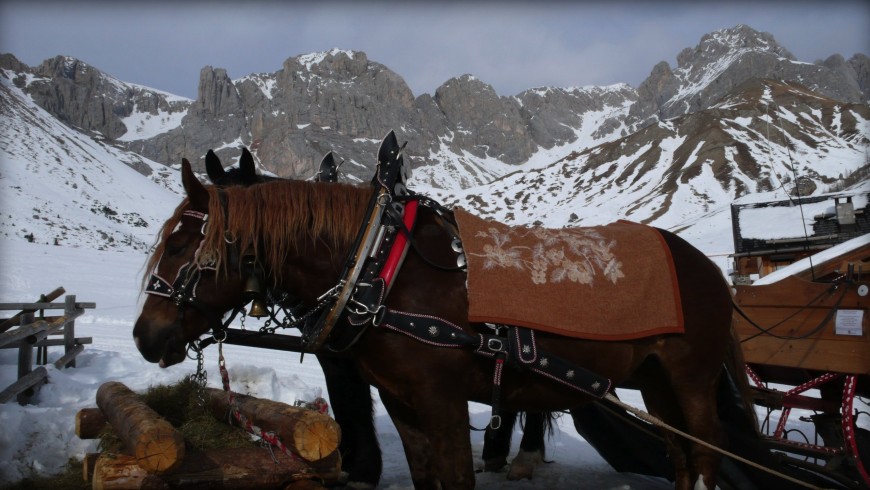 Moena is a romantic Pearl of Trentino, surrounded by the light colors of the Dolomites, the Sella and the Catinaccio Group, rising up to the blue sky and standing between the green of meadows and woods. The Fassa Valley is a paradise even in winter, when snow covers everything with its white mantle and the lights of the towns create a fairytale landscape! Here, between the modernity of the ski resorts, ancient traditions revive, such as horse-drawn sleigh rides, on board of which you will discover the peace of the woods or the cultural beauties of Moena and the other Ladin villages in the surroundings. The starting point for the trip is at Passo San Pellegrino, not far from the town of Moena.
Where to stay: for a comfortable stay in harmony with nature, choose the Hotel Monza: family-run, you will find a friendly, genuine and cozy atmosphere, as well as many amenities for a relaxing holiday!
5. At Hinterstoder, a sled for young and old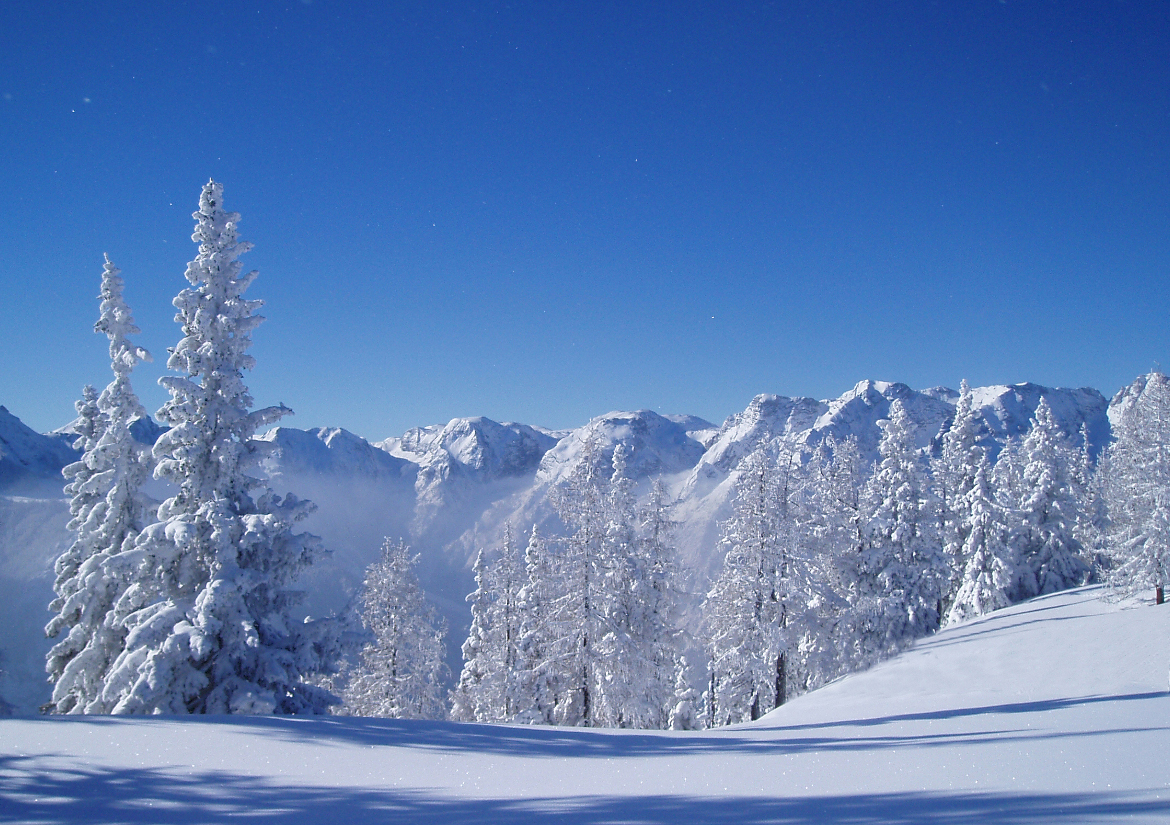 Hinterstoder is a Pearl of the Swiss Alps, known for its modern ski facilities that host every year the Ski World Cup races. This village lies at the foot of the majestic mountain range of Totes Gebirge, where nature is still intact and where you can enjoy a holiday based on outdoor activities and tasty traditional dishes.
Try the unique experience of sliding with comfortable wooden sleds along groomed trails, through forests and pastures. It is not just child's play, so it's suitable for all ages! And to climb back on steeper routes, you will also find a taxi service: little effort, much fun!
Where to stay: leave the car at home and choose the Berghof Sturmgut for your stay, right on the ski slopes with shuttle service to go down!
Cover image: netpalantir via Flickr
You might also like: