Imagine staying in an ancient village where time has stopped and living an experience of genuine integration with the territory, sleeping in the typical local houses and not in cold and anonymous hotel rooms. 2017 is also the Year of Villages in Italy: it is the perfect time to spend a holiday in a Albergo Diffuso, to feel at home in strange places, to rediscover the typically Italian atmosphere of these little jewels.
Sleeping in an ancient village: what is a Albergo Diffuso
The first time someone used the Albergo Diffuso term (literally scattered hotel) was 1982:  then this new concept of hospitality, entirely made in Italy, came to life. We will have to wait until 1994 to see the first real Albergo Diffuso, in the municipality of Sauris in Friuli Venezia Giulia. The hotels are characterized by their being a bit like a home and a bit like an hotel, where the apartments are located in the historical center, in the persistent buildings and by their authenticity. The accommodation is perfectly integrated into the territory, with social reality and local culture.
Sleeping in an ancient village among Marche's hills
Albergo Diffuso are expanding both in Italy and abroad, it is an idea that meets many of the needs and wishes of new travelers. Between the hills and the sound of the river Metauro on the background, there's Casa Oliva, a medieval village turned into a Albergo Diffuso, equipped with every comfort, from the pool to the restaurant, where to spend an authentic and exclusive holiday.
Casa Oliva from Casa Oliva on Vimeo.
Casa Oliva is an unusual accommodation, characterized by a discreet and refined luxury, a perfect place to live the experience of staying in an ancient village dor a romantic relaxing holiday.
Inside the old palace and its castle walls, there are 25 units, among rooms, junior suites and apartments, a fine restaurant where you can enjoy delicious traditional dishes, made with local produce, and an exclusive spa, with sauna, steam room, oxygen therapy, relaxation area and nature trails. The hotel cares about the environment and it uses energy from renewable sources, ecological cleaning products, solar panels for hot water and energy saving light bulbs.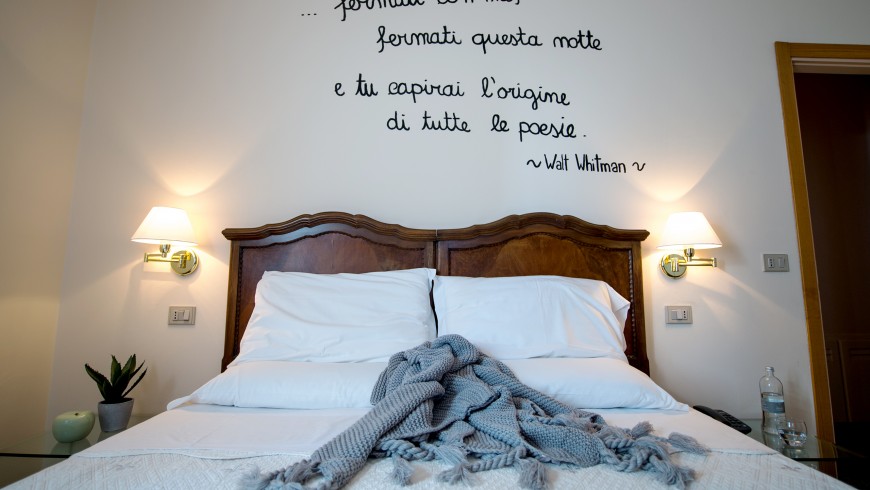 The building is imposing and impressive, in a location rich in charm and unmatched. Around, olive groves, ancient oak trees and hills that fill the horizon.
What to do while staying in Casa Oliva
Casa Oliva is the perfect place for days of relaxation, but it also offers many possibility for hiking and walks. The sea and the Fano beach are only 20 minutes drive away as well as the Furlo Gorge, a beautiful nature reserve along the ancient Via Flaminia. For those who love the two wheels, you can bike along Metauro cycle-path, 25 km itinerary ranging from Furlo's Gorge to Tavernelle, passing through the ancient village of Fossombrone. Do not miss Acqualagna, also known as the Truffle Capital. Among the delicious flavors, Renaissance art and uncontaminated nature, the Pesaro-Urbino province hides fascinating places.
You might also like: