We got a nice email from Antonella who wants to organize a car-free holiday in Trentino:
Good morning, my name is Antonella and I am writing from Naples.
This year I was determined to take advantage of summer vacation to visit Trentino region.
My holiday is however without a car. I then stumbled on your website which I found great. I need help if possible.
Having never visited the Trentino and wanting to leave the car at home I wanted if possible to know the best place keeping in mind that we'll arrive by train and that we want to have the opportunity to hiking through forests, mountains and lakes, and also visit some quaint village.
I am a bit lost between the various fantastic places.
We really like to walk (although our ages of 64 and 55 years) we did all the hiking on the Amalfi coast, visited the island of Ponza completely by foot etc.
Can you help us? I'd like to have an ecological holiday while moving far so as to be an example for our children and our grandchildren for the benefit of our mother Earth.
Thanks for the time you want us to dedicate
A warm hug from Naples
Trentino is a beautiful region, where nature offers breathtaking scenery, among majestic peaks and lakes that look like small paradises. It is also a province careful to sustainability, and a perfect destination for those who choose to live a car-free holiday. The public transport system is well organized and allows you to reach various locations scattered throughout the territory.
To Antonella and to anyone who wants to spend an unforgettable car-free holiday car in Trentino we recommend Moena, Alpine Pearl of Val di Fassa, where nature meets the ancient traditions of Ladin culture, that you can live according to ecology, pointing to slow mobility.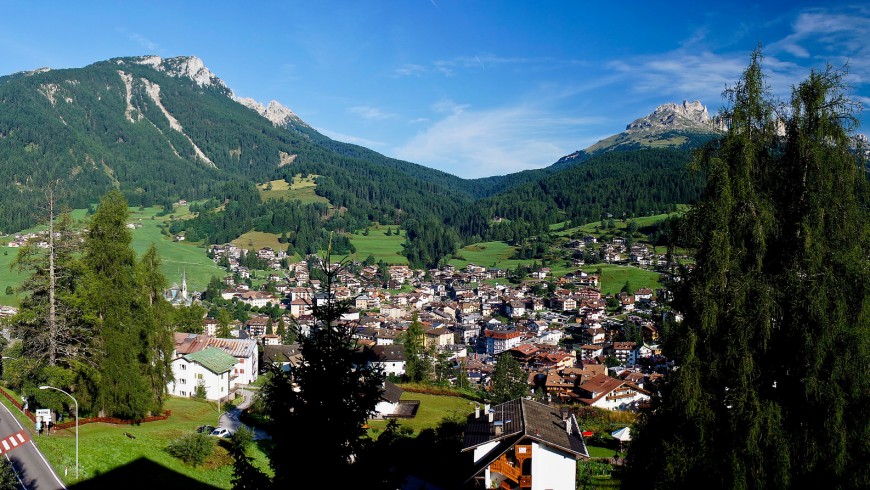 The resort is easily accessible by public transport, both from Trento than from Bolzano train stations there are several Trentino Trasporti buses that leave towards Moena. From Bolzano there is also a new shuttle service, with direct connection to Val di Fassa and Val di Fiemme.
Upon arriving, it seems to be in a fairy tale. The village, star-shaped, is set amongst beautiful meadows and surrounded by the Dolomites, which have become a UNESCO heritage site. In the streets of the city, with limited traffic, you can live a few hours of shopping, while the surroundings are the perfect destination for those who enjoy walking or cycling.
The services designed for car-free travelers are many and allow you to live carefree all the territory:
Panorama Pass card gives you free access to all cable cars in the Fassa Valley plus free public transportation.
In summer a slow tourist train is active, which from Moena takes you to the surrounding villages
For cyclists there is the Bikeexpress Famma-Fiemme, which conveniently brings back to their starting point those who chose to explore the region along the beautiful cycle routes.
Val di Fassa Card, active in summer, is free and provides many benefits and special conditions for numerous activities
An extensive bus network connects the local communities with all the tourist destinations of the area
There0s an efficient and large fleet of ski buses
Several rental stations in Moena provide e-bikes, bicycles, mountain bikes for adults and children
In winter you can experience the thrill of a romantic carriage ride through the snowy landscape of Passo San Pellegrino
Several shops allow you to rent sports equipment for summer and winter activities
You just have to book an eco-friendly hotel or B&B in Moena and leave for a truly unforgettable car-free holiday!
We thank again Antonella for writing us and for being a responsible traveler, and wish her and all a perfect car-free holiday in Trentino!
Cover photo by Paola Sucato via Flickr
You might also like: