Ecobnb arrived on newsstands in Germany: the quarterly travel magazine Holiday and Lifestyle dedicated a short article about our community, entitled NACHHALTIGER REISEN! (Sustainable travels).
In the pages dedicated to travel and internet you can read: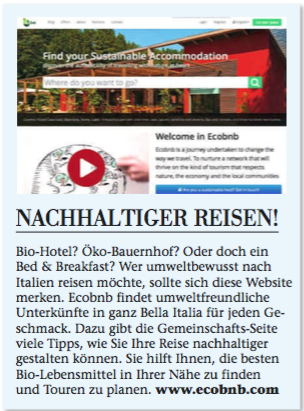 Bio-Hotel? Eco-Farm? Or maybe a bed and breakfast? Who wants conscious travel in Italy, you should keep in mind this site. Ecobnb allows you to find an eco-friendly accommodation that suit all tastes throughout the Bella Italy. On the site you will also find plenty of advice on how to make your trip more sustainable. It helps you find the best organic food near you and plan trips.
Our community continues to grow and now also in Europe they talk about us and  the paragraph that Holiday and Lifestyle has dedicated us can only please us!
Download here the article in PDF.