Imagine a completely autonomous home that allows you to live in the most remote places of the world, a mini holiday house that you can carry everywhere, from the sea to the mountains. It  has become reality. By the Slovak architectural firm Nice Architects of Bratislava comes a new opportunity for sustainable lifestyle with the ecocapsule.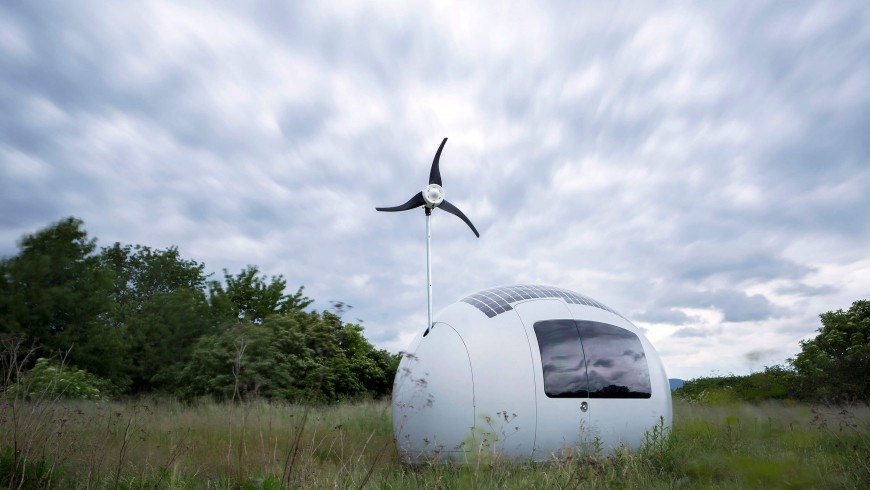 It's a mini home for two, an oval capsule of four meters long and two wide with a bathroom with shower, a kitchenette and a double bed. Everything you need to live and to do so while respecting the environment. The ecocapsule is completely self-sufficient thanks to a wind turbine pole and several solar panels, connected to a high capacity battery that guarantees the operation even in the absence of wind and sun. Moreover the house "Ecocapsule", thanks to modern technologies, it is able to collect rainwater and dew from humidity and turning it into drinking water.
The structure is relatively lightweight and easily portable so you can reach any place in the world, even in places not reached by electrical grids.
How much an ecocapsule cost?
At the present moment, the Slovak architectural firm provides the first 50 ecocapsule ever created in the world, in limited edition, at a cost of € 79,000 plus VAT. The project, though, wants to reach more people as possible and the cost of ecocapsule is intended to change in the coming years with more economical and accessible series. For all the information on the purchase and transport visit the official website of the project.
Thanks to this major innovative project, the ecocapsules will become research stations to be included in remote places, lodges for tourists, units for humanitarian purpose or mini homes for those seeking an alternative to camper or other form of travel.
Ecocapsula holiday
Do you want to stay in an eco-capsule? In the Swiss Alps you can spend your holidays in an eco-capsule surrounded by greenery. The microcasa with two beds, bathroom and kitchen-dining area, is located in Guttannen, a small Bernese village. The eco-capsule is 100% green energy self-sufficient: the energy is in fact produced by the photovoltaic panels installed on the roof and by micro-wind.