Cesare is the typical entrepreneur of Veneto, the eastern area of Italy known to be one of the most productive and innovative.
You say problem? He just sees an opportunity.
An obstacle? He thinks of a different road.
Many years ago he bought a cottage on the side of a property covered with vineyards in the Proseccoland of Valdobbiadene. An old cottage, actually a wreck came with the property.
He started to go there with his family and a few friends for barbecue, relaxing, drinking a glass of Cartizze he brought from his nearby home.
The old hut was more of a meeting point for friends: "Let's meet there and then we go for a walk in the vineyards and stop for a picnic somewhere. Make sure you bring all you need", Cesare used to say his friends.
The place had no running water nor electricity, just some bricks and stones and…green everywhere. Thousands of grapevines of Cartizze and Glera grapes ornate the hills around featuring 50 shades of green and more in Spring and Summer and a triumph of gold, bronze, orange, red, brown and all the colors and nuances of the sun in Autumn.
The word spread around and more friends went to the little ramshackle hut. Cesare happened to find hilarious messages complaining of not finding anything proper to quench thirst or calm the stomach.
Keeping up with the joke, he started to leave a bottle of wine and some paper glass on the old table adding a funny note "Here it is. Cheers and …it is €5" People left banknotes or coins…and their business cards or little lovely notes from Japan, USA, UK, Australia…wherever.
Cesare liked the game, a kind of social test after all. He added other items: dry biscuits, sticks of bread, salami, boiled eggs and more.
Some messages left by clients of Osteria senz'Oste at Santo Stefano (Treviso) photography by Cristiana Pedrali
And even more people appreciated the gesture and the little place and they still love it.
They love the idea of a place working on the honor system, love the incredible atmosphere, the lazy cow and the even lazier little veal living in the little stable next door to the kitchen of the cottage.
Well, the hut is no more a hut. Cesare engaged by the "success" of his little test invested and renovated it, though maintaining the rustic original touch.
Have a try yourself: reach the place and you will find people chatting and drinking wine in scattered parties all over the hill. Some will play guitar and drinking water from the cost free fountain in the little cottage yard.
These same people will pay what they bought putting money in the little automatic cash machine in the kitchen and select their waste before they leave. No control, no bartender, no waiter. Just trust in people's respect.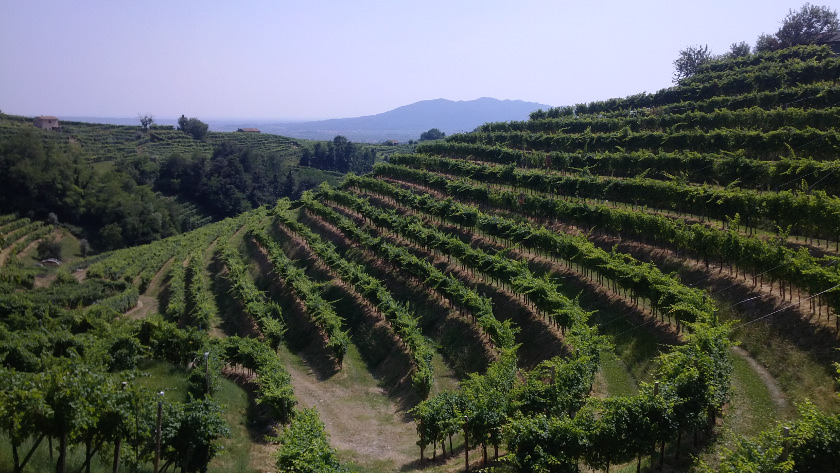 It cannot be fully labelled as "swap economy" or "sharing economy" as money transaction is part of it, but here there is more at stake: Cesare opened his home to perfect strangers, even invested into this little venture not really visualizing the proper dimension of his game…I think he won.
What do you think?
You may also like