Tree Village
Val Settimana - Alta Valcellina - 33080 Claut (PN) - Italy
The first village on the trees in Italy is in Claut, Valcellina, in a marvellous location immersed in the green and surrounded by a wood of pine trees, firs, larches and beeches which house some little houses entirely made of wood and placed at a height of some meters from the ground (2 to 4 meters maximum) with a construction system which does not damage the tree or its structure in any way.
Each little house can hold up to two adults with two children and inside people sleep in a sleeping bag provided by the centre itself. Breakfast is also included and is served as an open-air buffet where there will be home-made apple pies and jam tarts; menus are prepared with particular attention, and always include typical dishes and genuine products which are home-made and served in the nearby Hotel Miramonti.
The Tree Village is located within a theme park where there are other discovery options such as the Biological Garden, the open-air Woodman's Museum, the Botanical Path and the Nordic Walking Training Center.
In the Biological Garden different types of vegetables are grown, in a totally natural way, by irrigating them using the water of one of the two little streams which flow nearby; the products of the garden are then used for the preparation of the meals.
The Tree Village offers two tourist options, a basic one which associates the overnight stay to the Nordic Walking and a more complex one, which combines the experience of staying on the trees and the "alpine wellness", where the guest is pampered with various techniques which lead to a physical and spiritual wellness such as, for example, the hay bath, the Walking Sensation and the Kneipp therapy which is performed in the near Settimana River.
Staying at the Tree Village is no doubt a unique experience of its kind, which will allow the participants to enjoy some relaxing days immersed in nature, where the only voices will be the silence of the mountains and the chirping of the crickets.
Ecosustainability
100% renewable energy

Organic or Local Food

Car-free accessibility

Ecological cleaning products

More than 80% waste recycling

Energy saving lights

Green building

Solar thermal panels for hot water production

Water flow reducers

Recovery & reuse of rainwater

Promoting "eco" activities
Service
Private bathroom

Internet

Breakfast

Organic garden

Bicycles

Ecotourism itineraries

Pool

Wellness center

Facilities for Disabled Guests

Small pets allowed

Child & Family Friendly

Garden
Theme
Families

Groups

Adventure & Sleeping bag

Mountain

Natural Park

Spiritual escape
Single

€ 99

Double

€ 198

Double for single use

€ 99
The price includes:
1 night at the Tree Village,
1 lumberjack breakfast,
1 dinner,
the assistance for the duration of the stay by qualified personnel,
the free rental of all equipment neccessary
From 99 €
Nearby
Auronzo di Cadore (BL)
From 89 €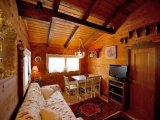 Forno di Zoldo (BL)
From 0 €
Polcenigo (PN)
From 45 €