Here comes the Ecobnb loyalty program: with Reconnect you can win Gift Cards and continue traveling while respecting the environment!
Reconnect is the latest news at Ecobnb! To say goodbye to 2022 and welcome the new year in the best possible way, we have decided to launch our loyalty program which rewards all eco-travelers who book stays at eco-friendly accommodations registered on our portal.
How our loyalty program Reconnect works
Reconnect was created to recognize the commitment of those who decide to travel on tiptoe, without polluting and damaging the places they visit. To give you the chance to reconnect with nature and to thank you for being part of our community.
Taking part in Reconnect is very easy: just use Ecobnb to book stays in Italy, in Europe, or all around the world and thus start accumulating points. Enrollment in the program is therefore automatic and also takes into account the stays you booked before the official launch of Reconnect.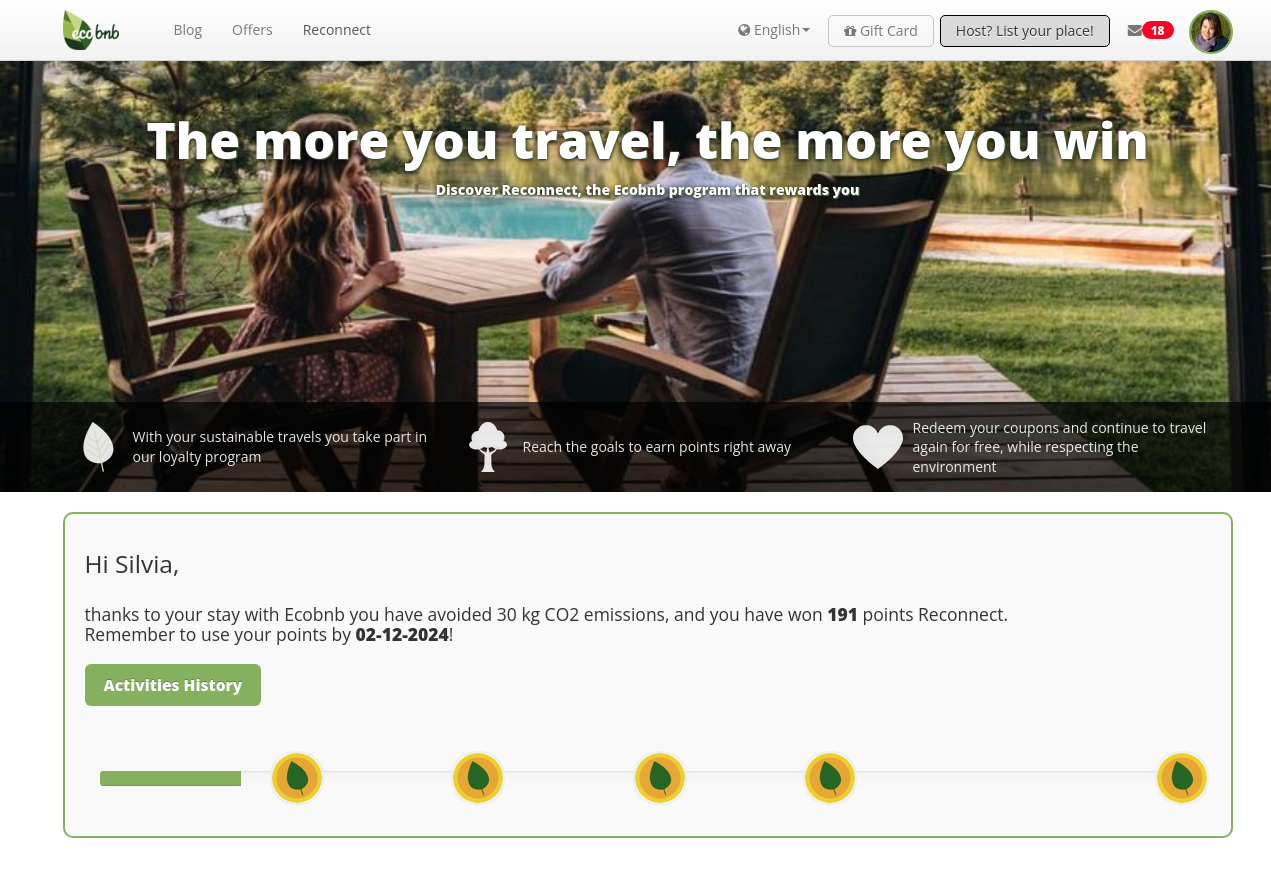 With your stays and your green actions, you will receive more and more points which you can then convert into Gift Cards: you will thus be able to continue traveling for free or choose to support our project to create secular forests in Italy at no cost.
Points are calculated based on the amount of your stay. Earn 1 point for every €2 of eco-sustainable stay. You can earn up to a maximum of 1500 Reconnect points for each booking. You can also get points by leaving reviews and subscribing to our newsletter.
Reconnect prizes: the more you travel, the more you win!
Reaching at least 250 points you can start redeeming the rewards of our loyalty program. You can choose between the Travel Gift Card, available in several denominations, and the Forest Gift Card.
If you choose the Travel Gift Card, you will have 12 months to use it on the platform, choosing from all the eco-sustainable accommodation facilities of Ecobnb. You will thus live new unique and unforgettable experiences. For free!