Immersed in the fresh alpine air, located at 1020m above sea level, Tires al Catinaccio is a dream for all mountain lovers. In this cozy alpine destination of the South Tyrol, you can enjoy magnificent views on the Dolomites.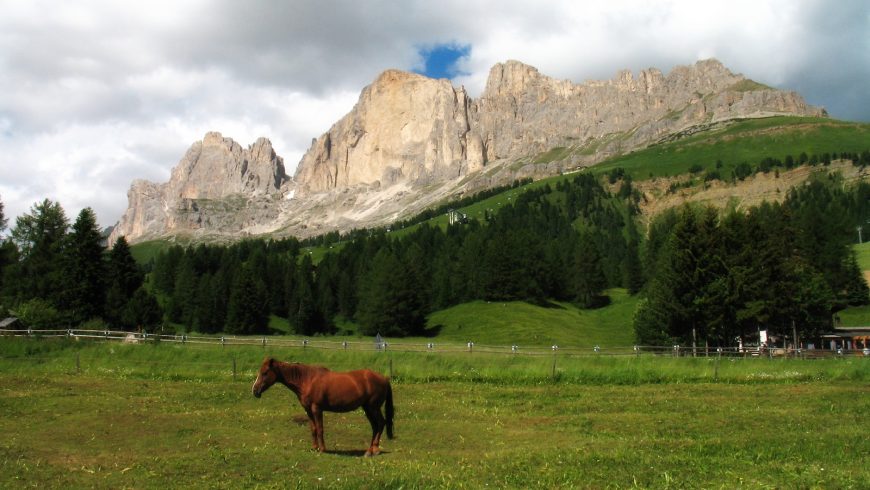 Around Tires there are also other little towns to visit: San Cipriano, Bagni di Lavina Bianca and Laghetto Aica di Fiè. Scillar, Catinaccio, Roda di Vael, Vajolet Towers are just some of the famous peaks that you can admire and explore in the surroundings.
1. Summer in Tires



Tires is the ideal place for an active holiday in the nearby Scillar-Catinaccio Natural Park: here hikers will find excursions of all kinds, along well-marked paths, towards alpine huts or towering peaks. Park guides will also take you to discover the natural beauties of these places. In the evening if you are lucky, you will be able to admire the Dolomites tinging with pink!
The Visitor Center of the Sciliar-Catinaccio Natural Park of Tires is set in an old water mill that operated an ancient sawmill. I recommend a visit, just to admire this testimony of the past!
During the summer, Tires streets are filled with mountaineers looking for adventures on the magnificent dolomite walls: from ferry routes, connecting isolated alpine huts to peaks, to climbing routes, from historic to modern ones. You can not miss the edges of the Vjolet Towers or the routes traced on the imposing south wall of the Catinaccio!
Not to be missed are the many events organized in Tires, the dolomitic country of mountaineers. One of them is the "Nights of Montanari", street parties with music and culinary specialties in the area, which take place between the end of July and the beginning of August.
2. Winter in Tires



Fun in this Alpine resort is also guaranteed during winter. The surrounding landscapes are covered with soft snow and its candor makes it all the more fascinating.
Cuddled by the heat of wood stoves or the steam of traditional saunas, you can forget every stress. If you are looking for active holidays, Tres is the right place to start your exploration also in this season! Put on snowshoes and get ready to go hiking. The trail network includes 60 km of perfectly prepared winter itineraries and 50 km of marked paths for snowshoe excursions. Local guides also organize night tours to watch the stars.
On the Alpe di Siusi, not far from Tires, there is also the Val Gardena/Alpe di Siusi ski area with 175 km of slopes and 80 ski lifts, equipped with modern safety devices for children. Fun is guaranteed!
Cover image: Tiziano Sartori via Flickr