Do you want to live a unique experience bike riding with your family among the pure landscapes in the Dolomites? Are you looking for an amazing e-bike experience, mountain biking or downhill? Thus, you must come to Trentino, in Val di Sole. Here, you are going to find mountain bike routes for thousands of kilometers and 3 bike parks. Let's find the itineraries which you cannot miss.
In Western Trentino, the famous Val di Sole is nestled amongst the National Park of the Adamello-Brenta and the National Park of the Stelvio. As its name makes clear, Val di Sole is literally kissed by the sun. Surrounded by a breath-taking natural scenario, among protected reserves and mountain peaks with an altitude of 3000 meters, glaciers which can be seen during the whole year, streams and the stunning Brenta Dolomites (heritage of the humanity, UNESCO).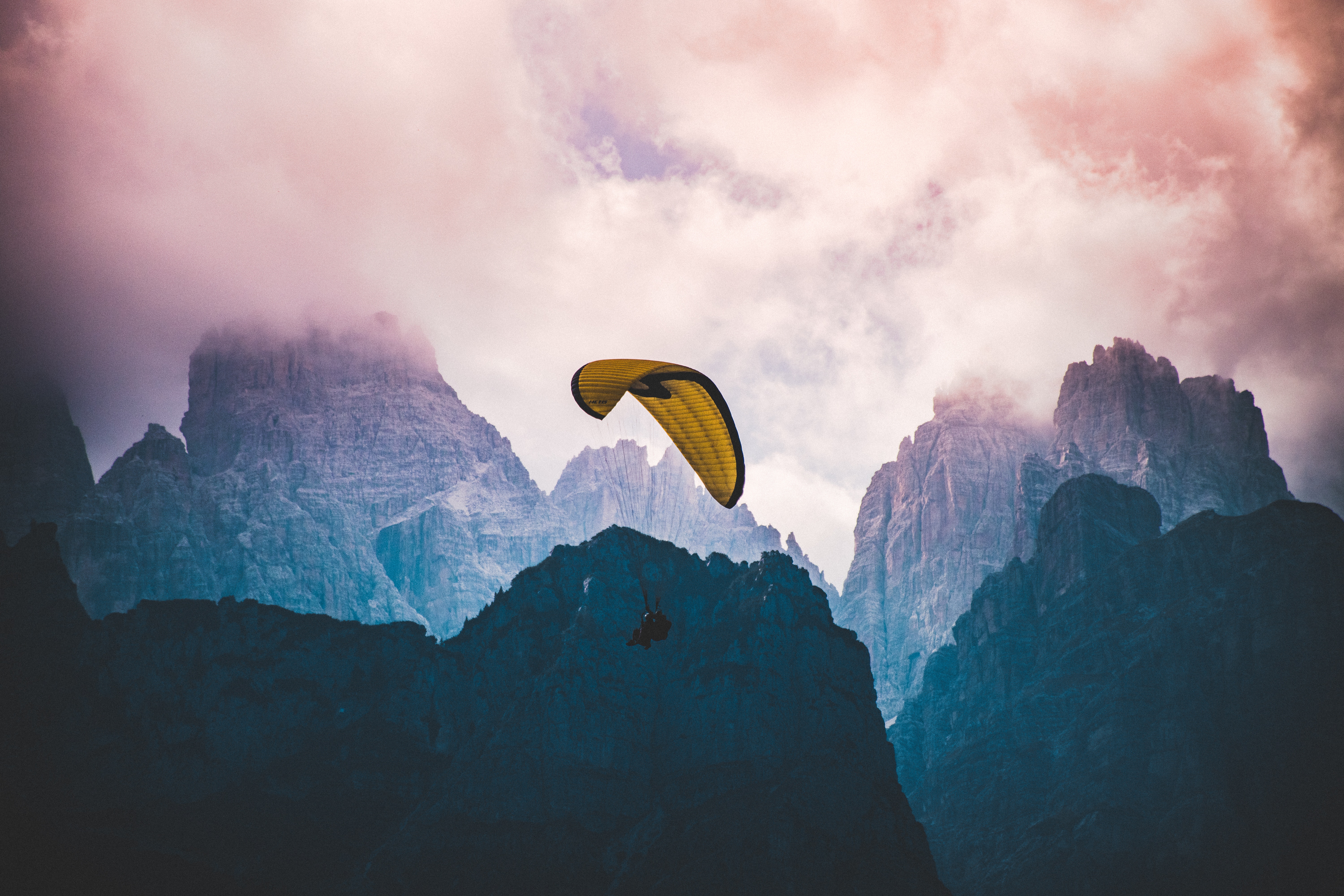 Brenta Dolomites, image of Leonardo Yip on Unsplash
However, Val di Sole is not only what we've described until now. It is a valley that decided to go green, promoting bike routes. So that, over the years it has become a relevant destination for bikers and riders coming from all over Europe and, sometimes, from all over the World.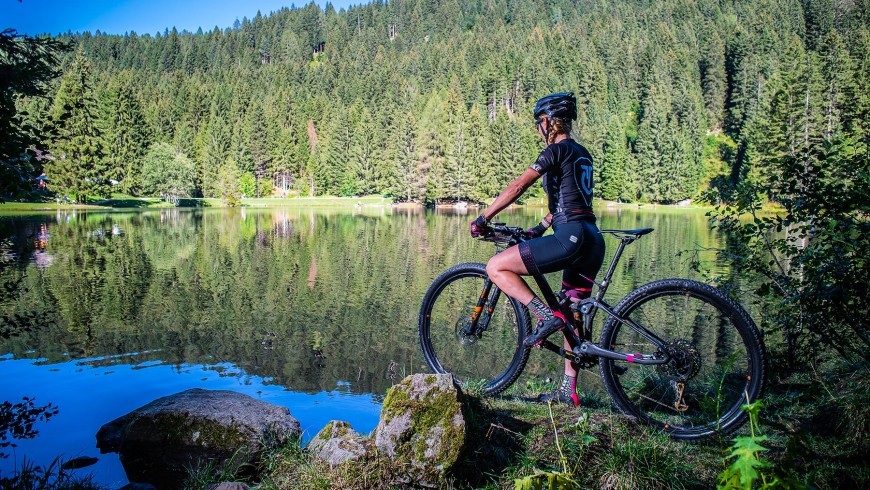 Pic from hotelvittoria.com
A bike route crosses the entire valley. Then, there are tens of mountain bike routes, for a total of 300 km and three bike parks for downhill and trial activities. Here, the UCI Mountain Bike World Cup, the National Enduro Circuit and the Trials World Cup are held every year.
Here, you can also find the widest bike area in Italy: from the Brenta Dolomites to the Adamello and Presanella glaciers just until the Lake Garda. Whether you are bikers looking for adrenaline or bikers who are planning a family bike riding, Val di Sole is the perfect place for you.
Let's discover together these 5 unmissable bike itineraries.
1. Val di Sole Cycling Path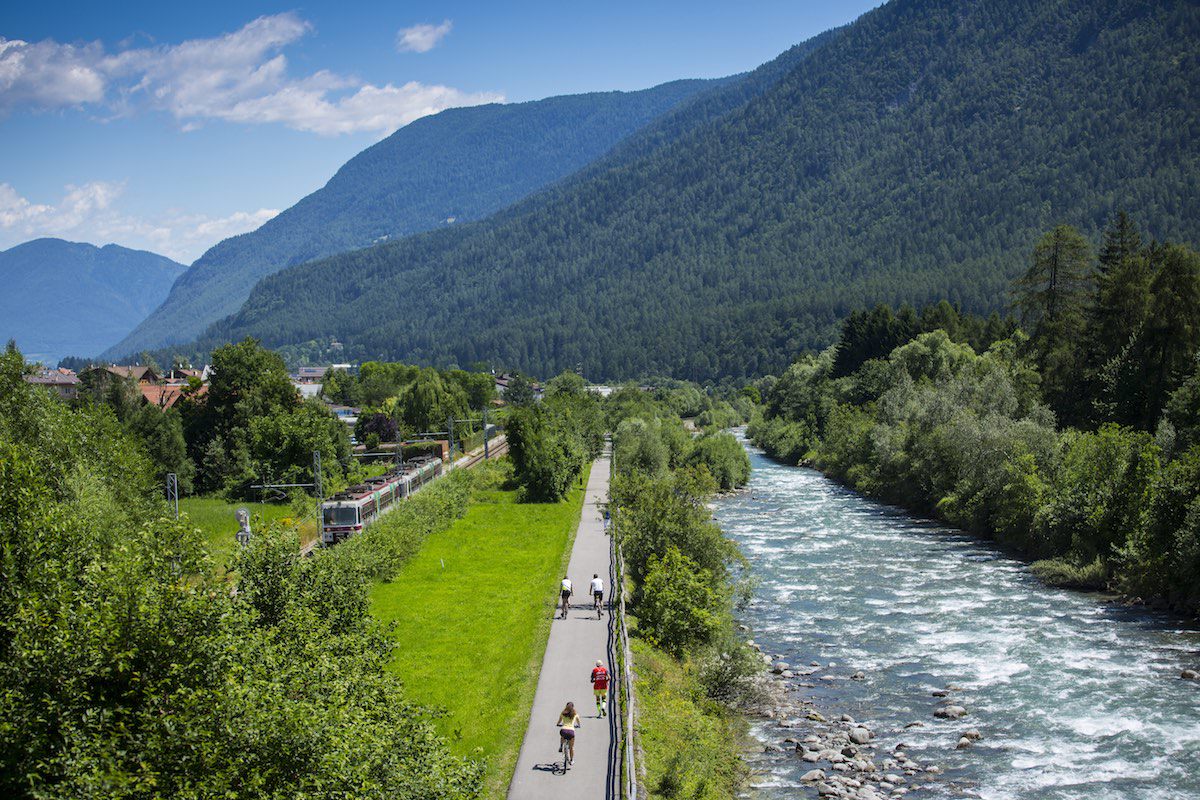 Val di Sole, via outdoor.valdisole.net
It is the cycling path that runs the whole valley, from Mostizzolo to Pejo and Vermiglio, for a length of about 36 km. It was built along the Noce river and it results to be completely surrounded by nature. Starting from Pejo and going down until Mostizzolo, the elevation gain is only 200 m, so it can be easily viable by everyone, even by those who are not well trained. The most important thing that you ought to know about is the fact that you can carry your bike on the train which connects Trento-Malè-Mezzana.
An example of ring routes is provided by the itinerary from Malè to Trento, arriving to Fucina Marinelli, then Terzolas, Samoclevo with the ancient, finishing in Mostizzolo. From here, you can take the cycling path and get back to Malè, for a duration of about 3 hours.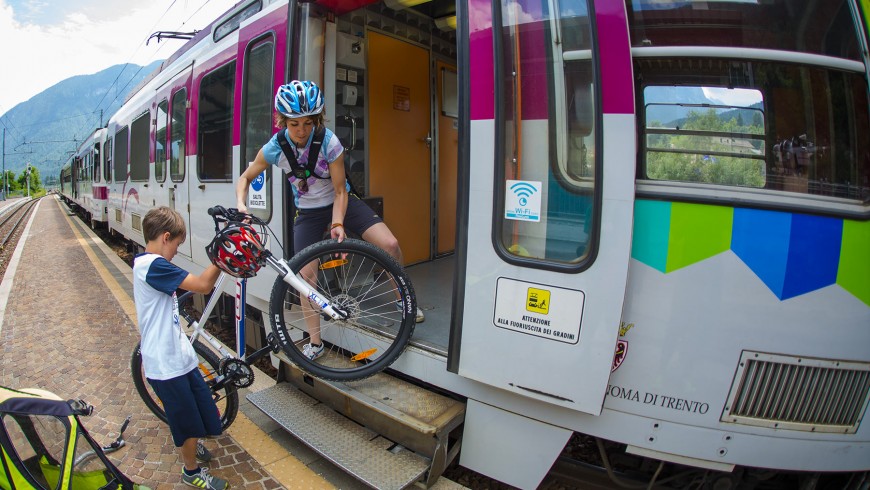 via hotelvittoria.info
An example of ring routes is provided by the itinerary from Malè to Trento, arriving to Fucina Marinelli, then Terzolas, Samoclevo with the ancient, finishing in Mostizzolo. From here, you can take the cycling path and get back to Malè, for a duration of about 3 hours.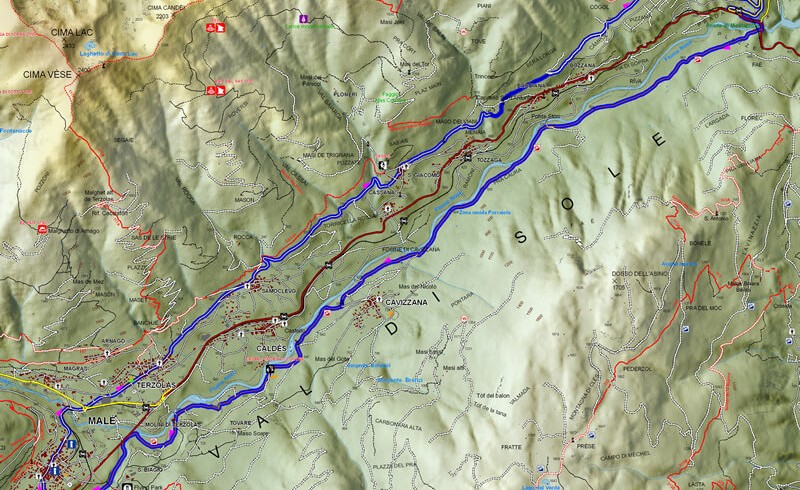 Not to be missed: the second suggested route crosses some interesting places like Fucina Marinelli, an ancient forge that used hydraulic energy but still working! The municipality of Terzolas, that used to be the noble residence of the Malanotti family and the Samoclavo rock, an old noble residence too.
Our green advice: book your stay at "Vittoria snow family bike ***S", it is a biker-friendly hotel, a small paradise for every bike lover, provided with all facilities for riders, such as free bikes rent. It also provides a bio homemade breakfast and it has a restaurant serving Tyrolean products of the brand Adamello-Brenta.
2. The Path of Waterfalls, Val di Rabbi, by MTB
It is a medium difficulty route, but it is not that long, in Val di Rabbi, among the most incredible and wildest places. It is an unpaved route, with old towns, alpine pastures, bridges and waterfalls. The route is 20 km long and has a vertical drop of 800m, for an estimated total of 2 hours of duration.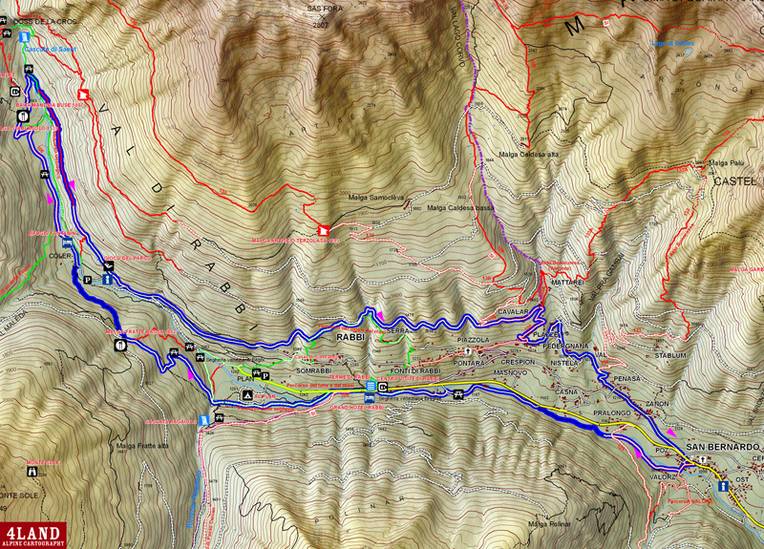 Route of the Path of Waterfalls, Val di Rabbi, via valdisole.net
Starting from San Bernardo (1095m), you go up the right edges of the Rabbies torrent to Ponte Praolongo. Crossing the bridge, the unpaved path turns into a beaten path, passing right by the ancient village of Ruaje. You reach Ponte Casna, near the Venetian Sawmill and getting to Bagni di Rabbi, the thermal baths. You then go on an asphalt road towards "Plan", just to the bridge where you will find the sings for the Ragaiolo waterfall, where we do suggest you take a break before going up to the Malga Fratte Bassa. This challenging stretch is 2 km long, but it is really worth it thanks to the view that you will enjoy from the alpine pasture. You then must go on, following the signs for Malga Stablasolo- Fontanino. From here, when you have to get back. The route crosses the pasture and will get you to Fontanino. You need to continue the asphalt road and just before the residential area take the forest road on the left. You will arrive to Serra and then you will have to bike down the hill, reaching Cavallar, Penasa and San Bernando.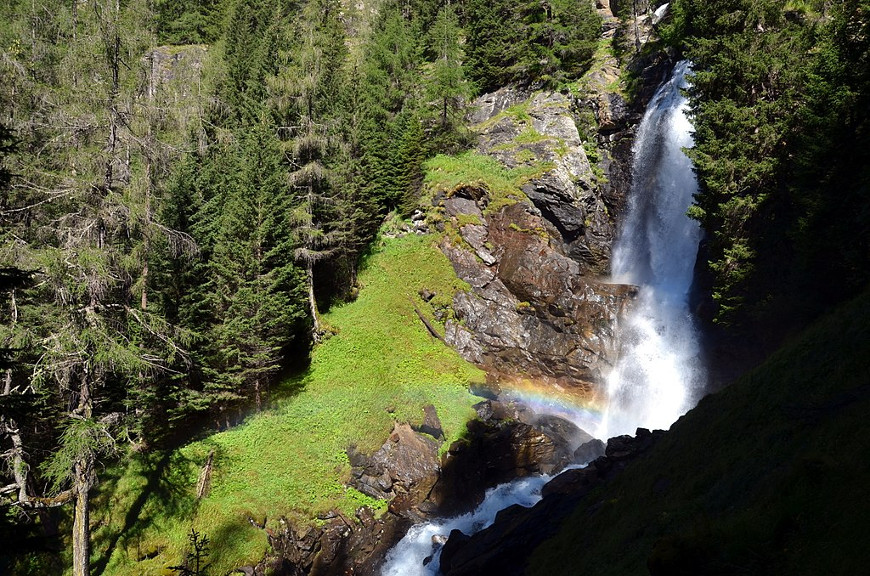 Saent Waterfall, Val di Rabbi, picture via Wikipedia
Not to be missed: the ancient Venetian Sawmill restored by the Consortium of the Stelvio. The thermal baths of Bagni di Rabbi, tasting the chalybeate water.
You should also visit the Saent Waterfalls (in the picture) after a 1h walk.
Our green advice: Sport Hotel Rosatti, with a competitive price, offers to its guests a spa, pools and a bio breakfast. You cannot miss the opportunity to have a dinner in the restaurant that will delight you with typical receipts and a large cellar. On the other hand, if you want to be completely surrounded byb nature, you should book in this typical mountain farm run sustainably, in the National Park of the Stelvio.
3. In MTB in the woods, form Mezzana to Lake Caprioli
This is a medium difficulty itinerary which has a vertical drop of 800m and a duration of about 3 hours. We are in Mezzana, Trento- Malè train's final stop. We are going through an itinerary full of streams and waterfalls. Just like most of the routes in Val di Sole. This path needs a particular physical training, or you should rent an e-bike in one of the many bike-rents in Val di Sole.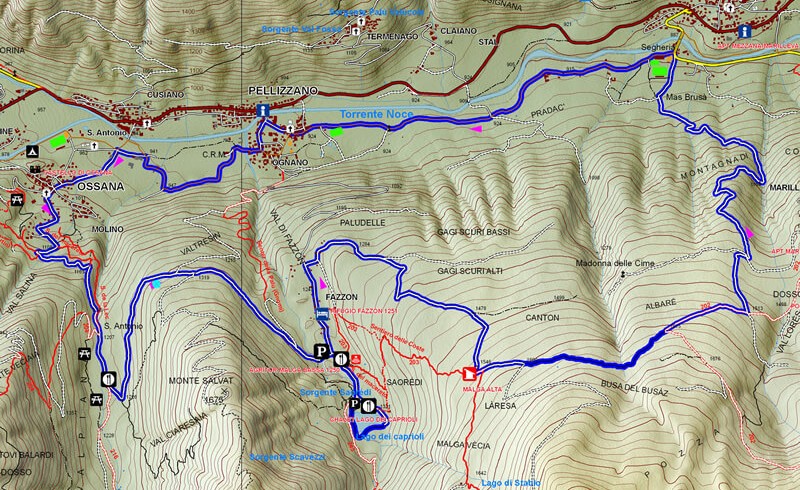 Starting from Ossana and passing the Castello di San Michele and the Church of San Vigilio, you will get to the gravel road, located at the entrance of the Piana Valley. You cross the wood and you reach a flat surface where you could take a break. Thereafter, you will follow the signs for Malga Bassa Fazzon. This one is also a visitor centre of the National Park of the Adamello-Brenta and it is less than 1 km away from Lake Caprioli. This could also be the perfect place for a little break. Keep left towards Marileva and then you will start going back to Mezzana.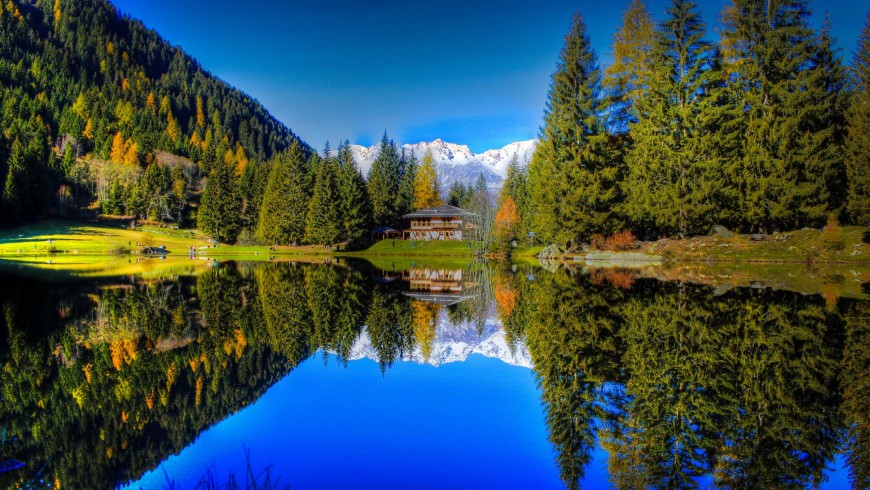 Caprioli Lake, picture by Luigi Mengato, via Wikimedia
Not to be missed: Lake Caprioli, an artificial lake, but it is surrounded by a nature that will leave you speechless, characterised by clear and emerald waters. The Castle of San Michele, recently restored, has no particular structures inside but the its position and its imposing structure worth a visit.
Our green advice: Hotel Val di Sole, in Mezzana. With pool and spa and many other facilities for families, such as a water park and a play area equipped with a climbing wall. The hotel uses clean Energy and biological products. The hotel can be easily reached by train or by public transport, so you will not need a car.
4. Going up the Pejo Valley by e-bike
This is a flat stretch, by the side of the Noce river, through some historical buildings like the iron mines and the source of the Pejo water. It is a path that is 12km long and ca be done starting from the cycling path -which can be reached by train.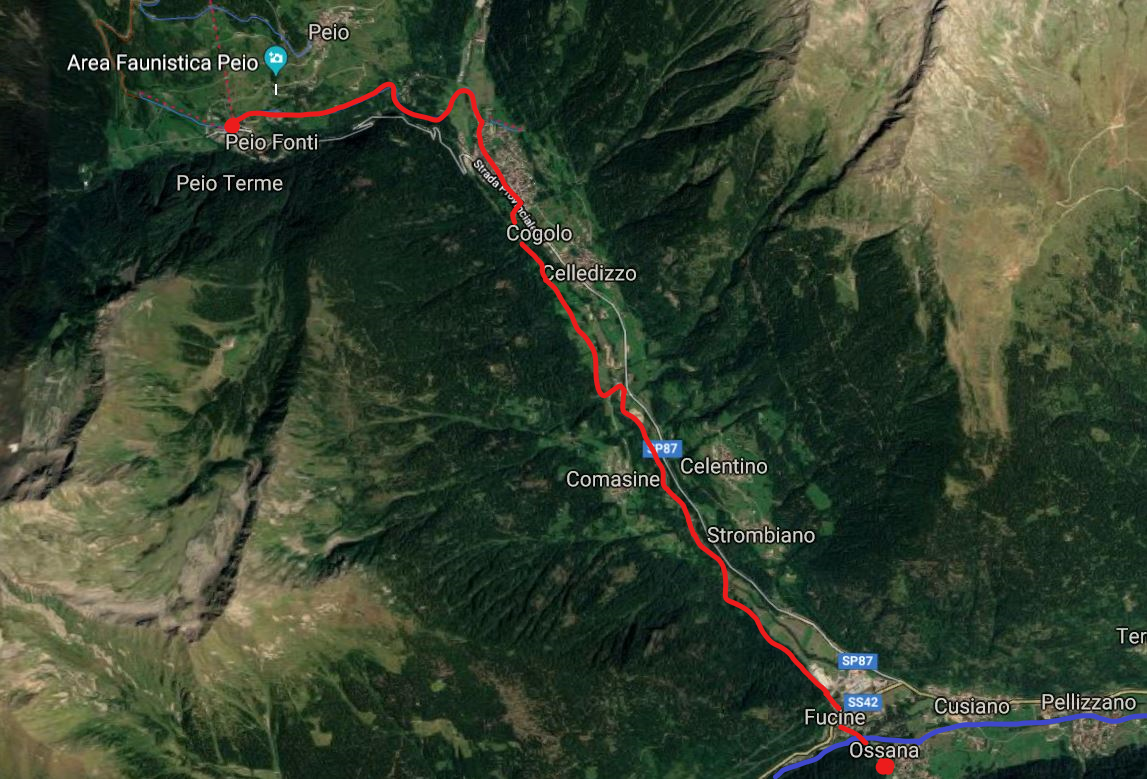 Path from Ossana in Val di Pejo, via Google Maps
Starting from Ossana and going down Fucine, you will have a cycling path that ends up in Fucine, once famous for its iron furnaces. When you pass the whole industrial area, you will find a path by the side of the Noce river. Take it and cross the bridge, eventually you will be in Val di Pejo, with the impressive mountain peak of the Mount Vioz. You will then go towards Comasine, where there were iron mines and when you reach the old windmill (nowadays it is a restaurant). You will finally find a route that in winter is used as a cross-country ski slope and that will take you to Cogolo, where the famous water Pejo is produced. From here, you will continue towards the cableway of the municipality of Pejo, famous for its thermal springs.
This could also be considered as the perfect place for taking a break and the starting point for your trip back home, either taking the asphalt route or retracing the same path that you did to get there. Moreover, in Pejo there are lots of mountain-bike paths that start from the Mount Vioz (3645 mt), for further information you should talk to the information point centre.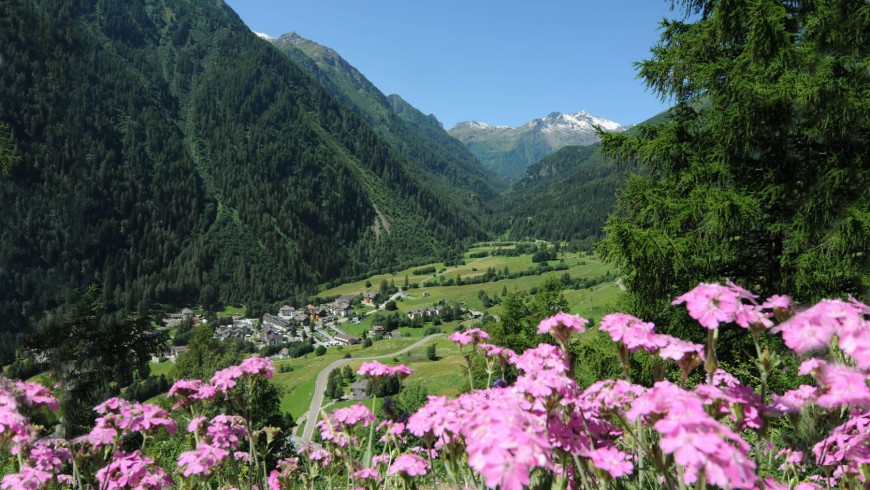 Val di Pejo, via termedipeio.it
Not to be missed: Pejo thermal springs and the Wildlife Aerea of Pejo, two destinations that could also be the main reason for taking this journey.
Our green advice: Albergo San Rocco, an eco-friendly hotel that offers a unique view of the valley. The Trentino guest card is included in the cost of your stay, which allows you to rent bikes and take ski lifts for free.
5. The ancient road of the Emperor

Picture by Luigi Mengato, via Flickr
In this case we will talk about a very long path with a considerable altitude difference. We are talking about the "Dolomiti di Brenta Bike Tour". The estimated duration of this route is about 6 hours with an altitude difference of more than 1500 meters. You can shorten the path up and make it less extreme.
The departure is from Dimaro, then you pass Carciato and in Senasega you will have to take a cobblestone street which leads to the wood. From here you will arrive to the shores of the Meledrio river just to the bridge that crosses it. You will have to go up for a few hairpins, coming to a crossroad: if you go right you will get to Pont de Pastin, whether you go left you will get to Presson alpine pasture. Keeping right you get to the highway Madonna di Campiglio-Dimaro, where you will see the Melendrio again. You continue towards Malga Mondifrà, a nice place for a break, under the Dolomites peaks.
You can take a road that goes on in parallel to the highway towards Dimaro, the right starting point for your return. You have to follow the signs for Malga Darè, then Malga Dimaro. Keeping left you will arrive to the Orso Bianco refuge and then you could go down Malga Panciana. From there you can take the highway towards Marileva, then Malghetto di Mestriago and Almazzago, eventually getting to DImaro. As we said at the beginning, it is a path for experts with a good physical training.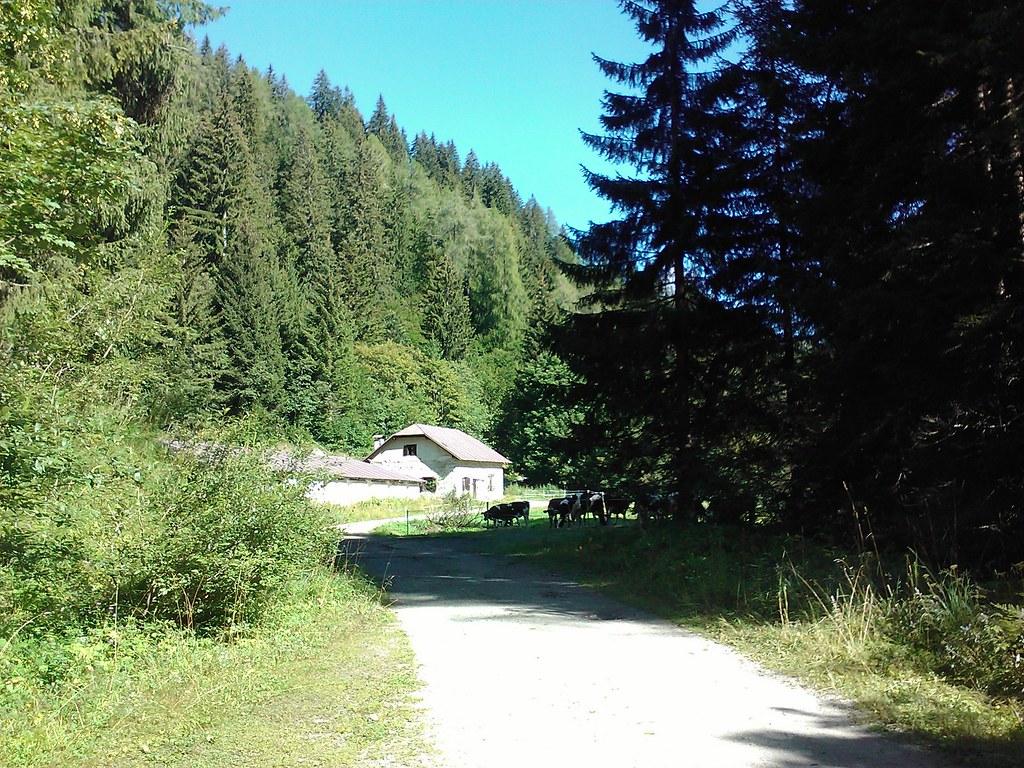 Picture by Luigi Mengato, via Flickr
Our green advice: Hotel Caminetto, in Folgarida. The eco-friendly hotel is along the cycling path. It has a Wabi-Sabi spa for relaxing. It also uses clean Energy, natural cleaning supplies, biological food, and it takes any measure to reduce the environmental impact and to take care of nature.
Featured image from hotelvittoria.info