Michelle Obama has started up her own garden and orchard at The White House and she's been kindly suggesting that all chefs and kitchen staff make use of the locally grown products for the President's family meals.
Jennifer Garner, the famous actress and wife of Oscar winner Ben Affleck, is a fierce supporter of organically grown vegetables and she is often spotted at local organic markets picking up the freshest produce for her husband and daughters .
And what about the inimitable actress and lifestyle guru Gwyneth Paltrow, who is devoting more and more time to teach us how to grow and cook healthier food. Yes, the world is going bananas about…locally grown bananas, or any kind of organically grown fruit and veg for that matter.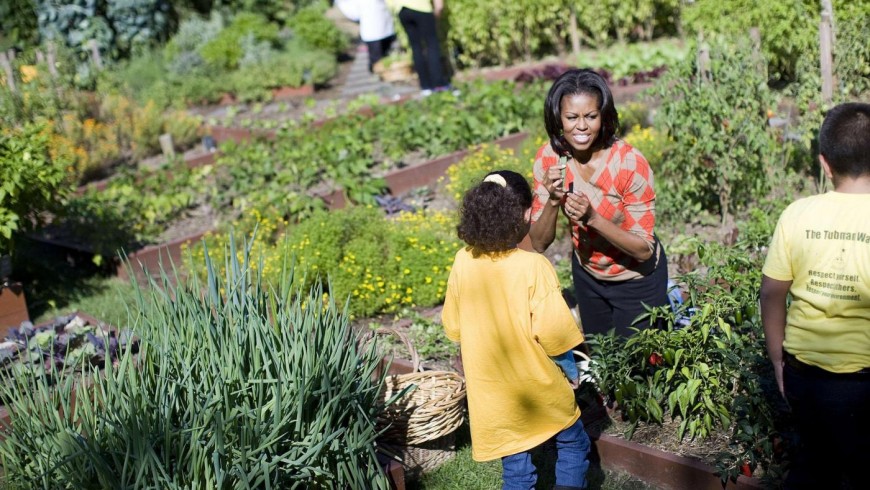 Could the hotel industry turn its back on this new tend? No, of course not .
If the questions "Does the room have a minibar?" or "Does the room have a bathtub?", were once run of the mill, the new "must-have" that every property should offer its guests is an organic vegetable garden and orchard, or at least assure clients that they'll be able to enjoy healthy, organic food for their breakfast and snacks.
And we're not just talking about quaint country houses and little B&Bs tucked away in the countryside.
Even the most upscale properties pride themselves on offering high quality organic cuisine, with most of them also having set up their own veg gardens.
And these gardens can really become the highlight of a stay, when the most innovative chefs and hotel owners create a series of lively events centred around their orchards, organic products and healthy, delicious food. So, if you're planning a stay somewhere and want to get away for an energizing week end focused on healthy food and activities out in the fresh air, take a look at our suggestions:
Agriturismo La Fonte, Folgaria (Trento): Fancy an apple pie? Pick your organic apples first!
Up high stands the stone cottage of Agriturismo La Fonte. Recently restored applying state-of-the-art innovative technology to harness renewable energy (including photovoltaic panels and solar thermal systems), the property boasts a formidable vegetable garden and orchard.
Each summer La Fonte houses groups of children who are on their summer holidays: they live together with their tutors and work in the garden and the fields, discovering the nearby Dolomites and eating the organic vegetables they help to grow.
If anyone's homesick the resident cat and dog are a great source of comfort and a chamomile tea of mountain flowers relaxes and soothes away stress.
Poderi Arcangelo, San Gimignano (SI): In wine, there's truth wrote Pliny The Elder
In Tuscany, they say "great red wines, genuine olive oil, smooth hills and warm sun" and this is exactly the leit motiv of a stay at Poderi Arcangelo.
On top of their legendary flavor, the Poderi Arcangelo oil and wines are organic DOCG products, a sought after Italian certification that awards excellent quality and production processes.
Should you feel the need to exercise out in the open air or simply get to know the secrets of the farmers and vineyards close up, then ask to join the daily activities in the golden fields under the Tuscany sun: it will be an experience you will never forget and you're likely to get a sun tan that will be the envy of your friends.
Agriturismo Valle Scannese da Gregorio: the last pillar of the genuine tastes
Far from the little village of Scanno, situated in the Parco Nazionale d'Abruzzo, Lazio and Molise, not far from Sirente Velino, the organic-agriturismo Valle Scannese prides itself as being the "guardian of genuine food", and the excellent reviews of the lucky visitors who've dined there seem to back this up.
The most celebrated plates are the Ravioli with ricotta and the vast selection of cheeses on offer. It must have to do with the fact that sheep and cows live happily here on the property and their milk tastes as fresh as the mountain grass they graze on.
If you are considering staying for a night or two, make sure you don't miss breakfast, where plenty of homemade biscuits, cakes, cheese and fruit are laid out, ready to be devoured.
And that's the perfect morning meal before a healthy and challenging trek through the fields and woods of the national Park.
Ah! This is the real, genuine country life… and real, genuine food to boot!
You might also like: