Last time we met David Orban (entrepreneur,  CEO of Dotsub, member of the Faculty and Advisor of the Singularity University) we were in San Francisco, in the middle of a foggy August day, that only San Fran can offer. In front of an unusual "bacon ice cream", the specialty of the organic restaurant Starbelly, in a super friendly Californian atmosphere, we we asked David to become Advisor of Italy Green Travel, which he accepted. A ray of sunshine in the fog of San Francisco. We have interviewed him, discovering his vision for the future of new technologies and tourism. Thanks David!
Hi David, how are you? Is our plasure have you on the board of advisors of  Italy Green Travel, can you tell us a little about yourself? how you started your own business experience in the field of new technologies?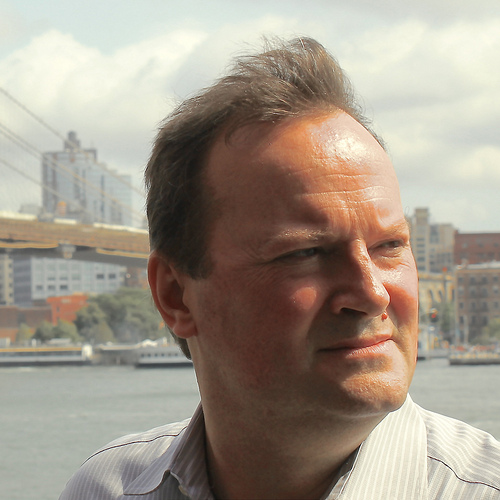 It is my pleasure to have been asked to join your Board of Advisors! I have always been a self-starter, and I was in my 20s when I started my first company, in the early 1990s.
Since then I have had many, some successful, others not. But I definitely subscribed to the saying "Sometimes you win, sometimes you learn", which I have adopted as one of my closing slides of my presentations. (In writing this answer I made a quick Google search for the original of the saying, but I only found a book that publishing October 2013 definitely was not the source I was looking for!)
What has been your greatest achievement?
Well, my unashamedly cheesy answer might surprise some of your readers, but I don't hesitate to say that it is represented by my three children. I have a lot of fun with my various companies, speaking at conferences, advising companies like yours and participating in nonprofits such as the Singularity University, or mentoring young kids at the Thiel Fellowship. But nothing can match the visceral satisfaction of seeing my children grow and blossom into new rich individuals, with their own aspirations, and curiosity. At not yet 50, I am actually looking forward to be a grandfather!
How New Technologies will change the way we travel?
Technology has been applied to travel since the beginning of our civilization, with the wheel, writing, and more recently the car,airplane, and of course the Internet. This is going to continue, and I just want to highlight three components.
1. Autonomous robotic cars: these will have many important consequences, reducing accidents,transforming logistics and shipping, etc. but applied to tourism, I see them turning rushed dashes from a place to an other, into a more leisurely exploration, where, for example, you'll be able to sleep in your car on perfect beds during the night, as they move slowly from one place to an other.
2. Augmented reality: do you remember postcards? Well, I feel the same about photos now of monuments, or panoramas. I know I don't need to shoot those photos, because others will have taken them. Soon our phones will suggest what are the missing corners from a fully digitized picture of the entire world, and we will be able to have a deep knowledge of any place without even going there. When I think of a billion Chinese becoming more and more affluent, and how many of them would like to personally visit Venice, I think this is a very positive development.
3. Space tourism: this classic science fiction trope is now becoming reality, and prices are going down from $20 million to $200 thousand. I am looking forward to more price decrease, and to new destinations around the Universe!
Since you're one of the first supporters of ViaggiVerdi, thanks, we would like to ask you what is your idea of ​​a trip, if you feel more tourist or traveler, and why?
I define myself a technomad, striving to progressively reduce my dependence from traditional material possessions like a house or a car, and to fully immerse myself in the rich cultures and opportunities of the world. My view of travel, whether for business or vacation, must always include an exploration of local cuisine, customs, curiosities.
A tip to make our holidays more sustainable?
Many of us are realizing that we need actually less and less to be interposed between a genuine local experience and ourselves. Rather than a luxury hotel, a more accessible, and sustainable one. The food the locals eat—don't you laugh when American's want to go to McDonalds in Italy, or Italians salivate for spaghetti in the US?—, a market catering to the needs of those living in the place you visit, rather than tourist gadgets made in China.
And, of course, to use Italy Green Travel to book your travel!
A place, in Italy, that has surprised you for its beauty?
I knew nothing of Bergamo before moving there in twenty years ago.
Città Alta was a real surprise, and I recommend visiting it.
In general, one of the best ways to discover Italy is to get lost: it is safe, and full of beauty waiting to be serendipitously found!
"People don't take trips… trips take people", wrote John Steinbeck. Among the trips that "take you", there is one really important?
Moving from Hungary to Italy was certainly a big change, and becoming bi-continental across Europe and Northern America the second.
If you had to choose a soundtrack of your trip, what would it be?
The pizzica when in Apulia, traditional Korean music in Seul, and so on. But picking a bit more aspirational theme, since I mentioned space travel, and I want to go!, it is at the end "Shine on You Crazy Diamond" of the Pink Floyd. While watching the Milky Way over the sea in a moonless sky along the serpentine seaside roads of Croatia.