into the wild
località Selva 6 - Piano dell'Anno - 84060 Prignano Cilento - Italy
you arrive on Friday afternoon and have a look on the farm, near the house, we talk about herbs of the period. We can suggest you were to eat in the night.
On saturday morning we start to visit the wood, we recognize and transform herbs, we prepare some dishes with wild herbs.
The afternoon is free to go and visit sea, we can suggest you the best seaside to visit
On sunday morning we arrive to the old mill, and we recognise herbs along the way...
the rest of the day is free for other activities and explorations, we'll give you all the information..
2 night, breakfast and one selvatic meal 190 210
offer dedicated to people registered to Ecobnb, from june 4, to august 31
2 night, breakfast and one selvatic meal 190 210
offer dedicated to people registered to Ecobnb, from june 4, to august 31
By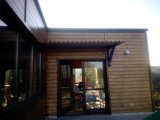 Prignano Cilento (Campania)
Starting from 80,00 €