RAW HOLIDAY: YOUR RAW COOKING COURSE AT THE SEA
Via Silio Italico, 3 - 47814 Igea Marina - Rimini - Italy
From 11 to 13 September choose Luxor for a weekend dedicated to the purification of body and soul.
It is the "Raw Food Weekend", to discover the secrets of raw food cooking: participate in meetings and insights together with the experts Manu and Luca from the Peace & Raw association.
Treat yourself to a weekend of body care and recharge your mind, admiring the sea close to you.
3-day and 2-night packages are waiting for you starting from just € 427 in total per person, if you book by August 10th.
if you book before 10th August from € 427 per person all inclusive
if you book before 10th August from € 427 per person all inclusive
By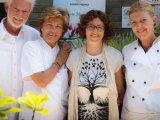 Igea Marina (Emilia-Romagna)
Starting from 110,00 €