(Bee)retreat
strada Vicinale La Foce, SP40 - 53042 Chianciano Terme - Province of Siena - Italy
Versione Italiano al fino!
Available dates:
12-14th of July
26-28th of July
9-11th of August
23-25th of August
6-8th of September
20-22nd of September
4-6th of October
Course details:
Join us for a weekend to immerse yourself into the Italian craft beer culture! Set in the beautiful nature reserve of Pietraporciana we will explore the world of Italian craft beer together. Learn about the different styles of beer, their characteristics, how they are made, their history and what makes them special. With a local Tuscan brewer you will get to see exactly how beer is made and we will brew a beer together, using our very own locally grown wheat (you can see the fields right on our doorstep). There will also be two special dinners with dishes which have been carefully curated to suit particular styles of beer. All the food we provide is locally sourced and made with love by our very own in house chef (Nonna, Granny), the real Cucina de la Nonna. Accomodation is provided over the two nights in tastefully refurbished farm houses set right in the middle of the nature reserve. You will also have access to our swimming pool, and can enjoy the surroundings with a wide array of trails to explore.
Programme:
Friday:
*Check in from 4PM
*Welcome drinks, beer tasting at 6PM. Discover the different styles of Italian beer and be guided through the tasting by an international award winning brewer from Ireland.
*Dinner at 8PM, be prepared to eat well with hearty dishes made with locally sourced ingredients, prepared especially for you by la Nonna (Granny). There will be four courses in total, each paired with a beer style that suits the dish.
*After dinner; chill out, chat, play some cards, have some more beer, go into a food coma….
Saturday:
*Breakfast from 8AM to 10Am, buffet style, come down when it suits you and help yourselves. Sorry no beer at breakfast, but don't worry, there will be plenty throughout the day!
*Brewday at 11AM, meet with Lorenzo our local brewer. He will talk you through all of the ingredients used in brewing and guide you through step by step how beer is made!
*Lunch 2PM, a light lunch with a choice of beers for you to choose from!
Afternoon, the brewday continues! In brewing, it is not what goes wrong but when, for this asking how long a brewday will take is the same as asking how long a piece of string is…
*Aperitivo at 7PM, light snacks (with beer of course).
*Dinner at 8PM, again prepared with love by Nonna, each dish paired with a special beer. Again four courses.
*After dinner: Movie night under the stars!
Sunday:
*Breakfast from 8-10AM, come down whatever time suits you best.
*After Breakfast; A stroll in the woods, Join us on a short hike around the beautiful nature reserve we have spent the weekend in. Kev our resident beer specialist and hiking enthusiast will be with you and you can bombard him with as many beer (or other) related questions as you like!
*Checkout out up til 2PM, take a dip in the pool, chill out, have a lie in or join us on the hike!
Ciao, Arrivederci, Grazie, and happy brewing!!!
Notes:
What's include:
*Accommodation, spacious en suite rooms set in the beautiful nature reserve of Pietraporciana.
*All linen, bed sheets, towels etc.
*Meals; four course dinner on two nights (Friday and Saturday), Lunch on Saturday, Two buffet style breakfasts.
*BEER! And lots of it, there will be no shortage of Italian beers to sample. We will have special beers to pair with each of our dishes at both dinners, welcome drinks on the first day and aperitivo on day 2. We will also have a local beer on tap from our friends at 'Saragiolino' (where Lorenzo is from) and you are welcome to pour yourself a glass whenever you get thirsty!
*Access to our swimming pool.
*Certificate upon completion of our brewing course! (you can brag to your friends that you know how to make beer!)
What's not include:
*Transport; we are set in a rural location and there is no public transport that will bring you to our doorstep. We can of course arrange transport for you from airports/train stations close by, at an extra charge.
*Hangover remedies; while there will be plenty of beer available for you to sample, we expect you to be responsible for your own limits and to be respectful of others attending this wonderful event!
Price of course: €450 per person
Extra notes to add: We are in a privileged natural area, and we expect you to respect this environment. We also expect you to be respectful of all other participants, we love to meet new people and there is nothing better than a group of people from different cultures getting together to learn about something we all love, Beer!
Versione Italiano:
Weekend del corso
12-14 Luglio
26-28 Luglio
9-11 Agosto
23-25 Agosto
6-8 Settembre
20-22 Settembre
4-6 Ottobre
Dettagli del Corso:
Unisciti a noi per un weekend per immergerti nella cultura della birra artigianale italiana! Ambientato nella splendida riserva naturale di Pietraporciana, esploreremo insieme il mondo della birra artigianale italiana. Scopri i diversi tipi di birra, le loro caratteristiche, il modo in cui vengono prodotti, la loro storia e ciò che li rende speciali. Con un birraio toscano locale vedrai esattamente come viene prodotta la birra e faremo una birra insieme, usando il nostro grano di produzione locale (puoi vedere i campi proprio davanti alla nostra porta). Ci saranno anche due cene speciali con piatti che sono stati accuratamente studiati per soddisfare particolari gusti della birra. Tutto il cibo che forniamo è di provenienza locale e fatto con amore dal nostro chef in casa, la vera Cucina della Nonna. L'alloggio è previsto per due notti in agriturismo completamente ristrutturato con gusto situato nel mezzo della riserva naturale. Avrete anche accesso alla nostra piscina e potrete godervi i dintorni con una vasta gamma di sentieri da esplorare.
Programma:
Venerdì:
*Check in dalle 16:00
*Drink di benvenuto, degustazione di birra alle 18:00. Scopri i diversi tipi di birra italiana e lasciati guidare attraverso la degustazione di un birrificio premiato dall'Irlanda.
*Cena alle 20:00, preparatevi a mangiare bene con piatti abbondanti fatti con ingredienti di provenienza locale, preparati appositamente per voi dalla Nonna Carmela. Ci saranno quattro portate in totale, ciascuna abbinata ad un tipo di birra che si adatta al piatto stesso.
*Dopo cena; rilassati, chiacchiera, gioca un po' a carte, bevi un po' di birra.
Sabato:
*La colazione dalle 8:00 alle 10:00, a buffet, scendi quando più ti si addice, non ci sono obblighi rispetto al programma. Scusa ma la birra a colazione non e possibile, ma non preoccuparti ci sarà abbondanza per tutto il giorno!
*Brewday alle 11:00, incontro con il nostro birraio locale di Saragiolino. Parleremo di tutti gli ingredienti usati nella preparazione e ti guideremo passo dopo passo su come viene prodotta la birra!
*Pranzo 14:00, un pranzo leggero con una serie di birre tra cui scegliere!
*Pomeriggio, continua il Brewday! Nella produzione della birra e necessario non avere fretta, non ce un tempo preciso. Potrebbe anche volerci tutta la giornata.
*Aperitivo alle 19:00, snack leggeri (con birra ovviamente).
*Cena alle 20:00, sempre preparata con amore dalla Nonna, ogni piatto abbinato ad una birra speciale. Di nuovo quattro portate.
*Dopo cena: serata cinematografica sotto il cielo stellato!
Domenica:
*Colazione dalle 8-10 del mattino, scendi quando vuoi.
*Dopo la colazione: Una passeggiata nel bosco, Unisciti a noi in una breve escursione intorno alla bellissima riserva naturale il luogo che ci a colto per questo fine settimana. Kev il nostro specialista di birra locale e appassionato di escursionismo sarà con te e potrai bombardarlo con tante domande relative alla birra (o altre curiosità)!
*Rimani con noi fino alle 14.00, fai un tuffo in piscina, rilassati, godi della bella vita o unisciti a noi durante l'escursione!
Ciao, Arrivederci, Grazie, e buona birra !!!
Gli appunti:
Cosa è incluso:
*Sistemazione, ampie camere con bagno interno nella splendida riserva naturale di Pietraporciana.
*Tutta la biancheria, lenzuola, asciugamani ecc.
*Pasti; cena a quattro portate per due notti (venerdì e sabato), pranzo del sabato, due colazioni a buffet.
*BIRRA! Degustazione delle birre Italiane. Avremo birre speciali da abbinare con ciascuno dei nostri piatti in entrambe le cene, drink di benvenuto il primo giorno e aperitivo del giorno 2. Avremo anche una birra locale alla spina dai nostri amici al "Saragiolino" e sei il benvenuto per versarti un bicchiere ogni volta che hai sete!
*Accesso alla nostra piscina.
*Certificato al termine del nostro corso di birrificazione! (puoi vantarti con i tuoi amici che sai come fare la birra!)
Cosa non include:
*Trasporto; ci troviamo in una zona rurale e non ci sono trasporti pubblici che ti porteranno alla nostra porta di casa. Naturalmente possiamo organizzare il trasporto per voi dagli aeroporti / stazioni ferroviarie nelle vicinanze, a un costo aggiuntivo.
*Rimedi postumi di una sbornia; mentre ci sarà abbondanza di birra disponibile per te da assaggiare, ci aspettiamo che tu sia responsabile dei tuoi limiti e di avere rispetto degli altri partecipanti a questo meraviglioso evento!
Prezzo del corso: € 450 a persona
Note aggiuntive da aggiungere: siamo in un'area naturale privilegiata e ci aspettiamo che rispetti questo ambiente. Ci aspettiamo anche che tu sia rispettoso verso tutti gli altri partecipanti, amiamo incontrare nuove persone e non c'è niente di meglio di un gruppo di persone di culture diverse che si riuniscono per imparare qualcosa che tutti amiamo, Viva la Birra!
Other dates available on request, subject to group size and availability. Prices are also subject to change dependent on group size.
€450
By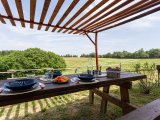 Chianciano Terme (Tuscany)
Starting from 107,00 €