Relaxing in the countryside and trekking in Otranto
sp cutrofiano aradeo angolo incrocio per sogliano - Contrada Spadafore - 73020 Cutrofiano - Italy
Upon your arrival you will be welcomed into our eco-friendly farm, with a small tasting of typical organic products.
On Sunday 23rd April we offer you a trek to Otranto. The historical - naturalistic itinerary takes place in the Baia dell'Orte and starts from the coast with its small caves (Palombare Grotto, Grotta Orte, Grotta lu Lampine) and its coves (Punta Faci, Porto Grande) until reaching the Tower Of Serpe, a symbol of the city of Otranto; Originally it was an ancient lighthouse that was later transformed into a watchtower. Finally, at the bauxite lake, you will find an astonishing landscape, the scarlet red earth, the vegetation of an intense greenery, the waters of an extraordinary turquoise lake and the blue sky giving the impression of being in an enchanted and surreal landscape.
On Monday, April 24, you can enjoy the tranquility of the Salento countryside, a wonderful biodiversity space where experts and scientists will identify and collect spontaneous herbs and explain their uses and properties.
3 nights + vegan organic breakfast + Otranto trekking + biodiversity laboratory 98 € per person
3 nights + vegan organic breakfast + Otranto trekking + biodiversity laboratory 98 € per person
By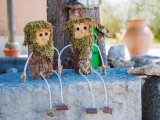 Cutrofiano (Puglia)
Starting from 39,00 €