June weekend in Salento with vegan cooking class
sp cutrofiano aradeo angolo incrocio per sogliano - Contrada Spadafore - 73020 Cutrofiano - Italy
The month of June is the ideal time to find the right ingredients for a perfect weekend: sea, tranquility and relax!
If you are passionate about organic and vegan cooking, you can also take advantage of your holiday to learn the techniques and the art of healthy and organic eating, thanks to our courses that will take place on weekends at the Piccapane organic farm .
The special offer includes:
- 2 nights in a double room with private bathroom
- Rich breakfast with organic produce
Saturday, June 3: KITCHEN COURSE "SPEZIALITY FROM THE WORLD" - We will explore near and far lands through aromas and spices, with surprising beneficial properties. Hours: 15.30
Saturday, June 17: "DETOX" KITCHEN COURSE - We will create simple and tasty recipes that will help our body to detoxify and stay fit. Hours: 15.30 - Duration: 3 hours
The farmhouse is located in the Salento countryside in Cutrofiano, in the heart of Greek Salento, a few kilometers from Galatina, Gallipoli, Lecce, Otranto and many others.
The rooms are simple and furnished according to criteria of ecosostenibility and ecocompatibility.
2 nights + breakfast from 49 € (instead of 60€) per person
2 nights + breakfast from 49 € (instead of 60€) per person
By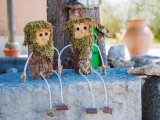 Cutrofiano (Puglia)
Starting from 39,00 €