Spring in the green of Val d'Orcia
località tepolini 16 - tepolini - 58033 Castel del Piano - Grosseto - Italy
The offer includes 2 nights in a charming room with breakfast with the typical products we produce (jams, breads, cakes).
You can request dinner at an additional cost of 25 euro per person. Typical recipes of our territory having dinner with the other guests to socialize and share travel experiences.
All the guests choose together the morning at breakfast.
In our country house we also offer the possibility to have customized holistic treatments
(Full-body massages, craniosacral treatments). We use pure essential oils from certified organic productions.
From Borgotepolini we recommend a beautiful walk in the chestnut circuit. Passing through beautiful valleys among olive groves and ancient sources.
2 nights with breakfast 154 € (instead of € 220) per night
2 nights with breakfast 154 € (instead of € 220) per night
By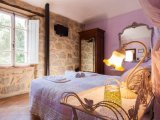 Castel del Piano (Toscana)
Starting from 79,00 €